Easter Day is around the corner. How about playing hide and find games of colored eggs, or join the grand religious parade to celebrate Jesus's resurrection? Well, that's cool. But don't forget, there is still another easy way to celebrate the holiday- watching Easter Children DVD movies with your kids, for not only the movies can bring kids much fun, but also lets kids learn more about the holiday.
Here the post below will list out top ten best DVDs for kids to watch on Easter, in which you can not only find some classic DVDs of Easter movies for kids of all time and the latest essential Easter bunny DVDs for children.
Tips: You can make a backup of your Easter eggs DVDs for safe keeping and enjoy them on iPhone, iPad with the help of MacX DVD Ripper Pro that is now given away through MacXDVD 2020 Easter Deal.
Recently added new Easter movies on DVDs for kids: Ballerina (Leap!) - $3.99, 4.5 stars, My Little Pony - $14.96, 5 stars, The Greatest Showman - $14.96, 4 stars, Paddington 2 - $12.99, 4.5 stars, Olaf's Frozen Adventure - $ 6.95, 4 stars.
Top-rated Easter DVD Movies Ripper
Copy and rip Easter-themed DVD movies to MP4, MOV, MKV, AVI, WMV, etc on Mac and PC with lossless quality. Freely play Easter kids DVD movies on iPhone iPad Android anywhere.
1. The Holy Moly Easter Story Collection($14.99)
The Holy Moly Easter Story Collection DVD goes perfectly paired with The Holy Moly Easter Bible Storybook. Full-color and featuring 4 clever animated Bible stories that engage young children as they explore God's Word. And the kids DVD movie for Easter contains 4 stories: Jesus Enters Jerusalem, The Last Supper, Jesus and the Cross, and The Empty Tomb.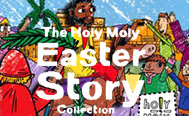 2. He Is Risen! The Resurrection of Jesus DVD (2016) ($15.99)
In "He Is Risen" Superbook intervenes and in a very special episode, takes Chris, Joy, Gizmo AND Phoebe back in time, for an encounter with Jesus' mother Mary during the time of her son's crucifixion. Kids do need God more than ever in this lost nation! So besides reading the books, watching this awesome Easter DVD also sounds great.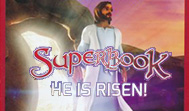 3. The Story of Easter (2017) ($14.99)
The story of Jesus' death and resurrection comes alive for children in this animated kids Easter movie. Based on the award-winning Spark Story Bible, The Story of Easter uses spirited animation to help children marvel at God's love for the world through the death and resurrection of Jesus. Spark Story Bible Adventures bring the stories of the beloved print story Bible to life with colorful animation and Squiggles.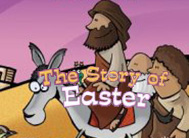 4. It's the Easter Beagle, Charlie Brown (Remastered Deluxe edition 2008) ($9.99)
It narrates that when most of the Peanuts Gang is preparing for Easter, Linus, believing it is all a waste of time, tries convincing everyone the Easter Beagle will handle everything, but his pleas fall on deaf ears.
This classic Easter DVD for kids is choked with the familiar yet cute cartoon figures like Peppermint Patty, Linus, Marcie and Lucy. And Peanuts fans also get some fun glimpses of Woodstock and Snoopy in this springtime special.
5. Winnie the Pooh-Springtime with Roo (2014) ($14.99)
This is a happity-hoppity new Pooh cartoon, also an adaptation of the Charles Dickens's classic, A Christmas Carol. The story shows that an ecstatic Roo, along with Pooh, Piglet, Tigger and Eeyore, pay Rabbit a visit to celebrate Easter. But instead of an enjoyable, egg-hunting bash like before, they find a Spring Cleaning day celebration. Rabbit refuses to celebrate Easter and a very depressed Roo intends to cheer him up. Wonder how can they enjoy Easter without the Easter Bunny? Past, present and future intertwine in this marvelous movie, as the figures jump from page to page, teaching everyone a very valuable lesson.
6. Sid the Science Kid: Sid Rock & Roll Easter (2013) ($6.7)
Sid the Science Kid is a TV series, among which Sid Rock & Roll Easter is relevant to the great Easter. It says Easter is the time to hunt for Easter eggs in the backyard. Explorer Sid searches under every high grass and behind every tree, and finds all the eggs his parents have hidden. Hold on! a big shiny rock out there! What's it? a treasure? Elated and confused, Sid brings the rock to school and the kids try to identify the mystery rock. Maybe your kids just wanna join them to recognize the magic rock, too.
7. The First Easter Rabbit (2010) ($8.99)
Well, this is also an endearing DVD version of Easter rabbit movie for kids, which tells a magic fairy tale-a beloved rabbit called Stuffy originally a toy but later it magically comes to life. And it's appointed to send Easter gifts to children. Though its journey to distribute Easter treats is obstructed by some bad guys, it finally overcomes them and continues its happy mission.

8. Here Comes Peter Cottontail (2005) ($5.23)
Maybe you have memory about the 1971 version of "Here Comes Peter Cottontail". Now the 2005 DVD version of this Easter movie comes with new DVD features like the illustrations of Amye Rosenberg, "Peter Cottontail: The Movie" trailer, music video, sing-along-songs, a mail-in rebate, more. It's regarded as another Animagic treat from Rankin/Bass, which tells a story about peter cottontail who tries his best to rescue Easter from the hand of the malicious Irontail along with the aid of a time machine.
9. Easter in Bunnyland (2007) ($2.98)
Can you imagine celebrating Easter holiday without bunnies participating? Well, in this Easter bunny DVD, the three rabbits -- Flip Rabbit, Bitsy Bunn, and Buck can't find their good friend, the Easter Bunny when they plan to celebrate Easter Day together. Later, they know he has been hijacked by the evil Beau Rat and his partner in crime, J.J. Can Flip, Bitsy, and Buck salvage the Easter Bunny from the bad guys to save the holiday? Find the answer in this interesting Easter DVD for kids.
10. BunnyTown-Hello Bunnies (2009) ($6.16)
Ready to rock on down to BunnyTown a hip musical place where those adorable furry bunnies are always cutting loose and cranking up the fun! This much-anticipated Disney animation Bunnytown - Hello Bunnies features rollicking, hip music, colorful bunny characters, silly skits, and meaningful lessons on perseverance, sharing and teamwork. No doubt that you and your kids will be deeply attracted by them, just like many people review "Bunnytown was the cutest show on earth.".
Warm Prompt: In the event that you have a yen for ripping the top ten Easter DVDs on Mac, you can rely on MacX DVD Ripper Pro, which can assist you to rip Easter DVDs to plethora of video formats, like DVD to MOV, MP4, AVI and more.
ABOUT THE AUTHOR