Part 1: How to Free Download MTV Movie & TV Awards
The 26th MTV Movie & TV Awards will fete the best movies and most-talented performance over the past year, and feature exclusive moments of the 2018 upcoming movies. If you are out of luck with getting the tickets for the ceremony, or get stuck with work or something that keep you from going there, what would you do? Don't worry, you can free download 2022 MTV Movie & TV Awards videos from YouTube, including the TV shows, movies as well as videos to get rid of the freezing, stuttering or choppy playback due to poor internet connection.
To do this, try MacX YouTube Downloader. This is a totally free, reliable, 100% clean video downloader that will free download live show, nominated movies, winning movies, TV shows, ceremony videos of 2023 MTV Movie & TV Awards free from YouTube, Vimeo, 1000+ sites in MP4, WebM, FLV, 3GP, 1080P, 4K UHD, vr etc within minutes.
How to Free Download 2022 MTV Movie & TV Awards Video MP4 HD
Step 1: Free download the video downloader on your computer. Launch it and open your web browser to copy the video URL; paste it to the message box and then click "analyze" to load the video details. Alternatively, you can press "paste & analyze" button and the download software will automatically detect the desired YouTube video.
Step 2: Choose video format, resolution and file size that you desire to get after the download. You can download the Awards from YouTube free in FLV, MP4 or WebM format.
Step 3: Press "Browse" button to specify an output folder on your computer to save the downloaded video.
Step 4: Hit "Download Now" to begin downloading the video from YouTube on Mac for free. After several minutes, you can free enjoy the downloaded awards video.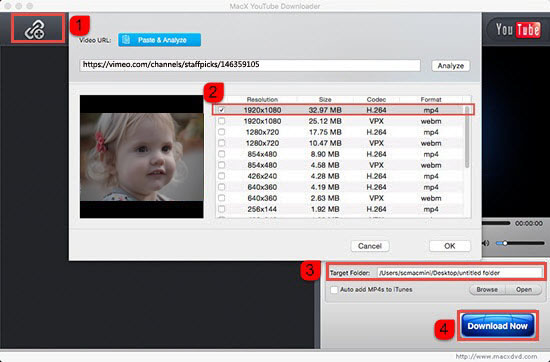 You can rely on the method to free download any movies or videos, including
2022 Grammy Awards Videos, 2022 Golden Globe Awards Videos, 2023 Best Disney Hollywood movies
Part 2: Highlights of MTV Movie & TV Awards 2022
1. A Star-studded Live Show
The 26th annual "2017 MTV Movie & TV Awards", hosted by Adam DeVine, starts on May 7, 2017. The lineup features more superstar celebs Josh Gad, Hailee Steinfeld and Rebel Wilson, nominators and guests. Whether you want to see attractive actresses wearing beautiful dresses vying with each other for glamour to get more spotlight, like Zendaya's stylist Awards dress, or your favorite stars showing off their charms on the stage, like Big Sean's 'Jump Out The Window, or the funny Spider-Man: Homecoming clip, you can watch the the MTV Movie Awards live on air.
2. Nominees and Winnners(partially)
The MTV Movie Awards nominees this year were announced in early March. The winners are a mix of the biggest blockbusters and the award season powerhouses of the past year. Many other 2017 Oscar-nominated films like La La Land, Suicide Squad, 13th etc also find room here. See the MTV Movie Awards 2017 nominees & winners below to see if your favorite films are among the list. Moreover, 2017 blockbusters were also revealed on 2017 MTV Movie Awards.
Movie of the Year:
–Beauty and the Beast- Winner
-Get Out
–Logan
–Rogue One: A Star Wars Story
–The Edge of Seventeen
Best Actor in a Movie:
–Daniel Kaluuya – Get Out
–Emma Watson – Beauty and the Beast- Winner
–Hailee Steinfeld – The Edge of Seventeen
–Hugh Jackman – Logan
-James McAvoy – Split
–Taraji P. Henson- Hidden Figures
Show of the Year:
-Atlanta
-Game of Thrones
-Insecure
-Pretty Little Liars
-Stranger Things- Winner
-This Is Us
Best Actor in a Show:
-Donald Glover – Atlanta
-Emilia Clarke – Game of Thrones
-Gina Rodriguez – Jane the Virgin
-Jeffrey Dean Morgan – The Walking Dead
-Mandy Moore – This Is Us
-Millie Bobby Brown – Stranger Things - Winner
Best Kiss:
-Ashton Sanders & Jharrel Jerome – Moonlight- Winner
-Emma Stone & Ryan Gosling – La La Land
-Emma Watson & Dan Stevens – Beauty and the Beast
-Taraji P. Henson & Terrence Howard – Empire
-Zac Efron & Anna Kendrick – Mike & Dave Need Wedding Dates
Best Villain:
-Allison Williams – Get Out
-Demogorgon – Stranger Things
-Jared Leto – Suicide Squad
-Jeffrey Dean Morgan – The Walking Dead
-Wes Bentley – American Horror Story