macOS Ventura Apps Slowdown or Not Opening? Check the Quick Fixes
Are you the one of Mac users who're now experiencing hangs launching apps on Mac owing to macOS 13 Ventura update? It's quite stirring that macOS Ventura went live this morning. While it soon turned sour as the extremely long download times preventing many from installing it. What's worse, it even causes Mac apps slowdown, stuttering and not responding. To top it all, many users find the non-apple Apps cannot open on macOS. Why and how to fix it? Scroll down to find the quick fixes!
Always Back Up Your Mac Data in Case of Unexpected macOS Ventura Update Failure
Maybe you have heard from twitter or Apple Coummiunity that macOS Ventura update problems . Most of Mac users was told "An error occured while installing the selected updates", and some experience no update found or forever downloading. In case you run into such Ventura update failure, you're always suggested to back up your Mac data to keep them safe with MacX MediaTrans.
MacX MediaTrans allows you to back up all kinds of significant data on your Mac:
Back up photo, video, music, ebook, Apple TV purchases and everything on Mac computer.
Free up space on Mac so as to reserve enough space for installing macOS Ventura update. Though the update software only takes about 12GB, to be on the safe side, you need at least 35GB disk space for smoothly installation.
It won't take you too much time to make a backup. For example, it costs merely 8 seconds for 100 4K photos backup.
Quick Fixes for Mac Apps Slowdown / Not Opening Issue on Ventura
It didn't take long for some Mac users to note that macOS Ventura installation failed owing to Apple server issue. Trustd was attempting to contact a host name oscp.apple.com but failed repeatedly. This resulted in Mac systemwide slowdown as applications attempted to launch.
Apple has noticed this issue and found it affecting launching apps when connected to the internet. Jeff Johnson, the Mac & iOS developer, gave Mac users a temporary fix through a tweet.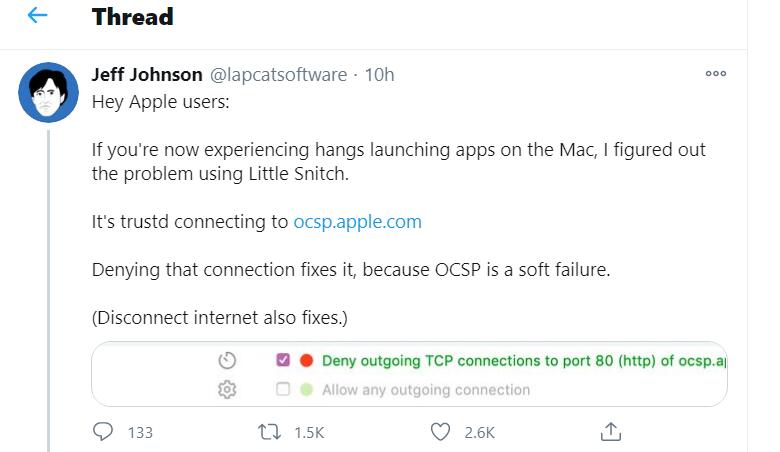 1. Using Little Snitch
Little Snitch prevents your private data from being sent out to the Internet without your knowledge. You should make sure you deny the connection to oscp.apple.com for both system and user.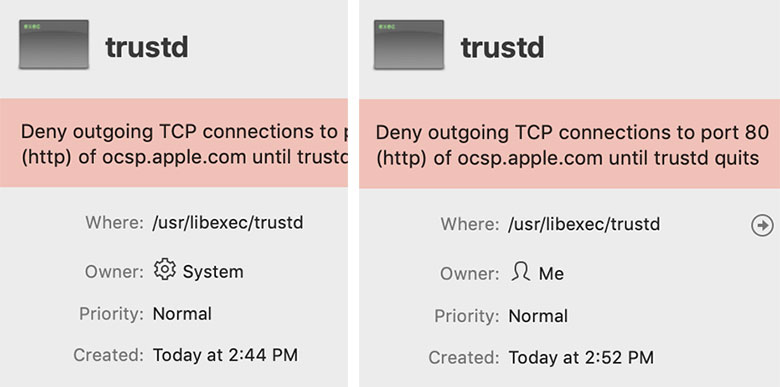 2. Disconnect internet
The OSCP bug is a soft fail - when an Apple device cannot connect to the network but you want to launch an app anyway. That is to say, your Apple is supposed you're not online, and allows the app to launch. You can try to turn the Wifi off and on again, and launch the app you need. This sounds silly, but it really works.
3. Detect and close memory-consuming apps
If your Mac is running slowly and unable to open apps, the problem can be with a particular application. Each application utilizes system resources of the Mac, so the more apps you have running, the slower the Mac will be. Moreover, a specific app can consume too much CPU and memory. Thus, you can identify memory-consuming apps that are causing a system slowdown and stop them. Here are the easy steps:
Launch Activity Monitor.
Click View in the Menu Bar and select Windowed Processes.
Click the CPU tab find and select the apps that take up too much CPU usage.
Click the Close (X) button to stop it.
Then switch to the Memory tab.
Find the apps that use too much memory and click the X button to stop them.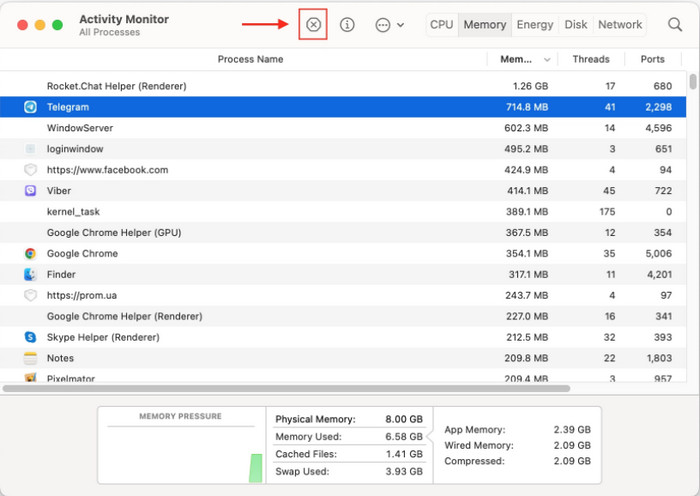 4. Clear RAM when Mac apps open slowly
If you notice that the Maac is alow when openning a few apps, it might be an issue of RAM, That is to say, your system needs more free RAM to perform the tasks. And you need clear inactive RAM to improve your Mac's performance.
The easiest way to free up RAM is to resatrt your MAC, especially users used to putting their Mac into Sleep mode. Yet, to be honest, this will interrupt your work. You can also try to clear RAM by using the Terminal command line.
Open Terminal.
Paste the command sudo purge and press Enter.
Enter your admin password and again click Enter. Your RAM memory will be cleared.

To the Conclusion
That's it for the fixes of Mac app slowdown or not opening. Hope the above fixes can be helpful. Certainly, there are many other ways to speed up your computer, which can also fix mac apps not opening error in a round-about way. Find more ways to fix Mac running slow here >>