No Headphones & Charger iPhone 12 Worth $829?
iPhone 12 and its siblings iPhone 12 mini, iPhone 12 Pro and iPhone 12 Pro Max are eventually unveiled! And they can be pre-ordered on Nov.6, 2020. Well, here comes the question: do you upgrade to iPhone 12? Is it worth your $829 and more greenback? Don't rush to reach your conclusion before you get iPhone 12 pros and cons.
Also see top advantages and disadvantages of iPhone 13 Pro/Max >>
Generally, when it comes to have a review on a product, we usually show you the advantages first and disadvantages later. But this time, you might prefer knowing its downsides (ridiculous cons) first.
Top Advantages and Disadvantages of iPhone 12/Mini/Pro/Max
Disadvantages:
1. No Headphones, No Charger in the Box
2019's entry-level iPhone 11 (64GB) starts at €699. The same applies to 2020's entry-level iPhone 12 mini (64GB). But all iPhone 12 models even come without headphones & charger in the box. What makes users feel ridiculous is that Apple takes enviroment protection as an excuse. Seriously? Are we customers fools?
They say there are over 2 billion power adapters and 0.7 billion lighting headphones out there in the world. So they take it for granted to cut away headphones and chargers from the box. Indeed, if Apple just confess its real purpose - save cost and boost profits, majority of Apple customers won't feel humiliated mentally.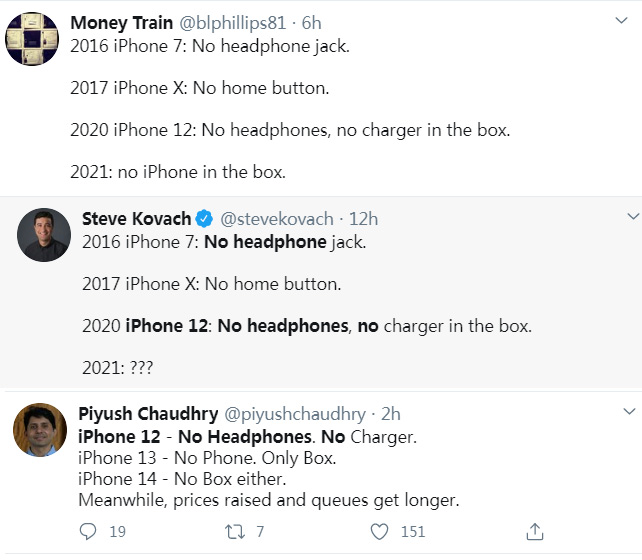 2. Is iPhone 12 or iPhone 5?
Apple's famous slogan: Think Different. Emmm.....when iPhone 12 is unearthed, how to convince ourselves to believe your "different creativity"? Go to twitter and dozens of users express their perspective of view (as the below pic shows).

If your budget is adequate, do whatever you want. It's okay to spend over $800 buying 2020's iPhone 5. For ordinary people, think twice before you leap since we're still in a tough time of COVID-19. $800 can solve lots of things in your real life!
3. Battery is Undisclosed.
iPhone battery disappoints you since the first iPhone model. Do you think this year would be different? No way, no difference. If you're an iPhone loyal user, you have to continue bearing its terrible battery life even with iPhone 12. Cuz there is no significant improvements on iPhone's battery life. Instead, Apple even didn't disclose iPhone 12 models battery specification. And since the 5G components in the iPhone 12 models are so prohibitive, Apple turns to other battery components (50% smaller and thinner than iPhone 11) for a trade-off to save money.
4. High Price €699 for iPhone 12 Mini (64GB)
This year is tough for all the ordinary people. Thousands of people lose their job. The global economy is gloomy. Honestly speaking, most customers (if they can afford a new iPhone each year in the past) would think twice when it comes to upgrade to a new iPhone. No doubt the price concerns most. Apple doesn't lower down the entry level from iPhone 11 €699 to iPhone 12 mini €649 as rumered before. Instead, the price still begins with €699. Prohibitive, right?
5. No Ground-breaking New Tech in iPhone 12
There are no innovative new features concerning iPhone 12. Mostly, they are all about iPhone 12 improvements on operating system, chips, battery, display, design, wireless charging, etc. If your budget is limited and expect something really novel, keep your money this time and don't upgrade to iPhone 12, seriously.
Advantages:
1. 5G Supported on All iPhone 12 Models
All iPhone 12 models feature Qualcomm's X55 5G modem chip, which provides theoretical 4Gb/s peak download speeds (for Verizon network) and 200Mb/s upload speeds (the actual speed depends on carrier network). Besides, it's known to all that there are two kinds of 5G networks - mmWave (faster speed, narrow range) and Sub-6GHz (slower but wider coverage). Apple adopts mmWave for 2020's all iPhone 12 models. It's unclear how to solve iPhone 12 5G problem in some countries and areas using Sub-6GHz standard. Of course, the final usage of 5G network on iPhone also rest with the customers' local 5G network infrastructure. Will 5G network allure you to upgrade iPhone 11 to iPhone 12?
2. Upgraded Wireless Charging MagSafe
Apple's iPhone has another major change in 2020's iPhone 12 models, all-round upgraded wireless charging MagSafe. MagSafe was onced used in older MacBook product line. Now it's back to iPhone 12 series, with 2 new sensors added to better recognize wireless charging devices. The wireless charging is said to up to 15W. Plus, MagSafe also absorbs Magnet array and Alignment magnet to realize more faster and accurate wireless charging between iPhone and Apple Watch.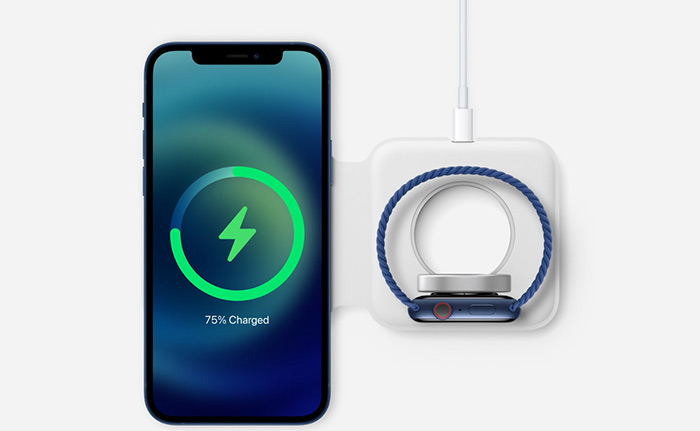 Magsafe comes to iPhone 12 while the previously rumored iPhone 12 triple-lens 3D camera with ability to shoot 4K video at 120 and 240 frames per second is absent. Though the high-end iPhone 12 models begins with 128GB of storage and that pedestrain iPhone 12 and iPhone 12 mini still hold on 64GB of storage as entry standard. When it comes to shoot 4K video at 30 or 60FPS, your space is still in emergency status.
In such case, you need to better manage your iPhone file space in terms of space-hogging videos, music, photos, apps, eBooks, audiobooks, etc. iPhone file manager is a must have. Give MacX MediaTrans a shoot, which enables you to bulk delete unwanted music files, videos, photos, eBooks, etc. at one stroke, compress and convert 4K videos to smaller size, bulk edit media files for better organization, transfer pics, music, videos, audiobooks, etc. from iPhone to Mac for eternal backup and free iPhone space. More features are awaiting you to dig out...
3. All OLED Display
Look back to iPhone 11. You need spend extra $280 upgrading iPhone 11 to iPhone 11 Pro Max to get the Super Retina XDR OLED capacitive touchscreen. Now, you don't have to. Apple has armed all the 4 models of iPhone 12 with OLED display. That's quite a leap and a real advantage of iPhone 12 over iPhone 11.
Though all iPhone 12 models feature OLED display, there are some subtle distinction among them. 5.4-inch iPhone 12 Mini OLED display comes from Samsung with Y-OCTA integrated touch, 2340 x 1080 resolution with 476 PPI. The OLED display of 6.1-inch iPhone 12 and iPhone 12 Pro originate from BOE/LG Display with a 2532 x 1170 resolution and 460 PPI. The high-end 6.7-inch iPhone 12 Pro Max, the specification goes to Samsung OLED display with Y-OCTA support and possibly with XDR, 2778 x 1284 resolution at 458 PPI.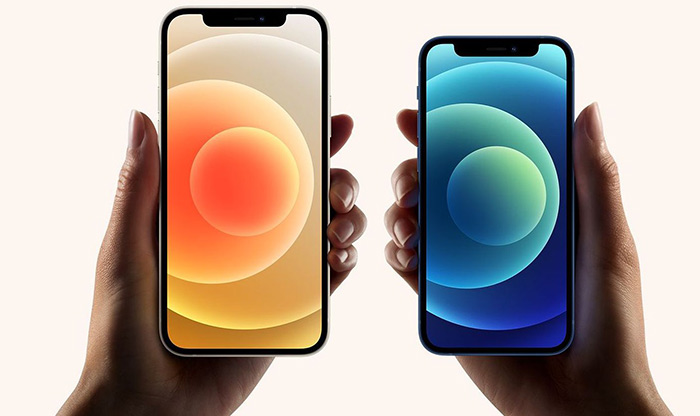 Previously, the rumor about ProMotion technology is heating up. Currently, this rumor is fading away, for the prediction from Apple analyst Ming-Chi Kuo shows slim chance for iPhone 12 models with a 120Hz refresh rate support due to battery life concerns. ProMotion display technology is more likely unveiled in 2021.
4. More Powerful A14 Chip
It's said that the 2020 iPhone 12 lineup will get a boost in chipset, with 5-nanometer A14 chip. And the 5-nanometer A14 chips are smaller in size, run faster and work more efficiently due to improved thermal management. Compared with iPhone 11 A13 chip, the A14 chip will deliver 15% enhanced performance and 30% less power consumption.
Wanna knowing more iPhone 12 specifications in nitty gritty details? See the below picture (source from cnet).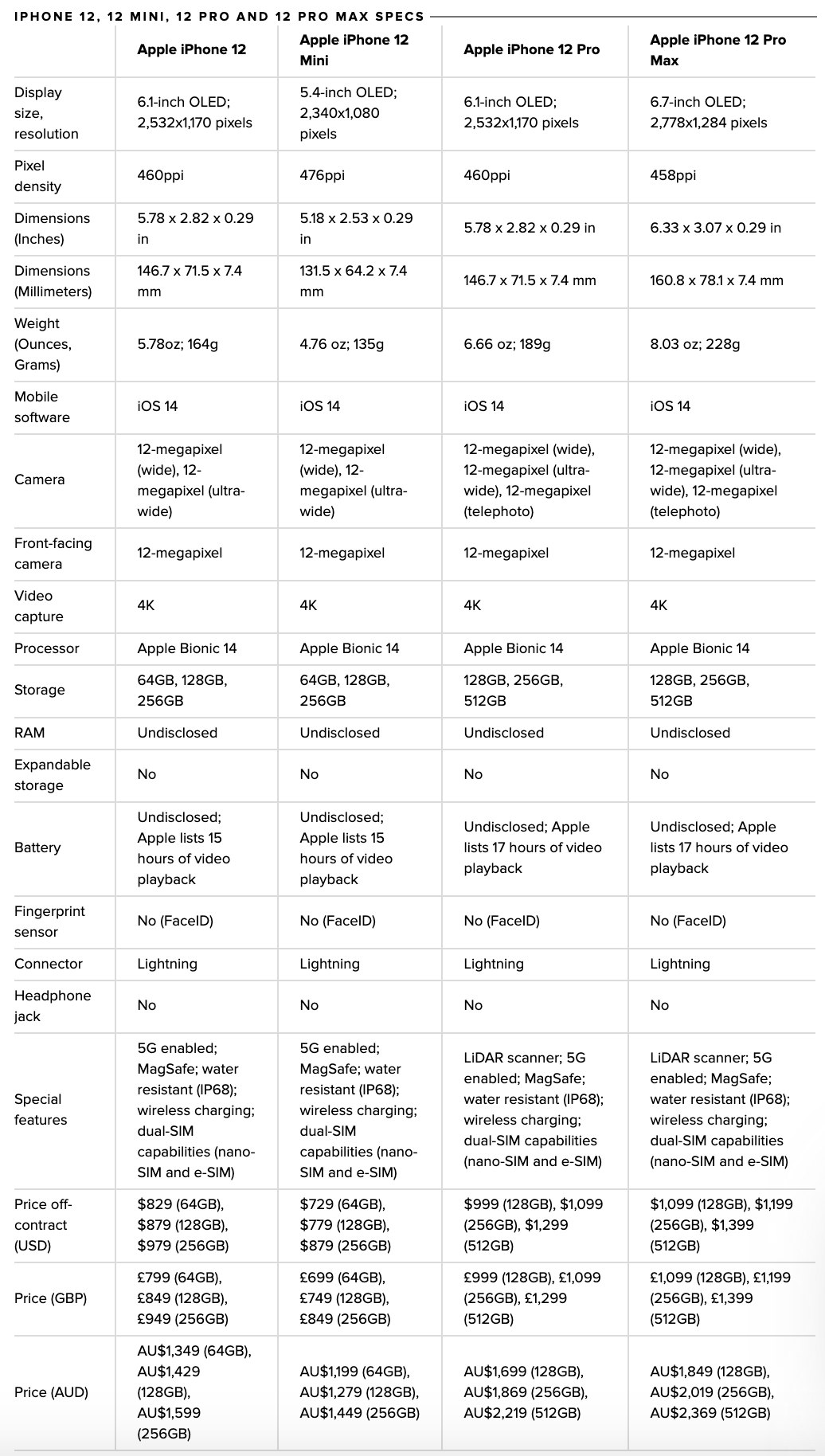 The intention of this post is not so much to list out iPhone 12 strengthes and weakness as to guide you getting a complete picture of iPhone 12. This might be helpful for you to reasoningly judge if it's worth your money lest you fall into impulsive consumption. Of course, these info resources mainly come from other authoritative tech sites like macrumors, cnet, appleinsider, etc. and don't get updates as instant as them. Hence, if some iPhone 12 news has already updated, you're warmly welcomed to contact us and inform us so as to get this article updated as quickly as possible. Our official "Contact Us" or official social network accounts (FB, twitter, YouTube...) are available for you to contact us.