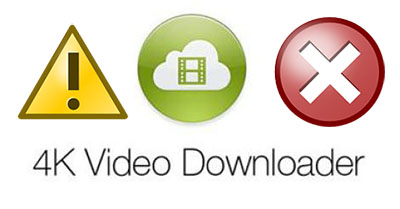 4K Video Downloader, as the cross-platform video downloader freeware, is said to let users free download videos from YouTube on Windows, Mac OS X and Linux just a couple of clicks based on the product introduce on its official site. That being said, recently, users reflect that the errors always pop up, like error: can't parse the video, error: can't download video, can't download video from other sites, etc. If you are unfortunately suffering from such errors, good news for you that the below part is specifically designed to solve these errors with simple yet straightforward solutions.
[Part One] 4K Video Downloader Error: Can't Download Videos from Other Sites [Solved]
4K Video Downloader, Great application! I use it often. But it doesn't seem to be recognizing DailyMotion videos. -from JLoveBomb
It was not able to download videos from other websites than Youtube. -from Rassel Mitrofanov
The program for 4K content downloading boasts itself of being able to free download videos from 4K video sites like YouTube, as well as Vimeo, SoundCloud, Flickr, Facebook and DailyMotion (from its official site). But the truth is that this free video downloader isn't instantly updated to catch up the latest video site algorithm so as to let you down when it comes to download videos from Dailymotion, Facebook, etc. online video sites.
Straightforward solution: resort to the best alternative - MacX Video Converter Pro, which enables you to free download videos from YouTube, Facebook, Dailymotion, Vimeo, Vevo, Soundcloud, Flickr, Myspace, etc. 1000+ video sharing sites in MP4 MKV FLV AVI WMV, etc. format in 720p, 1080p, 4K, 3D, Blu Ray, 360 degree virtual reality, etc. with world's No.1 fast speed (Intel QSV supported).
[Part Two] 4K Video Downloader Error: Can't Parse Any Video Link [Fixed]
why my 4k video downloader can't parse any link ? plz help me   -from faranak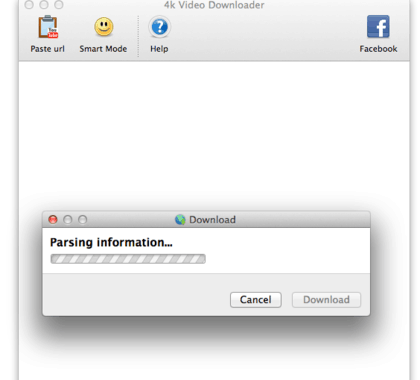 Solutions:
1 Uninstall the program and reinstall it on your PC. Or unload the latest version and install its older version.
2 Check your firewall and antivirus settings, which, to some extent, might relate to the error: can't parse video URL.
3 Reboot your computer and start again. Remember run as administrator.
4 Set up intensity on safe mode in Preferences just in case of being affected by YouTube IP ban.
5 Check if there is the conflicting program running, like the video accelerator, web browser add-ons, etc.
6 For YouTube playlist download users, you need to make sure the YouTube playlist "Public" rather than "Private" setting. And in free version, only 25 videos are allowed to download from each playlist.
7 Keep pasting tons of video URLs until you unlock the "newbie" badge for downloading a certain number of videos.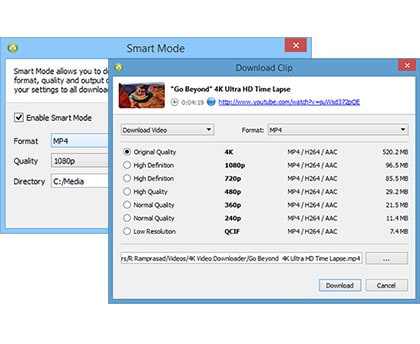 8 Click "Smart Mode" to change the save location, which is required to have enough space to store the downloaded file size and numbers.
9 Still in the "Smart Mode", set the video quality to "Original" instead of "Highest quality" (4K Ultra HD or higher), for some videos might have no such high quality and they'll have problems.
10 YouTube constantly updates its video algorithm. If the tool doesn't instantly catch up YouTube update frequency, it will fail to parse the video link. At this point, an alternative, best YouTube 4K video downloader without downloading error does a much better job than it, which continually updates its video download feature to keep up with each YouTube algorithm renewal so that it can successfully parse the YouTube link and download YouTube videos without any trouble.
[Part Three] 4K Video Downloader Not Working: Can't Download Video from YouTube[Fixed]
Whatever video I tried to download from youtube I get the message "error:can't download". I paid for this application just to let me download youtube videos. now the last days I can't use it anymore. I download again the latest version and nothing happens, again the same error for every video I tried to download. -from George
Solutions:
① Use your antivirus program to check if there are some malware, spyware hidden.
② Check whether the software is installed properly or not.
③ Perhaps there just certain YouTube videos can't be downloaded, not all of them. So use another YouTube URL link to try again (some YouTube videos with price label for rent or purchase can't be downloaded, cuz they are copyright protected).
④ See if your hard drive has enough space to save the downloaded YouTube files. If not, delete some unwanted files to free up space.
⑤ Once again, 4K Video Downloader might haven't instantly updated to catch up the latest YouTube algorithm so as to lead to the YouTube video download task failure. Best 4K video movie download & play tips can rescue your from such predicament, downloading YouTube 4K videos with whatever format and whatever resolution in a flash.

Author: Bertha Miller | Updated on Dec 4, 2018