In a market of mass variety, it's seemingly troublesome to narrow down the ideal solution to get piano music download, regardless of piano sheet music, sad or romantic piano tracks. To shake off such bother, here shares the top effective solutions with you to free grab piano songs (piano sheet, sad/romantic piano music) in MP3 MP4 without all the fuss.
Solution 1-Piano Music Download Free from 300 Sites
Numerous sites need different apps or plug-ins. If you have the demand to get piano songs from several music download sites, that means you probably have to install dozens of downloaders or plug-ins. That's too cumbersome and taxes too much on your CPU and storage space.
Now, with the best once-and-for-all solution - MacX Video Converter Pro, you eventually free yourself from the above annoying situation. This best all-in-one tool can get piano tracks free from YouTube, Vimeo, Vevo, MP3Skull, audiomack, SoundCloud, etc. 1000+ music video sites in MP3 MP4 HD. What's better, it supports you to directly transfer piano songs to iPhone iPad Android, etc. mobile device as ringtone or sleepsong.
How to Download Free Piano Songs from YouTube MP3Skull Vimeo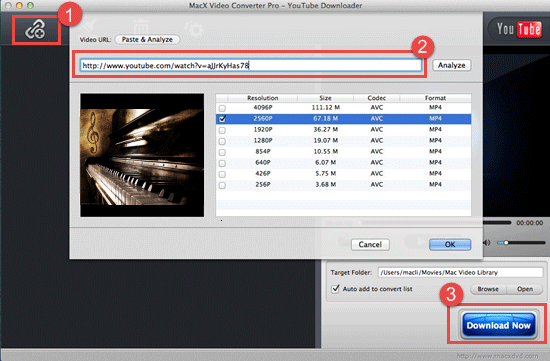 1. Free download this self-contained piano music downloader on your Mac OS X (El Capitan) or Windows PC (10). Then launch it.
2. Click "YouTube" button on the main interface. Followed by copy & paste the piano song URL you want to get on the "paste & analyze" box.
3. Pick out the destination folder to save the output piano music files. And last step is to press "Download Now" button to begin the task. The same procedure also applies to process piano tracks from MP3skull, Vimeo, etc. other sites.

pay attention to the "Auto add to the convert list" option, which allows you to convert the piano music to MP3 WAV, AAC, MP4, MOV, MKV, AVI, etc. audio video formats, as well as 350+ mobile device, incl. iPhone, iPad, Android (Samsung, HTC, Sony), game consoles.
Solution 2-Piano Tracks Download MP3 Online
On top of the afore-mentioned way to get piano music, there is also another option-directly get piano soundtracks online in MP3 WAV, etc. audio formats. Okay, prior to get piano songs online, you need to know the top online piano music download sites.
PR: 5
Alexa Rank: 8698
Review: Best piano sheet music download site for you to save piano sheet music online with tons of piano sheet music resources. It lists out the top 5 and new sheet music for your reference. The guitar sheet music is also available.
Download Procedure:
Step 1: Search and find out the desired piano sheet music you want.
Step 2: Purchase the piano sheet music and then grab piano sheet music.
Step 3: Print your piano sheet music.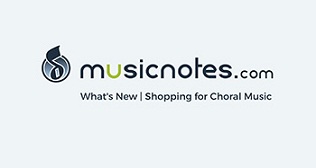 PR: n/a
Alexa Rank: 22035
Review: The stronghold of the classical romantic piano music: you can search from A to Z, 0-9 or directly search on the search bar. The length of the searched romantic piano relaxing music is also presented on the search results.
Download Procedure:
Step 1: Find out the desired music and then click the download icon.
Step 2: You'll be redirected to another page called urls.pm; press "Continue" and then it will automatically start to process romantic piano music in MP3 audio format. (no 3rd party; no fees)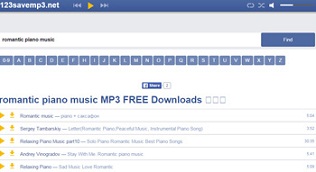 1001pianos.com
PR: 3
Alexa Rank: 3250334
Review: Needless to register and log in, you can access to this fantastic piano song MP3 download site to get music in MP3 with simply 2 clicks. And the info like artist, title, genre, length, format are also shown for you.
Download Procedure:
Step 1: Single out the song you are itching to grab.
Step 2: Click on the music title and then press "download audio file" on the redirected new page. Well, the mission is done.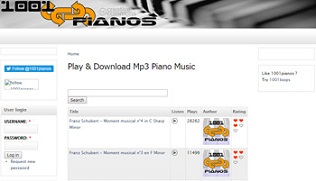 opuzz
PR: 5
Alexa Rank: 240725
Review: The piano studing/relaxing music on this site is coming from the music CDs, which usually contains up to 10 tracks with different duration and price for each track. Generally, you can have 30-sec preview and get the description about the music before you buy it.
Download Procedure:
Step 1: Access to music CDs on the main menu. Type "piano music" to dig out the music you need.
Step 2: Click music title and be redirected to the purchase & download page: price ranging from $2.99 to $34.99. Buy first, save second.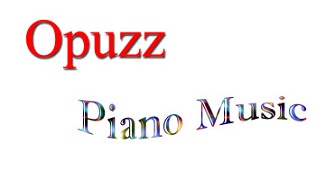 To sum up, whichever is the case, any of the the above-mentioned solutions can address your needs, free or paid, downloader or online. The first solution is no doubt the once-and-for-all solution suitable for piano song lovers who have a large demand. The second one is seemingly more applicable to the one who prefers to one specific piano music style like piano sheet music, sad music or romantic piano songs, etc. Hope it's beneficial for your piano music saving task.