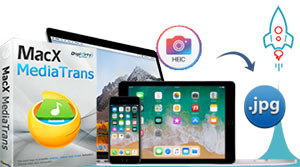 MacXDVD Software, a leader in multimedia solution, today rolled out MacX MediaTrans V5.0 to end the HEIC photos won't open problem by converting heic/heif to jpg.
MacXDVD Software today released MacX MediaTrans 5.0 to introduce the new HEIC to JPG convert ability and include several important improvements. The update mainly addresses the problem that Mac and Windows users cannot open the HEIC images captured with their iOS 11 devices. It's now the only iPhone manager that is able to transfer and export HEIC photos to ubiquitous .jpeg in one click.
The upgraded iPhone manager is compatible with all iOS 11/10/9/8/7 powered iDevices. Free download the iPhone HEIC to JPG converter & manager to solve the incompatibility of heic format at https://www.macxdvd.com/mediatrans/.
Apple has switched from JPG to HEIC/HEIF format for photos to keep the size down in iOS 11. The move, however, has problems. Now the Apple forum is being swamped with complaints about unwelcomed HEIC won't open on Windows & Ubuntu platforms, third-party photo editors or photography apps, and not even on Macs before High Sierra and older iOS devices like iPhone 6, 6 Plus, iPhone 5S, 5 etc. The HEIC images captured with iOS 11-powered phone or pad can be imported smoothly but won't be recognized - they get stuck when clicking on them.
The fact is, for iPhones with smaller storage capacity, the traits of HEIC/HEIF are highly desirable. However, the reality of real-world choices immediately deflates any optimistic plans, as so far, only Apple computers (macOS High Sierra and later), TVs (tvOS 11 and later) and mobiles (iOS 11 and later) offer full native support for HEIF at the moment. When users transfer HEIF photos to a non-Apple device or macOS earlier than High Sierra, chance are that most media programs will refuse to open .heic formatted images.
While it's a given that HEIC won't overtake JPEG in usage in the near future, MacX MediaTrans V5.0 is on to let .heic survive on incompatible platforms. With the HEIC-to-JPG ability added in the iPhone photo transfer solution, the new HEIC format is fully prepared to fit in the JPG world where we currently live in.
Via simply a click, HEIC images can be converted into JPG automatically for Windows Photos app, Adobe Photoshop, Lightroom, other photo viewers, editors and Android phones. It will not only convert photos to JPG, but also optimize photos with untouched quality, yet even smaller size. Even with an extra conversion step, it remains the fastest iPhone manager - tests indicate that it requires 8s only to convert and transfer 100 4K HEIC pictures into JPEG.
The jam-packed iPhone file manager is an expert to handle all the iPhone data transfers, including photos, videos, music, books, iTunes items, etc. Not long ago, the iPhone manager just got an upgrade to offer seamless support for iPhone X, iPhone 8 and iPhone 8 Plus running on iOS 11. "People should be able to instantly view, share and control their iPhone content freely," said Jack Han, CEO of MacXDVD Software, "That's what the iPhone manager always does and continues to do."
Other improvements in V5.0 upgrade include:
* Fixed the failure to play vertical shot videos in full screen in iOS 11.
* Fixed the failure to remove DRM from iTunes M4B Audiobook.
* Fixed the failure to recognize M4B audio books.
Price and Availability
MacX MediaTrans is normally priced at $59.95 for a single license copy with life time free upgrade and one-to-one top-level technical support. Now the upgraded iPhone manager is 70% off in MacXDVD's official Black Friday Sales at https://www.macxdvd.com/special-offer/. Plus, flexible toolkits are available at steep discounts, like the No.1 fast DVD ripper and fastest 4K video converter.
About MacXDVD Software, Inc.
MacXDVD Software is a multimedia software developer dedicated to providing a range of trusted and innovative products across Mac, Windows, iOS, Android, including MacX Video Converter, MacX DVD Ripper, MacX MediaTrans, DVD Author, DVD backup tools, etc, series of apps for Apple video player, iPad iPhone manager, and iOS-based 2D and 3D video games. More information, please visit http://www.macxdvd.com.