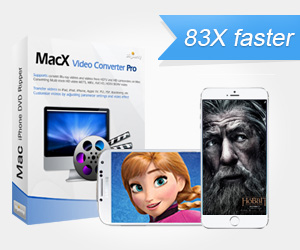 MacXDVD today announces MacX Video Converter Pro V5.5.5, a crucial upgrade with the support for over 300 mainstream online video sites including YouTube, Facebook, Dailymotion, Vimeo, Vevo. This refurbishment represents a major milestone in MacXDVD's endeavor to bring unprecedented video playback experience with no picture freezes through online video downloading.
MacXDVD continues to be an industry pioneer by announcing today that its ace product MacX Video Converter Pro now leverages a ground-breaking download kernel via a major update. As of today, the updated version supports over 300 online video sites, ranging from YouTube, to Vevo, Vimeo, Facebook, Dailymotion, Metacafe, BBC, and more. Accordingly, Users will be able to download 4K, HD video and music for viewing with no picture/audio freezes, regardless of which sites customers are using.
Feel free to download the latest online video downloader and converter to store copies of videos from any site.
In a recent survey MacXDVD has conducted, in excess of 70% users reported running up against video freezing while watching videos online in US. This holds true even among users who reported having high-speed internet well above 10mbps. "Given this, support for the mainstream video portals like YouTube, AOL, Yahoo, Facebook, etc has been all set for online video downloading in the latest program, based upon the brand-new download kernel," said Jack, CEO of MacXDVD Software.
"Users are frequently bogged down issues such as YouTube not playing or loading. But now they can download online videos with a smart Download Now button whether they are playing on Firefox, Safiri, IE or Chrome," he continued."This refurbishment is our important milestone in our unremitting efforts to bring the smooth video playback experience to our users, no matter which video portal or browser they are heading for."
On the basis of its almost-all-popular-formats-supported feature, MacX Video Converter Pro, a multifunctional video converter software specifically designed for Mac OS, covering the latest Yosemite, Marverick, Mountain Lion, and more, delivers other significant benefits, including:
• Provide the cutting-edge YouTube download kernel that handles movies, TV shows, trailers, episodes, songs, videos including 4K content from 300+ online video sites such as YouTube, Facebook, Vimeo, Vevo, BBC, Dailymotion, and more.
• Cut through the fog of format issue by converting any video to any format, e.g. MKV to MP4 , MP4 to AVI, YouTube to MP3, WMV to MOV, YouTube to MP4, FaceBook to MP4, etc.
• Free up computer storage space by compressing MP4, MKV, MTS, HEVC/H.265 and other HD videos to half of its original size with high quality retained.
• Bridge the video contents and mobile devices by adding preset profiles for 400+ mobile devices, covering iPhone (6/6 Plus), iPad (Air 2/Mini 3), Samsung Galaxy (S6/Edge), HTC One (M9), Sony Xperia Z4, Google Nexus, Kindle Fire, PS3/4, etc.
• Create animated photo slideshow videos with background music from photo albums and record on-screen activities.  
• Demonstrate up to 83x faster conversion speed as a result of the Hyper-threading technology and multi-core CPU unity and ensure no video quality loss due to High Quality Engine.
In spite of the already awesome features in this video converter, MacXDVD also confirms that more attempts will be focused on this reputable program. "Continuous improvements in all fields from UI perfection to additional features is our shared commitment and we look forward to bring more benefit to our customers and perfect our software through constant changes." Jack added.
Pricing and Availability
MacX Video Converter Pro has integrated English, Japanese, Traditional Chinese, Simplified Chinese, German, Italian, French, Portuguese, Spanish and Korean. Users of previous versions are eligible for a free upgrade. To download online videos from YouTube Facebook or more, please download the free trial version at:
http://www.macxdvd.com/mac-video-converter-pro/
About MacXDVD Software, Inc.
MacXDVD Software is a division of Digiarty Software Company, owns a professional multimedia software development team, providing a range of products for Macintosh Computer users, including MacX Video Converter, MacX DVD Ripper, DVD Author, DVD backup tools, etc, series of apps for Apple video player, and iPhone, iPad 2D and 3D video games. More information, please visit http://www.macxdvd.com.