It happens to all of us. There is a MKV file you wanna watch on your MacBook or iMac. You click on it, trying to open with default player QuickTime, but end up with an error message "There is no application set to open mkv". Similar case, when you play MKV on game consoles, your MKV video is still unplayable. What's worse, you transfer MKV videos to iPhone iPad to watch on the trip, but iTunes tells you the MKV file is incompatible with your device. In other cases, when uploading MKV files to YouTube or Facebook, you encounter a heavy Waterloo, again.
Why could these be? Mainly because MKV is incompatible with majority of the modern mobile devices and platforms, alongside with its comparatively large file size. To make MKV playable on most devices and platforms, you need to convert MKV to MP4 since MP4, also a container format, keeps quite a good balance between high quality and file size. And more importantly, it's compatible with almost all the players, devices and platforms. So first things first, you need a MKV video converter.
To Convert MKV to MP4 on Mac with Better Compatibility

, You Can Consider:

macXvideo - Rating:

4.7/5 (by 156 votes)
Supported OS: Mac OS X 10.6 or later
A Free Video Converter on MacOS to Encode/Decode Videos to Various Formats, incl. MKV to MP4

MacXvideo, a totally free yet 100% clean video transcoder, lets you free convert MKV to MP4 with fast speed since the built-in hyper-threading tech enables multiple threads to run on each core and even better the Multi-core CPU utility supports up to 8 cores to assign the whole conversion task to numerous cores, just like one person's workload now being equally shared to 8 men. A big relief for CPU! As for video quality, the advanced High Quality Engine comes for that purpose, alongside with the Auto Copy feature tech to help you decode MKV video to MP4 without changing the codec at blazing fast speed.
After free converting MKV to MP4 on Mac OS, it's time to transfer the output MKV files to iPhone (iPhone X/8/7/6s/SE), iPad Pro, iPod and more under the help of iTunes or other iPhone transfer tool to sync video, music, photos, ringtones, books, voicememos, and more from iOS iPhone iPad to Mac computer and vice versa.
How to Convert MKV to MP4 on Mac OS X Mountain Lion or Higher
Step 1: Import MKV file by clicking "Add File".


free download the best MKV to MP4 converter on Mac, click "Add File" button to load the MKV files.
Step 2: Choose the Output Video Format.
After the input MKV video importing, you can see video formats options at the bottom of the window. It allows to freely convert MOV to MP4, WMV to MP4, WebM to MP4, and even transcode MP4 to MP3, MOV, MKV, and more like a piece of cake. You can select MP4 format in HEVC, H.264, MPEG4 as you like, or simply choose preset profiles of iPhone iPad Android.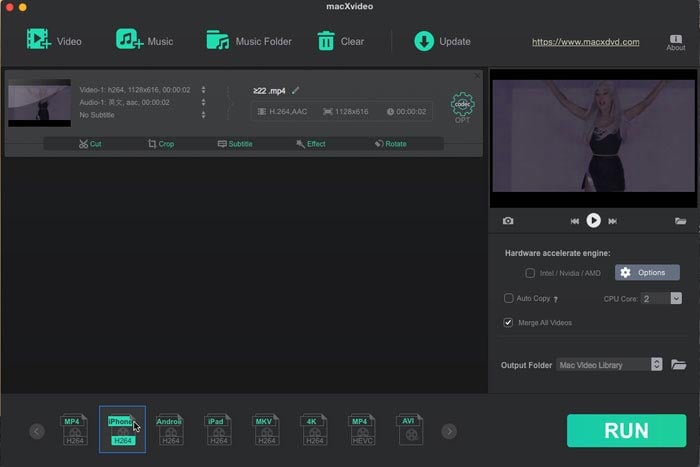 Step 3: Edit MKV Video (Optional).
Meanwhile, you can also see some icons of editing like cut, crop, subtitle, effect, rotate below the video information. If you need to cut off certain parts from MKV video, free set up video Start Time and End Time, add fans made funny subtitled to MKV or rotate MKV video 90 or 180 degrees, you can click the corresponding icon to edit MKV video before conversion.
Step 4: Start to Convert MKV to MP4 on Mac.
Hit Folder button to select a destination folder. Followed by a click on "RUN" button, which gives an order to this top video processing tool for Mac to begin to transcode MKV video to MP4 on macOS. Only seconds and you will get the output MP4 files with lossless quality (High Quality Engine tech built-in).
Step 5: Time for MKV to iPhone Transfer. (Optional)
This is not a must-have step, but the one for those who gonna transfer MKV video from Mac to iPhone. You can just use iTunes or free download and launch MacX MediaTrans, if you are annoyed by iTunes complex process, and then enter its "Video" section to "Add Video" from Mac to this video transfer app. Afterwards, give a hit to "Sync" button and then the MKV videos are transferred to your iOS iPhone iPad iPod within seconds only (Intel QSV supported).
MKV to MP4 Conversion Data Test: macXvideo vs Handbrake
You get the detailed steps to convert MKV to MP4 on Mac with top free MKV converter from MacXDVD. Yet, some of you might be curious about the specific conversion datas: how long it will take? any loss on output MP4 video quality? would output file size be smaller? any crashes?...
To answer your guys questions, we compare macXvideo with Handbrake to let you clearly see the differences. Let data do the work. Afterwards, I guess you can make a decision to download free MKV video converter or not.
Input MKV (AVC) Video

macXvideo
Output MP4 (H.264) Video

Handbrake
Output MP4 (H.264) Video

Length: 3 mins 54 seconds

the same

the same

Resolution: 1280x720

the same

the same

Video Bit rate: 2500 kbps

2741 kbps

2817 kbps

Frame Rate: 23 fps

the same

the same

Audio Bit rate: 192 kbps

the same

the same

Channels: 2

the same

the same

Audio sample rate: 44 KHz

the same

the same

File Size: 89.4 MB

66.3 MB

78.7 MB

Conversion Time

38.64 seconds

54.91 seconds

Output Video Quality

Excellent

Excellent
From the above table, we can see there is no big gap between these two free MKV converter. In general, macXvideo performs better than Handbrake in video converting speed and video compressing side. Certainly, it's just a single test. You can still download both free MKV to MP4 converter to have a test if you have spare time. This comparison table just provides you with a reference.
【Update】 Questions & Answers to MKV to MP4 Conversion on Mac
Question 1:
Converting MKV to MP4 fails. Hello, I'm trying to convert an MKV container to MP4 / M4V while maintaining the existing video and audio codecs (HEVC x265 and AAC audio ). I used the "Convert/Stream" function and selected the "keep original video track" and "keep original audio track" checkboxes. The problem is that the resulting M4V output file contains only the audio track; the video is missing. If I use the "Streaming/Exporting Wizard" instead of the "Convert/Stream" function, the MP4 output option is greyed out and can't be selected unless I enable transcoding to 264 (which I don't want to do). Any ideas? Running VLC 2.2.1 on OS X El Capitan. Thanks! - cinergi from forum.videolan
Answers:
The highest possible reason why you fail to convert MKV to MP4 on Mac with HEVC x265 is that x264 works fine in MP4 file container while x265 is not supported in an MP4 container, at least not in VLC. So if you insist on transcoding MKV to HEVC x265, you're suggested to ditch away VLC player, instead using the advanced version - MacX Video Converter Pro to decode MKV to HEVC x265.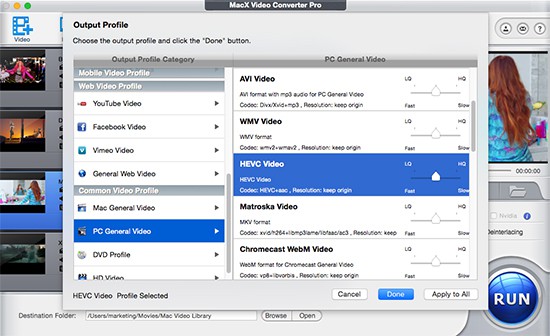 Question 2:
MKV-MP4 Converter. I have a lot of HD MKV files that I wish to convert for iTunes. I want a converter, but need to keep the same good quality!! (the videos/movies are 720 and 1080p) Any suggestions please? OS X or Windows, I can use both. Linux too if it crops up.. Thanks - Vortar from mac-forums
Answers:
You see, iTunes supports video formats including MP4, MOV, M4V, limited types. If you're itching to convert MKV to iTunes, one way is to change MKV format to MP4 iTunes acceptable format. Another better way is to directly convert MKV codec to iTunes profile, with iTunes best parameter settings. In case you are a layman and don't know much about iTunes suitable video parameter settings, you'd better resort to the MKV to iTunes conversion with most ideal profile offered.
By Jack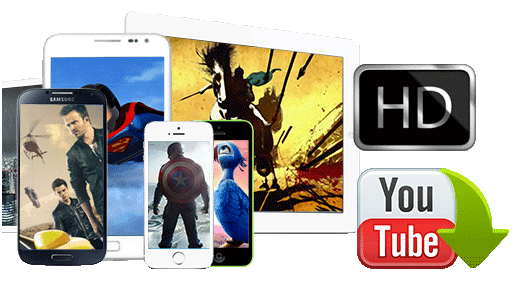 Free Convert MKV to MP4 on Mac with No.1 Fast Speed
macXvideo lets you free transcode MKV video files to MP4 format on Mac with seconds only, a 5-min length video only 8 seconds.
• All-around Video Converter: Convert any video to over 180 video formats and 14 popular audio formats on Mac OS X, such as WebM to MP4, M2TS to MP4, MKV to AVI, WMV to MOV, FLV to AVI, AVCHD to MOV, etc.
Free download the 100% free macXvideo now!

Related Articles

How to Convert MP4 to MKV on Mac and Windows
This guide will show you how to convert MP4 to MKV at shortest time and no quality loss. Free download high-quality MP4 to MKV converter to finish the MKV conversion with best result.

Top 3 Free MKV to MP4 Converter Online Convert MKV Files to MP4
The roundup of top 3 free mkv converter online is shared for you to better deal with MKV codec to MP4 conversion online. Plus, the desktop software is also shared in case you suffer from issue using the web-based apps.

How to Use Handbrake to Convert MKV Video to MP4 AVI with No Error
Many people faces error when converting MKV video with Handbrake. This tutorial shares a tip on how to use Handbrake to convert MKV to MP4 on Mac, as well as AVI, MOV, WMV, etc without any a/v sync problem or subtitle error.
Cult of Mac review

macXvideo provides you with best performance in MKV to MP4 conversion with fast speed and no quality loss. It also functions perfectly in converting MKV to AVI, MKV to H.264, MKV to FLV, etc, without losing too much quality.