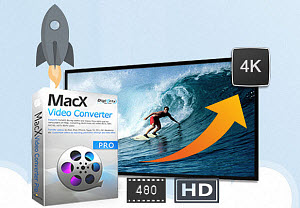 The multimedia solution leader MacXDVD Software sends its Thanksgiving greetings to all users today, inviting them to explore the future standard 4K world with the latest V6.2 MacX Video Converter Pro. Significant breakthroughs are made simultaneously in this upgrade: the newly- added 4K and HEVC output marks it the industry's most complete 4K solution for converting normal videos from/to 4K HEVC H.265 files and the unique intact video copy tech, once again, breaks the current industry speed record set by its QSV hardware acceleration tech, with a 10x faster performance yet untouched quality.
MacXDVD Software continues to prove itself a technology pioneer with MacX Video Converter Pro V6.2. This milestone upgrade totes an unprecedented integration of two killer features - 4K upscaling and auto copy tech. The 4K upscaling converts videos from HD 1080P, 720P or SD resolutions into pin-sharp 2K/4K and turns any video into 4K format HEVC H.265, while the auto copy moves the core data from format to format with untouched quality and a mind-bogglingly 10X faster conversion performance.
It's estimated that 4K will be labeled on more than a third of the global TVs by the end of this year. But 4k content from Netflix, Amazon, and Sony is de facto rather limited, yet with higher price tag. While 4k videos are still suffering from fairly low uptake, MacXDVD is already on to fill the content gap with MacX Video Converter Pro V6.2, letting users dive into an endless buffet of the video future - 4K resolution.
* Everything can be 4K
MacX Video Converter Pro is the world's first expert 4k video converter to losslessly downscale videos from UHD/QHD to HD/SD to fit older devices. It now adds support to go from lower resolutions to higher 2K and 4K as part of a bigger push into ultra HD resolution world. The groundbreaking 2K/4K upscale technology automatically adds the perceived details to the incoming HD 1080P, 720P, or SD 360P videos to make everything look jaw-droppingly as sharp as 4k image.
Meanwhile, the "future-proof" HEVC H.265 codec is now extended from MKV to MP4 to better handle 4K and even 8K (8192×4320). This move addresses the long-term 4k playback incompatibility on various iDevices or Android mobiles. More importantly, the HEVC encoder presents a bit reduction of 64% and truly stunning image quality when compared to 4k videos encoded with other tools in older formats and codecs (AVC/H.264).
* Faster than faster - let's expect miracles
Improving the output quality is the big priority in this upgrade, and the 4K upscaling is just a welcome first step. Another breakthrough named Auto Copy allows the video quality and converting speed to go hand in hand. This new tech ensures a lossless process, which simply takes the video and audio streams from the input format and puts them into the target file when the same codec is detected (like converting MKV h.264 to MP4 h.264).
While the new "copy-and-paste" tech eliminates every possibility of quality loss with re-encoding, it means greater significance in speed. Previously, MacX Video Converter Pro is the world's speed record holder thanks to its pioneering use of QSV hardware acceleration tech, which leaves other competitors on the market in the dust with a 5x faster performance. Now, the addition of Auto Copy tech sets a new benchmark for the fastest video converter. According the internal test, a same 4k video can be converted in around 1 minute with auto copy enabled, while the normal conversion takes 14 minutes! That's 10x faster!
Other highlights in the upgrade:
* Auto convert videos shot in different angles to fit TVs, phones and tablets in the most natural way.
* The transcode core is improved to further enhance the overall software reliability and compatibility.
Price and Availability
The enhanced 4K video converter, normally priced at $59.95, is now given away for free during the Thanksgiving holiday. Free download and enjoy the stunning new features at MacXDVD official Thanksgiving Giveaway page. Plus, flexible toolkits are available at steep discounts, like the No.1 fast DVD ripper and drag-and-drop iPhone manager.
About MacX DVD Software, Inc.
MacXDVD Software is a multimedia software developer dedicated to providing a range of trusted and innovative products across Mac, Windows, iOS, Android, including Video Converter, DVD Ripper, MacX MediaTrans, DVD Author, DVD backup tools, etc, series of apps for Apple video player, iPad iPhone manager, and iOS-based 2D and 3D video games. More information, please visit http://www.macxdvd.com.