H.265, also known as HEVC (High Efficiency Video Coding), doubles the data compression ratio at the same quality, compared to H.264, according to the report from H.265 vs H.264. This means video encoded with H.265/HEVC is much smaller (50%) in file size than with H.264, thus the upload time will be decreased greatly. That's why many users are searching for HEVC/H.265 encoder to encode video with H.265 codec. But they can go bananas with the lengthy H.265 encoding time that some H.265/HEVC encoder software delivers. This is because HEVC requires 10 times the computer power to encode at the same speed as H.264 due to the complexity of H.265 codec. Here top HEVC encoder is introduced here.
Free Download H.265/HEVC Encoder - 100% Safe
MacX Video Converter Pro - Convert H.265 4k/HD videos to H.264/MP4/AVI/MOV etc to make H.265 encoded videos compatible with mobile devices and encode videos to H.265/HEVC to release more room for newer iPhone and iPad on iOS 12.
Why Need HEVC/H.265 Encoder
Why should you encode to H.265/HEVC for your video files, especially the 4K or high-definition videos?

First of all, on the heels of both Windows 10 and iPhone 6 announcing the support of H.265 natively, H.265 gradually takes the place of H.264 as the next standard. Particularly, video makers, vbloggers and filmmakers actively jump to the bandwagon to create H.265 HD/4K videos and movies.
On the other hand, H.265 encoded videos, especially with a resolution up to 4K or 8K (8192x4320 pixels), will be up to 64% file size reduction at the same quality compared with those encoded with H.264, thanks to its better compression ratio. This makes it possible to store more 4K videos on devices with limited storage space. Especially when Apple announced the support of H.265/HEVC late in 2017 on its latest macOS 10.14 and iOS 12. Many Apple users are in sore need of HEVC encoder to convert videos to HEVC format for smaller size.
Compared with the standard H.264, H.265 consumes lower bandwidth, which is more friendly for streaming HD/4K/8K videos over the internet. That's to say, you will watch a full-length HD movie online more smoothly.
HEVC offers 35 modes for intra prediction, 32x32 and 16x16 integer transform, 64x64 and hierarchical quad-tree partitioning down to 32x32, 1/4 pixel 8-tap filter and sample adaptive offset in-loop filter, which H.264 won't have. This is why H.265/HEVC encoder is essential in our life.
Know the Difference between H.265 and X265
Frankly, x.265 is a H.265 encoder while H.265 is just the next video compression standard. Searching the phrase H.265 encoder, there will appear x265.org. So what is x.265? according to its official page, x.265 is actually a free and open-source H.265 encoder library, available under the terms of the open source GNU GPL 2 license. It is committed to encoding videos into H.265/HEVC format at the highest possible quality and lowest possible bit rate.
You can also try its x265 Encoder application that features a user-friendly interface with the x265 encoder library to convert MP4 files to HEVC at high encoding speed. Currently, Telestream, BBright R&D teams, Haivision, Pegasys, Sorenson, etc use X265 to create H.265 encoded video. But x265 is a little complicated and suitable for tech geeks only. For people need a relatively easy and one-click H.265/HEVC encoding, below are four applications for your reference.
Top 4 H.265 Encoder/Converter for Windows and Mac to Download
No.1 H.265 Encoder: MacX Video Encoder/Decoder
MacX Video Converter Pro is put on the top of the H.265 encoder list, which can handle both H.265 4K video encoding and decoding like a boss. The most wonderful feature this HEVC video encoder gives is its H.265 encoding speed - up to 5× faster than other common HEVC encoders thanks to hardware encoder (Intel QSV) support, Hyper Threading tech and Multiple CPU cores support. The output encoded H.265 video quality is quite impressive, the same as that of original video. Users are allowed to encode video to H.265/HEVC up to 1080P/2160p/4320p, as well as decode and convert H.265 video to H.264, HEVC to MP4 for better compatibility. It's a no brainer to start the H265 decoder & encoder. MacX is widely acclaimed for its intuitive GUI, which can handle HEVC decoding within 3 steps only. A brief guide on how to encode video to H.265 is covered below.
[Tutorial] How to Encode Videos into H.265/HEVC at Fast Speed
Step 1: Before you start, free download H.265 encoder for Windows (10/8/7) or download it on macOS (incl. macOS Big Sur) and run it. Click "Add File" icon to add source video to prepare for H.265 encoding.
Step 2: An output Profile window pops up instantly, which enables you to choose video format (HEVC Video) as output within a single click.
Step 3: This is optional. Just click "Browse" button to select a target folder.
Step 4: After all the above steps are done, click "RUN" button to start H.265 encoding progress on Mac computer or Windows PC. It is quite the same to decode H.265 video.
Tips: the fastest HEVC x265 Converter provides access to adjust H.265 video frame rate, bit rate, resolution and other parameters for further customizing.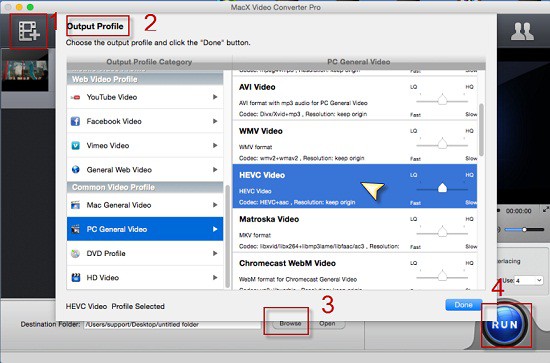 No.2 H.265 Encoder: Handbrake
Handbrake is the same as the open-source x265, which features full H.265 compatibility. Though the progress of encoding video with H.265 codec is more complicated compared to using the above No. 1 fast H.265 encoder, Handbrake can get the task done and accept massive videos of different formats as input. The H.265 encoder freeware is cross-platform, which is compatible with Mac OS, Windows and Ubuntu. Occasionally, the HEVC free encoder may disappoint you in speed and file quality. You can refer to common Handbrake H.265/HEVC encoding solutions if you are facing problems. H.265 encoder download is available on its official site.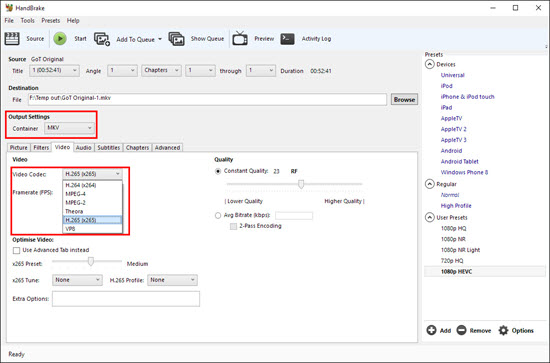 [Tutorial] How to encode video with H.265 codec
Step 1: Launch the H.265 encoder freeware. Drag video file you want to encode to the Source area, or click Source to load the file.
Step 2: Click on Browse to select a destination file folder for later encoded H.265 file storage.
Step 3: Choose H.265 container (MPEG, Matroska etc. - MP4, 3GP, MKV, TS, to name a few) from the Output Settings area.
Step 4: Under the Video, switch Video Codec to H.265(x265). You can also adjust framerate, optimize video using advanced tab.
Step 5: After all the preparatory work is done, click "Start" button to begin the encoding process with H.265/HEVC encoder for free. Be patient, this may take a long time for Handbrake.
No.3 H.265 Encoder: FFmpeg
FFmpeg utilizes x265 encoder for H.265 encoding and decoding. This free open source HEVC decoder & encoder is compatible with most operating systems, including Mac OS, Windows and Linux. Remember to download and update the H.265 encoder from time to time to fix H.265 problems bugs you may encounter or have encountered, even if you've already installed x265 on your system (32 or 64 Bit). However, it is more difficult to figure out how to encode H.265 video using FFmpeg - You have to rely on a terminal, type, copy and paste various commands to realize the H.265/HEVC encoding process. So, if you still feel puzzled after reading the FFmpeg H.265 video encoding guide, switch away.
No.4 H.265 Encoder: Divx HEVC Plugin
It is a light-sized plugin that offers ways to encode HEVC video with the same quality but at half the size of H.264 video. The free H.265 encoder can be downloaded for Mac and Windows. The H.265 converter plug-in also combines a HEVC/H.265 video player. No register is required, you have 15-day trial of the H.265 decoder encoder for free. Some users reported that they couldn't start anything after the HEVC encoder download and installation. The H.265 video decoding and encoding speed can vary wildly.
Verdict: In sum, MacX Video Converter Pro is cut out for the job. The H.265 encoder software shows amazing transcoding speed, stable performance and exports video of high quality (up to 8K UHD). Both Handbrake and FFmpeg adopt x265 and are open source as well, the best thing from these two HEVC encoders is that you don't have to pay for them. Divx HEVC plugin combines H.265 encoding and playing into one, but tricks inside the plugin remain unknown.
External Sources: What is H.265 from Wiki: H.265 is a video compression standard that doubles the data compression ratio at the same video quality or greatly enhances the video quality at the same bit rate. It supports videos up to 8K (8192x4320 pixels).
ABOUT THE AUTHOR