H265 (HEVC) offers almost twice higher compression ratio than H264 and applies less data to display an image without damaging its quality. In short, H265 is more efficient than H264. That being the case, you guys still want to decode and convert H265/HEVC to H264 (MPEG-4/AVC). Why? H265 poor compatibility should be the main reason. Majority of PCs, mobile devices, TVs, players and platforms work well with H264, while equivalent hardware or software for decoding HEVC (H265) is dramatically less common. So, to ensure a smooth H265 video playback on your devices, you'd better convert H265 to H264.
Free Convert Video from HEVC to H264 (MP4)
Try smart approach: MacX Video Converter Free(with GUI)
* 3 steps to decode and convert H.265 to H.264 with no visual quality change.
* 320+ video codecs supported, 100% free convert HEVC (H265) to H264 from MKV/MP4 to MP4, NX1 H265 to Prores 422 (MOV) file, etc. 180+ video formats.
* High Quality Engine and advanced decoding algorithm to transcode HEVC to H264 with virtually no video audio quality loss, 98% quality reserved.
1. Free Transcode H265 to H264 with MacX Video Converter Free
To free convert x265 into x264, MacX Video Converter Free (a tested good converter) can provide you with an effortless solution: drag H265 files, select H264 and run. Irrespective of your input MKV H265, AVCHD x265, MP4 H265 or NX1 HEVC footage, it can successfully free convert HEVC to H264 from one container format to another like MP4, MOV, M4V, MKV in resolution of 4K/1080p/720p, as well as ProRes 422, AVI, FLV, WebM, MP3, AAC, etc. 180+ video and 14+ audio formats. You're also allowed to further compress HEVC video (4K to 1080p) if the output file size is too large for you to save, share or upload.
What's more, with 420+ preset profiles offered, this free HEVC video converter makes your HEVC/H265 video file playable on almost any device, be it iPhone iPad, Samsung Galaxy series, Sony, Nokia, Motorola, Google Pixel, Surface Pro 4, Xbox One, PSP, PS4, etc. with best default parameter settings. And the whole HEVC to H264 conversion process will be quickly finished at 5X faster speed, thanks to its multi-core CPU utility and hyper-threading techs.
Thus, after the HEVC to H264 conversion is finished, you can eventually E-mail or send your NX1 HEVC 1080p files to your family or friends to view with simple software like Windows Media Player on their entry-level computer; successfully play HEVC files via your Dune HD Base 3D streamer without error message; watch H265 4K 2160p video on your HDTV via USB and ready GoPro HEVC clips for uploading to Facebook, Instagram, Vevo, Myspace, etc. SNS platforms.
How to Decode and Free Convert HEVC to H264
To begin with, please free download this H265/HEVC decoder yet converter onto your Mac, or get the Windows version here. Then fire it up on your computer to begin converting HEVC H265 (x265) to H264 (x264).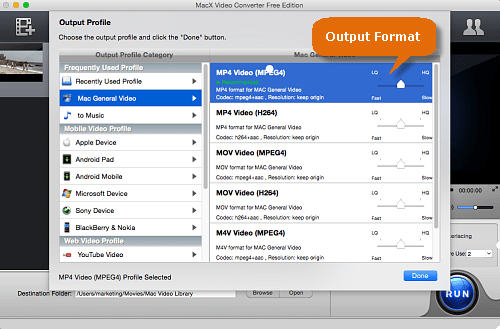 Step 1: Load H265 Files
Import H265 files via "Add Video" button or just drag and drop H265 files to this top HEVC video converter. Batch conversion is supported.
Step 2: Choose H264
Select H264 from "Mac General Video" profile. The most popular video MP4 MOV M4V are formatted with H264 or MPEG-4. Choose the one with H264 codec.
Step 3: Start Decoding H265 to H264
Press "RUN" button and this free H265 video converter will begin to convert HEVC/H265 to H264 on computer.
Optional:
1). When it compare H265 with H264, you can find that the H264 (x264) file is roughly twice larger than H265 in size if you encode the same video file using these two codecs. Hence, in case you think the converted H264 file is too large for you, you can compress it. To compress H264 files, click "Edit" icon to enter the video editing window, where you can enable "Trimming" feature to clear the unwanted clips off video and use "Crop" feature to get rid of the black borders from video.
2). On top of the above method, you can apply "Settings" to further reduce H264 files. The common means are to lower video resolution from 4K 2160p to 1080p, 1080p to 720p/480p, turn down frame rate, bit rate, etc. Of course, generally, the file size is proportional to video quality. So don't overly adjust parameters.

This H265 video converter also performs well as a
H265 encoder
to encode and
convert H264 to H265
on your PC. Compared with
Handbrake H265 HEVC encoding
ability, this top video converter is superior to Handbrake in simplicity, speed and safety. 2X faster than Handbrake, thanks to the Intel QSV hardware acceleration and much safer than latest Handbrake 1.0.7, cuz if you download Handbrake 1.0.7 last week, your Mac computer will be infected by malware (Trojan included). This professional HEVC video converter is 100% safe and clean without any risk of malware or virus.
2. Free Convert x265 to x264 with RockyMountains Movie Converter
For most users, they're prone to have two plans. When something unexpected happens on Plan A, your Plan B comes in handy. The same applies to hevc to h264 converter. If only one HEVC x265 converter can't give your enough sense of safety, you can take RockyMountains Movie Converter as your Plan B. This RockyMountains Movie Converter, unlike the first all-round hevc video converter, isn't adepted at everything but it centers on one thing and does it well - free convert H265 to H264 on Windows or macOS.
To be specific, it's capable of decoding H265/HEVC video to H264, as well as converting HEVC to Prores 422/444 codecs with highest possible quality. And the parameter settings are also available for you to adjust if you have such demands, including resize 4K 2160p to 1080p, change frame rate, etc. One thing you need to pay attention is that the HEVC and H264 videos can be saved up to 4K 2160p while ProRes videos are limited in resolution, 1080p HD at maximum degree.
How to Decode and Encode HEVC to H264 for Free
Access to RockyMountains download website to free download this H265 x265 to x264 converter on your Windows or macOS. Please note the converter version before downloading, for it provides 3 versions (Win-32 bit, Win-64 bit and Mac OS X 64-bit). Afterwards, you can execute the below steps.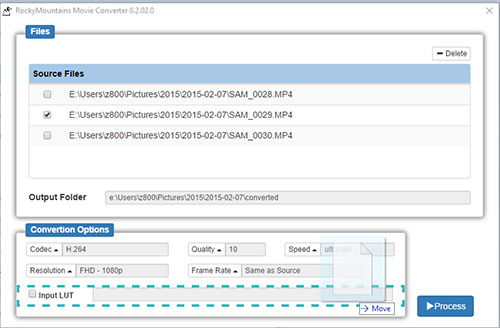 Step 1: Drag and drop your HEVC video files in Files section.
Step 2: Select the destination folder to store your output H264 files. Or you can just keep the default option.
Step 3: Opt for "H264" codec as your output codec.
Optional: In the "Conversion Option" zone, there are quality, speed, resolution and frame rate available for you to customize. If output quality does matter a lot to you, you can turn up the number in "Quality". Of course, higher quality means lower speed. You need to be more patient. As for Ultrafast speed, please use with caution since it might cause the HEVC video converter half crash problem if your hardware configuration is not strong enough.
Step 4: Tap "Process" button to begin transcoding HEVC to H264 on your PC.

Some RockyMountains users complain that this free H265 to H264 video converter fails to convert HEVC to MP4 H264 when loading MKV input file. It happens now and then. They can't figure out the reasons and solutions. If, unfortunately, you are in the same boat, you're suggested to use the first x265 converter or the free open source Handbrake to transcode HEVC MKV to H264 MP4 without issue.
You don't need to encode/decode H265 to H264 if:
The final HEVC/H265 video playback device or platform supports HEVC video codec. How to judge if your device or platform accepts HEVC video playback? Check the below contents, which cover the current HEVC-friendly devices and platforms. See if your device or destination platform you're using is included.
iOS Device and macOS
1). Devices support HEVC video playback up to 4K 2160p include:
iPhone 12/11/XR/X/8/7/6s/Plus, all iPad Pros, iPad with Apple's A9 chip or newer. 2017 Mac (iMac Pro) or newer with macOS High Sierra & A10 processor or newer.
2). Devices HEVC video playback up to 1080p at 240fps include:
iPhone 6/6 Plus, iPad Air and Mac models from mid 2015 or newer.
3). Devices HEVC video playback up to 1080p at 60 fps or 720p at 240 fps include:
iPhone 5s, iPad Air and Retina iPad mini models, iPod touch (6th generation).
Android Device
Samsung Galaxy Note 8, Galaxy S7/S7 edge and newer.
Sony Xperia X and higher.
Google Pixel/Pixel XL and newer.
Huawei P9/P10 and newer.
Xiaomi Mi 5 and higher model.
LG G5 and latter.
OnePlus 3 and newer.
Game Consoles and Streaming Boxes
Xbox One, Roku 4, Amazon Fire TV (2015) and 2nd-gen Fire TV Stick.
Video Sharing Sites
YouTube, Vimeo, Dailymotion.
ABOUT THE AUTHOR