Tablets tend to take the computing world by storm. A case in point is the newly released Apple iPad Mini (4) and Microsoft Surface (Pro 3/4) , making the late October rather busy. Apparently, no matter Apple iPad Mini or Microsoft Surface is poised to duke it out over the touch-screen tablet world. In this site you will find iPad Mini VS Surface tablet review and specification of the two most talked about tablets, so that you can have a better understanding of iPad Mini and Surface tablet.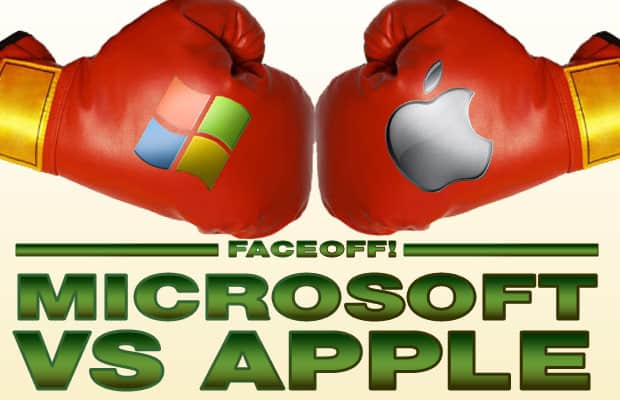 Before reviewing and comparing iPad Mini and Surface tablet, you can have a brief look at:
1. Screen: what's the size and video resolution? Wanna a stunning screen to enjoy Hollywood movies thereon?
2. Operating system: Are you apt to iOS-based system or Android-based system?
3. Processor: Is it single, dual or quad core? Is it fast enough to handle your tasks?
4. Battery: Does it last long enough for you to browse, read, write, message, etc?
5. Price: It is cheap enough for you to afford? Is it worth you buying?
Here is detailed review and comparison between iPad Mini and Surface tablet.
Hot Search: iPhone 6S vs iPhone 6 Plus, iPad Pro vs Surface Pro 3, iPad Pro vs iPad Air 2, iPad Air 3 vs iPad Air 2
Screen
Before the tablet comparison, let's first talk about the screen size and resolution. As we know, portability is paramount for a good tablet, while responsive touchscreen with wonderful display resolution is a necessary, particularly for watching movies and videos.
Apple iPad Mini uses the screen sized 7.9 inches, which means getting hands-on with the iPad mini could just as easily be called a "hand-on" since it's so easy to hold one-handed, and tap with the other. Its 1,024 x 768 screen with a density of 163 ppi delivers the same iPad experience users have come to expect. Microsoft Surface comes with 10.6-inch screen, which is larger than a standard 10.1-inch tablet on the other. What is interesting is that Microsoft Surface also features a cover of the keyboard. Of course, the screen size is considered appropriate. In the mean time, a resolution of 1,366x768 pixels with a density of 208 ppi is the right choice.
Although you definitely want a lightweight device, it's up to you to decide whether you want a larger and stunning screen or a more portable tablet.
Operating System
Second, operating system shall be taken into consideration when doing iPad Mini VS Surface tablet review. This miniature iPad adopts Apple's new iOS operating system 6, while Surface presents the new operating system Windows version 8, touting a beautiful new user interface and a wide range of applications with the grand opening of the Windows Store.
Tips: iOS 9 vs iOS 8, iOS 9 update problems, downgrade iOS9 to iOS8
Processor
Perhaps the most important thing when reviewing and comparing the two tablets is the processor. iPad Mini features power-efficient A5 chip, which makes everything you feel smooth and natural, like swiping from page to page, switching from app to app, editing photos, playing games and watching movies, while still providing all-day battery life. On the other hand, Surface provides two versions including RT and Pro. Microsoft Surface 32GB (with Touch Cover) runs on a powerful Quad-core NVIDIA Tegra 3 processor along with a hefty 2GB RAM while the Pro version is equipped with dual-core Intel Core i5.
Battery
Battery is also something to look at. Even under heavy use, iPad Mini still lasts up to 10 hours on a single charge. So you can message, watch, play, and create whatever you want. The battery of Microsoft Surface only carries you at least eight hours. But what is impressive is that if you leave it sitting for hours or even days on end, the battery will show little if any signs of expenditure and the battery charges quickly, and can be completely topped off in two hours.
Tips: Save battery life for iOS 8 devices
Price
Price is probably the most concerned part among geeks, especially on a tight budget. So in the iPad Mini VS Surface tablet review, you can get this information here. iPad mini with Wi-Fi models will be available in black & slate or white & silver on Friday, November 2, for a suggested retail price of $329 (US) for the 16GB model and $429 (US) for the 32GB model. At the same time, Microsoft Surface RT will be available a starting price tag of $499 for the 32GB version sans Touch Cover and $599 for the same version bundled with a black Touch Cover.
The two tablets are fairly matched through iPad Mini VS Surface tablet review. But one thing for sure is that no matter Apple iPad Mini or Microsoft Surface, the two tablets do offer us prominent visual experience. If you want to make utmost out of the gadgets and put your cherished DVD movies on iPad Mini and Surface for enjoyment on the move, MacX DVD Ripper Pro gives you a hand and decrypt and rip DVD to a flood of formats that are optimized for your iPad (iPad Mini included), Surface, iPhone (iPhone 5 included), iPod, etc with a wink.
If you want to download YouTube videos and transfer to iPad Mini and Surface or simply put FLV, AVI, MTS videos on the fashionable tablet, MacX Video Converter Pro simply downloads videos from YouTube and does seamless transition for playback on iPad Mini and Surface tablet at fast speed.
Below is the iPad Mini VS Surface Tablet Review Side-by-Side
| | | |
| --- | --- | --- |
| Specs | iPad Mini | Surface |
| Screen Size | 7.9 inches | 10.6 inches |
| Resolution | 1,024 x 768 pixels | 1,366x768 pixels |
| Operating system | iOS 6 | Windows 8 |
| Processor | Dual-core A5 chip | Quad-core NVIDIA Tegra (RT version)/Dual-core Intel Core i5 (Pro version) |
| Battery | 10 hours | 8 hours |
| Price | $329 (32GB) | $499 (32GB) |
Related Article
How to Rip DVD Movies to iPad Mini on Mac with Ease
Wanna rip DVD movies to iPad Mini compatible format on your Mac? This tutorial shares a hassle-free DVD to iPad Mini ripper for Mac users and tells you how to enjoy DVD movies on your new iPad Mini with a couple clicks.
Samsung Galaxy S3 VS iPhone 5 Review: Will iPhone 5 Be the Best Handset
This Samsung Galaxy S3 VS iPhone 5 reviews gives detailed information of the two handsets. Through comparison and contrast, you will have a good understanding of both Samsung galaxy S3 and iPhone 5.
Rip DVD to Microsoft Surface Tablet: Enjoy DVD Movies on the Go
This article introduces the best DVD to Surface ripper for you to rip any DVD movies to Surface tablet at fast speed. Just a few clicks, you can simply enjoy DVD movies on Microsoft Surface anywhere anytime.