Do you prefer 8K videos which have much higher quality compared to 4K or 1080p videos? Despite 8K videos provide more details for naked eyes in ideal situation, they are not universal and widely supported compared to 4K which is compatible with most TVs, monitors, displays, screens, etc. That's why 8K video converter/compressor is needed to help convert & compress 8K HEVC/H.265 video to 4K/2K/1080p videos which will give both compatibility with diverse devices and viewing experience in highest quality as much as possible.
Best 8K Video Converter/Compressor to Convert & Compress Heavy 8K Files
8K video is very large in file size as it is often encoded with new video codecs like HEVC/H.265, AV1 and ProRes which are not widely supported. So, you need MacX Video Converter Pro – a 100% qualified and powerful 4K/8K video converter and compressor to help complete the conversion and compression tasks.
It lets you transcode 8K video to more compatible formats like MP4, H264, MOV, MPEG-4, MKV, FLV, AVI, SWF, WMV, etc. for iPhone, iPad, Android or TV, and also compress 8K 4320P to 4K 2160p, 1080p, 720p to shrink video file size for faster uploading/sharing.
Part 1. Why Do You Need 8K Video Converter/Compressor?
Currently, 8K videos are not widely supported by displays, devices, and software. Besides, 8K videos are very large in size that it is quite difficult to upload, share and stream across the network.

8K video is not widely supported by devices/displays: At present, the majority of 8K 4320p videos are formatted by H.265/HEVC, which is mainly designed for next-gen HDTV, satellite TV. So if you play 8K videos on your computer with common video player, you actually can't enjoy the 8K video at full resolution of 7680x4320 pixels, cuz the screen resolution of your computer doesn't reach 8K Full Ultra HD. The same situation happens to your mobile device. The current mobile device supports you to play video up to 4K in H264. If you import 8K H.265 video to iPhone iPad, what you get is only a message: "XXX. h265.mp4" was not copied to iPad because it cannot be played on this iPad.
8K video playback is often choppy: Even you have a forced 8K video playback with your media player, often the case you will get choppy video playback as y our hardware is not that powerful to handle the heavy 8K video during the whole process.
8K video is too large to upload, share & stream: Higher quality means larger size. The same video file in 8K 4320p resolution is of course larger than that in 4K 2160p. So if you spend 10 minutes to upload a 4K video to YouTube, then you will spend at least 25 minutes on 8K video to YouTube uploading. To share 8K video to friends via E-mail or online transferring is the same bandwidth-hog and time-consuming task.
Part 2. How to Compress and Convert 8K HEVC/H265 Videos?
Step 1: Add video. Free download the 8K video converter/compressor and run it on your computer. Click "Add Video" to load your 8K video files.
Step 2: Decode 8K H.265 to MP4 H.264. Select the output format. You are suggested to transcode 8K video to MP4 format for MP4 is widely accepted for 8K UHD player, TV, portable devices, etc. To abstract MP3 audio from 8K video, you can choose MP3 as output format.
Step 3: Choose place to save files. Select Output folder by clicking "Browse" button to save the converted 8K FUHD videos.
Step 4: Begin to convert 8K video. Click "RUN" button to start 8K video conversion process. You can follow the steps above to convert 4K UHD MKV videos to MP4, AVI, MOV, etc. with unchanged video quality.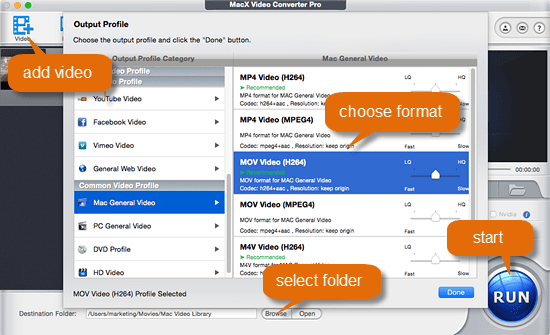 Optional:: Providing the converted 8K video file still exceeds the storage capacity of your device, you can further compress 8K video files via parameter settings adjustment. Click the setting icon and you will come to the parameter adjustment window (picture below). On top of resolution, you're also allowed to tweak Video Codec, bit rate, frame rate, aspect ratio, audio codec, sample rate, etc. to make your 8K videos smaller.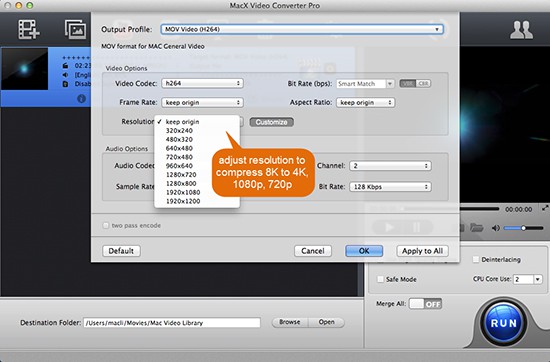 Overview: To put it simply, the 8K video converter & compressor introduced here can not only convert 8K Full UHD videos to any formats, portable devices, resolution, or convert among video format, FLV to MP4, MP4 to MOV, MKV to MP4, etc. but also serves as:
8K video compressor to reduce 8K file size with highest quality kept.
8K video downloader to download 8K movies, video clip, from Vimeo, Dailymotion, Facebook, and 300 sites more.
8K video editor, with which you can add subtitle, watermark, trimming, cropping, and more.