Rip Audio from MP4 Videos with the Fastest MP4 Audio Extractor
Is it possible to detach audio track from mp4 smoothly without any hassle? It may be hard but not impossible to get the solution actually. Here a MP4 sound audio extractor MacX Video Converter Pro comes with an all-round way to separate audio from MP4 video. So long as you want to add soundtracks and songs of a video to your existing digital music library, it can help you achive it as it can not only extract audio/MP3/sound/music from MP4 movies videos with fast speed!
Extract Audio from MP4 in Fastest Speed!
Rip audio/MP3/sound from MP4 and MOV, AVI, MKV, FLV in UHD/HD/SD resolution;
Download and strip audio from online MP4 videos from 1000+ sites (YouTube, Vevo etc);
Benefit from Intel's Quick Sync Video tech, the MP4 audio extractor offers the No.1 fast speed to extract MP3 from MP4!
Lossless convert MKV to MP4, AVI to MP4, MTS to FLV, MP4 to WMV, video to iPad iOS, etc.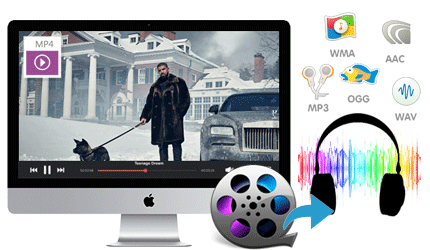 How to Extract Audio/MP3/Sound from MP4 with Full Audio Quality
Step 1: Download this audio extractor from MP4 files and launch it. You can directly drag and drop the MP4 file that contains the audio or hit "Add File" button to lead in the MP4 file.
Step 2: To rip audio from MP4 videos, just choose one of the audio formats from the "to Muaic" list. You can extract mp3 from mp4 videos, or if you destination is iPod, iPhone or iPad, you can also strip audio track from MP4 videos and save it as AAC.

In addition to MP4, you are actually allowed to detach audio from MOV, AVI, FLV and other formats.
Step3: Click the "Browse" button to choose the path where you want to save the audio fils.
Step 4:  Click "RUN" button to start extracting audio from MP4 videos now.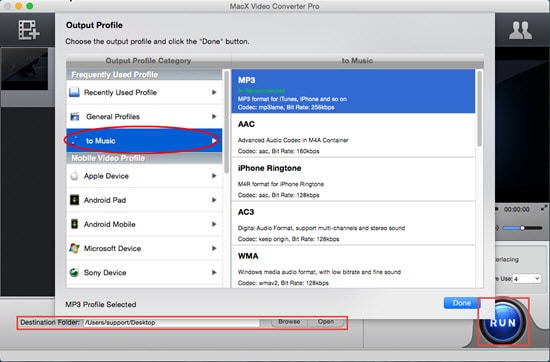 Extract Audio from MP4 Video in Segements or Merge Multiple Audio Pieces
For various reasons, many users will want to extract a particular segment audio from MP4 or other vidoes, and others may need to merge several segments into one. If so, this MP4 audio extracting software also helps with its advanced editing feature.
To rip a specific piece sound of MP4 video, input the MP4 video, then select "Edit" button and click "Trim". Enter "Start Time" and "End Time" you want and then click "OK". Then you can start to extract music of the MP4 following the steps above and the output audio will be the exact segement you want.
To merge multiple sound into one, input all the MP4 videos that contain the music, then select "Edit" button and click Merge All "On". Click "RUN" in the main interface. Then you can go extracting audio from MP4 process and will get the sound of all the videos into one.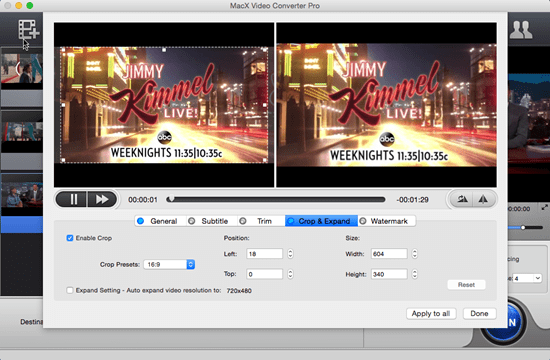 To Extract Audio from MP4 VLC- A Widely-Used Audio Extractor
When it comes to get sound out from MP4 files, many users will turn VLC, a popular media player features an audieo extracting function which is rarely found in other video players. If has a good support to strip MP3 from MP4, FLV, MOV and many other input sources. The process of using VLC to rip audio from MP4 is pretty simple: click the Advanced Open File from the Media option in the VLC, then click Add to select the MP4 video. Choose Transcode Audio button and then you can start to convert MP4 vdieo to audio in VLC. Obviously, VLC is a good tool to get audio from MP4, except one thing you should note: VLC has problem recognizing some input formats, like vlc can't read HD MKV.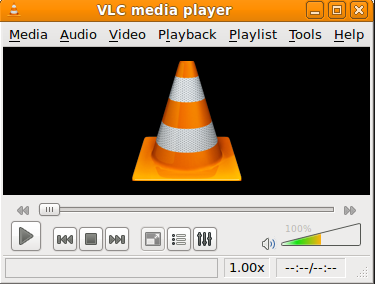 ABOUT THE AUTHOR