MP4, short for MPEG-4, is the most popular video format on the world and supported by almost all media players and portable MP4 devices like iPhone, iPad, iPod, Samsung, HTC, Sony, PS4, etc. MP4 file format indeed consists of a series of utility functions for which a slew of users choose MP4 video files to play and backup their favorite movies and videos.
Hence, scads of different video files were converted into MP4 video file, and assorted free MP4 video converters also come along with the demand. Then how can we make all sorts of video files be playable on these media players? Is there any free MP4 converter for Mac capable to convert video to MP4 file?
No.1 Free MP4 Converter Mac to Convert Video to MP4 with Best Performance
The answer is Yes! Under the precondition of Mac OS computer, the world-renowned MacX Video Converter Free Edition compatible with even the latest macOS Sierra, is the best choice since it is regarded as the omnipotent yet free MP4 converter for Mac users to convert any video to MP4 with top quality. No matter convert AVI to MP4, mov to mp4, flv to mp4, WMV to MP4, mkv to mp4, or iPhone/Mac video to mp4 file format, this 100% free video converter for Mac to MP4 can flawlessly accomplish all the tasks you throw to it.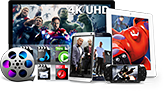 100% Free! Convert from/to MP4 on Mac
Free download MP4 converter for Mac to convert MP4 to MOV, M4V, etc for iPhone iPad iPod playback with no quality loss. 83X real-time converting speed & no quality loss.
How to Convert Video to MP4 on Mac with Best Free MP4 Converter?
Step 1. Add Video.
After free downloading this free video converter for Mac on Mac, launch it and click "Add File" button to load the video files you want to convert to MP4.
Step 2: Select Output Format.
After adding video file, the video's information, such as name, video size, video length, duration and output will be shown in the file list. Choose "to MP4" as output video format.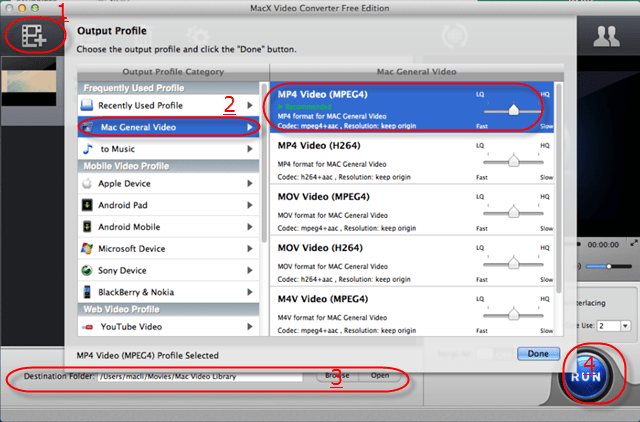 Step 3: Select Output Folder.
Click "Browse" button in output setting area, select a destination folder in the dialog box that opens, and then click OK.
Step 4: Convert Video to MP4 Files Now.
After finishing the above settings, press "RUN" button on the main interface, to start converting video to MP4 files on Mac free. You can view the conversion progress from the progress bar at the bottom of the dialog box.
Note:
After the video to MP4 conversion is finished, you can consider to transfer MP4 video from Mac to iPhone iPad iPod mobile devices under the help of MacX MediaTrans so as to playback MP4 videos movies anywhere anytime without any limits.
Aside from converting video to MP4 on Mac, if you aspire to download and convert YouTube to MP4 for iPhone, iPad, Android for on-the-move enjoyment as well, the best MP4 video converter for Mac OS X advanced version MacX Video Converter Pro, supporting hardware encoding technology, works as handy 2-in-1 solution to help you downloading and converting any YouTube (720P, 1080P, 4K Ultra HD) to your portable devices within merely mins (up to 5X faster compared with the other converters).
It's also the must-have app for you to reduce and compress MP4 files for E-mailing, YouTube uploading, iPhone iPad mobile playback and more.
No.2 Free Mac MP4 Converter for Video to MP4 Conversion & Playback
If you're not convinced by the above free MP4 converter Mac, you can have a try on this special open source MP4 converter, VLC media player. No doubt, it's a free video player, but also a nice MP4 converter for Mac freeware. How to convert video to MP4 on Mac with VLC? Damn easy with the following guide.
Step 1. Open Video File.
Import video you wanna convert from "Open File" under "Media" category after free downloading and running this free MP4 converter on Mac.
Step 2: Choose Convert
As shown on the below picture, select "Convert/Save.." from Media and then again choose "Convert".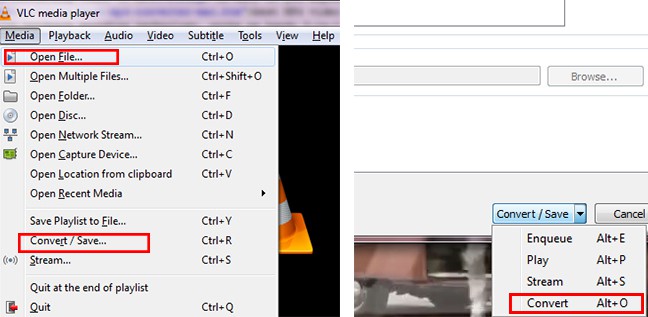 Step 3: Opt for Output Format as MP4
Select "H.264+MP3 (MP4)" as output video format. Here provides even more video formats for you to choose like WebM, TS, OGG, ASF, etc.
Step 4: Start to Free Convert Video to MP4 Now.
After the destination folder selection via "Browse" button, you can finally go to the last step: hit on "Start" button to utilize this MP4 converter Mac freeware to convert video to MP4. And when the video to MP4 conversion is completed, you feel free to playback MP4 video using VLC media player.

No.3 Most Famous MP4 Converter for Mac to Free Convert Video to MP4
When it comes to free MP4 converter for Mac search, what will appear on your radar? I bet the world-renowned Handbrake is the most frequently-heard answer. Yes, how could we miss the all-round video converter for MP4? Its simplicity, fast speed and versatility help it win a place in this top free MP4 converter for Mac review. It enables you to free yet fast convert video to MP4 as well as MKV on Mac OS X with numerous parameter settings for you to adjust and customize your output MP4 video.
If you are disposed to know how to use Handbrake to convert video to MP4 free on Mac, you're encouraged to visit the cover-all handbrake tutorial to get everything about Handbrake. And here we won't give any encumbrance to burden you.
Why Choose Free MP4 Converter from MacXDVD
Why we recommend the free MP4 converter form MacXDVD at the first place? See the below video to MP4 conversion test result and yow will be clear.
Test Materials:
Resource: a 720p music video of 3GP from One Direction's What Makes You Beautiful, 03:26 mins in legnth and 74.4 MB in size.
Computer Hardware: Mac mini (Mid 2010) with Mac OS X Yosemite; Processor: 2.4GHz Intel Core 2 Duo; Memory: 4GB 1333 MHz DDR3; Graphocs: NViDiA GeForce 320M 256MB.
Test Results:
MacX Video Converter Free Edition: cost 36.98 seconds to accomplish the video to MP4 conversion task, with 98% quality reserved thanks to High Quality Engine tech.
VLC Media Player: 61.25 seconds to call the MP4 video conversion mission to an end, but making a great deal of losses on quality. (Picture below)
Handbrake: about 52 seconds needed to reach the MP4 conversion goal, no much damage on output video quality.

Related Article
Top Free Video Converter for Mac
Here is a list of the top free Mac video converter for you to convert among HD and SD videos on Mac OS,like mkv to avi, MKV to MP4, AVI to mp4 etc; and convert video to your iPhone, iPod, iPad, do not miss this to convert video free with best free video converter for Mac
Top MP4 Converter for Mac to Convert Windows Movie Maker (WMV) Files to MP4 on Mac
Seeking for a free video converter for Mac with no watermark or time limit? MacX Video Converter Free Edition is the best free video converter for Mac without watermark to convert among AVI, MP4, MPEG, FLV, MKV, AVCHD, H.264, etc. for iPhone ,iPad iPod, Android, etc.
How to Convert MKV to MP4 on Mac OS X El Capitan/macOS Sierra
Wanna convert MKV to MP4 on Mac (OS X Mountain Lion - macOS Sierra)? While stay on the page and you will get a good video converter for Mac OS X Mountain Lion, Mavericks, Yosemite, El Capitan and macOS 10.12 Sierra, helping you convert MKV to MP4, AVI, MOV, etc with ease.