Have you ever encountered a situation that MP4 videos play well with crisp image but no sound with whatever player, Windows Media Player, QuickTime, VLC, Media player classic, and whatever platform iPhone Android, Windows 10/11, macOS? It is like viewing a silent movie!
To get this error fixed, you're supposed to find out the real inducement that results in "MP4 video file has no sound" issue. And then the specific conduct to solve MP4 no sound issue is followed by. Here, we list the common cases and reasons of not getting any sound in an MP4 file, along with most smart approach to solve the issue using an MP4 video converter.
Most Simple Way: Free Convert MP4 Codec Format
The main cause of MP4 no audio track issue is the unmatched codec. Thus, the once-and-for-all solution is to convert MP4 codec format. MacX Video Converter Pro is your silver bullet, built in with 370+ video/audio codecs to help you convert MP4 container format to Window media player, VLC, iPhone Android formats with best video/audio codecs, including AVI, WMV (WMA audio), WebM, MP4 (H264/AAC), MP4 (MPEG-4/MP3 decoder), MOV, FLV, MOD, DivX, XviD, MKV, MTS, FLAC, AC3, OGG, etc. with 420+ preset profiles. Also work as an MP4 repair software, downloader, compressor, screen recorder.
Part 1. How to Solve MP4 Audio Lost in Playing with WMP, VLC, QT
Can anyone help? Recorded a movie via my mobile phone uploaded it onto my laptop but when playing in windows media player I see the video but no sound. Using Windows 7 and the file type is MP4. - AVForums
Why MP4 Has No Sound on Windows Media Player? That is because the audio codec of your MP4 file is not supported by WMP. Windows Media Player supports only certain type of Codec. To make WMP support MP4, Follow the below steps:
Step 1. Retrieve codec info to figure out the missing codec for your MP4 file.
Go to "Start" on your Windows 11/10 and type "Windows Media Player" in the search field > hit "Enter" key.
Press "Alt+H" shortcut keys to enable WMP's Help Section > choose "About Windows Media Player".
Tap "Technical Support Information" on the pop-up new window > "select your Web Browser". This option shows you all the information about the audio and video codecs of your system will display.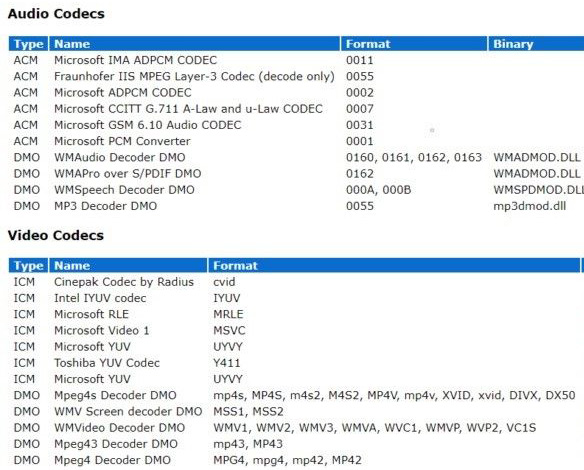 Step 2. Install the missing codecs and associated filters for MP4.
Download and install the required codec plug-in for Windows Media Player, like Media Player Codec Pack, K-Lite Codec Pack, Windows 10 Codec Pack, etc. and the associated filters can also be added to WMP if needed. Afterwards, proceed as follows:
Tap "Organize" on Windows Media Player user interface (upper left corner).
Stay on " Options" > scroll down the list to Plugins.
Adjust each category's settings of the installed plugin so as to initiate them.
Re-open Windows Media Player on Windows 11/10/8/7 and load your MP4 video to test if no audio issue gets fixed.
Or play MP4 video on Windows or macOS using WMP alternatives like KMplayer, 5KPlayer, GOMplayer, etc. and see if the MP4 no sound problem is reproduced. Specificlly, try playing the problematic MP4 file in any of the above players. If the file doesn't have any sound in these other players either, note if there is an error message displayed during playback. And in case video player doesn't get the error tackled, convert MP4 video audio codec!
Part 2. How to Fix "iMovie is Missing Audio from MP4" Error
On iMovie, I tried to create a new project by importing a .mp4 file from my account on Youtube. The MP4 file plays but no sound. Why and what should I do? - Apple Support
The reason of iMovie MP4 No Sound: technically, iMovie does accept MP4 file with all its codecs. It only imports MP4 files encoded by MPEG4/AAC or H.264/AAC data. Yet, MP4 is a video container format that may contain various audio and video codecs (and sometimes even subtitle streams incl.). If the MP4 file is not encoded with iMovie support codec, iMovie won't import this kind of MP4 video. So the essence is to know best formats for imovie and convert MP4 to iMovie best codecs. And apart from this, corrupted media player installation and corrupted MP4 files can lead to MP4 no sound problem as well. Simply uninstall the incorrectly installed media player and reinstall the right one (latest version recommended). Or resort to a video repair software to repair corrupted MP4. The last method is to load MP4 to iMovie alternative for further editing if it's still up in the air, Premiere Pro, Filmora, Avidemux, VideoProc Vlogger, etc.
Part 3. How to Free Convert MP4 Codec to Fix Error Once and for All
As it is mentioned, the main cause of MP4 no audio track issue is the unmatched codec. For this purpose, a awesome MP4 video converter is in demand. MacX Video Converter Pro is highly recommended since it is built in 370+ video/audio codecs. It always behaves well in converting any video audio formats, owning to the built- including FLV, AVI, MOD, DivX, XviD, WMV, WebM, MKV, MTS/M2TS etc. or MP4 of H.264+AAC codec and MPEG4+AAC codec.
High Quality Engine gurantees you a highest possible output quality, up to 98% quality and GPU Intel/Nvidia/AMD hardware accelerated decoder & encoder delivers you the world's No.1 fast speed, up to 250-320FPS, 5X faster than any rival!
How to Transcode MP4 Video Audio Codec with Best Quality
Step 1: Free download the MP4 video converter or Mac version and launch it. Click "+" to load the MP4 file without sound.
Step 2: Choose the output format from the automatically popped up window. Here MP4 with h.264+aac or mpeg4+aac codec is wildly chosen for the compatibility of mainstream media players and iMovie, iTunes etc.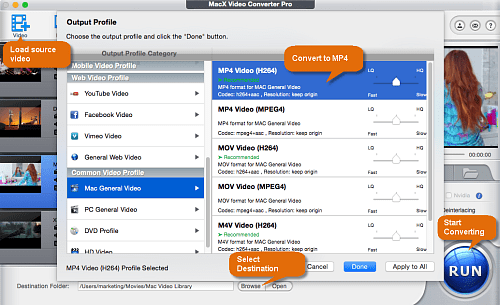 Step 3: Specify the output folder to save the converted videos without MP4 sound problem.
Note: move your mouse to the lower right corner of the user interface, where you can see the GPU hardware accelerated decoder being auto ticked to improve your conversion speed. And you're required to manually tick "Use High Quality Engine" to keep your resulting MP4 file quality to the maximum extent.
Step 4: Hit "RUN" button to start converting the no sound MP4. You can view the conversion progress and are able to cancel the converting process at anytime. An extremely short period is need to get MP4 no sound fixed.
Besides, YouTube video no sound problem, Facebook no sound issues can also be effortlessly solved with this video converter in similar steps.