Q: I downloaded 5 torrents from The Pirate Bay all episodes of Torchwood: Children of Earth and now I want to either convert them into .mp4 so I can watch them on my iPod Touch or get them in iTunes in some way or another to again watch on my iPod. I've used uTorrent to download but I need them in .mp4. - Yahoo Answers
A: Torrent clients (uTorrent, BitTorrent...) make movies video downloaded much easier than ever. Yet when you want to play the downloaded torrent videos on Android, iOS, game consoles, etc. mobile devices, you will fall flat on your face since the downloaded torrent files are formatted by MKV, AVI, MPG, etc, unfriendly to most of your handheld devices.
That's why your guys seek for a solution to convert torrent to MP4 to make torrent readable by varied types of media players and devices. But how to convert MKV, AVI, MPG torrent files to MP4 format without sweat?
Try Best Torrent File to MP4 Converter!
The world-renowned MacX Video Converter for Windows to free convert torrent to MP4 (H264, MPEG-4, HEVC), WMV, MOV, FLV, MP3, or directly convert torrent to iPhone iPad, Android, PS5, Xbox, Microsoft, Sony, etc. at world's No.1 fast speed (5X faster than other torrent converters thanks to Intel/Nvidia/AMD HW acceleration tech). Its "Auto Copy" mode lets you remux torrent video to MP4 at 1:1 quality ratio if the input and output codecs are the same (e.g., MKV H264 to MP4 H264).
Beyond that, it can free download movies/music from 1000+ sites, screen record YouTube, capture screen gameplay video, and edit torrent video (cut off commercial ads from torrent video, remove black bars, merge clips, rotate, add subtitle to torrent). The brief tutorial below will show you how to convert torrents to MP4 format on macOS.
The downloads above are for Windows and Mac only. If you are a mobile user, please click here.
Part 1. How to Free Convert Torrent to MP4 with Top Quality
The torrent to MP4 guide below is based on macOS. If you run a PC computer, please refer to the Torrent to MP4 converter for windows version.
Step 1: Load torrent movies
When the torrent to MP4 video converter is open on Mac (macOS Monterey included), click "Add File" button to load the torrent file you want to convert or simply drag and drop the torrent file in the convert tab. For the multiple torrent files, you can choose the status Merge All ''On'' to join the movies if needed.
Step 2: Choose MP4 as output format
Click MP4 format from the drop-up window in case you'd like to encode torrent to MP4.
If your torrent video (e.g., MKV format) has the same codec as your desired MP4 video, H264, MPEG-4 or HEVC, you're advised to tick "Auto Copy" mode at the lower right corner of the UI. Thus, your resulting MP4 will be kept at 1:1 original quality.
If your torrent video (e.g., MKV) is encoded by VP9 or VP8, auto tick "High Quality Engine" (next to Auto Copy). In this way, your output MP4 video will remain at highest possible quality, up to 98% quality kept.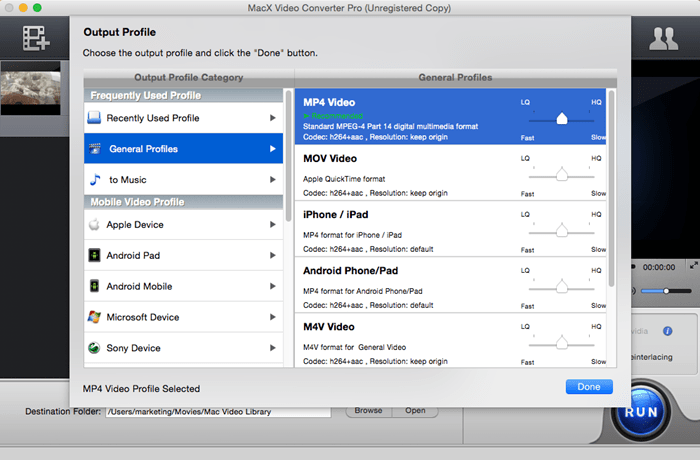 You are optional to select the device profile according to your own needs. This torrent file converter is equipped with 420+ preset profiles for the latest mobiles. That means you can directly play torrent files in MP4 on iPhone, iPad, iMovie, Apple TV, Samsung Galaxy S/Note series, Sony, Surface Pro, Amazon Fire Phone, PS5/4, Xbox One S, etc through a simple conversion.
Step 3: Select Output Folder
Click the "Browse" button to choose the path where you want to save the converted mp4 torrent files in.
Step 4: Start Converting torrent to MP4
Click the "RUN" button at the lower right corner of the interface to begin changing the format of a torrent to MP4 on macOS. Note to enable the hardware encoder to take advantage of GPU (Intel/Nvidia/AMD) hardware accelerator to assign the compute-intensive task from CPU to GPU, improving speed to 250-320FPS, 5X faster!
Part 2. Need to Compress Torrent Video? Guess So
I'm a pro user and the inability to compress torrents larger than 4 gb is making me reconsider my membership. There are some torrents that have more than 3000+ little files, if these torrents can't be compressed, how can I download so many files individually? This issue needs to be rectified.
Many torrent movie files are very large in size, especially those MKV torrents. Even though you convert torrent MKV file to MP4 with comparatively smaller file size, the truth is that the converted MP4 torrent file is still too large for your mobile device like iPhone iPad, if you don't want to only store one or two torrent files therein. In such case, you still need to compress your MP4 torrent file size. How to compress torrent? Here two solutions you can try:
Solution 1- Change MP4 Torrent File Parameter Video Resolution, Frame Rate and Bit Rate
Properly adjust resolution (640*480 recommended), and lower the bit rate 20-50% compared with its default one. Normally, the smaller video you want, the lower bit rate you should keep.
Solution 2 - Cut off Unwanted Part to Downsize MP4 Torrent File
Generally speaking, removing the unnecessary part of the MP4 torrent video is the practical way to reduce MP4 torrent file size. You can choose to trim the black bar of the video or shorten the duration of video to get just the needed video part. Needless to look for another video editor, the above mentioned MacX Video Converter Pro can accomplish this task quite well.
Still unclear about how to compress torrent (MP4 torrent file) size, here is a detailed guide on compress MP4 video file.
Part 3. FAQs about Torrent Conversion
1. Can torrent site give you viruses?
Yes. The official torrent sites (e.g., uTorrent, BitTorrent), are free of malware and can be used safely and privately jointly with a VPN. They don't, however, prevent some malware programmers from writing some virus files with malicious scripts and hiding them within the normal safe files with an intention to attack your system.
Before you convert Torrent to MP4, you'd better make sure whether your torrent contains a virus. So checking your torrent with a virus detector is necessary.
2. How to change a torrent file to a MP4 video?
There is some confusion between .torrent files and downloaded torrents. Let's be clear. A .torrent file is not the exact movie or video you want to download and you can't go to convert it. It's rather a file that helps you to download the right stuff. So before you go to real torrent movie to MP4 conversion, you need to install a torrent client like uTorrent and open the .torrent file to download the torrents. Then you will get a .mkv or .avi file. That's what you need to convert MKV/AVI torrent movie to MP4 for easier playback.
3. How to open a torrent file?
Torrents allow you to download any type of file. Different files will require different programs. The extension or file type can help you determine what program to use for opening torrent files. As for unknown files, perform a quick web search for the file extension to see what programs you can use.
WinZip is here for you to open a torrent file with a zip extension.
Double-click on the "setup.exe" file to install the Windows application if what you get is ended with exe file extension.
It's a no brainer if your torrent file is a video type. Install VLC player, 5Kplayer, KMPlayer, etc. to open it.
Double-click the file on your Windows or macOS if the downloaded torrent file goes to ISO image, as both your Windows 10 and macOS are able to recognize ISO image files without using extra plugin.
Warm prompt: after you know a thing or two about torrent files, there is still one thing needed to be noted. Downloading a torrent file, especially a new movie torrent you download from a torrent download site, usually refers to copyright infringement. So it's advised to get its DVD version from Amazon or other DVD stores and make a back of your own DVD as DVD ripping for personal use in some countries like U.K. is sheer legal.