Torrent clients (uTorrent, BitTorrent...) make movies video downloaded much easier than ever. Yet when you want to play the downloaded torrent videos on Android, iOS, game consoles, etc. mobile devices, you will fall flat on your face since the downloaded torrent files are formatted by MKV, AVI, MPG, etc, unfriendly to most of your handheld devices.
That's why your guys seek for a solution to convert torrent videos to MP4 to make torrent readable by varied types of media players and devices. But how to convert MKV, AVI, MPG torrent files to MP4 format without sweat?
How do I convert torrent files to normal MP4?
You need MacX Video Converter Pro. It's a strong performer in free converting torrent movie files to MP4 (H264, MPEG-4, HEVC) etc. for playback on Windows 10/11, Mac, Android, iPhone, etc. with 98% quality kept. It also gives you full freedom to adjust torrent video resolution, codec, frame rate, bit rate, aspect ratio for best fitting your playback platforms. The tool can also download and convert torrent link to MP4 directly from YouTube, Ins, Metacafe, Dailymotion, break, etc. 1000+ sites.
The downloads above are for Windows and Mac only. If you are a mobile user, please click here.
Part 1. How to Free Convert Large-sized Torrent to MP4 on Windows/Mac
Generally, the torrent video file is bulky in size. As for online torrent video converter services, most of them put strict limits on input file size (generally no more than 100MB for free use).
In such case, the professional video converter MacX Video Converter for Windows is superior to online torrent converters in terms of input file size. Without limit on input file size, you can load your torrent videos and convert torrent to MP4 (H264, MPEG-4, HEVC), WMV, MOV, FLV, MP3, or directly convert torrent to iPhone iPad, Android, PS5, Xbox, Microsoft, Sony, etc. without any size error notice or upgrade notice.
Meanwhile, its "Auto Copy" mode lets you remux torrent video to MP4 at 1:1 quality ratio if the input and output codecs are the same (e.g., MKV H264 to MP4 H264). Beyond that, it can free download movies/tv shows from 1000+ sites, screen record computer, capture screen gameplay video, reduce torrent video size and edit torrent video (cut off commercial ads from torrent video, remove black bars, merge clips, rotate, add subtitle to torrent).
How to Convert Torrent Movie Files to MP4 on Windows/Mac without Input Size Limit
Step 1. Load torrent movies
When the torrent to MP4 video converter is open on MacBook or iMac, click "Add File" button to load the torrent file you want to convert (1GB, 3GB or 10GB+ any file size loaded instantly) or simply drag and drop the torrent file in the convert tab. For the multiple torrent files, you can choose the status Merge All ''On'' to join the movies if needed.
Step 2. Choose MP4 as output format
Click MP4 format from the drop-up window in case you'd like to encode torrent to MP4.
If your torrent video (e.g., MKV format) has the same codec as your desired MP4 video, H264, MPEG-4 or HEVC, you're advised to tick "Auto Copy" mode at the lower right corner of the UI. Thus, your resulting MP4 will be kept at 1:1 original quality.
If your torrent video (e.g., MKV) is encoded by VP9 or VP8, auto tick "High Quality Engine" (next to Auto Copy). In this way, your output MP4 video will remain at highest possible quality, up to 98% quality kept.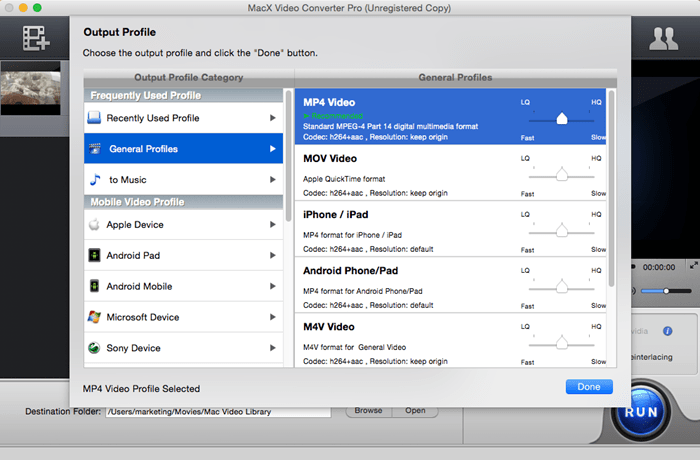 You are optional to select the device profile according to your own needs. This torrent file converter is equipped with 420+ preset profiles for the latest mobiles. That means you can directly play torrent files in MP4 on iPhone, iPad, iMovie, Apple TV, Samsung Galaxy S/Note series, Sony, Surface Pro, Amazon Fire Phone, PS5/4, Xbox One S, etc through a simple conversion.
Step 3. Select Output Folder
Click the "Browse" button to choose the path where you want to save the converted mp4 torrent files in.
Step 4. Start Converting torrent to MP4
Click the "RUN" button at the lower right corner of the interface to begin changing the format of a torrent to MP4 on macOS. Note to enable the hardware encoder to take advantage of GPU (Intel/Nvidia/AMD) hardware accelerator to assign the compute-intensive task from CPU to GPU, improving speed to 250-320FPS, 5X faster!
Part 2. How to Convert Torrent to MP4 Online Free
If you're not meant to download and install any torrent to MP4 converter programs on Windows 10/Mac, you can resort to online torrent video converter services. Certainly, as we mentioned above, the precondition is that your torrent video file is not large in file size. Or you're asked to upgrade to the online torrent to MP4 converter's payment service.
Providing your torrent file is small or medium-sized, try the following online torrent files converters:
1. sendeyo.com
Merely from the website name, you're unable to judge its feature. Actually, this is a feature-all online converting service, letting you free convert torrent files to MP4, as well as free convert jpg to MP4 video, png to MP4, GIF to MP4, PDF to MP4, etc.
There is scarcely a man but has weak sides. And this online torrent to MP4 converter is no of exception. Its webpage is not user-friendly, indeed. When you first access to it, you might gravitate from its full screen text, features introduction and cookies notice. You want to close this webpage instantly. Just hold on for second; you just need to focus on its major feature, ignoring its frills. After all, it really can convert torrent movies to MP4 online without further ado. See how it makes it:
Step 1. Access to this online torrent to MP4 converter service, and then tap the "Choose a file" button at the left-hand column of the webpage to load your torrent video file. Note: if your input torrent video file size is over 5MB, you'll asked to sign up for loading large-sized torrent video file. Step 2. Tap the Start button. Step 3. Scroll down to choose MP4 as output format. You can also choose to convert torrent to MP3, FLV, AVI, GIF, etc. format. Step 4. Tap the "Convert" green button to begin converting torrent video to MP4 online free.
Sometimes, users would encounter the red error notice, telling you to check the file and settings. In such case, fresh your webpage or re-load your torrent file to try again.
2. online-convert.com
Unlike the first online torrent to MP4 converter, this one is clean and pleasant at your first glance. And this service supports you free converting torrent videos to MP4, torrent to MP3, torrent to H264, torrent AVI, etc. other formats. It's also a no brainer for it to further compress torrent video file if it's too large to save on your device. You can access to its "Video Compressor" category to utilize its compression feature to reduce your torrent video file size if necessary. Here is a guide on how to convert Torrent to MP4 format.
Step 1. Open your Chrome or Safari browser > open the Online-Convert Torrent converter website: https://video.online-convert.com/convert-to-mp4.
Be noted that sign up or log into this online torrent to MP4 converter if your torrent video is more than 100MB.
Step 2. Import the Torrent files to Online-Convert website by clicking on "Choose File". It supports loading torrent video file from local computer, Dropbox, Google Drive or URL. Step 3. Choose MP4 as output format and select the corresponding settings if needed. There are also settings for audio formats, as well.
Step 4. Hit the "Convert File" button. Online-Convert will begin to convert torrent movie file to MP4 online. Sometimes, the downloading speed is comparatively slow since it's highly relevant to your local network connection. Just patiently wait for minutes especially for your input torrent video in high-definition like 1080p or 4K.
Part 3. How to Convert Torrent Files to MP4 on Android
You can't convert torrent movie files to MP4 on Android without third party help. Android doesn't come with a built-in converter that converts torrent files to MP4 files. Torrent files are illegal and have potential malware or virus. You can resort to a torrent client, such as utorrent, bitlord. Then use the following steps to convert torrent files to MP4 on Android. First, you have to install utorrent on your Android device.
Step 1. Go to Google Play Store, find and install uTorrent on your Android.
Step 2. Open uTorrent and tap allow when uTorrent asks to access your device's location and media files.
Step 3. Open the torrent file through your torrent client and start download torrent link to MP4 on Android.
Part 4. How to Compress Torrent to Smaller Size?
I'm a pro user and the inability to compress torrents larger than 4 gb is making me reconsider my membership. There are some torrents that have more than 3000+ little files, if these torrents can't be compressed, how can I download so many files individually? This issue needs to be rectified.
Many torrent movie files are very large in size, especially those MKV torrents. Even though you convert torrent MKV file to MP4 with comparatively smaller file size, the truth is that the converted MP4 torrent file is still too large for your mobile device like iPhone iPad, if you don't want to only store one or two torrent files therein. In such case, you still need to compress your MP4 torrent file size. How to compress torrent? Here two solutions you can try:
Solution 1 - Change MP4 Torrent File Parameter Video Resolution, Frame Rate and Bit Rate
Properly adjust resolution (640*480 recommended), and lower the bit rate 20-50% compared with its default one. Normally, the smaller video you want, the lower bit rate you should keep.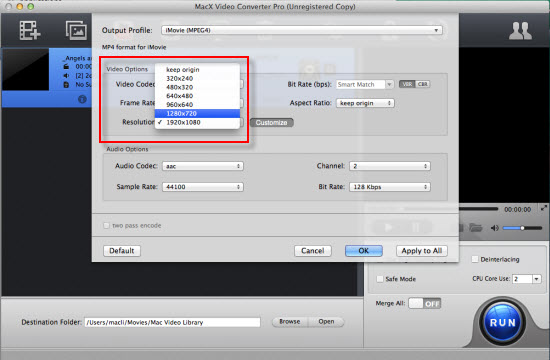 Solution 2 - Cut off Unwanted Part to Reduce MP4 Torrent File
Generally speaking, removing the unnecessary part of the MP4 torrent video is the practical way to reduce MP4 torrent file size. You can choose to trim the black bar of the video or shorten the duration of video to get just the needed video part. Needless to look for another video editor, the above mentioned MacX Video Converter Pro can accomplish this task quite well.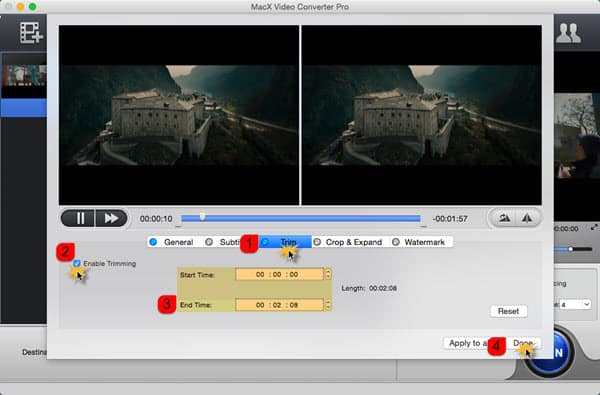 Still unclear about how to compress torrent (MP4 torrent file) size, here is a detailed guide on compress MP4 video file.
Part 5. FAQs about Torrent Conversion
1. What is the difference between Torrent and BitTorrent?
BitTorrent is an internet peer-to-peer file sharing protocol that works in a sort of decentralized fashion. When you say BitTorrent file, it generally means links referencing special BitTorrent protocols, which is almost impossible to convert BitTorrent files directly to MP4 Videos. While a torrent file is a computer file that contains metadata of files and folders to be distributed, and it can be converted into MP4 format.
2. How to change a torrent file to a MP4 video?
There is some confusion between .torrent files and downloaded torrents. Let's be clear. A .torrent file is not the exact movie or video you want to download and you can't go to convert it. It's rather a file that helps you to download the right stuff. So before you go to real torrent movie to MP4 conversion, you need to install a torrent client like uTorrent and open the .torrent file to download the torrents. Then you will get a .mkv or .avi file. That's what you need to convert MKV/AVI torrent movie to MP4 for easier playback.
3. How to open a torrent file?
Torrents allow you to download any type of file. Different files will require different programs. The extension or file type can help you determine what program to use for opening torrent files. As for unknown files, perform a quick web search for the file extension to see what programs you can use.
WinZip is here for you to open a torrent file with a zip extension.
Double-click on the "setup.exe" file to install the Windows application if what you get is ended with exe file extension.
It's a no brainer if your torrent file is a video type. Install VLC player, 5Kplayer, KMPlayer, etc. to open it.
Double-click the file on your Windows or macOS if the downloaded torrent file goes to ISO image, as both your Windows 10 and macOS are able to recognize ISO image files without using extra plugin.
4. How do I play a torrent video?
There are some torrent streaming apps that you can use to play torrent files without downloading or converting. Our favorites are WebTorrent Desktop, Webtor, and Rox Player. To play a torrent video, for example, with WebTorrent Desktop, use the following steps. Drag the torrent file magnet link onto the player, or go to File > Open Torrent Address and paste the torrent magnet link instead. Then click on OK to load the torrent files, click the Play button to play the torrent videos without downloading.
5. Can torrent site give you viruses?
Yes. The official torrent sites (e.g., uTorrent, BitTorrent), are free of malware and can be used safely and privately jointly with a VPN. They don't, however, prevent some malware programmers from writing some virus files with malicious scripts and hiding them within the normal safe files with an intention to attack your system.
Before you convert Torrent to MP4, you'd better make sure whether your torrent contains a virus. So checking your torrent with a virus detector is necessary.
Warm prompt: after you know a thing or two about torrent files, there is still one thing needed to be noted. Downloading a torrent file, especially a new movie torrent you download from a torrent download site, usually refers to copyright infringement. So it's advised to get its DVD version from Amazon or other DVD stores and make a back of your own DVD as DVD ripping for personal use in some countries like U.K. is sheer legal.
ABOUT THE AUTHOR