We google "best video compression software" for various reasons. You have a Creative Webcam 750 and plan to send some family videos by email but find any video taken is much too large. You create a 2-hour movie in MP4 using HitFilm and mean to stream it via Vimeo or YouTube, yet you suffer a failure on account of its 7 GB large file size. You may wanna compress a video on Mac in HD 1080p (about 10 GB) to the minimum size without sacrificing any quality, but no suitable Mac video processing software reaches your expectation.
* Bad quality: The shrinker gives me a highly condensed file, but the quality is not as good. When I import the video with mpeg-4 codec in 1080p, I already lose tons of quality. Any software can reduce video size without sacrificing video quality?
* Compression ratio is not enough: I have a 9GB video and I need to reduce it to the smallest size as possible. I can significantly downsize its file to around 4.27GB at good quality, which is impressive, but still too large for me. If I go further, the video quality becomes unacceptable. How can I properly reduce the video file size to smaller size without much loss in quality? Any compressor suggestion?
* High CPU usage: When I downsize a 4K ultra high-definition video with Handbrake, my CPU runs at 100% and computer gets hot. When I set the priority to lower settings to ease the CPU usage, the video shrinking becomes very slow.
That's quite off-putting. But thankfully, here comes the solid video compression software for Mac to reduce video file size by up to 70% with no noticeable quality loss. The following part will step-by-step illustrate you how to:
>> [Software] Top video shrinker for Mac with highest quality;
>> [Tutorial] How to resize video on Mac;
>> [Tips] Video compression settings tips.
Part 1: To Compress Videos on Mac Without Quality Loss, You Need:
Apparently, the best video compression software for Mac should hit the sweet spot between final video size and output quality, yet without producing too much burden on CPU if downscaling 4K ultra HD videos or higher resolutions. Which is the second-to-none video compressor for Mac you need?
MacX Video Converter Pro: It may be the most efficient video compresion software for Mac designed to reduce videos with large size, for example, HD 720P, 1080P, 4K, 5K or even 8K videos. It will resize video file by 50%-70% (and even 97%) based on the source video without noticeable quality loss. It can compress all the videos to all the smaller video formats to reduce video size, such as shrink video files to H.265 HEVC, H.264, MOV, MP4, M4V, or FLV, WMV, etc. It will also adjust the specific video parameters and edit the clips for smaller size. Why it outweighs others as the compression processes are similar? Because:
1. Its built-in High Quality Engine and quality adjustment slide bar are specially designed to guarantee up to 98% output quality.
2. And its hyper-threading tech enables multiple threads to run on each core and multi-core (up to 8) CPU utility assigns the whole video compression to multiple cores.
3. Plus, this Mac video converter is the world's first converter to arm with 3-Level Hardware Acceleration, namely Intel QSV, Nvidia/Cuda, AMD APP in copmressing. The unique features deliver 5x faster speed than its closest competition when resizing any videos, even 4K UHD clips while without placing any burden on CPU.
How to Compress Video with the Top Video Compressor for Mac (macOS Mojave)
Here in our actual test, we compress a 8GB MKV video (1920x800) with duration of 2h23min to MP4 format. The whole video shrinking process costs 23min53s and produces the output MP4 video (1920x1080) with 2.72GB in size. This Mac compression software reduces MKV video size 56% off. The whole video compression process is on a 27-inch iMac (2011 Middle) with OS X Yosemite operating system, powered by 2.7GHz Intel Core i5. The specific steps are: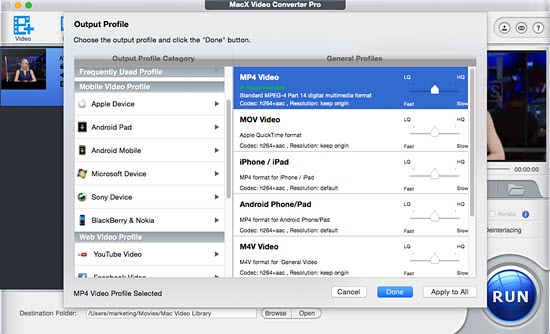 Step 1: Free download this stellar video compression software on Mac, launch it and click "Add File" to load the video files you want to downsize.

Step 2: Choose the output format. This software will compress MP4, AVI, MOV, WMV, etc for smaller size. You can select a smaller output format like HEVC H.265, H.264, FLV, WMV etc. Here we transcode video to H.264 in MP4 format, choose "to MP4" as your output format.
Step 3: Make the following adjustment if necessary. Click the "Browse" button to choose the destination folder. Afterwards, press "RUN" button to start to shrink video file size on your Mac.
1 If you're compressing a large video file to mobiles, here are 350+ readymade profiles for mobiles, meaning you can compress video to iPhone iPad Android with small file size and high quality in one click.
2 Click the

icon to edit the video where it is allowed to crop the black bars, remove commercials from video/movie and freely set up the Start Time/End time to get favorite clips, in such a way the video file will be downsized with nary a quality loss (no video conversion involved).
3Click the

icon to adjust the video parameters, like Resolution and Bit Rate to make your file smaller. Generally, frame rate and frame size don't much affect the file size. Keep read on the Tips & Tricks below to know more information about how to adjust the video compression settings.
Compress Video for E-mailing or Uploading to Website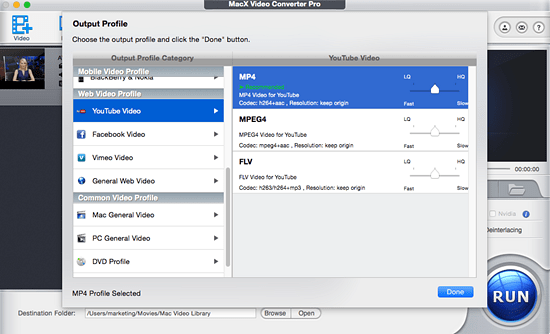 Myriads of Mac users compress video for uploading to YouTube, Facebook, Instagram, WhatsApp, Vimeo, Metacafe, Myspace, other websites, or need to reduce video for e-mail. For those uesrs:
* You're suggested to go to Web Video Profile column, here ready streaming video formats like FLV, 3GP, WMV, etc are available. These formats are specially set for uploading video to website barely with the samllest size yet the highest possible quality.
* As the best yet multi-purpose video size converter, MacX Video Converter Pro can accomplish this task like a cork. With over 420 preset profiles, this fabulous video compressor for Mac is capable to make video size smaller (MOV, MP4, MKV, 1080P, 4K, 8K) so as to upload to Facebook, Vimeo and YouTube supported video format with the ready-to-use profiles offered.
Tips & Tricks on Video Compression Settings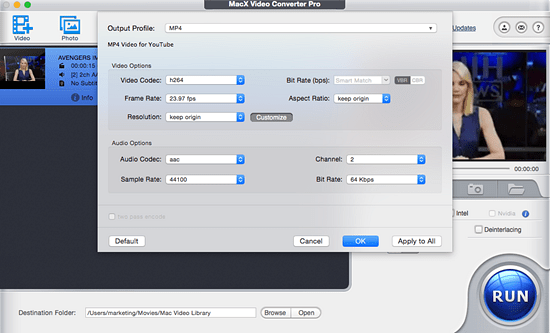 Commonly, compressing video means cutting down the unnecessary data from video and keeps the video with suitable file size. But the truth is that when you remove the seemingly insignificant parts from the video, your video quality will be affected to some extent. Well, how to reduce your video file size while reserving the high quality untouched? Tips below:
1. Compress video to the recommended video formats like HEVC H.265(recommended), H.264, MOV, M4V format, as they are smaller than other video formats with good quality.
2. Properly adjust or lower the video/audio resolution (you're allowed to downscale 4K to 1080P, 1080P to 720P, and 640*480 also recommended), and lower the video/audio bit rate by 20-50% compared with its default one. Normally, the smaller video you want, the lower bit rate.
3. Adjust the slidebar of LQ-HQ or click "Use High Quality Engine" in the advanced setting area to improve your compressed video quality.
Tip: Have ever seen such a perfect HD video compression software for Mac? If no, have a shot on this amazing video resizer for Mac. It will also surprise you at its awesome 2-in-1 knack to download and convert any YouTube video in a flash. More stuff like, record on-screen video, make photo slideshow video and edit video, whatever you throw to it, it can do that favor for you seamlessly with zero efforts.

Author: Candice Liu | Updated on Dec 7, 2018