4K Ultra HD has become more prevalent than 1080P due to its superior viewing experience to full HD. And also our daily life is rife with 4K UHD videos, which generally come from YouTube, Vimeo and more video sites or shot by Canon, Panasonic and Sony cameras, iPhone 6S or later. Does this mean 1080P HD is replaced by 4K UHD? Of course NOT, though 4K ultra HD sets the world on fire, there are still tons of stuff needed to be completed in 1080P, like video playback and editing. Before the article trackles the detailed steps to downscale 4K to 1080p, it's best to learn the related terms of video resolution for a better understanding.
1. Pixels. As the mitochondria is the powerhouse of the cell, Pixels are the building block for every display you've ever seen. They're tiny little dots that, together, making up the picture you see on a screen. You can only see these pixels if you're fairly close to the screen, of course; from a distance, thousands of them blend together to make the image on your screen.

2. Resolution. When a number of pixels combines together, you can see a image on the screen of your television, laptop or computer monitor. The higher your televesion screen's resolution, the more pixels can be used, and the clearer your image will be displayed on the screen. When your screen resolution is not suited with the image made by pixels, the image will be zoomed or expanded to fit the screen resolution during the playback. But the image quality will be loss as well. Thus to ensure an original high quality 4K video playback on smaller screens, you're suggested to do some 4K video downscaling and processing indeed.
Why Compress 4K to 1080p?
1. Fail to play 4K video on media players (VLC, QuickTime, Windows Media Player, KMPlayer, GoMPlayer ) or handheld devices (Samsung, HTC, Sony, iPhone iPad), for the majority of media players and media devices work well with 1080P rather than the newcomer 4K (4096 x 2160).
Note: Even if iPhone X/8 is claimed with ability of 4K video playback, an extra app/converter is still in demand since 4K is too large in size, consuming too much time for sync.
2. Unable to edit 4K video in video editing software like iMovie, Final Cut Pro, Windows Movie Maker, Sony Vegas, Adobe Premiere Pro, Cyberlink Powerdirector, etc.
3. Hard to upload 4K video to YouTube, Facebook or other video sites due to the much bigger size (the data amount of each frame is as big as 50MB) and high definition (Instagram, Vevo, etc. do not support 4K video).
To Compress 4K to 1080P, You Need:
A tool to handle 4K Ultra HD videos at the first place. Here according to the feedbacks of dozens of users, they unanimously recommend the award-winning 4K video processing tool - MacX HD Video Converter Pro for Windows (or Mac version). Why this 4K video reducer wins so many users' favor? That's because:
MacX HD Video Converter provides you with all the bells and whistles you are looking for in a 4K video processing program. See, it can perform well as a video resolution converter to resize 4K to 1080P video, 4K to HD 720P video, 1080P to 720P video with 98% quality reserved at world's fastest speed (5X faster than other competitors), thanks to its inherent High Quality Engine, multi-core CPU (up to 8) utility and Intel QSV/Nvidia/AMD hardware acceleration tech.
In addition, this 4K UHD media processing tool can also downsize 4K to 1080P video formatted with MP4, MOV, AVI, MKV, MTS, AVCHD, MP3, AAC, etc. so as to smooth playback on iPhone, iPad, Samsung, Sony Xperia Z5, Nokia, Surface Pro 4, PS5, Xbox One, etc. with 420+ profiles offered. Also, it's more than a 4K video converter, but also the ideal choice for u to free download 4K movies from YouTube, FB, Vimeo, Dailymotion, etc. 1000+ 4K video sites.
How to Compress 4K UHD to 1080P HD with Best Quality?
Step 1: Free download this 4K video compression software, and then fire it up & click "Add File" to load the 4K video files you want to compress.

Free Download MacX Video Converter Pro on Windows

Free Download MacX Video Converter Pro on Mac
Step 2: Select the output format and resolution you desire. Here highly recommends you to shrink 4K video to H.264 in MP4 format, choose "to MP4" as your output format and select "1920 x1080" resolution from the parameter setting windows.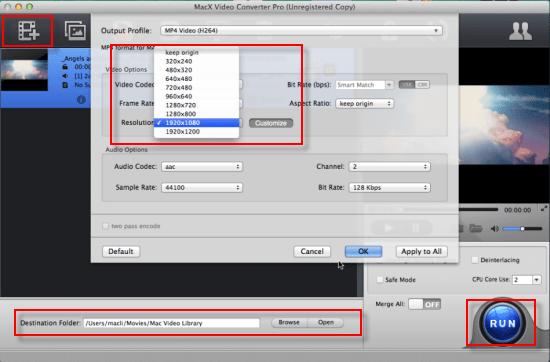 Step 3: Click the output folder you want to save the output video by clicking "Browse" button.
Step 4: After finish the above steps, click "RUN" and this HD video compressor will start to reduce video size of 4K on your PC. The same way is used for 8K to 4K Ultra HD conversion, 1080p to 720p conversion and more.
Note: 4 clicks to easily convert compress 4K video to 1080P video, that's all this video compressor for 4K can do for you? Absolutely not! With this best-ever 4K video processing program in hand, you are also allowed to customize and edit 4K UHD video, like adjusting Bit Rate to downscale 4K video file size; tweaking frame rate to improve 4K video quality after conversion, change aspect ratio (4:3 to 16:9), cut off the unwanted part of 4K video, add subtitles or watermark to 4K video, etc.
And if you wanna apply it to download 4K videos from YouTube, Facebook, Dailymotion, Instagram, Vimeo, Vevo HD video, etc, yes, it's just made for that (over 1000 video audio sharing sites supported); What if recording screen video, no biggie, it can immediately turn to a powerful video recorder to serve for you. Just test it and you will be pleased with more surprises!
Still have any problem on how to convert 4k to 1080p video, just
email us >>
ABOUT THE AUTHOR