I have ventured into the GoPro world but I have no idea how to compress the files sizes. I have 12GB of movies and I want to be able to share them either on YouTube or Facebook. I'm sure there's a simple way to do it on my iMAC but I be too stoopid. How do I do it? - tenthumbs
If you are an extreme sports enthusiast, you must be familiar with GoPro, an affordable high performance wearable camera to record everything from skydiving to water skiing to bungee jumping etc. GoPro, being an "always-on" type of camera worn on your helmet, attached to your bike, surfboard or other, usually records videos with large file size of high definition MP4. You surely get an enjoyable experience of 1080P HD, 4K VR, 360 degree GoPro videos watching, but not everything goes well with GoPro HD videos, especially when you wanna share with your friends online or save to mobile devices. Reasons might be different, but finally it presses you to compress GoPro videos with top rated software. Let's have a check.
Best GoPro Compression Software Recommended
No.1 MacX Video Converter Pro
The cutting-edge MacX Video Converter Pro offers various solutions to resize GoPro videos without lossing quality, namely adjust parameters like bit rate, resolution, frame rate; convert GoPro videos to smaller size video format like MP4 FLV WMV MOV; and cut videos in segments to reduce GoPro file size.
The whole process will come to an end within minutes even secs thanks to the Intel QSV/Nvidia/AMD hardware acceleration tech to whopping improve speed. You are able to compress GoPro videos for YouTube, Facebook without any quality loss by eyes at barely 70% file size reduction.
How to Compress GoPro HD Videos
Step 1: Load GoPro Videos
Free download this GoPro video shrinker or Mac version, install and launch it. Click "+" icon to import the GoPro video files.
Step 2: Choose Output Format
To shrink video file size, choose one of the formats with smaller size. To compress GoPro video for YouTube, you're suggested to convert the video to FLV abd WMV for email sending. Besides, reduce video to MP4 for mobile devices playback and save.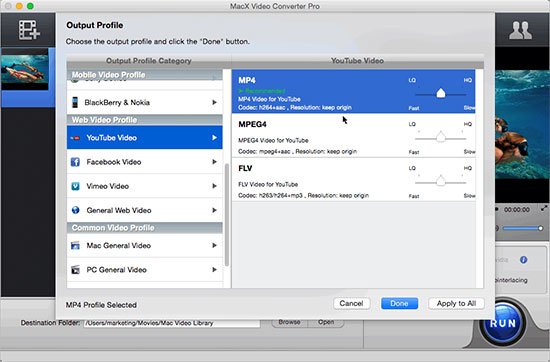 Step 3: Adjust Video Audio Parameters
In the settings window, you are allowed to adjust various parameters like Resolution, Frame Rate, Bit Rate, etc. Note that the lower parameters value will reduce video size, but it will also degrade the video quality. So make a balance between the quality and size.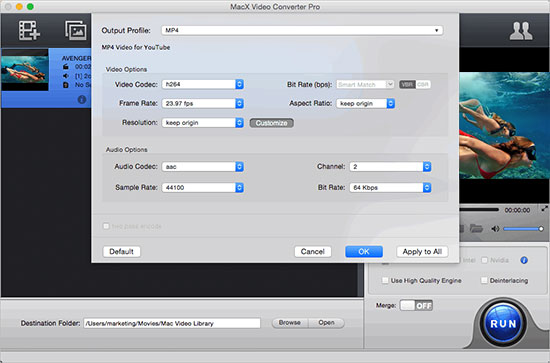 [Optional]: You are also allowed to edit the video to further reduce video file size, like trim the unwanted parts or cut the necessary length etc.
Step 4: Start GoPro Video Compression
After finish the above steps, click the "RUN" button to start resizing GoPro video now. This top software will downsize GoPro files HD/UHD mp4, avi, mov, 3gp etc with No.1 fast speed and 98% quality reserved.
You may also be interested: Correct GoPro fisheye effect >>
No.2 Clipchamp
Clipchamp is a new online free file compressor site built in 2014. It accepts common formats, surely including GoPro video reduction and output files in MP4, WebM, WMV and GIF. Besides, there are wide range of resolution available for your choice, covering 480p, 720p, 1080p and the original quality.
After you have shrinked GoPro video with Clipchamp, it also offers options of directly sharing to YouTube, Facebook, Vimeo, Google Drive and saving to computer. The only imperfection of this online GoPro video compressor is that the output formats (MP4, WebM, WMV, GIF) is far from satisfactory.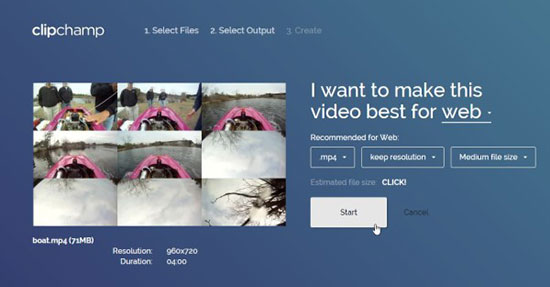 No.3 Final Cut Pro
Final Cut Pro is a good example, which is able to compress GoPro video files to a format with less video size. As a GoPro video editing software, FCP is worthy of being a free video shrinker as FCP supports various formats and resolutions including 3GP, AVI, MP4, MXF, QuickTime of 480p/720p/1080p. Now let's check the simple steps for GoPro video compression.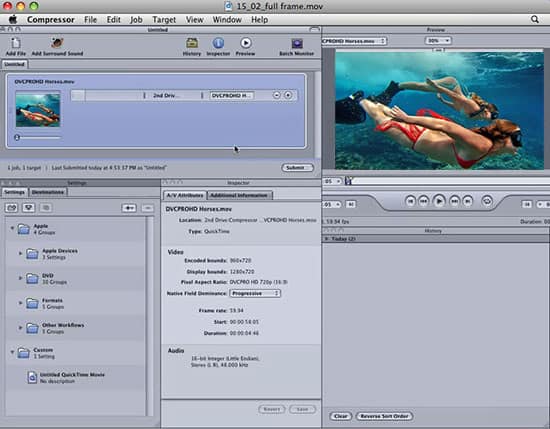 Add the source media. After you edit your project in Final Cut Pro, Choose File > Send To > Compressor.
The Final Cut Pro will automatically open (if it was not already open) and choose the presents you want for export the video to your desired formats.
Assign the destination for the finished files.
Click the Submit button in the Batch window and the Final Cut Pro x will start to transcode the FCP projects. Just wait for the batch to finish.
P.s. Apart from FCP, video editors like iMovie and QuickTime 7 Pro are competent to reduce GoPro videos as well.