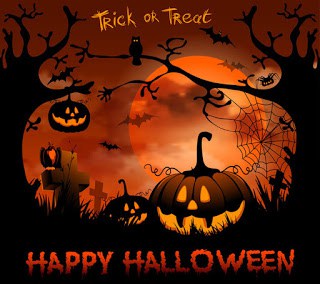 Spooky Halloween-themed songs contribute a lot to getting those creative juices flowing for your Halloween haunt. Want to get Halloween theme song download on your computer to have you and your friends in the Halloween mood?
Here is a free music downloader to deal with Halloween soundtrack download in MP3 as well as download other scary background music for kids, 2018 horror movie scores, soundtracks, thrilling songs, etc, whether to get your party started or just make the most macabre ringtone with the downloaded Halloween theme songs. Plus, we've compiled the most downloaded spooky-themed music, if you haven't prepared well for your Halloween party playlists at the end of the free Halloween theme song download solution.
Free Download Halloween Songs in a Flash
MacX YouTube Downloader is a free solution to download Halloween theme songs from YouTube or 1000+ other music/video sites.
The free Halloween theme song downloader is 100% safe from adware or malware. It will download Halloween scary music in MP3, WAV, WMA, AAC, AC3, etc. in a flash. You can use it to freely download Halloween theme songs such as Halloween Michael Myers theme song, spooky party tunes and even best horror movies, TV shows in 720p 1080P or 4K UHD free from YouTube, Dailymotion, Vimeo, Vevo, Instagram, Facebook, etc. 1000+ music movie sharing sites.
How to Free Download Halloween Theme Songs
Preparation:
1. Go to official webpage of the site (here we use YouTube as an example), and find a desired horror music to be downloaded for Halloween from YouTube;
2. Free Download MacX YouTube Downloader;
3. Install and launch this best free Halloween theme song download software.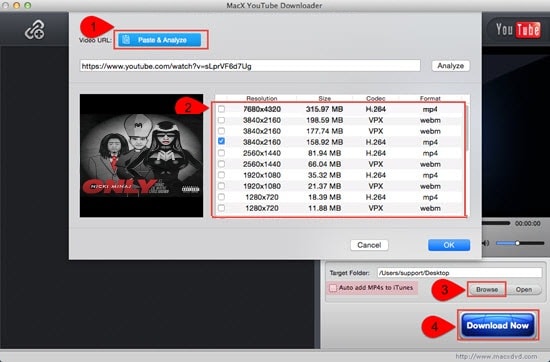 Step 1: Copy and paste the URL of the Halloween theme song from YouTube. Click "analyze" to load the song information. You can load a whole spooky songs and party playlist for download later.
Step 2: Choose the built-in video format, resolution and file size you want. You can download the Halloween songs audio in MP3, AAC, AC3, WAV, or FLV, MP4 or WebM format.
Tips: This free Halloween themed music video downloader has the knack for automatically adding the output MP4 video to your iTunes library such that you can transfer the music video to iPhone iPad for future use.
Step 3: Specify output folder on your computer to save the output files.
Step 4: Click "Download Now" to start freely download Halloween theme songs.
Tips: There are cases that you need to play the downloaded Halloween Theme songs on iPhone, iPad, Android tablets, Samsung Galaxy Note/Edge, or edit them in your iMovie or Final Cut Pro, MacX Video Converter Pro is the way to go. It is designed to download and convert Halloween theme songs to iPhone iPad, Android, MP4, MOV, AVI, WMV, MPEG, etc and even helps to download Halloween theme song in MP3, iPhone ringtone, AAC, AC3, etc with about 420+ profiles.
Top Halloween Theme Songs Worth a Download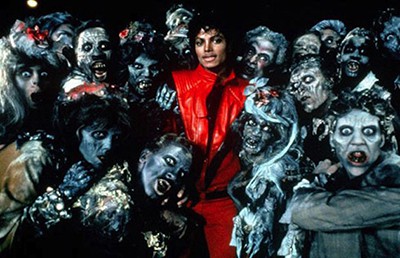 Top 1. Thriller - Michael Jackson
Thriller explores genres similar to those of fifth studio album Off the Wall (1979), including pop, post-disco, rock and funk. Thriller scared up a No.4 slot on Billboard Hot 100 in 1984, with digital sales to-date of 3.4 million. It is still the most downloaded Halloween themed music of all-time and has been on Halloween party playlists of all time.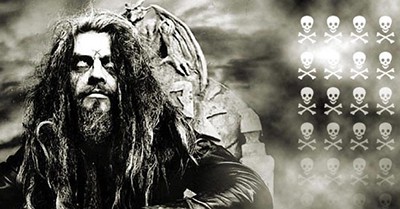 Top 2. Dragula – Rob Zombie:
Rob Zombie is one of the spookiest musicians ever to complete the Halloween-time soundtrack, who is also acclaimed for his directorial skills within horror genre, including film like House of 1,000 Corpses and The Devil's Rejects. When mentioning Dragula, it is one of the songs one expects to find on a Halloween-themed collection. You can free download Halloween theme song Dragula and enjoy it offline.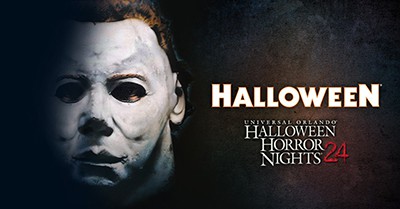 Top 3. Halloween (Micheal Myers) Theme Song - John Carpenter:
When mentioning the best Hollywood movie in horror, thriller genre, Halloween is second to none. And amidst the screaming essentials in the Halloween-themed film, (Micheal Myers) Theme Song performed by John Carpenter without doubt establish the atmosphere of Halloween, which is said to be one of Halloween's strongest assets. Currently, there is a large number of users asking for Michael Myers Halloween Thene song download. So if you're searching specifically for just Halloween music, never hesitate to download Halloween Theme Song (Micheal Myers).
Kids-Friendly Halloween Theme Songs to Download

1. "Ghostbusters" by Ray Parker Jr.
2. "A Nightmare on my Street" by D.J. Jazzy Jeff
3. "Monster Mash" by Bobby "Boris" Pickett.
4. "Witch Doctor" by Ross Bagdasarian
5. "Time Warp" from The Rocky Horror Picture Show
6. "The Purple People Eater" by Sheb Wooley
7. "The Addams Family" theme song written by Vic Mizzy
8. "I Want Candy" by Aaron Carter.
9. "The Munsters" theme song composed by Jack Marshall.
10. "Scooby Doo" theme song

List of Best Halloween Movie Soundtracks in MP3

1. Halloween: 20th Anniversary Edition – Original Motion Picture Soundtrack
2. Jaws: Anniversary Collector's Edition
3. The Exorcist: Music Excerpts From (1973 Film)
4. Psycho: The Complete Original Motion Picture Score
5. Friday the 13th
6. The Omen: Original Motion Picture Score (Deluxe Edition)
7. Suspiria: Complete Version
8. Amityville Horror
9. A Nightmare On Elm Street I & II
10.Bram Stoker's Dracula: Original Motion Picture Soundtrack

Author: Bertha Miller | Updated on Dec. 7, 2018