MOV is a popular format which is widely adopted by iPhone, Canon, Nikon, Final Cut Pro, iMovie, and more devices and programs. But when you try to upload an MOV video to YouTube or Facebook or try to play MOV file on Android, you may be told that your file is not accepted. So that's why we need to convert MOV to MP4 which format provides better compatibility.
In this article, we'll share you 8 best free MOV to MP4 converters for Mac to reach your conversion goal. Here we go!
MacX Video Converter Free
MacX Video Converter Free leaves the rest contenders in the dust because of its all-round features:
With 320+ video and 50+ audio codecs, it enables you to free convert MOV to MP4, H264, HEVC, MPEG-4, as well as MKV, AVI, FLV, WMV, etc. 180+ video and 14+ audio formats. No input video size/quantity limit, no watermark/logo!
3 Clicks to free convert any video to iPhone iPad, Android, Samsung, Sony, PS5, Xbox, etc. 420+ device profiles.
Level-3 GPU (Intel/Nvidia/AMD) hardware acceleration tech to make MOV to MP4 conversion 5X faster than any!
Constantly updated conversion algorithm, plus High Quality Engine to ensure 98% quality kept; "Auto Copy" mode to let you remux MOV H264 to MP4 H264, MOV HEVC to MP4 HEVC with 1:1 original quality.
Pros:
Supported input and output video formats are a long list.
Highest possible quality kept and No.1 fast speed guaranteed.
Free adjust video resolution, frame rate, bit rate, aspect ratio and edit video (trim, crop, merge, rotate, add subtitle...).
Cons:
Unable to convert audio files.
Editing features are fundamental. Advanced editing features are still on the way.
How to Fast Convert MOV to MP4 on macOS with High Quality for Free
Step 1: Add MOV Video File
Free download the best MOV quicktime video converter for macOS (macOS Monterey also supported) if you haven't, run it and click "Add Video" button to import target MOV file. You can also directly drag-drop MOV file into the main interface of this free Mac MOV to MP4 converter.
Step 2: Select MP4 as Output Format
Choose "MP4 Video" as output format from Mac General Video or Mobile Video Profile if you wanna transfer to mobile devices.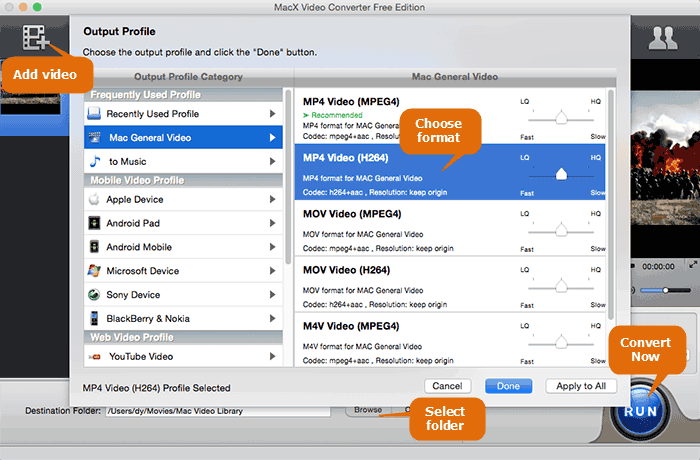 Tips: Tick "Intel" to activate the Intel QSV hardware acceleration tech to speed up MOV to MP4 conversion speed. This video transcoder freeware can assign once CPU's work to graphical-processing expert GPU, speed up to 5X faster than its rivals, no CPU overuse or overheating errors. Check the boxes of Use High Quality Engine and Deinterlacing to ensure a high-quality conversion.
Optionally, click "Browse" button to specify a destination folder to save the resulting MP4 file or just keep the default saving folder for output MP4 file.
Step 3: Start to Convert (QuickTime) MOV to MP4
Click "RUN" and then it will start converting MOV to MP4 at GPU hardware decoding & re-encoding. It will finish converting videos at lightning speed, especially friendly to hi-def 4K Ultra HD MOV video conversion.
MOV to MP4 Conversion Test and Specfic Data
Here we have used a 94.7 MB MOV (H264) video for test, converting MOV (H264) to MP4 (H264). The original MOV file is 4 mins 47s in length and 1280x720 in resolution. Frame rate: 23 fps; bit rate: 2768 kbps. The whole test is based on a 27-inch iMac (2011 Middle) with Yosemite OS and 2.7GHz Intel Core i5 processor.
The test result is that: it takes 38.30 seconds to successfully convert MOV to MP4 on Mac, with 1280x720 resolution, no change on frame rate and video length. A little bit down in bit rate - 2176 kbps, but no visual change in video quality. And the output MP4 file size is only 54.6 MB.
iMovie
iMovie, the default video editor software for MacBook/iMac, also works like a charm in video conversion. Considering both MOV and MP4 are natively friendly formats to iMovie, iMovie is capable of loading MOV video footage and converting to MP4 without much sweat, nor watermark/logo. Just couples of clicks are required.
Pros:
Needless to download or install anything, natively built-in on your Mac computer.
Easily convert MOV QuickTime video to MP4 on Mac, alongside with a bunch of features to edit videos.
Cons:
Output formats are limited, no other formats like MKV, AVI, WMV, WebM, etc.
Not support you output 4K video at 60FPS, only 30FPS.
More parameter settings are unadjustable, like frame rate, bit rate, aspect ratio, video profile level.
How to Use iMovie to Free Re-format Video from MOV to MP4
Step 1. Launch iMovie on your MacBook or iMac > click "File" at the top of the toolbar > choose "New Movie" from the drop-down menu.
Step 2. Tap "Import Media" button on the main GUI of iMovie > choose the MOV file you wanna convert.
Step 3. After your mov footage has been imported, click on it, and a yellow border will appear nearby > click "File" again on the top menu bar > opt for "Share" > tap "File". Step 4. Tweat the export settings on the pop-up Window, such as quality, resolution, compress, etc., then click Next.
Step 5. Finally, name your resulting file and choose the place you want to save MP4 video, then click Save. You can see the export progress as a small circle in the top-right corner of iMovie. When the conversion is completed, you'll be greeted with a notification on your Mac desktop. Then, transfer your resulting MP4 to iPhone iPad Android for playback, editing or uploading to YouTube, Ins, Facebook for sharing.
Cloudconvert
Similar to the afore-mentioned online MOV to MP4 converter, cloudconvert is also a free online tool for you to free change MOV into MP4. Also it's free, easy and comparatively fast. Yet, it's far from perfection, as well. You have to upgrade to its premium version if your single MOV file exceeds 1GB and the total number of conversion files goes beyond 25 each day.
Pros:
Free fast and easy to use.
Online service, needless to download or install software.
Support a variety of file load ways like computer, URL, Google Drive, Dropbox.
Cons:
File size limit, maximumly 1GB per file.
File quantity limit, up to 25 files conversion per day.
Conversion speed is unstable, reeling from unstable network connection.
How to Free Convert MOV to MP4 Online with Cloudconvert
Step 1. Open cloudconvert.com on your web browser and tap "Select File" (red button) to load your MOV file. Your input MOV can be chosen from local computer, URL or cloud service.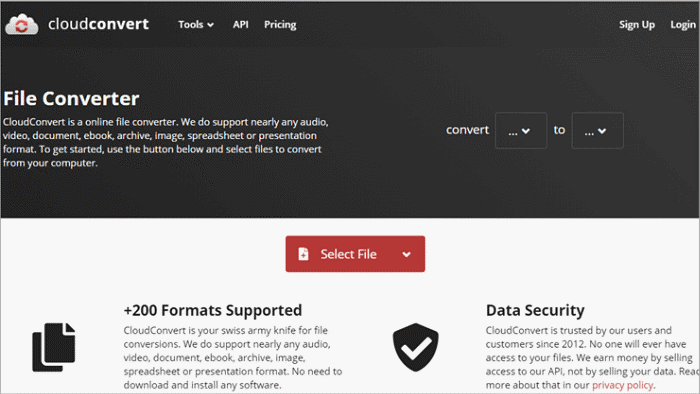 Step 2. Choose MP4 format from "Convert to" option. Certainly, you can click the wrench icon next to the output format zone to adjust your video parameters, including codec, resolution, aspect ratio, frame rate, H264 profile/level, etc. Note: this free online MOV to MP4 converter also helps you free convert MOV to AVI, FLV, MKV, WebM or WMV, with 7 output formats supported in total.
Step 3. Tap Convert button and it will begin changing video format from MOV to MP4 online. You need to wait a second since the conversion time is highly relevant to video duration, network speed and computer hardware configurations.
Step 4. Click Download button (green) to free download converted MP4 file to your MacBook Pro, MacBook Air or iMac after the conversion is finished. Until now, the job is done. Generally, it's free, simple and fast. Give it a try. Online Converter
As the best online free converter I have used, I must objectively say it's the second-to-none free online video converter for Mac to convert MOV to MP4. Of course, it shares online video service common feature - limited input video size. Just load your QuickTime mov video less than 500MB.
Cons:
Only convert one video each time and input size is limited.
It is brimming with ads and misleading download buttons.
Conversion speed needs to be improved.
Lossy conversion process. The output MP4 quality is damaged to certain degree.
Conversion procedure is unstable sometimes (network connection also related).
How to Convert QuickTime MOV to MP4 with Online Converter
Step 1. Open Online Converter and choose "Convert video to MP4".
Step 2. Upload MOV video files.
Step 3. Press "Convert" button. Then leave the job to this free MOV to MP4 online converter. Common Problems with MOV to MP4 Conversion on Mac Using Online Converter
The tool fails to recognize the source MOV file.
It stutters or even crashes when loading a large size 4K MOV video file.
Sometimes users cannot find the output file in inbox.
VLC Player
VLC media player is not only a top rated media player for you to play MOV MP4 files, but also a solid yet free MOV to MP4 converter for macOS. See it can be used to convert quicktime mov to mp4 with solely 4 clicks shown on the picture below. And after MOV to MP4 conversion task is over, you can also play MP4 video within VLC or stream MP4 video from Mac to Apple TV/Windows 10/8 as you want.
Pros:
Change MOV to MP4 as easy as pie.
Play MP4 MOV files with high quality.
Also AirPlay feature to stream MOV MP4 movie videos from iOS/Mac to Apple TV, etc.
Very flexible and lightweight.
Cons:
User interface is quite basic.
Movie video downloading ability needs improvement.
It couldn't be better if VLC can get a big boost in video conversion speed.
How to Free Transcode QuickTime Video MOV to MP4 with VLC Player
Step 1. Run VLC on your MacBook, iMac or Mac Mini.
Step 2. Tap File from the top menu of VLC Mac > select Convert / Stream from the drop-down list.
Step 3. Output profile is unavailable unless the Convert & Stream window pops up. Then choose H.264 + MP3 (MP4). Meanwhile, you're allowed to customize your output MP4 before conversion, such as encapsulate the video, change video codec, frame rate, resolution, edit subtitles, and more.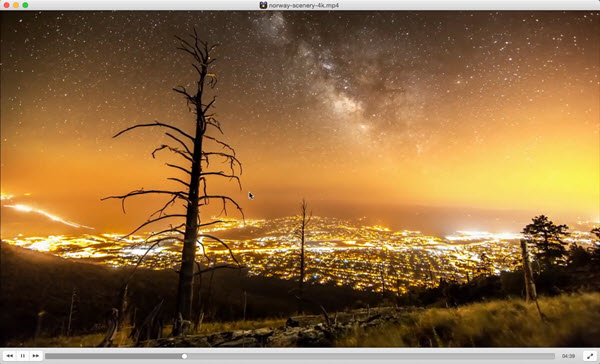 Step 4. Click Browse to save your converted file and tap Save.
Common Errors with Converting MOV to MP4 Free on macOS via VLC
The output file has no audio/sound.
The audio is out of sync.
No video. Converted MP4 file is a black screen with correct audio.
MOV to MP4 (H264, AAC) conversion crashes VLC on Mac.
QuickTime Pro
One more MOV to MP4 video transcoder for Mac I want to share with you is called QuickTime Pro, which I believe is not strange to you. But how to use QuickTime Pro to compress & convert MOV to MP4? Follow me my friends.
Pros:
It's easy to use to convert MOV to video formats like MP4 on macOS.
It's multipurpose and can be used to edit MP4 video file.
Cons:
Cannot extract MP3 audio files from MP4 video.
Only support a limited selection of codecs.
How to Change QuickTime Video (MOV) to MP4 via QuickTime Pro
Step 1: Click "File" at the top of your QuickTime Pro, then click "Export" to open up your .mov file.
Step 2: On the pop-up window, select "Movie to MPEG-4". Then press the "Options" button.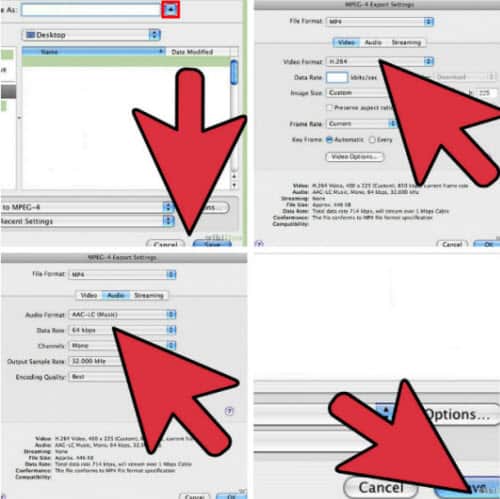 Step 3: Opt for "MP4" in the "MPEG-4 Export Settings" dialog-box to choose the codec that you want to use for the compression (also the "Audio" settings can be adjusted as the same).
Step 4: Mouse click on OK until back to the "Save exported file as" window, specify the destination folder to save MP4 file and click "Save". Job's done and leave the rest to QuickTime Pro.
General Errors When Free Converting MOV to MP4 on Mac with QT Pro
Error -43: a file could not be found.
Error 11821 when converting MOV file to MP4 on Mac.
Error message states that it's a file QT Pro doesn't understand - 2048.
Handbrake
How could we miss out Handbrake when it comes to free convert video footage? Handbrake definitely earns a spot here since it helps you free convert MOV QuickTime to MP4, as well as MKV at H264, HEVC, MPEG-4 codec with flexible parameters adjustable. No matter what skill level you're in, newbie or expert, you can easily discern how to decode video MOV to MP4 without following any boring text guide. Plus, its built-in settings Constant Quality, Avg Bitrate and x264 preset give you full control over resulting video quality, file size and conversion speed!
Pros:
Cross-platform supported, both Windows and macOS.
Easily transcode MOV to MP4 with a wide range of preset profiles.
Comparatively comprehensive in video quality, file size and speed parameters adjustment.
Cons:
Output video format is limited, only MP4 and MKV.
No audio formats supported.
Only hardware decoding, no GPU hardware accelerated encoding.
How to Use Handbrake to Convert MOV to MP4 Free & Fast
Step 1: Fire up Handbrake on your MacBook or iMac after the download is over.
Step 2: Click "Open Source" button to load your MOV video footage you'd like to convert to MP4.
Step 3: Move your mouse to the "Preset" and choose a desired one. Navigate to "Summary" tab, click the drop-down menu of Format and choose MP4.
Note: switch your mouse to the below "Video" section where you can select video codec for your MP4 file, including H264 (x264), H.265 (x265), MPEG-4, MPEG-2, H264 (Intel QSV) or H264 (DXVA). Well, H264 (Intel QSV) and H264 (DXVA) options are based on your computer hardware configurations. If your MacBook or iMac supports one of those GPU HW acceleration tech, handbrake will list them out under video codec zone and you can choose one of them to hardware decode MOV at slightly faster speed than software decoding.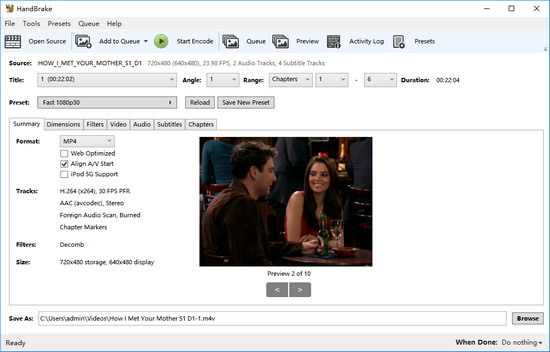 Optionally: still in the Video panel, you can freely move "x264 preset" slidebar to adjust conversion speed from default medium to "very fast". And under "x264 Tune", there is also a preset option "Fast Decode" available if necessary. Certainly, these settings are to trade off compression efficiency against encoding speed. That means the faster speed comes at the price of poorer quality. You can deliver a good balance before you tweak them.
Step 4: Select the output path where you want to save your new MP4 file by clicking the "Browse" button.
Step 5: Now simply click "Start Encode" button at the very top of the main Handbrake window to begin changing video format from MOV to MP4 (H264, MPEG-4, HEVC or MPEG-2).
Mobile Media Converter
Mobile Media Converter, designed as a mobile app, works beautifully on a desktop, as well. It is a free video converter to convert QuickTime video MOV to MP4, WMV, FLV, MPEG, AVI, as well as an audio converter to convert MP3, Windows Media Audio (wma), Ogg Vorbis Audio (ogg), Wave Audio (wav) etc. Though it's not so famed as other MOV video converters, its professional ability is not inferior in any aspect.
Pros:
Free decode and re-encode videos, as well as audio files.
Free download videos from online sites.
Cons:
It's based on FFmpeg. FFmpeg installation is a must.
Some files from Youtube don't convert nicely and don't work at all.
How to Use Mobile Media Converter for MOV to MP4 Conversion
Step 1: Run Mobile media converter on your Mac computer > tap File or drag media to load your QT MOV files.
Step 2: Choose output format as MP4. Here you can see the specific MP4 profiles, including iPhone iPad MP4, Android MP4, PSP MP4. Choose what you desire most. Then tap OK. Optional: adjust configurations if needed, including video/audio codec, bit rate, video size, video FPS, etc. Basic video editings are also covered in this tool, like trim, crop, add subtitles, etc. Step 3: The last hit goes to "Convert!" button. Then the conversion engine will go into action.
Summary
Each MOV to MP4 converter mentioned above has its own merits.
The professional free MOV to MP4 video converter for Mac - MacX Video Converter Free - gives the widest codecs support and can aid you to convert MOV to MP4 with the fastest speed and high quality, and meanwhile allows you to reduce video file size so as to get better compatible with your media devices.
The free Online Converter and iMovie are fabulous for those who want to convert MOV to MP4 without downloading any software. But you have to bear the slow conversion speed and ads. VLC media Player and QuickTime Pro are also great options to let you free convert MOV video to MP4 as easy as possible. The ointment is that the output MP4 video quality is decreased after video transcoding.
Still have any problem on how to convert MOV to MP4 on macOS, just
email us >>