I did some research about a year ago on the differences between MP3 vs. MP4, and most of the research seemed to say MP4 was better. Lately though, I am thinking elsewise.
I'm wondering if anyone can suggest if I should use MP3 or MP4 for backing up my music collection. I've started backing up about 20 of my current collection as 256kbps M4A, but I've recently read that MP3 sounds better at higher bitrates, and MP4 sounds better at lower bitrates.
When to use MP3 or MP4? What's the difference? Video formats can be quite confusing but pretty simple once you read the following comparison between MP3 and MP4.
MP3 vs MP4 - Definition
MP3, acronym for MPEG-1 Audio Layer 3 designed by Moving Picture Experts Group, is an audio coding format that adopts lossy data compression. MP3 is widely used for audio streaming or storage. The amount of data required for audio recording is largely reduced due to MP3 compression technology.
MP4, acronym for MPEG-4 Part 14 designed by Moving Pictures Experts Group, is a digital multimedia format that is widely used for both audio and video storage. It handles text and images as well. MP4 video files take up a lot of space. MP4 compression techniques are more complex.
Know more about video formats comparison: MP4 vs MKV, MP4 vs AVCHD
MP3 vs MP4 - Pros and Cons
MP3 has lower file size and not fixed compression ratio, which means that you can balance between file size and audio quality. MP3 is also more compatible, works with almost all music players. Moreover, the legal status MP3 in some countries remains unclear. However, low audio quality is MP3's biggest disadvantage. As I mentioned before, MP3 handles only audio.
While MP4, a newer file format, deals with audio, video, image and text, which differs significantly from MP3. MP4 is a file format used to compress files losslessly, producing better audio quality. Videos in MP4 format can be played on a large array of multimedia players and portable devices. And MP4 is used for various purpose, like streaming videos even audios, encoding videos.
MP3 vs MP4 - Which One to Use
The difference between MP3 and MP4 is obvious, and it seems that MP4 is better than MP3. But why the popularity of the MP3 format has not abated because of the wide usage of MP4 format? As a matter of fact, although being often used as the alternative to MP3 format on Apple devices, iTunes, MP4 is not a replacement of MP3 on players and in computer as an audio format. When to use MP3 or MP4 depends on what you are using them for. If you prefer listening to music on MP3 player and smaller file size, use MP3. If you care more about lossless audio quality, MP4 is your ideal format. I guess you have got general ideas about these two totally different formats from the comparison between MP3 and MP4. Now you may wonder what you should do if you get MP4 format, but what you really want is MP3 format. All you need to do is to convert MP4 to MP3, that is it! Below is a comprehensive guide.
Know more about video formats comparison: AAC vs MP3, MP4 vs AVI
How to Convert MP4 to MP3 by Using a Robust MP4 to MP3 Converter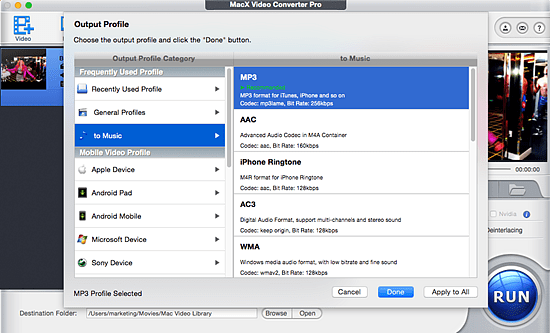 There is a well received MP4 to MP3 conversion software, MacX Video Converter Pro, which can deal with converting MP4 to MP3 no sweat with no quality lost in a fast speed. Better still, this powerful video converter is capable of converting among almost all video formats with over 14 audio and 180 video formats supported, say, MP4 to AVI, MKV to MP4, MOV to MP3, on Mac for playback on multimedia player or the latest portable devices like iPhone 6/6 Plus, iPad Air 3/Mini 3 thanks to its over 350 preset profiles for Apple and Android devices. Moreover, this advanced MP4 to MP3 best video converter for Mac features downloading and converting YouTube videos for offline playback on portable devices.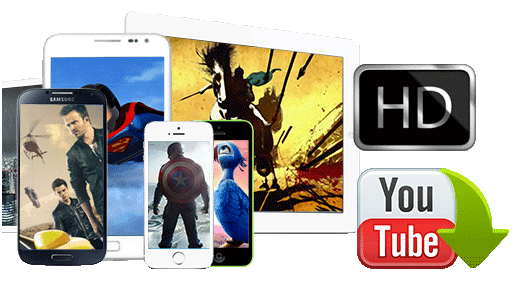 Best Video Downloader and Converter
MacX Video Converter Pro is powerful to convert any video to MP4 MP3 and convert video to iPhone iPad iPod Android for playback with ease.
• All-round Video Converter: Convert video (SD or HD) to over 180 video formats and 14 popular audio formats on Mac OS X (El Capitan/macOS Sierra), such as MP4 MKV FLV AVI MOV M4V MP3 iPhone Ringtone, etc.
• Solid Video Downloader: Free download video movie music from over 300 sites, like YouTube, Vimeo, Facebook, Dailymotion to over 350+ device no quality loss.