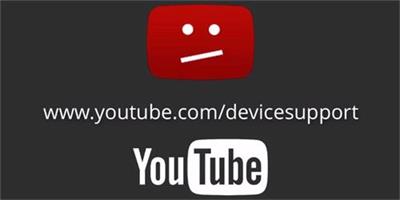 "Sorry, this video is not available on your device" and "Error tap to retry" are absolutely two most annoying sentences when you play YouTube videos on iPad. Even if YouTube not working on iPad problem encountered always for various reasons, people still cannot give up watching videos on it because of a numerous variety of videos from educational, motivational, music and funny videos on it. So you really need to take measures to fix YouTube not working on iPad problem.
The reason why videos won't play on iPad is complicated and various, especially after the announcement that YouTube app could only be available on iOS 7 or later. Things get more complicated. According to the users experience among numerous users, here classified iPad YouTube not working problem in two situations.
Updated: Youtube is having issues since 9:16 PM EDT Oct 16, 2018. You're also affected on your iPad that you cannot open YouTube app owing to 503 Internet Server Error. Thankfully, YouTube says it has restored service, bringing the saga to an end. But sometimes the YouTube not working issue won't be fixed so soon. What if you'd like to watch the YouTube videos instantly? Just free download your target YouTube videos offline to get rid of unexpected down issues.
Problem 1: iPad Is Too Old To Support YouTube APP
YouTube has announced in April that the second-generation Apple TV is not working on YouTube, either the iPhone, iPad, and iPod touch, iOS 7 or later is required for the app to function. So playback error occurred when your iPad iOS is earlier than iOS 7.
Solutions of the First Case to Fix iPad YouTube Not Working Problem
1. Play YouTube videos on browsers like Google chrome, Firefox, Safari etc. on condition that you have a well connected network. However, sometimes browsers are still not available to access especially the Safari even if you have switched the view mode from mobile mode to desktop mode. The second method is recommended.
2. Download and save YouTube videos offline instead of watching them online. This way solves the problem that videos won't play on iPad greatly owing to the slow network. You are only in need of a fantastic downloader like MacX YouTube Downloader.
MacX YouTube Downloader is specially designed for Mac users to free download videos of different resolution and formats from Dailymotion, Vevo, Facebook and so on. It's invincible that MacX YouTube Downloader is a perfect tool to solve problem of YouTube not working on iPad iPhone and Android devices when it shows you YouTube error loading tap to retry by downloading YouTube videos offline and saving to personal collections. Furthermore, as it keeps the spirit of simplicity while adopting advanced technology to make the video downloading process easy and fast.
Download to Solve YouTube Not Working on iPad Problem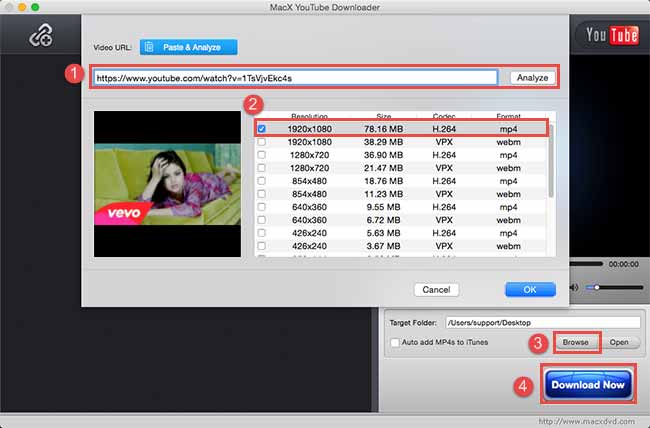 Step 1: Free download the YouTube playback error fixing software. Click "Add link" button to enter the downloading interface. Then copy and paste the target YouTube video URL to the message box, then tap "analyze". Or directly click "paste & analyze" button to detect video details automatically.
Step 2: Choose the resolution and formats for your iPad.
Step 3: Specify the output folder path by clicking "Browse".
Step 4: Hit "RUN" button to starting downloading for your iPad to solve the problem of YouTube not working on iPad.
Notice: MacXDVD Software doesn't advocate any reproduce, distribute, transmit, broadcast or sell any content for any other purposes without prior written permission of YouTube or the respective licensors of the content. Please refer to YouTube terms of service before doing so.
Problem 2: Everything of YouTube Video Runs Well on iPad Except the Black Screen
This is common for most of users that it seems the YouTube video is playing as the audio, comments and everything runs well except the video in black screen. You do have no exact way to fix the YouTube not working problem. Here we conclude several tips that might be helpful for this situation.
1. Reboot your iPad device. Low memory or other applications that are running on your device may cause YouTube not working on iPad. Quit other applications and reboot your device sometimes will do you a favor.
2. Clear browser cache and cookies. The folder for your temporary internet files of browser may be full thus you cannot use the app. Clear browser cache and cookies by navigating to Settings then to Safari. Touch the clear cookies section.
3. Reset iPad to factory defaults. Follow the steps of Settings > General > Reset, iPad YouTube loading problem fixed.
4. Install Adobe Flash Player. Nearly all videos require the Adobe flash player plugin for them to be watched on any browsers. So if you encountered this situation when watching videos with browsers, remember to install Adobe Flash Player to fix iPad YouTube crashing problem.
5. Update YouTube app to the latest version. Sometimes, YTB application may be faulty because you have not updated your device. YouTube error loading tap to retry will vanish after you updating YouTube app.
6. Make use of alternative softwares. Free Download videos with MacX YouTube Downloader from other devices such as iMac, MacBook, MacBook Pro etc. and the copy or stream to iPad, known as the safest and exactest way to fix the problem of videos won't play on iPad. If all else fails, take the same steps of the second situation of problem 1 to get YouTube not working on iPad problem solved.

Author: Bertha Miller | Updated on Dec 20, 2018