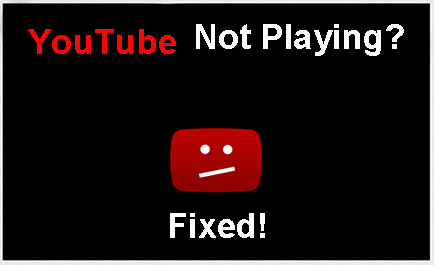 Apple TV YouTube not working? If you are using the second-generation Apple TV or older, read the following announcement and you'll get to know why. "Apple TV(3rd generation) now has a new version of the YouTube app developed by the YouTube team. The new version of the YouTube app unlocks content that was previously unavailable on the older version. Please note that the YouTube app on 1st and 2nd generation Apple TV devices is a 3rd-party app and isn't supported by YouTube." stated YouTube. The old version of YouTube app was shut down on April 20, 2015, meaning YouTube not working on Apple TV from 2012 and older. Meantime, YouTube switched off its mobile app for old iPhone iPad iPod running lower than iOS 7.
"If you're using Apple TV 2nd generation or older, unfortunately there's no current way to watch YouTube on these devices." noted YouTube. Does it mean that YouTube app is a hot pile of garbage for old devices now? Absolutely. Old iPhone iPad Apple TV won't play YouTube now, but you don't have to spend $69 buying a new Apple TV to watch YouTube video or you quite all of your old iPhone iPad. You can still watch YouTube clips movies on old Apple TV without forking out any cash. A free YouTube downloader solves YouTube not working on Apple TV problems perfectly.
How to Solve Apple TV Not Working Issue
MacX YouTube Downloader provides a straight forward solution to YouTube app on Apple TV not working issue with its ability to download YouTube videos in a fast speed. It downloads YouTube music, video clips, movies, TV shows, sport event etc. in any video formats and resolution, say, MP4, FLV, MOV, AVI, WMV, 3GPP, 4K UHD, 1080P, etc. You are free to download Furious 7 movie clips, Avengers Age of Ultro, Mad Max: Fury Road HD trailer or download Paul tribute song See You Again, Uptown Funk, Love Me Like You Do and other hit singles, to name just a few. You won't be bothered by YouTube not working on Apple TV, pesky ads or buffering and slow loading speed. Surely, you can use it to download YouTube videos music movies to iPhone iPad and other game consoles.
It is worth noting that the top-rated YouTube downloader not only solves Apple TV YouTube not working, but also downloads HD videos from over 1000 sites, Vevo, Vimeo, Dailymotion, Facebook, Instagram, etc.
Optimal choice: MacX Video Converter Pro, the advanced version of the above YouTube downloader, combines YouTube video download and conversion into one. It downloads and convert YouTube videos to any video formats you desire, MP4, AVI, MOV, WMV, FLV, AVC, to name just a few, with original quality reserved. Note that Apple TV supported video formats are H.264, MPEG-4 video and Motion JPEG (M-JPEG).
YouTube Not Working on Apple TV Solution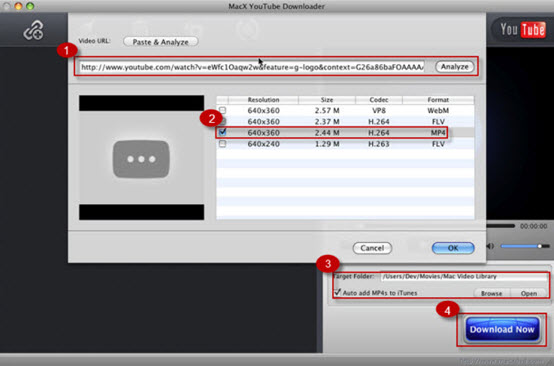 Step 1: Download the free YouTube downloader for YouTube Apple TV YouTube not working issues and run it. Copy and paste the URL of YouTube video movie TV shows you wanna download.
Step 2: Choose the YouTube video format, resolution and file size you want.
Step 3: Select an output folder to save downloaded YouTube videos.
Step 4: Click "Download Now" to start the YouTube video download process.
Tips to Fix Common Apple TV YouTube Problems
Q: We have an Apple TV 2 and are experiencing streaming problems in YouTube for the last three days. At first we thought it was the internet, but streaming from the iPad worked fine.
YouTube not working on Apple TV(2nd Gen). Is there a particular reason this has happened?  All of the other services work correctly.
A: Apple TV YouTube errors, like no content was found, YouTube app stops working, there was a communications error between YouTube and Apple TV, that happened to the 2nd generation or older are resulted by YouTube app changes that it is inaccessible on dated devices. YouTube downloader listed above is a much cheaper and easier solution.
Q: When one video is done and the countdown for the next video appears, it just pauses when the countdown hits 1, and nothing happens. It worked right when I restarted the apple tv, but then after a little while, the same thing happened.
A: To fix this Apple TV YouTube problem, YouTube playlist won't change video on Apple TV, try logging out and back in. If it doesn't work out, restore the Apple TV.
Q: Apple TV YouTube not working! I can't view YouTube on Apple TV and I only see the loading circle, any suggestions?
A: Restarting the apple TV always works out. Go to Settings > General > Restart.

Author: Bertha Miller | Updated on Dec 4, 2018