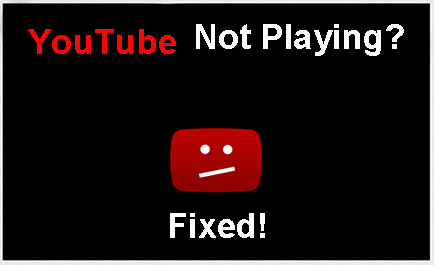 "Now, the place where the video would be playing is just one big black box and it is workable yesterday. What's going on and why are YouTube videos not playing? I've been trying to look for a solution but have been unsuccessful. Is there anyone can help me? Thanks in advance."
As one of the most popular video sharing and streaming sites, YouTube have many loyal fans all the time and it always brings much funny or important information for users. But, almost all of us have encountered the situation of YouTube not playing videos. And some people can figure out the right way to restart YouTube videos, while other can't. For making everyone painlessly solve YouTube videos not working problem, here we clearly list causes and solutions for YouTube playback issue.
Main Causes and Solutions for YouTube Videos Not Playing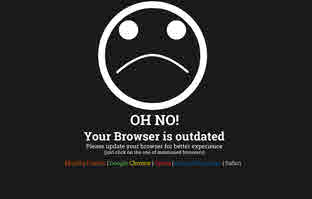 1. Browser is outdated.
No matter what kind of browser installed on your Mac/PC/iPad iPhone (Chrome, Firefox, Safari, IE and more), you should consider whether your browser is outdated or not when YouTube videos not loading. It is right that YouTube video black box will not give you a technology notice like: Old Firefox version detected, please update your Firefox to 38.0 or higher.
Solution: Check your browser's version and compare it to the latest one. If it is not the latest version, then you should upgrade it following the browser update instruction.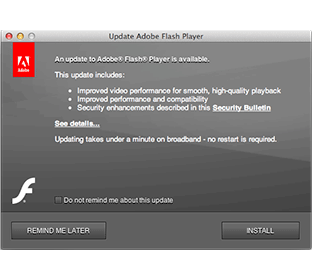 2. Haven't installed Adobe Flash Player.
As experienced YouTube users, they know it is a must to install Adobe Flash Player which is a plug in used by YouTube web browser. And Adobe Flash Player streams most of YouTube videos. For someone first came to YouTube, he/she will ignore Adobe Player installation note because they believe this is an unsafe download. And for some inexperienced YouTube users, they probably will encounter YouTube videos not playing too since they are unaware of the importance of constantly updating Adobe Flash Player plug-in.
By the way, sometimes even if you installed Adobe Flash Player, you can still encounter YouTube no sound/audio issue. Why? You might installed an outdated Adobe Flash Player or your Adobe Flash Player is broken with some missing data etc.
Solution: To fix YouTube error of videos not playing, install Adobe Flash Player plug-in when you came to YouTube site at the first time; update Adobe Flash Player according to its prompt.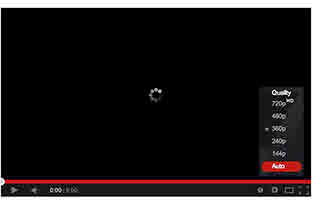 3. Over-estimate video quality.
Certainly, everyone favors the high quality video. For making users having the best viewing experience, YouTube allows people to freely adjust video quality from low to high. Sometimes, it is feasible. But, YouTube videos won't play, such as YouTube black screen problem, burrly YouTube videos, YouTube videos not loading, YouTube blank screens, if your selected video quality is higher than its original upload quality. To be specific, some videos were recorded based on the standard definition so that they are not available in the high definition.
Solution: In this kind of case, it is wise for you to change the quality of the video. You can go to the gear icon and select the quality that you prefer. By the way, you'd better watch YouTube video with its default video quality for avoiding of YouTube videos not showing.
4. YouTube no longer supports 4K on Safari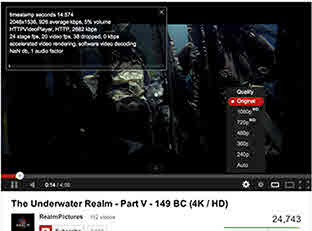 This YouTube not playing 4K problem actually is originated from a long ago announcement that YouTube began encoding uploaded videos into VP9. "VP9 is the most efficient video compression codec in widespread use today." YouTube seemed to be imminently announcing the launch of VP9 as their default 4K playback codec. However, Safari has no VP9 support, so YouTube errors occured when playing 4K YouTube videos on Safari.
Solution: To solve this YouTube not playing 4K videos on Safari probelm, there are 2 ways to go:
1. move to other browsers which supports VP9 codec like Chrome.
2. Or you can also get a Safari YouTube downloader to download YouTube 4K videos offline for palyback. The free MacX YouTube Downloader works like a charm on 4K videos free download from YouTube, and then you are able to watch them free on a YouTube 4K/8K video player.
5. Too many cache and cookies.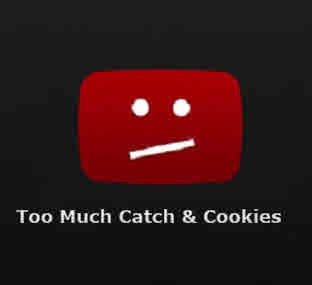 It is no doubt that too many cache and cookies will also lead to video not playing on YouTube. Therefore, users should pay the same attention to cache and cookies when your YouTube videos not playing Chrome, Safari, Firefox etc.
Solution: Clear cache and cookies and then restart your browser to play YouTube videos again. Below is the detailed operating instruction about different browsers.
Firefox: Click Firefox Menu > History > Clear Recent History > Details > Cache > Clear Now;
Chrome: Click Chrome Menu > Settings > Show Advanced Settings > Clear Browsing Data > Empty the Cache/Delete Cookies;
Safari (for Mac OS X): Click Safari Menu > Empty Cache > Empty;
IE: Click Gear icon > Safety > Delete Browsing History > Temporary Internet Files/ Preserve Favorites Website Data > Delete.
Also see: How to Fix YouTube Not Working on iPhone, Apple TV YouTube Not Working Resolved!
6. JavaScript is disabled.
Maybe many people don't know what JavaScript is. But, it doesn't matter; you just need to know JavaScript must be enabled in your browser for purpose of keeping away from YouTube videos not playing, or any likewise YouTube problems.
Solution: Enable JavaScript before you play YouTube videos.
Once-for-all Solution to Tackle YouTube Videos Won't Load Problems
The above-mentioned solutions to YouTube won't play videos are summarized by those users who have met the same troubles and finally tackled them. For avoiding of frequently come across YouTube videos not playing or no internet connection, you are suggested to download YouTube video Mac for limitless playback. Fortunately, serving as free YouTube downloader for Mac, MacX YouTube Downloader is able to free download YouTube videos of different resolution and format, no matter SD YouTube videos or HD videos in 4K Ultra HD, 1080P or 720P. Better still, this YouTube downloader for Mac also can free download 2160P/1080P/720P videos from Facebook, Vevo, Vimeo, Dailymotion and another 300+ video sharing sites. Now, follow the download guide as below.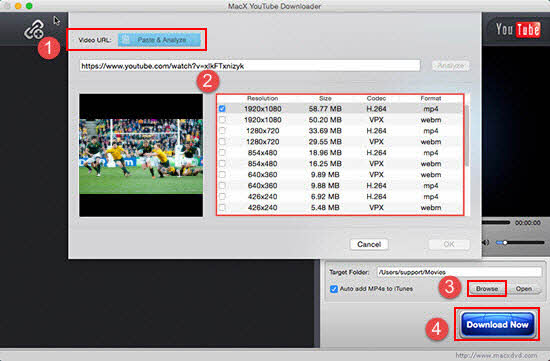 Step 1: Download YouTube video downloader free. Launch it and find out your desired YouTube video. Then copy and paste this URL to the main interface of Mac YouTube downloader. Click "analyze" to load the video information.
Step 2: Choose video format, resolution and file size as you want. You are suggested to save MP4, best YouTube video format as output format for its wide compatibility.
Step 3: Specify a destination folder to save the target video file by clicking "Browse".
Step 4: Click "Download Now" to start downloading YouTube 4K UHD/HD videos.
Notes:
1. After finishing the download task, you can use its advanced version: MacX Video Converter Pro to convert downloaded videos to iPad iPhone or Android devices on the move. This video converter for Mac has ability to easily convert any videos to more than 350 output profiles including iPhone SE/6S/6 Plus, iPad Pro, iPad Mini 4, Apple TV 4, iTunes, iMovies, HTC Desire 816, Samsung Galaxy S7/Note 7, etc.
2. As you don't always carry Mac/Windows computer around with you, you are not accessible to watch your downloaded YouTube videos anywhere and anytime. To address this problem, an excellent iPhone transfer named MacX MediaTrans comes to rescue. It allows you to transfer all your downloaded YouTube videos from Mac to iPhone iPad iPad, including iOS incompatible MKV, WMV, AVI, FLV videos etc., so that you are able to enjoy them any place any time.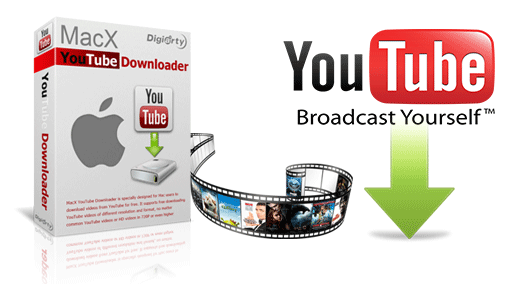 All-around Free YouTube Downloader
Best Mac YouTube Downloader allows you to free download YouTube videos in 4K Ultra HD/1080P/720P and MP4/FLV/MOV for offline playback.
• Download all YouTube video for free: Download all YouTube videos in whatever format or resolution, including MP4, WebM, FLV, even YouTube 1080P/720P video.
• Downloading Videos from 300+ Online Video Sites: Free download videos from Facebook, Vimeo, Vevo, Dailymotion, Metacafe and also another 300+ video sharing sites on your Mac (OS X Yosemite included).