Q1: When I try playing a DVD from my MBP to my Apple TV, it goes to a gray screen. Does anyone know why?
Q2: I tried to watch a DVD loaded in the iMac on the TV via airplay but as soon as I turned on Airplay, the picture disappeared, and a grey and white checkerboard showed up. Is it not possible to watch a DVD on Apple TV via Airplay?
That's because the DVD player can't work with AirPlay streaming or mirroring due to DVD protection limitations. How to play a protected DVD on Apple TV without a grey screen or other errors? Luckily, you can resort to a DVD ripper to decrypt and rip DVD to Apple TV on Mac or use an Apple DVD player alternative to play DVD on Apple TV 4K/HD/3/2 via AirPlay. Both of them are simple and quick.
How to Play DVD on Apple TV
Method 1 - Rip DVD to Apple TV Formats and Stream via Home Sharing
The DVD protection is designed to protect DVD movies from being streamed, mirrored, or transferred to anything that the DVD owners don't authorize. That's why you can succeed on Apple TV with the movie purchased from Apple Store but end with grey screens with protected DVD movies.
To successfully play DVDs on Apple TV, use MacX DVD Ripper Pro to remove protections and convert DVDs for Apple TV.
Remove any protection from DVDs, including CSS, Region Code, UOPs, CPRM, Sony ARccOS, Disney X-project, etc.
Rip DVD to Apple TV 4K/4/3/2 MP4 (H.264, MPEG-4, or HEVC), MOV, MKV, AVI, FLV, VOB, MP3, iPhone, iPad, iTunes, iMovie, Android, and 420+ preset profiles.
High-end multi-core CPU (8) and Intel QSV/Nvidia/AMD tech to offer 5x faster speed, being able to convert a DVD to Apple TV format within 5 minutes.
Copy Disney DVD, Sony DVD, Beachbody DVD, workout DVD, yoga meditation DVD, AV Japanese DVD, etc. with full/main title in 1:1 ratio of quality.
Now let's get started to rip DVDs to Apple TV supported formats and sync converted DVDs to Apple TV.
Step 1: Free download DVD ripper for Apple TV on your Mac or Windows PC. Fire it up and click the "DVD Disc" button to import the DVD movie from your computer; it will then start to remove the DVD copy protection and detect the correct title of the movie. Step 2: Once the scanning finishes, it will pop up an output format window. As we're going to convert the DVD for Apple TV, scroll down the list on the left column and select Apple Devices > choose to Apple TV Video and select the model of your Apple TV from the list on the right. If your Apple TV model is not on the list, you can also choose a format supported by Apple TV.
Rip DVD to Apple TV supported formats:
H.264/HEVC SDR video up to 2160p, 60 fps, Main/Main 10 profile
HEVC Dolby Vision (Profile 5)/HDR10 (Main 10 profile)/HLG up to 2160p, 60 fps
H.264 Baseline Profile level 3.0 or lower with AAC-LC audio up to 160 Kbps per channel, 48kHz, stereo audio in .m4v, .mp4, and .mov file formats
MPEG-4 video up to 2.5 Mbps, 640 by 480 pixels, 30 fps, Simple profile with AAC-LC audio up to 160 Kbps, 48kHz, stereo audio in .m4v, .mp4, and .mov file formats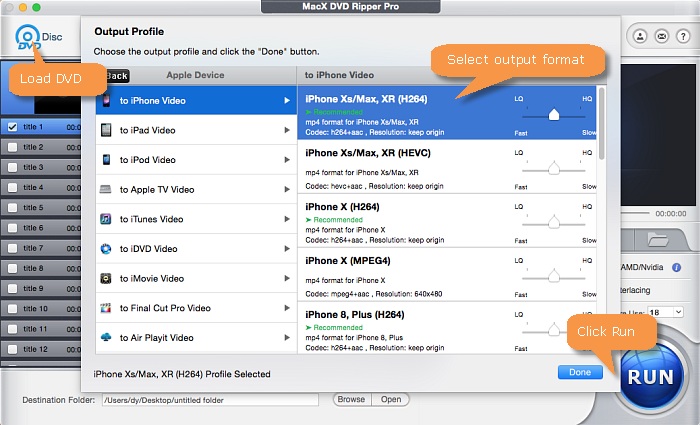 Step 3: You can tick "Safe Mode" when ripping the latest commercial DVDs and tick 2, 4, or 6 cores in CPU Core Use to accelerate DVD conversion speed. Then click the "RUN" button to begin to rip DVD to Apple TV digital format.
Step 4: After DVD is converted to an Apple TV format, you can sync the converted DVDs to Apple TV for playback. Here are two ways to stream DVDs to Apple TV.
How to play converted DVD on Apple TV via Home Sharing?
Home Sharing allows you to watch shared libraries from other computers that are connected to the same Wi-Fi network and signed in with the same Apple ID. Therefore, to play DVD movies on Apple TV, you need to make sure your computer and Apple TV are signed in with the same Apple ID and connected to the same Wi-Fi network.
Step 1: Import the converted DVD movie to your Apple TV library or iTunes library. On macOS later than Catalina, click the Apple TV app on your Mac, select File > Import. Locate the converted DVD movie on your Mac and click Open. On Windows and earlier macOS, open the iTunes app, choose File > Add File to Library or Add Folder to Library. Then locate the converted DVD movie on your PC and click Open.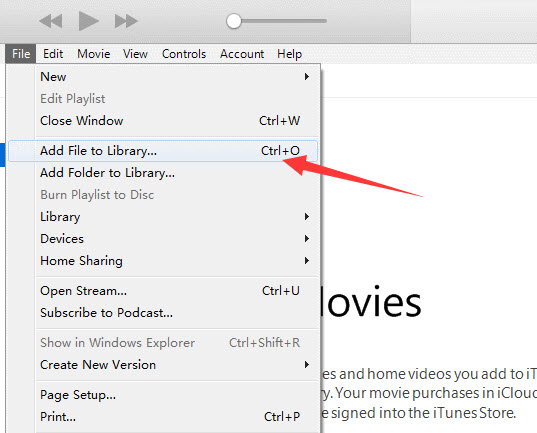 Step 2: On your Apple TV, go to Settings > Users and Accounts > and then select Home Sharing. Enable Home Sharing and sign in with your Apple ID.
Step 3: The next steps are a bit different on macOS and Windows.
On macOS later than Catalina, choose Choose Apple menu on your Mac > System Preferences. Click Sharing > Media Sharing.
On Windows and earlier macOS, open iTunes for Windows on your PC. In the menu bar, go to File > Home Sharing. Step 4: Next, you can open the Computer App on your Apple TV screen and access the DVD movie from the shared library. Then you can watch the movies added to your library on your Apple TV.

You're supposed to use this DVD ripper for Mac to rip and play DVD on Apple TV for legal personal use, instead of illegal reproduction or distribution of copyrighted content. Please obey your local DVD copyright law before doing it. DO NOT do harm to others' lawful rights and interests.
Method 2 - Stream DVD from Mac to Apple TV via AirPlay
When it comes to watching DVD on Apple TV, some people will advise you to use iTunes to AirPlay DVD to Apple TV. Without doubt, Airplay gives you a fascinating way to mirror the screen from Mac to a HDTV wirelessly and securely without the need for cables. And there are 2 ways to go based on DVD attributes: stream homemade (unprotected) DVD to Apple TV using the default DVD player or mirror encrypted DVD from Mac to Apple TV via VLC.
No matter which way you go, to play DVD data on Apple TV, equip your Mac computer with an external USB DVD drive.
1 Stream (Unprotected) Homemade DVD from Mac to Apple TV via Default DVD Player
Play the homemade DVD on your Mac with the default DVD player, after you load DVD disc to Mac external DVD drive.
Apply AirPlay to mirror the DVD playback screen from MacBook/iMac to Apple TV.
2 Stream (Protected) Commercial DVD from Mac to Apple TV via VLC
In terms of encrypted DVDs, ditch away the Mac default DVD player. Instead, resort to VLC media player. Let's dive right in:
Step 1: Go to "File > Open Disc…" in VLC to play your DVD.
Step 2: Enable AirPlay Mirroring on Mac: Open "Settings" on Apple TV to turn on AirPlay > Check "AirPlay Display" settings in system preference on Mac to make sure it is enabled > Click the AirPlay button and select Apple TV > Tap the AirPlay button again and choose "Mirror Built-in Display". Later, you can view your DVD contents on Apple TV 4/3/2.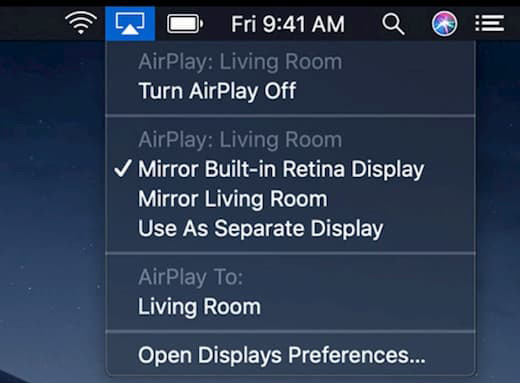 AirPlay Mirroring Requirements:
Apple TV 2 or later; Mac OS X 10.8 or higher;
Mac computer models: iMac (Mid 2011 or newer), Mac mini (Mid 2011 or newer), MacBook Air (Mid 2011 or newer), and MacBook Pro (Early 2011 or newer).
Method 3. Stream DVD Content to Apple TV via DLNA
If your computer has 5KPlayer already installed, just rely on 5KPlayer DLNA tech to cast DVD content from Mac/PC to Apple TV. 5KPlayer is a nice blend of DLNA controller, DLNA renderer and DLNA server. It can activate DLNA tech to cast H.264/MP4 media file from Mac/PC to Apple TV, smart TV, as well as PlayStation, Xbox, etc. (of course, you get DVD ripped by HandBrake or MacX DVD Ripper Pro already).
By the way, this HD video player supports playing 4K/5K/8K UHD videos with multi-subtitle tracks and soundtracks, YouTube videos, HD Camcorder, Blu-ray videos and more. Apparently, playing DVD on Apple TV is a piece of cake now. Follow the steps to stream DVD media files to Apple TV.
Before you go further, you need to install Apple TV DLNA app. The recommended Apple TV DLNA apps are Plex DLNA APP for Apple TV 4th gen, Local Cast, etc. Install one of them, run it and then do as follows:
Step 1: Download this DLNA-based DVD player and launch it. Connect your computer and Apple TV to the same network.
Step 2: Click on "DLNA&AirPlay" on the main UI and toggle on DLAN service on Mac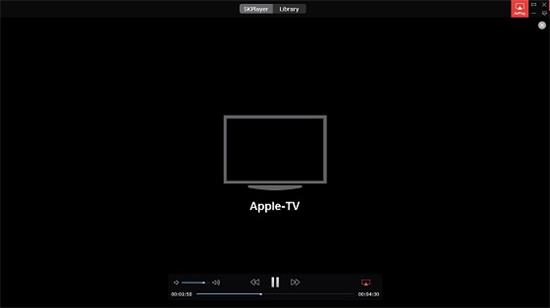 Step 3: Go back to the home screen and click the DLNA drop-down menu, then select Apple TV. Now you can stream your ripped DVD file from Mac/PC to DLAN certified Apple TV.
On top of 5KPlayer, other apps like Plex DLNA server for Mac, Serviio DLNA server for Mac, and Universal media server for Mac can also play the role of DLNA server to turn your MacBook/iMac into a media server for wireless media access. Give it a whirl if you have any of them installed on your Mac computer.
4. FAQ
1. How to fix the Airplay grey screen when watching DVD?
The DVD player goes grey screen when you mirror a DVD to Apple TV is caused by the copy protection. Due to the copyright, the DVD player is blocking the AirPlay screen mirroring and thus you will see a grey screen. In other words, you can only watch unprotected DVDs on Apple TV via Airplay, or you need to strip the copy protection from the DVD.
2. Can I connect an Apple DVD-player to Apple TV and play DVDs on it?
No. Apple TV is a media streaming device for accessing content from online services as well as local files over the network. The DVD player can only be connected to your computer, not to the Apple TV Box. A DVD player connected to a computer will be blocked from airplay due to copy protection. You need a DVD player connected to your TV or need to convert the DVD to a DRM-free file for Apple TV.
Still have any problem on how to play DVD movies on Apple TV, just
email us >>