Part 1. How to Play Local WebM Videos on iPhone?
iPhone's built-in player cannot play WebM videos. If you received and downloaded some WebM files that need to be open on iPhone, you can change the file format. It's easy to do with MacX Video Converter.
MacX Video Converter is compatible with Mac and Windows. It can convert any WebM videos, no matter what video and audio codecs are packaged in WebM container, VP8, VP9, Ogg Vorbis, Opus, or others. And there are presets for all popular iPhone models making it easy to convert WebM to iPhone.
It can make the use of GPU hardware acceleration and other advanced technologies to improve the speed of video transcoding without damaging video quality. It will keep a good balance among speed, quality, and file size.
Apart from WebM, it supports many more popular and rare video formats, 320+ in total. And the output presets are not limited to iPhones. It also covers presets for iPad, Apple TV, Mac, PC, Xbox, PS, Android, YouTube, Final Cut Pro, iMovie, and more.
Now let's free download and install MacX Video Converter to begin converting WebM to iPhone playable format. This tool can also help you compress and edit your WebM and download WebM videos from 1000+ sites.
Now, let's learn how to convert WebM to iPhone.
Step 1. Transfer your WebM video from iPhone to computer, launch MacX Video Converter, and click + Video button to import the WebM file you want to convert.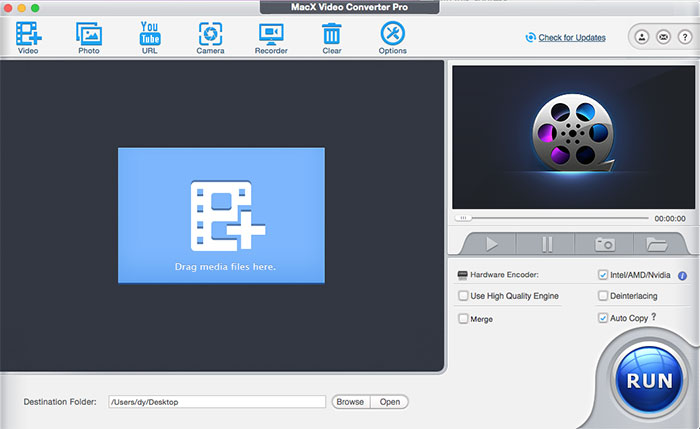 Step 2. On Output Profile window, scroll down to Apple Device, click to iPhone Video, and then select an iPhone preset.
Step 3. Click the RUN button to begin converting your WebM for iPhone. Once done, transfer the new video file back to iPhone and then you should be able to play it on your iPhone.
Part 2. How to Play WebM on iPhone in Browser?
The light, fast, and fluid WebM is used on many sites like YouTube, Reddit, and 4chan. But iPhone users will be unable to browse WebM videos if they use Safari. Luckily, there are many workarounds.
Method 1. Switch to a third-party browser
Safari in iOS doesn't provide native support for WebM videos. What's more, other browsers like Chrome and Firefox also don't support WebM because they must use Apple's Safari web engine, according to Appleinsider. Searching App Store, we have found some dedicated WebM browsers, such as Frost WebM Player Browser. Frost is compatible with iOS 13 or later. Pay $2.99 and then you can watch WebM videos. Method 2. Use PlayerXtreme app
PlayerXtreme is a feature-rich media player app available for iOS and Android devices. It offers a comprehensive set of features that enhance the playback and management of audio and video content. The app enables users to stream media content from various sources, including UPnP/DLNA devices, FTP servers, SMB shares, and cloud storage services like Google Drive and Dropbox. This feature allows for convenient access to media files stored on different platforms.
The app provides optional passcode and Touch ID/Face ID authentication to secure sensitive media content from unauthorized access. PlayerXtreme features a built-in file manager that allows users to organize and manage their media files effectively. It supports creating playlists, copying/moving files, renaming, and deleting files directly within the app. With PlayerXtreme, you can play WebM files on iPhone. Here's how to do this. Step 1. Download and install PlayerXtreme on your iPhone. Note: PlayerXtreme has been removed from App Store since it allowed users to download YouTube videos (copyrighted content).
Step 2. Open Safari on your iPhone, find the WebM video you want to play.
Step 3. Try to play the video and then a new browser window will open. Now, tap the More (three dots) button and select Copy to PlayerXtreme option. Then, the WebM video will start playing on your iPhone.
Alternatively, you can also open PlayerXtreme, copy and paste the URL of target WebM video to play.
Part 3. How to Open WebM on iPhone with VLC?
VLC can play videos in most formats, stream files from SMB, FTP, UPnP/DLNA media servers and the web, and do more. So, iPhone users can use it to play local and online WebM videos. VLC media player stands out as a reliable, feature-rich solution with its broad format support, user-friendly interface, advanced functionality, and impressive performance, making it a go-to choice for tech enthusiasts and media consumers across different platforms.
VLC excels in delivering smooth playback performance, even with large file sizes or high-resolution content, ensuring a stable and reliable media playback experience. With a user-friendly interface, VLC offers easy navigation and intuitive playback controls, including customizable skins to personalize the user experience.
How to watch WebM videos on iPhone with VLC?
Step 1. Download and install VLC on your iPhone. iOS 9.0 or later is required.
Step 2. Add the WebM videos you want to play to your VLC library. When you first launch VLC, it will show you how to add videos to VLC library for playback. Do as what the words say in the following picture.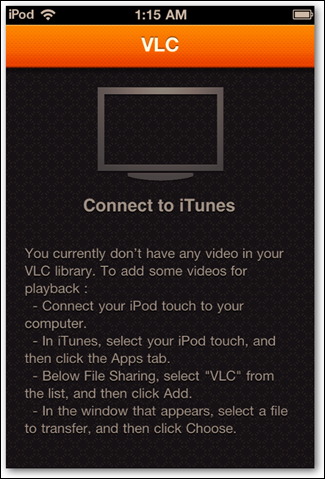 Step 3. When you have imported the WebM files to VLC library, open the VLC app your iPhone, click All Files, and then you will find your added WebM files. Then you simply need to tap on the WebM video of choice and then it will start playing.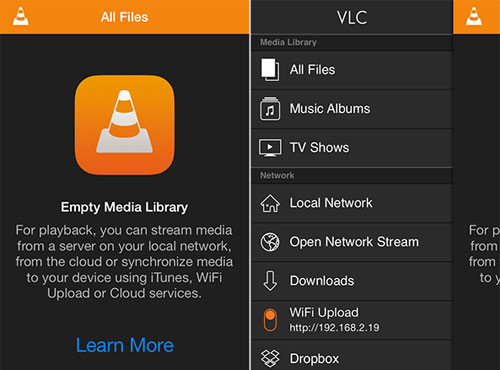 How to play online WebM videos on iPhone with VLC
Step 1. Download and install VLC to your iPhone from App Store.
Step 2. Open VLC, and tap Open Network Stream.
Step 3. Paste the URL of target WebM video and tap Open Network Stream to play it.
So above are the ways to open WebM video files on iPhone. Hope they can work with you.
Part 4. FAQs about Playing WebM Videos on iPhone
1. Does iPhone support WebM natively?
No. Neither the built-in video player nor browser in iPhone supports WebM video playback. iOS, the operating system used on iPhones, has primarily supported media formats like MP4, MOV, and M4V for video playback. WebM, being an open and royalty-free video format, has not been included in the list of natively supported formats on iOS devices.
2. How to watch WebM on iPhone with Chrome?
Just like Safari, Chrome in iPhone cannot open WebM video. This is because Chrome iOS version also uses Apple's Safari web engine (Apple security rule). By using the Google Chrome app on your iPhone, you can leverage its built-in video playback capabilities to watch WebM videos directly within the browser without the need for additional third-party applications or conversions.
3. How can I view WebM on iPhone with Firefox?
To view WebM videos on iPhone using Firefox: install Firefox: Download and install the Firefox app from the App Store, tap on the Firefox app icon on your iPhone's home screen. Use Firefox to navigate to a website hosting a WebM video you want to watch. Tap the video player or play button on the webpage to start playback. Firefox's built-in video player will handle the WebM format, playing the video within the browser.
4. Is WebM supported by Safari?
Safari, the default web browser on Apple devices, does not support the WebM video format natively. Safari is primarily compatible with media formats like MP4, MOV, and M4V for video playback. Therefore, attempting to play a WebM video directly in Safari may result in an unsupported format error. To watch WebM videos on Safari or Apple devices, users typically need to rely on third-party plugins, converters, or alternative web browsers that offer native WebM support.
ABOUT THE AUTHOR