Part 1. How to Play Local WebM Videos on iPhone?
iPhone's built-in player cannot play WebM videos. If you received and downloaded some WebM files that need to be open on iPhone, you can change the file format. It's easy to do with MacX Video Converter.
MacX Video Converter is compatible with Mac and Windows. It can convert any WebM videos, no matter what video and audio codecs are packaged in WebM container, VP8, VP9, Ogg Vorbis, Opus, or others. And there are presets for all popular iPhone models making it easy to convert WebM to iPhone.
It can make the use of GPU hardware acceleration and other advanced technologies to improve the speed of video transcoding without damaging video quality. It will keep a good balance among speed, quality, and file size.
Apart from WebM, it supports many more popular and rare video formats, 320+ in total. And the output presets are not limited to iPhones. It also covers presets for iPad, Apple TV, Mac, PC, Xbox, PS4, Android, YouTube, Final Cut Pro, iMovie, and more.
Now let's free download and install MacX Video Converter to begin converting WebM to iPhone playable format. This tool can also help you compress and edit your WebM and download WebM videos from 1000+ sites.
Now, let's learn how to convert WebM to iPhone.
Step 1. Transfer your WebM video from iPhone to computer, launch MacX Video Converter, and click + Video button to import the WebM file you want to convert.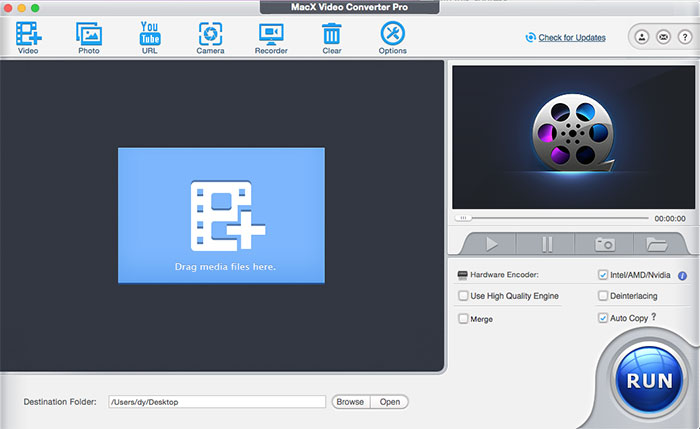 Step 2. On Output Profile window, scroll down to Apple Device, click to iPhone Video, and then select an iPhone preset.
Step 3. Click the RUN button to begin converting your WebM for iPhone. Once done, transfer the new video file back to iPhone and then you should be able to play it on your iPhone.
Part 2. How to Play WebM on iPhone in Browser?
The light, fast, and fluid WebM is used on many sites like YouTube, Reddit, and 4chan. But iPhone users will be unable to browse WebM videos if they use Safari. Luckily, there are many workarounds.
Method 1. Switch to a third-party browser
Safari in iOS doesn't provide native support for WebM videos. What's more, other browsers like Chrome and Firefox also don't support WebM because they must use Apple's Safari web engine, according to Appleinsider. Searching App Store, we have found some dedicated WebM browsers, such as Frost WebM Player Browser. Frost is compatible with iOS 13 or later. Pay $2.99 and then you can watch WebM videos.
Method 2. Use PlayerXtreme app
With PlayerXtreme, you can play WebM files on iPhone. Here's how to do this.
Step 1. Download and install PlayerXtreme on your iPhone. Note: PlayerXtreme has been removed from App Store since it allowed users to download YouTube videos (copyrighted content).
Step 2. Open Safari on your iPhone, find the WebM video you want to play.
Step 3. Try to play the video and then a new browser window will open. Now, tap the More (three dots) button and select Copy to PlayerXtreme option. Then, the WebM video will start playing on your iPhone.
Alternatively, you can also open PlayerXtreme, copy and paste the URL of target WebM video to play.
Part 3. How to Open WebM on iPhone with VLC?
VLC can play videos in most formats, stream files from SMB, FTP, UPnP/DLNA media servers and the web, and do more. So, iPhone users can use it to play local and online WebM videos.
How to watch WebM videos on iPhone with VLC?
Step 1. Download and install VLC on your iPhone. iOS 9.0 or later is required.
Step 2. Add the WebM videos you want to play to your VLC library. When you first launch VLC, it will show you how to add videos to VLC library for playback. Do as what the words say in the following picture.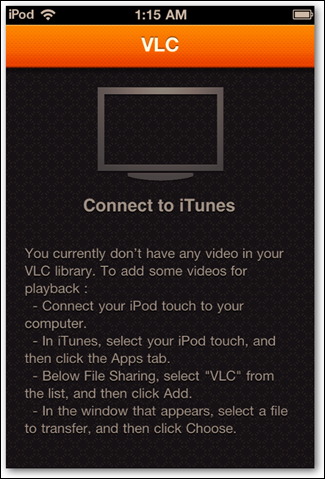 Step 3. When you have imported the WebM files to VLC library, open the VLC app your iPhone, click All Files, and then you will find your added WebM files. Then you simply need to tap on the WebM video of choice and then it will start playing.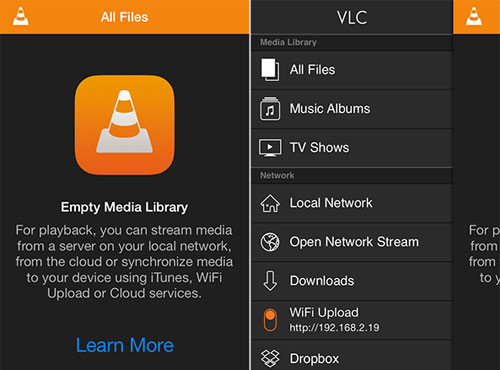 How to play online WebM videos on iPhone with VLC
Step 1. Download and install VLC to your iPhone from App Store.
Step 2. Open VLC, and tap Open Network Stream.
Step 3. Paste the URL of target WebM video and tap Open Network Stream to play it.
So above are the ways to open WebM video files on iPhone. Hope they can work with you.
Part 4. FAQs about Playing WebM Videos on iPhone
1. Does iPhone support WebM natively?
No. Neither the built-in video player nor browser in iPhone supports WebM video playback.
2. How to watch WebM on iPhone with Chrome?
Just like Safari, Chrome in iPhone cannot open WebM video. This is because Chrome iOS version also uses Apple's Safari web engine (Apple security rule).
3. How can I view WebM on iPhone with Firefox?
It is impossible to watch WebM on iPhone with Firefox, because Firefox also uses the webview of Safari for rendering.