Apple's new macOS Monterey is here with a set of new features and improvements. What are the real upgrades in macOS 12 Monterey? Are there any improvements on the performance and speed compared to Big Sur that could be worth the upgrade? Here's a breakdown of whether to upgrade your Big Sur to Monterey. Exciting New Features in Monterey
The biggest new and improved features in macOS Monterey at one glance:
FaceTime SharePlay
Safari Tab Groups
AirPlay to Mac
Quick Note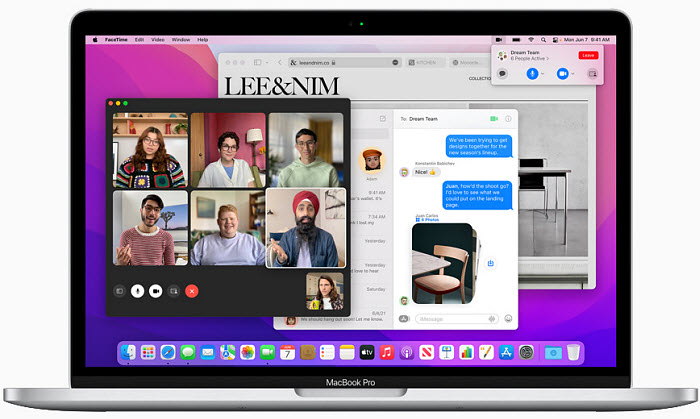 FaceTime and SharePlay
Compared to macOS 11 Big Sur, Monterey has the biggest upgrade in FaceTime with a cool new feature called SharePlay. It allows users to watch videos, play games, and listen to the music together, or share screens with friends and families while on a FaceTime call. It's even possible to FaceTime with non-iPhone users. It can be one of the great reasons to upgrade the Big Sur to Monterey, especially for collaborating with coworkers, computer troubleshooting, etc.
Safari Tab Groups
We use Safari tabs quite often but they become hard to manage, even in Big Sur. Monterey makes things easier with the new Tab Groups feature. It lets you lab and organize your tabs any way you want and switch between different groups in a flash. It's easier to navigate them in macOS 12 Monterey than 11 Big Sur, having different browser windows open, each with its own set of tabs.
AirPlay to Mac
Once you upgrade to macOS 12 Monterey, you can stream and share music, videos, or screens from your iPhone, iPad or other Mac directly onto the screen of an iMac or MacBook. That's what you can't do in Big Sur. But in Monterey, you can even use the Mac as an Airplay 2 speaker, use a Mac as a secondary display, etc.
Quick Note
The Quick Note feature in macOS Monterey lets you take notes when you're using other apps without having to open the Notes app. You can include content like links, Safari highlights, tags, phone numbers, a Maps address, and more in a Quick Note. Changes made on one device automatically sync across your other Apple devices.
More Streamlined & Integrated in Monterey than Big Sur
You will experience a big difference between Monterey and Big Sur in the workflows with the new production tools:
Universal Control
New Shortcuts app
Live Text and Visual Lookup
Focus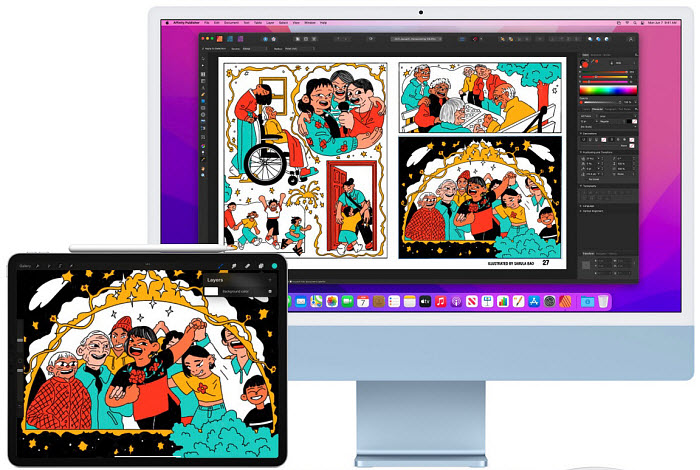 Universal Control
The Universal Control in Monterey makes it easier than Big Sur to work across Apple devices. Now with a single mouse and keyword, you can control across multiple Apple devices. You can even drag and drop files, photos, videos, and more between devices. No setup is required. If you work with Apple devices, for example, if you have a MacBook Pro and an iPad, Universal Control is an important reason to upgrade Big Sur to Monterey.
New Shortcuts app
Apple has introduced a slew of new features to make workflow faster on Monterey compared to Big Sur, and one of them is the Shortcuts app. With the Shortcuts app on Mac Monterey, users can customize shortcuts for their daily-used apps, create shortcuts across iPhone, iPad, and Mac, access and run shortcuts from the Dock, Spotlight, menu bar, Finder, desktop, and more.
Live Text and Visual Lookup
If you upgrade Big Sur to macOS 12 Monterey, you can save a lot of time with the production tool Live Text. It works in the Photos app, Safari, Quick Look, and the Screenshot function, allowing users to recognize the text in an image and use the text freely. But this feature is only available on Intel Macs with the M1 chip.
Focus
You can be more concentrated on what you're doing without unnecessary distractions on macOS Monterey than Big Sur as the new system introduced Focus. It's a more powerful version of the Do Not Disturb setting in Big Sur. With it, you can select from a range of existing Focus modes, such as Personal or Work, which will then prevent annoying notifications from apps or contacts from interrupting you.
More Secure Privacy in Monterey than Big Sur
macOS Monterey has introduced a slew of new features to focus on privacy:
Mail Privacy Protection
Recording Indicator
iCloud+ with Private Relay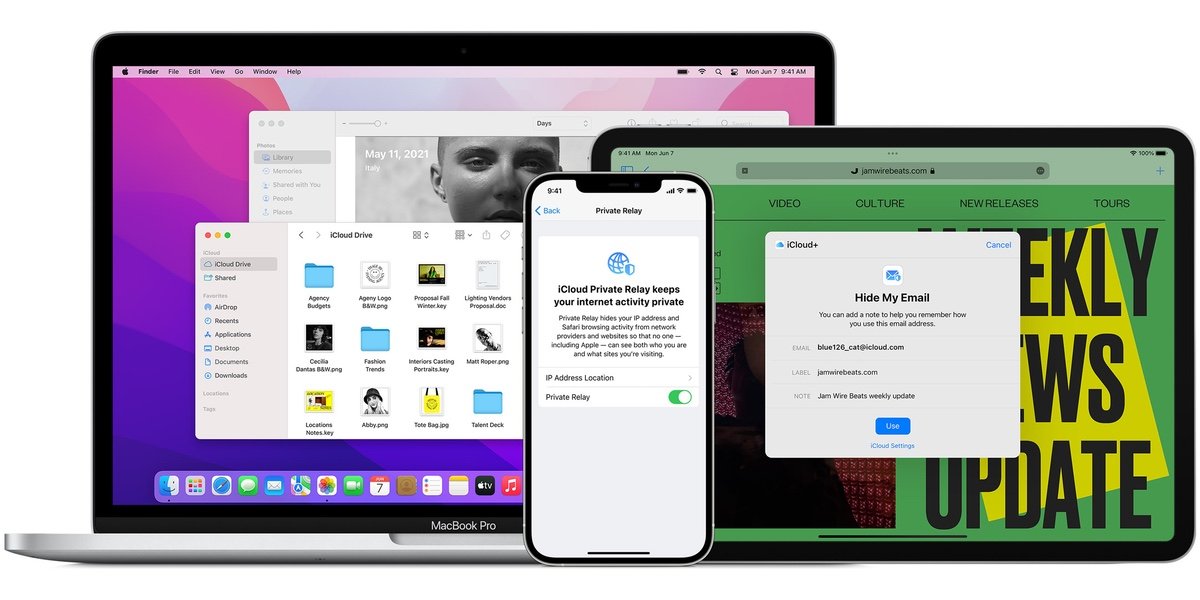 Mail Privacy Protection
Mail Privacy Protection hides your IP address so email senders are not able to link it to your online activity or use it to determine your location. It also blocks invisible tracking pixels so senders are not able to see when you've opened up an email, nor can they create a profile about you using your email habits and location information.
Recording Indicator
Control Center will indicate whenever an app is using your microphone.
iCloud+
iCloud+ is the new name for any of Apple's paid iCloud plans, starting at $0.99 per month (U.S. pricing). iCloud+ adds several privacy-focused features, including iCloud Private Relay, Hide My Email, and expanded HomeKit Secure Video support. All the new features are designed to encrypt and protect your activities.
macOS Monterey vs Big Sur Compatible Macs
Most of the Macs running Big Sur can upgrade to Monterey. However, some older MacBook Air and iMac models from 2013 and 2014 are not supported by macOS 12. Mac models compatible with macOS Monterey:
MacBook Air (early 2015 and later)
MacBook Pro (early 2015 and later)
MacBook (early 2016 and later)
Mac mini (late 2014 and later)
Mac Pro (late 2013 and later)
iMac (late 2015 and later)
iMac Pro (2017 and later)
Below are the detailed differences between Monterey and Big Sur in the supported Mac models: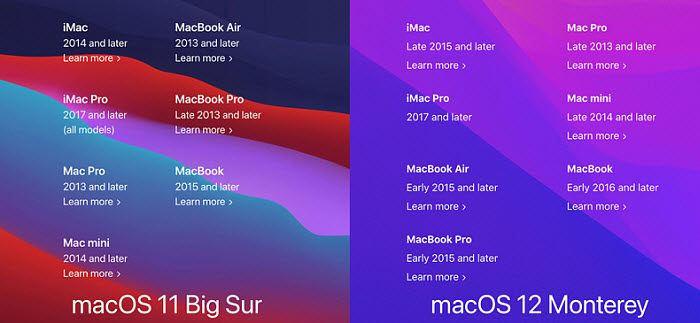 Decide to Upgrade Big Sur to macOS 12 Monterey? Back up Mac First
Before you upgrade macOS 11 to Monterey, back up your Mac first. It can keep your data safe in case any error happens. If you don't want to spend a long time in the backup using Time Machine, try a faster helper MacX MediaTrans. It will backup your all your music, videos, photos, apps, documents, etc. immediately and restores the backup files to Mac by simply drag and drop.