As we all know that, WMV stands for Windows Media Video. It is used for both streaming and downloading content via the Internet, which can be playback on Windows Media Player. A wide range of videos you get from internet are in WMV format. But for Mac users, it is definitely not a good news, because it's not recognizable by the editing program iMovie Mac users generally using, nor played by the daily used QuickTime Meida Player or compatible with Apple devices, like iPhone, iPod, iPad.
Why Do You Need Convert WMV to MP4
iMovie supported formats are DVDV Widescreen, HDV 1080i (25 and 30 fps), HDV 720p (25 and 30 fps), MPEG 4 Simple Profile, iSight. And the Video File Formats that QuickTime Media Player supported: QuickTime Movie (.mov), MPEG-4 (.mp4, .m4v), MPEG-1, 3GPP, 3GPP2, AVI,DV. For iPhone, iPod, iPad, the compatible format are H.264 video, MP4, MPEG-4.So we have to convert WMV to MP4 with Mac MP4 converter.
From above, it is not hard to find out MP4 is the most commonly used format perfectly compatible most of the application or portable devices. So What is MP4? An ISO/IEC standard 14496 developed by the Moving Picture Experts Group (MPEG).MP4 is a new container format, a container format allows you to combine different multimedia streams into one single file. MP4 is streamable and supports all kinds of multimedia content.
The vast selection of free 3rd party applications are available for Mac OS X to convert WMV to MP4. Among that abundance of of free Mac MP4 video converters, MacX Video Converter Free Edition just stand by to help you perform this kind of task easily, it works as an alternative of HandBrake, evolved into more of a universal video converter. It can handle nearly all popular formats like MKV, AVCHD, M2TS, AVI, MPEG, MP4, DivX, XviD, MOV, FLV, RM, RMVB, WebM, Google TV, etc.
Then How to Convert WMV to MP4 on Mac OS with this Free Video Converter
How to convert WMV to MP4 is no longer a questions now. This guide will show you how to convert wmv video to MP4. First you should download MacX Video Converter Free Edition. Then follow the steps as below: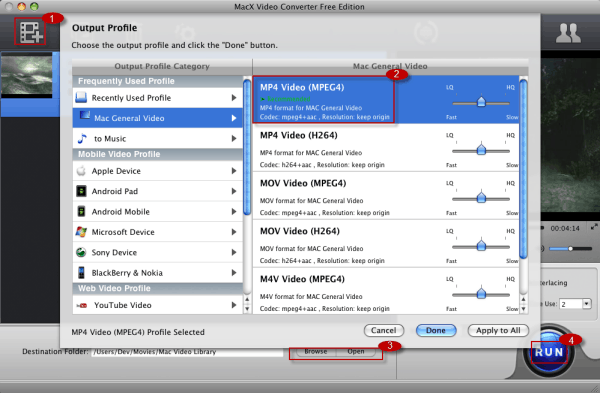 Step 1 Import your target WMV video by clicking Add File button.
Step 2 Choose To MP4 as output format.
Step 3 Click "Browse" button in output setting area and select a destination folder to save your converted video.
Step 4 Right click RUN button to begin your WMV to MP4 conversion.
MacX Video Converter Pro is the advanced version of this free video converter with much powerful functions with more output formats and multi-track HD video supported, even download video from YouTube and convert video to VOB file for burning to DVD. Compare Free Edition and Pro Edition
Related Article
How to Convert WMV to MOV on Mac OS
Detailed guide about how to convert WMV to MOV on Mac OS X with a WMV to MOV Converter for Mac that seamlessly supports WMV format.
How to Import WMV to iMovie Easily and Convert Video to iMovie on Mac
Did you fail to import WMV to iMovie directly? This article will explain the reason and showcase the simple steps to convert WMV to iMovie video format for importing it to iMovie.
How to Convert Video to MP4 on Mac with Free MP4 Converter
This guide shows the process of converting video files to MP4 on Mac with free MP4 converter. With this free MP4 video converter for Mac, you can convert YouTube video to MP4, avi to mp4, mkv to mp4, mov to mp4, flv to mp4, or any other video to mp4 format on Mac OS.