Necessity to Own a Mac Video Converter
Recently, digital video file conversion has become quite a crucial component for many video aficionados. This is where Mac video converter comes in. With such video conversion program in hand, you can easily convert video for Mac OS between dozens of file formats, thus playing those red-hot videos on your iPad or other media players might be a lot more convenient.
However, even though you got such tool, there are still something unhappy happen to you - the video converting speed, for example.
I have a new Mac but the problem I always face is agonizingly time-taking video converters- sometimes the best option is the leave it on overnight. Is there a particularly fast encoder? -Yahoo Answers
Why You Need the Fastest Video Converter Software Based on Mac?
To be frank, the importance of speed in converting video files cannot be too much stressed. But it's often the case transforming a video file is a complex process, which is usually regarded as a time-consuming process - the trick is to get a program that converts video as fast as possible. To avoid your annoyingly long video file eating up a lot of time when getting it converted on Mac OS, the World's No.1 fast video converter for Mac would come in to save the day.
World's Fastest Converter! Intel QSV Built-in!
World's first video converter for Mac to support Intel QSV hardware acceleration tech to speed up video conversion with World's fastest speed (5X faster than any other converters).
What's The Fastest Video Converter for Mac?
So you may wonder how to get such program? Why it's the fastest program to convert videos? Actually, the advent of MacX Video Converter Pro would put an end to your search for the Mac tool with the fastest video conversion speed. The video converter for Mac delivers much faster speed than any other similar tools in the market. Generally, statistics can be a convincing way in ranking the fastest video converting software for Mac. Below is the conversion speed chart of the most favored video converter for Mac in converting a 60-minute video file with resolution of 1080p, 720p and 480p respectively.
From the abovementioned chart, you can see that MacX Video Converter Pro encoded the 1-hour video, regardless of SD or HD video, in less than 20 minutes, which is far faster than the other three Mac video converting tools. Why? We shall all give the credit to multi-core CPU (up to 8) utility, hyper threading technology and Intel Quick Sync Video hardware acceleration tech embedded in MacX Video Converter, which, therefore, offers unprecedentedly up to 5X faster than any other converters and 16X faster than previous version on macOS Big Sur, thus remarkably saving you more time and making the converting process less tiresome.
What's more, you can witness its irreplaceable fastness not only during video conversion, but also installation and navigation. Its simplicity in the sleek interface makes you easy to navigate without encountering any problem. Below are four steps to convert video with the fastest speed.
How to Convert Video on Mac at Lightning Speed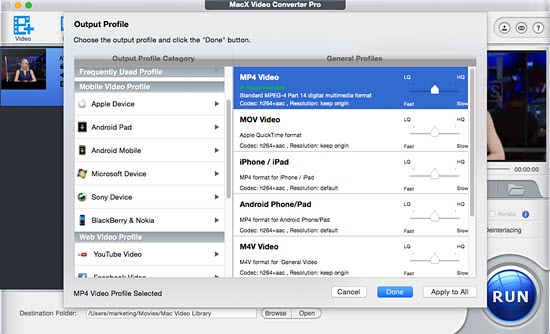 Step 1: Free download this fastest Mac video converter software and run the video converter on Mac OS (El Capitan). Click "Add File" button to browse your computer hard drive and select files you want to convert.
Step 2:Choose the output format as you like. This software supports converting among a diverse array of SD and HD videos, like converting MKV to MP4, MKV to AVI, WMV to MOV, MP4 to MP3, AVCHD to MP4, MPEG to iPhone Ringtone, etc.
What's more, this fastest video conversion tool also works perfect as a video compression software to let you compress MP4 video, MKV MOV video, even compress 4K Ultra HD vdieo to 1080P with zero quality loss and much smaller file size reserved. And after fast video conversion and compression, you are allowed to directly convert video to iPad, iPhone, Android, iMovie, iTunes and more with 420+ profiles offered as you like.
Step 3: Click the "Browse" button to choose the path where you want to save the output files in.
Step 4: Click "RUN" button and then the fast video conversion can be done quickly on Mac. Just four clicks. Isn't it easy and quick to navigate?
By the way, the fast YouTube HD downloading feature also makes you cling to this Mac video converter software over others. So why not have a try.
ABOUT THE AUTHOR