Option 1: Download Free Music Download Apps for iPhone (Non-Jailbroken)
There are many other options to get free iphone music downloads without iTunes. Generally, to download free music apps is among the best action to put free music on iPhone these days. Below are the detailed guides on how to download unlimitedmusic on iPhone for free with the free music download apps for your iPhone.
Step 1: Go to the App Store icon and tap it.
Step 2: Search for a free music download app on your iPhone and tap the Free button to download the music app.
Note: There are dozens of apps that offer free music downloads for iOS (iPhone/iPad/iPod). What's the best free iPhone music app? To help you narrow down your search, here we provide the top 5 best free music download apps for iPhone to get music freely.
Top 1: MacX YouTube Downloader - It cannot be too easy to download free music on Mac/PC for iPhone by using MacX YouTube Downloader. Rather than a free music download app for iPhone, this program is a highly acclaimed online video/audio downloader that is versed in download online files from 1000+ sites, including Dailymotion, Facebook, Vevo, Vimeo, etc, without ads, spyware or malware. Its built-in high-quality engine and advanced download engine guarantees a fast online video download speed, up to 30 seconds for a free music download.
Notice: MacXDVD Software doesn't advocate any reproduce, distribute, transmit, broadcast or sell any content for any other purposes without prior written permission of YouTube or the respective licensors of the content. Please refer to YouTube terms of service before doing so.
Top 2: Soundcloud - There is nothing short of amazing. Soundcloud is a huge music database where you can easily download songs you like for free. It makes music download as easy as possible, while injecting Airplay support, background playback and high quality music downloads as well.
Top 3: Free Music Download Pro - If you want to download unlimited songs to iPhone, this free music download app will live up your hypes. Being helpful for you download options, it brings support for WAV and M4A and enables you to play the songs you freely download on iPhone flawlessly.
Top 4: iDownloader Pro - This is not only a music downloader app but also provides video downloads, player, photo viewer and a web browser as well. Therefore, you can download music, play it and transfer songs to iPhone easily.
Top 5: Free Music Download Player Pro - You can download music for free from a selection of over 500,000 tracks. The video it displays are hardly intrusive. However, this free music download app for iPhone is rest with ads. If you'd like to listen to music or enjoy video without ads, you are suggested to download video beforehand
Step 3: Search for the songs and artists after you run the app and download free songs as instructed.
Option 2: Download Free Music to iPhone from iTunes Single
iTunes is dedicated to free downloads, like music, movie clips, apps, for instance. So if you'd like to get free music downloads for iPhone, iTunes is the place to go. All you need is to launch the iTunes app on the home screen of iPhone, click the Music button at the bottom of the interface, tap on the Single of the Week and finally click the Free button to download the song.
Note: the single of the week is always free. Each week there is a new single offered freely from iTunes. You can build your library with free songs downloads for iPhone by courtesy of the iTunes single.
Option 3: Convert Free Music Downloads with iPhone Video Converter
To be frank, if you are a music buff, chances are you may save a lot of songs on your computer. But you may scratch your head while trying to listen to the music with the format that is unreadable with your iPhone. Here scroll down and find the way to put free music you download to iPhone and earlier for earlier.
Step 1: Get the music onto your computer. You can get the music downloads in a variety of methods, for instance, rip a song from CD/DVD using a DVD ripper, download songs online from the best free music download sites like Spotify, Amazon, and more, or save a song sent by your friends, and more.
Note: You cannot download music from Spotify since this online music site is strictly a streaming program rather than a music store like iTunes. It pays royalties based on the number of plays each song gets, resulting in the inability to process Spotify free download. But if you do want to download the songs from Spotify for your own use, you can record the music that you hear on Spotify with the aid of MacX Video Converter Pro that is equipped with an awesome screen recording feature, letting you record songs, videos, movies from Spotify as well as other music sites Hulu, Vevo, etc with high quality. In addition, it is also available for you to download free music to iPhone from 1000+ online video/music sites like Facebook, Vimeo, Dailymotion and more.
Download Free Music to iPhone
Download music from 1K+ sites.
Convert music video to iPhone 12 & earlier.
Step 2: Download, install and run a audio video converter for iPhone that is able to convert video to iPhone compatible audio/video formats like the above mentioned MacX Video Converter Pro. This program is constantly upgraded to support the latest mobiles, including iPhone, iPad, Samsung Galaxy S/Note and more and helps to download and convert pretty much any video file type you throw at it (MKV, AVI, MP4, WMV, etc.) on your iPhone.
Step 3: Convert the music video to an iTunes compatible format or directly transfer it to iPhone readable format.
Step 4: Add the new song to the iTunes library and plug your iPhone into the computer for syncing.
Option 4: Take Advantages of Streaming Radio
Besides the free music download apps that offer you to put free songs on iPhone 8/8+, the streaming-radio apps set up for browsing through stations and genres are also quite good to find new music. The following steps will show you how to listen to music on your iPhone with the streaming radio.
Step 1: Search for a streaming radio app through iPhone's App Store.
Note: There are numerous music streaming radio apps in the market, and we just compiled the best.
No 1: Pandora - It is a free and personalized radio that plays music of a certain genre based on the user's artist selection.
No 2: Slacker Radio - Much like Pandora, Slacker Radio provides you the option to search for a song and create music based on the song. It is a solid choice for streaming music with a huge music library. However, this streaming radio is ad-supported. If you want to listen to music with no ads, you'd better download music from it beforehand.
No 3: iHeartRadio - It helps to stream radio from 1500+ live radio stations with no ads.
Note: It's easy to use up the data allowance while streaming music with cellular data. So it's advised to use Wi-Fi or simply download music to iPhone 8/8 Plus using a video downloader.
Option 5: Put Free Music on iPhone (Jailbroken)
Some people may own a jailbroken iPhone, if so, follow the Cydia tweaks to download free music for jailbroken iPhone. All you have to do is to download the app from Cydia and find the song you like. There are many app available for your needs. Just check the top 3 app to get the free music for your jailbroken iPhone.
Top 1: Bridge - It is an awesome Cydia app that lets you to put music to iPhone without the need of syncing with iTunes.
Top 2: iFile - It is a file manager that drags and drops files like songs onto iPhone through root access.
Top 3: MewSeek - This is a music app available in Cydia store and helps to download music over Wi-Fi.
Option 6: Easy Access to Free Music Instead of Downloads on iPhone
Besides the above mentioned ways to get free music downloads for iPhone, there are some tips for you to listen free music on iPhone without even downloading a song. Frankly, you can take advantages of cloud services like Google Play Music, Amazon Cloud Player, and Dropbox to play your music collection on iPhone or apply the third party music transfer software - MacX MediaTrans to transfer your downloaded music from Mac to iPhone.
Serving as a powerful iPhone music transfer, MacX MediaTrans provides users the superfast solution to copy music from Mac to iPhone with no quality loss. Certainly, it also supports you to transfer files from Mac to iPhone and delete existed music from iPhone to free up iPhone space for saving more new songs. Follow the below step-by-step guide to effortlessly download music from Mac to iPhone.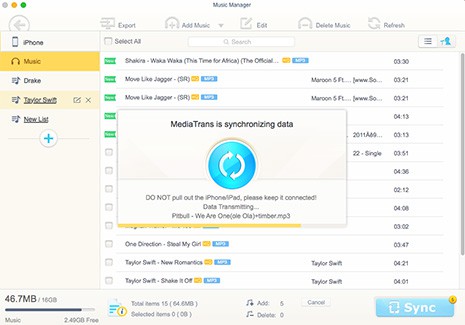 Step 1: Download and run this Mac to iPhone music transfer
Download iPhone music transfer and launch it. Then connect your iPhone to computer via USB cable and then click "Music" icon to enter the music interface.
Step 2: Copy music from Mac to iPhone
Tap "Add Music" button to import songs from Mac to iPhone. When the music is imported to iPhone music library, press "Sync" button to sync music from Mac to iPhone iOS 14 device.
Conclusion of Free Music Downloads for iPhone
All the above mentioned tips are helpful in case you want to get free music downloads for iPhone. It's only at your fingertips to choose which one is the most suitable for you. For people taking the portability into consideration, the music streaming solution is exactly the proper way. But for people taking the data use into consideration but don't want to be bothered by format issues, downloading free music to iPhone friendly format is the optimal choice.