"I'm using Handbrake 1.0.0 for all my encoding. But like the title says, the audio is falling out of sync. For the first 3-5 seconds it's fine, then it starts falling behind the video. The longer you let the video play, the worse the problem gets. How can I play the video with perfect audio/video sync?" - Apple Support Communities
It's often the case that when you rip DVD or convert video with Handbrake, the output audio lagged several seconds or more behind video you played. If you happen to suffer from the same video/audio desynchrony in Handbrake, here we go. This guide will specify the reasons and solutions to solve Handbrake output audio and video out of sync problem.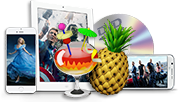 Watch Videos with No Audio Sync Issue
Download Handbrake alternative to convert MP4, MOV, AVCHD, WMV, MKV, etc with no audio/video syn error. NO.1 fast speed & no quality loss.
What Causes Handbrake 1.0.0 Output Audio Not Match up with Video
Like many other programs, the A/V out of sync after DVD ripping error is not caused by Handbrake itself. Instead, such issue is resulted from the following cases:
1. The decoder/media player.
The media players such as Windows Media Player, VLC and QuickTime player sometimes have a hiccup. Take QuickTime for instance. It may have timescale issues when bringing MPEG source into Avid or Final Cut Pro, which may make audio go out of sync with video.
2. Encoding video with intense features.
If you are working on a slow computer with low configuration but encoding video with high refs, CABAC Entropy coding, 8*8 transform, Pyramidal B-Frames, etc, your audio and video will be synced in a wrong way.
3. Restart your computer system.
The intensive use of CPU can lead your system go abnormal. So the processes like video encoding, editing or downloading will not go smooth. This is where the audio/video out of sync happens.
4. Be careful of Xvix.
When you are encoding an MPEG-2 content, be selective in the codecs. For the older ASP codecs like DivX and Xvid, and the previous .avi container, you are not suggested to choose them as they are usually considered as the crime culprit of audio/video sync issues.
How to Solve Handbrake 1.0.0 Video/Audio out of Sync Problem
Solution 1: Adjust the Framerate (FPS) in Handbrake
To keep your output video synchronous with audio in Handbrake, make sure the output framerate setting matches the source file's framerate. This Handbrake rip DVD tutorial will show you to make perfect sync between audio and video.
Download Handbrake 1.0.0 and open it; click "Source" to import the file that has an A/V syncing issue. Click the drop-down menu Framerate (FPS) to select an appropriate frame rate for your video. Then hit "Preview" button to check whether the syncing problem is fixed. If so, you can go on the encoding process with Handbrake. Or else, try another frame rate till the problem is solved.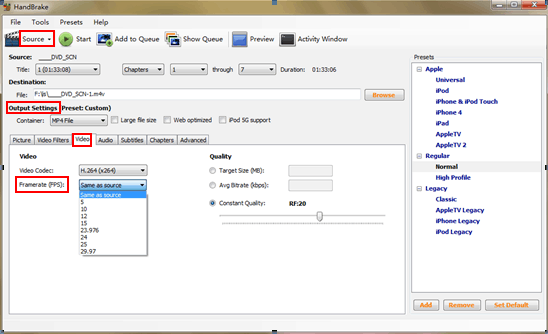 Solution 2: Backward or Forward Audio to Keep Pace with Video Using Player
Choose some media player like VLC with backward or forward functions to keep audio and video synchronized.
Solution 3: Handbrake Alternative to Convert DVD and Video with Consistent Sound and Image
Actually, there is an easy way to both rip DVD, convert video and solve the audio video out of sync issue easily. You just need a Handbrake alternative, called MacX Video Converter Pro, to fulfill your needs. Every single encode on this Handbrake alternative will not have any delay between the audio and video. This video converter for Mac works excellently as a video downloader, converter, recorder, editor and slideshow maker to let you download and convert videos to MKV, AVI, FLV, MOV, MP4, etc for iPhone XS/XR/X/8/7/6/6+/5S/5C, iPad Mini 3/Air 2, Samsung Galaxy S9, etc with perfect audio and video sync. Please check its windows version if you are using Handbrake on your Windows 10/8/7.
Other Handbrake Support for both PC and Mac Users:
Handbrake iPhone settings: Follow the Handbrake setting tips to use handbrake to rip DVD to iPhone
Handbrake cannot convert MKV: Learn how to use Handbrake to convert MKV videos without problem
Handbrake audio and video sync error: Find the troubelshooting about Handbrake audio/video out of sync error.
Handbrake outputs video in large size: Learn how to convert video in smaller size with Handbrake
Handbrake no valid source to find error: Find the solution to fix "No Valid Source Found Error" in Handbrake
Related Article
How to Simply Convert Video Using Handbrake 1.0.0 without Errors
Learn how to convert video with HandBrake 1.0.0 on Mac/Win/Ubuntu simply, like MKV to MP4, VOB to MP4 using HandBrake with high quality, fast video to VP9 encoding without crashes.
Simple Solutions to Handbrake Encode Failed Problem
Handbrake only encodes half movie? Handbrake stuck at 100%? So many handbrake encoding problems bother you. But that won't happen again. Here is the handbrake tutorial to fix Handbrake stops encoding errors with simple ways
How to Fix Handbrake Won't Rip DVD Movies Errors
Handbrake won't rip DVD movies fixed: Handbrake troubleshooting here provides solutions to Handbrake can't rip DVD movies with copy protections, Handbrake won't rip whole movie DVD, other errors on El Capitan/Windows 10.

Author: Candice Liu | Updated on Dec. 10, 2018