Admittedly, HandBrake is a neat and useful tool to rip DVD to MP4. However, HandBrake won't always get the job done. Among those Handbrake won't rip DVD situations, many users were unfortunately blocked at the first step as Handbrake won't scan DVDs at all. If you're ripping DVDs with HandBrake a lot, you will be familiar with the following cases.
HandBrake won't finish scanning and the Handbrake scanning source takes forever and but it never works.
HandBrake stuck scanning and hang while scanning/loading the initial source file. Or Handbrake begins the scanning process but gets stuck at "scanning title 9 of 14" and won't go past the scanning..."
Handbrake crashes/hangs when loading DVD and stuck at 00.00%.
HandBrake not scanning all titles or Handbrake shows no titles or source,
... ... If you are having Handbrake won't scan source DVD, takes too long to scan/load, or Handbrake title drop down blank etc., you're all covered in this HandBrake troubleshooting guide.
I. HandBrake Stuck Scanning DVD due to DVD Encryptions
1. Fix all Handbrake DVD scanning problems
Handbrake doesn't support DVD copy protections and that can lead to DVD scanning errors with Handbrake. To fix the problem, you need to install the libdvdcss for Handbrake. For those who are non-technical with libdvdcss or technical stuff, the easiest solution to Handbrake not scanning DVD is to switch to a DVD decrypter to handle the protected DVDs.
MacX DVD Ripper Pro is your best solution: it removes all protections like DVD CSS, region code, RCE, Sony ArccOS, UOPs, Disney X-project protection and automatically find the right title to rip to various formats. No DVD title scanning errors like Handbrake. No third-party software required. Rip any protected DVDs to MP4, HEVC, H.264, MOV, AVI, etc. with fast speed & high quality.
2. Install VLC to remove DVD protections before ripping with Handbrake
Handbrake won't scan DVD with protections, but it can take advantage of third party software to remove the decryption and read the disk. So before you rip protected DVDs with Handbrake, install VLC on computer. It's available for free download on its official site.
Note 1: Those who use VLC Player 2.0 and those who upgrade OS X to El Captain or macOS Sierra may also have Handbrake won't scan disk problem. In this case, you can get the missing libdvdcss for Handbrake: download the libdvdcss.2.dylib file and place the file to Handbrake install folder and rename it to libdvdcss.dll (or rename it to libdvdcss.dylib and put it in the /usr/lib/ for Mac users), or install a copy of libdvdcss via homebrew.
Note 2: You should note that both Handbrake and VLC should keep pace with the processor of your computer, namely 32 bit or 64 bit. Handbrake and VLC run well on 64 bit Windows and Mac.
3. Manually set the right title if Handbrake not showing titles properly
When Handbrake won't scan all titles or title drop down blank or other reading errors, the simplest solution is to tell Handbrake which is the right DVD title to rip. This is simple:
Insert the DVD and launch your DVD player.
From the Go menu you can find the main title of the movie, and remember the number of the title.
Open HandBrake and open VIDEO_TS folder of the DVD. 
Enter the title number in the title field and Handbrake will rip the DVD without crashing or scanning.
Note: Finding right title with DVD player is simple for all users and requires no third party software. Only one thing to note here, if you have an enormous DVD collection to backup or rip, this way can be time consuming and extremely inconvenient.
II. HandBrake Scanning Problems due to Improper Version/Settings
When Handbrake scanning source takes forever, the very first thing is to close Handbrake, and reboot it with Administrator access. Then try to check if you have installed the right Handbrake version or have the best Handbrake settings.
 Download and install Handbrake (latest version) on computer.
Check if you install 64-bit Handbrake for 64-bit computer and 32-bit version for 32-bit computer (and also the version of VLC for protected DVDs).
When loading a DVD source, select the VIDEO_TS folder which will appear when you click the + beside the drive.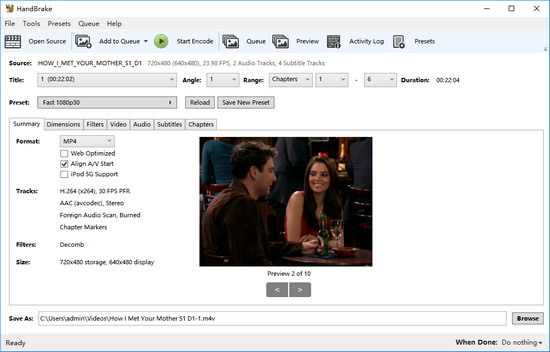 III. HandBrake won't Scan DVD due to Framework Issues
If your Handbrake DVD scanning won't finish, gets stuck, won't scan all titles, etc. on your PC, it may be caused by bad .net install or missing .NET framework. Then you will need to manually install .NET to fix the problem. Follow the steps below:
 Restart your computer and install the latest version of Microsoft .NET Framework available for your Windows version.
Delete your HandBrake configuration data and presets (replace username with your own) C:\Users\username\AppData\Roaming\HandBrake C:\Users\username\AppData\Local\HandBrake.
Install/reinstall the latest version of HandBrake.
IV. Handbrake won't Finish Scanning due to Computer Problems
In addition to the internal Handbrake errors that prevent Handbrake from scanning disk properly, apps like Handbrake will also freeze or crash due to problems in hardware, if you're experiencing freezing with other apps, then check the factors below:
Check if the DLL file is damaged. 
Scan your computer for malware or unwanted installations & improve performance.
Clear & Reset the computer cache.
Repair the system files if needed.
Changing Permission For That Application.
Notice: We only advocate using this Handbrake alternative to copy and rip DVDs under the concept of Fair Use and do not encourage any illegal reproduction or distribution of copyrighted content. Please abide by the local DVD copyright law before doing it.