Libdvdcss is part of VideoLAN project and is used by VLC media player and other DVD player software packages, according to Wikipedia. It's just like a key to the door to let you access to the encrypted DVD without any further ado. So it's a crucial library for some free DVD ripper software that doesn't have the DVD decryption ability like Handbrake. That's why if you want to rip CSS-protected DVD or remove DVD region code on Mac, you are required to download and install libdvdcss on Mac first.
How to Download and Install Libdvdcss for Handbrake on Mac (Big Sur incl.)
Mac users use Homebrew to simplify the process of installing command line software like cask, htop, etc and open source packages including libdvdcss on a Mac. But make sure your Mac runs OS X 10.10 or later. If you are new to Mac, check the steps below.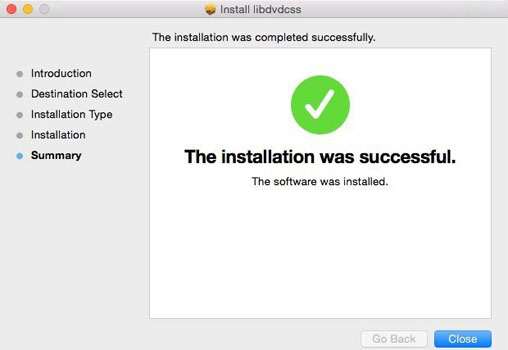 Step 1:Open the Terminal application.
Step 2: Enter the following command into the terminal: /usr/bin/ruby -e "$(curl -fsSL https://raw.githubusercontent.com/Homebrew/install/master/install)
Step 3: Hit Return > Return > enter password to begin the installation of Homebrew.
Step 4: Start Terminal and enter brew install libdvdcss, hit enter
Step 5: After the downloading and installation, you can follow Handbrake tutorial to rip encrypted DVDs.
Note: The libdvdcss is only available for ripping CSS-protected DVDs or making DVD region free. If you want to rip/copy other types copy-protected DVDs like Disney protection, Sony ARccOS, UOPs, etc, Handbrake libdvdcss will not function well, and you should look for other DVD rippers.
How to Make Handbrake Libdvdcss Workable on Mac OS X El Capitan or Later
If your MacBook or iMac is running on Mac OS X El Capitan or later version and you need to make libdvdcss workable on Mac OS X 10.11 for your Handbrake DVD ripping, you are suggested to prepare yourself mentally. The Handbrake doesn't run as smoothly as the one abovementioned.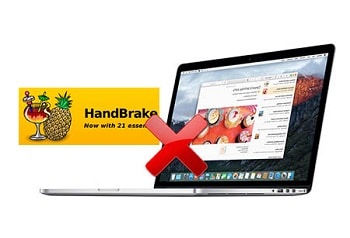 Case 1: El Capitan apparently broke Handbrake ripping copy-protected DVDs. Any clue what to do?
Solutions:
1) Disable SIP and reinstall libdvdcss on Mac El Capitan. FIY: SIP means System Integrity Protection, the new security system for OS X El Capitan.
2) Install a copy via homebrew ( a package manager).
3) Move software library to /usr/local/lib instead, which is not protected by SIP.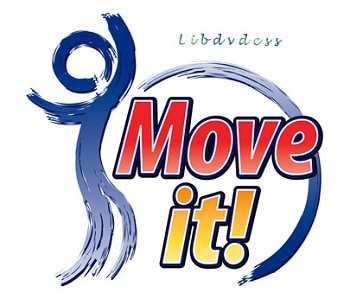 How to move libdvdcss file to /usr/local/lib?
• Create a new Finder window
• Go to /Library/SystemMigration/History/ through cmd-shift-G (<--copy the path from here also allowed) and manually proceed on inside Migration-some-gibberish/QuarantineRoot/usr
• Copy the libdvdcss.2.dylib file (Cmd-C)
• Apply cmd-shift-G to /usr/local/lib (no copy remember!)
• Take use of cmd-opt-V to move it (not copy) it to this location
• It will ask for your password and should then move it.
Case 2: Current libdvdcss version is 2.8.1 BUT won't install on OS X El Capitan unless it has been installed before upgrading. The problem seems to be that El Capitan does not allow the creation of the necessary folders in usr. If you installed it BEFORE updating to El Capitan then there is no problem. I tried to disable rootless but still no luck
Solutions:
1) Downgrade your El Capitan to Mac OS X Yosemite first and then download & install libdvdcss and OSXfuse on Yosemite before upgrading to El Capitan.
2) Generally, /usr/local can't be found on fresh installs of OS X 10.5 to 10.10. When you update operating system from Yosemite (no /usr/local directory) to El Capitan, /usr/local is generated automatically. If not, there might be something wrong with the El Capitan installer or your system.
The way to fix libdvdcss won't install problem is temporarily disable rootless, create the directory, make sure the "restricted" flag is not set, and re-enable rootless.
More Handbrake Not Working Tips
▼ Handbrake no source found
▼ Fix Handbrake VLC2.0 issue
▼ Handbrake no title found
▼ Handbrake reading error
▼ Handbrake won't rip DVD
▼ Handbrake video/audio out-sync
Troublesome for DVD Decryption? Here's an Easy Way to Rip Protected DVD?
I know you just desire to install libdvdcss on Mac, in hopes that it will aid Handbrake to decrypt and rip DVD to iPhone iPad and take on holiday. But there are so many unexpected troubles, do you feel so exhausted physically and mentally? Besides, Handbrake libdvdcss only can rip CSS-protected DVD and remove DVD region code. To smoothly decrypt other copy-protected DVDs, it's advisable to look for a self-contained DVD ripper for Mac without libdvdcss aids.
Here the high-end MacX DVD Ripper Pro is the independent DVD ripper to enable you decrypt and copy DVDs to iPhone X/8/7/7 Plus/6s/Plus, iPhone SE, iPad Pro, Galaxy S8, HTC 10, Sony Xperia Z5, etc. without any plug-ins or add-ons. With the advanced DVD decoding/encoding engine, title check mechanism and unique DVD analysis techology, this top Handbrake for Mac alternative can rip encrypted DVDs with aplomb, no matter the CSS, Region Code 1-6, RCE, UOPs, or Sony ARccOS, Disney Fake. 36X faster speed guaranteed, thanks to the utilization of Intel QSV hardware encoding tech, thus there's no need to wait a cup of tea time.
How to Rip Protected DVD without Libdvdcss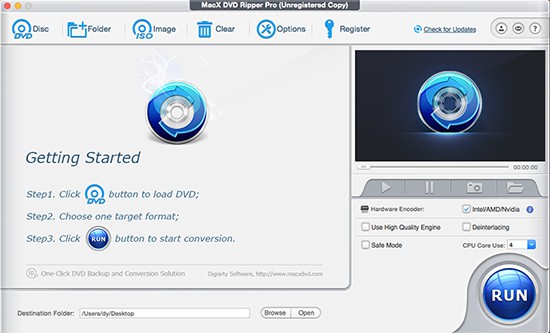 1Import DVD by Clicking "DVD Disc" or "DVD Folder" button.
Free download this great DVD ripper alternative to Handbrake on Mac and then fire it up. Click "DVD Disc" or "DVD Path" button to load the DVD on your MacBook, iMac 4K/5K Retina, etc. This DVD ripper for Mac will take a few seconds and automatically choose the right title without the aid of libdvdcss.
2Choose Output Format or Mobile Device.
From the pop-up window, pick up the output video format for mobile device you need. You can choose to rip any new DVD movies to MP4, MKV, MOV, AVI, etc. almost all the video and audio formats. Of course, the Apple, Android, Microsoft handheld device profiles are also available for you.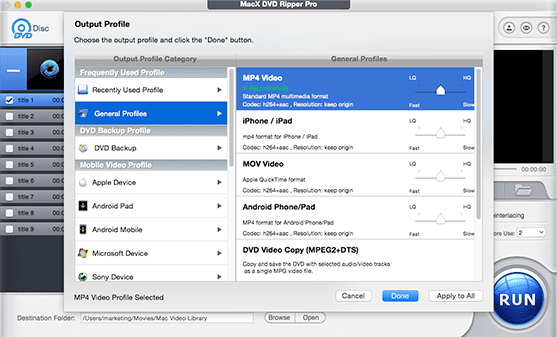 3Opt for a Destination Folder to Save Output Files.
Find the "Browse" and click to choose the output folder.
4Start Copyright Protected DVD Ripping Now.
Click "RUN" button and this DVD decrypter's decoding engine will start to decode and rip DVDs on Mac. Just a few mins, you can eventually get your digital copy of DVD movies in 1:1 ratio.
After finishing the work of DVD ripping, you can use MacX MediaTrans iOS mobile transfer to copy videos from computer to iPhone iPad iPod for playback on the move. Besides, this iPhone transfer also can aid you to easily manage files on iDevices like music, photos, eBooks and more.
Note: The software developer calls for copying or ripping DVD under the concept of Fair Use and does not encourage any illegal reproduction or distribution of copyrighted content. Please abide by the local DVD copyright law before doing it.

Author: Bella Brown | Updated on Feb 20, 2019