You think you can insert the DVD into Mac's hard drive and start to enjoy the movie? I'm afraid "DVD won't play" is more often the case. Protections on DVDs will disable many DVD players. You may see "The DVD-video disc region does not match the driver region code", DVD not reading on Apple Super Drive, DVD player won't open, etc. Even when you switch to a DVD player hooked to a TV, things won't get better. Even if a DVD player allows 3-5 region code switches, it will refuse to read DVDs after you reach the maximum number of changes.
What to do when DVD players fail to decode a disc: you need a powerful DVD decrypter to remove DVD restrictions:
Analog Protection System (APS) scrambling
Content Scramble System (CSS) encryption
DVD Disc Corruption (ARccOS, Disney X, etc.)
Content Protection for Recordable Media (CPRM)
Multiple titles
As DVD protection gets stronger, incapable DVD rippers will result in massive time waste and troubleshooting.
Try Times but no Avail? - Decrypt any DVD with 100% Success Rate
Get the strongest DVD decrypter to rip DVD on macOS and Windows
MacX DVD Ripper Pro (or Windows version) is the one a DVD user needs. It has been the most powerful tool for years in decrypting any kinds of DVDs. It's upgraded every month to add support for the lastest DVD protection scheme.
Decrypt any DVD discs, including the latest DVDs, pesky 99-title DVDs and other knotty DVDs. It ensures no ripping errors like the disc won't read, 75GB oversized output file, bad sector error, distorted image, incomplete DVD rips, etc.
Convert DVD to to MP4, MKV, H.264, HEVC, MOV, MPEG4, AVI, FLV, MP3, iPhone, iPad, Android phones and tablets, PS4/5, Xbox One, as well as 1:1 clone DVDs with main/full title saving as MPEG-2 format.
Rip mode & backup mode, respectively guarantee 98% and 100% output quality thanks to High Quality Engine.
5X real-time faster speed. With the unique level-3 hardware acceleration tech, the whole DVD decrypting process can be accelerated to a new level, taking merely 5 minutes to copy a 2-hour DVD movie on a MacBook Pro.
Note: This guide is to help owners who can't play their purchased DVD successfully. You're not allowed to decrypt any disc for illegal use. Please consult the law in your area before you try any DVD decrypter.
[Tutorial] How to Rip a DVD with this Mac DVD Decrypter
Free download MacX DVD Ripper Pro and launch it on your computer.

Free download DVD decrypter on Mac OS X 10.6 and above

Free download DVD decrypter on Windows 10/8/7/XP
Step 1. Launch Free Tool and Load DVD Disc or Folder
Run this DVD decrypter for Mac, click "DVD Disc" icon to load the DVD files after you insert the DVD. You don't need to bother with the disc types or copy protections. Simply load the DVD and it will automatically remove the protection and find the right title.
Step 2: Select the Output Format.
Choose your desirable output format. The DVD ripper for Mac lets users rip DVD to various formats (including MOV, MP4, FLV, MPEG, MKV, HEVC, MP3, iTunes, iMovie, iOS, etc.) for playback on iPhone, iPod, iPad, mobile phone, etc.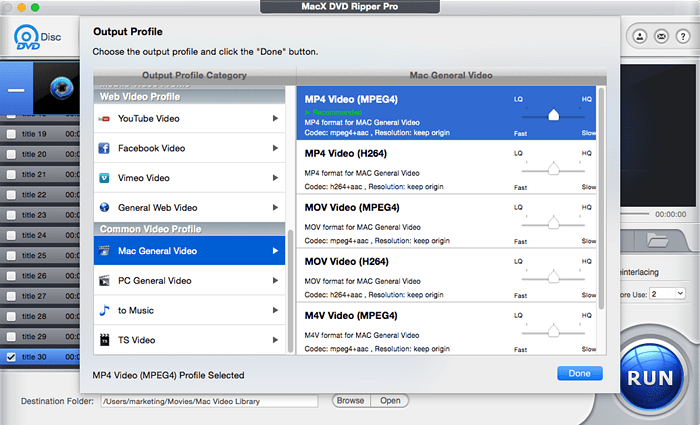 Step 3: Start to Decrypt DVDs Now.
Hit the "RUN" button and the program will start decrypting DVD on Mac. To rip the newly-released DVD movie that free DVD decrypters for Mac cannot deal with, check the Safe Mode box on the right lower part of the interface. It will avoid most ripping errors and ensure a successful DVD ripping and decryption.
Decrypt Protected DVDs with Performance You Won't See Elsewhere
1. Decode DVD in an easy way, decode with MacX DVD Ripper Pro
When decrypting using a free DVD decrypter for Mac, you may need to pay attention to every step, or the ripping will go wrong. For example, when you download Handbrake, you need to figure out if your computer is 32- or 64-bit. That's easy. But it becomes harder with the libdvdcss download and installation. libdvdcss is capable to handle CSS scheme, which means the free Mac DVD decrypter will give you errors ripping DVDs with other protections. With Handbrake, you will go through the whole tricky steps below.
Download Handbrake 32/64 bit - download & install libdvdcss - adjust the settings - start to rip - troubleshooting
With MacX DVD Ripper Pro, things get much easier. You just throw the DVD into the software, it will decrypt the protection without the help from any third-party helper. The ready profiles built in let you find the target output immediately. The process is smooth and fast. Via 3 simple steps, MacX will give you a high-quality decrypted video file.
Download MacX DVD Ripper Pro - select an output - start to rip
2. Decrypt DVD in the right way, decrypt with MacX DVD Ripper Pro
Ripping protected DVD is challenging for most DVD rippers. As mentioned earlier, DVD protections are getting stronger, but many decrypters claiming to bypass the restrictions fail to catch up. With an improper "DVD decrypter", you will go through a painful process and waste a lot of effort and time (not to mention the price for the paid program) to troubleshoot various DVD decrypting failures. Common decrypting errors (most rippers):

Various Errors Occurred. When ripping a DVD using DVDFab, DVD Decrypter or AnyDVD, a wide types of errors pop up, including unknown error (no error code), I/O error, EAccessViolation error, CRC error, out of memory error, CellWalk algorithm failed, Scsi error, etc.. This happens most often to new DVDs and TV series discs. The decryption server will go down with some tough DVD restrictions.

DVD reading errors. Myriad DVD reading problems come up with protected DVDs. For example, the infamous anydvd file IO3 error, AnyDVD not recognizing region code, getting a read error at 50%, Handbrake can't find the right title, DVD player won't open up the disk, DVD shows as empty, DVD not appearing/not responding...

DVD decrypting hangs/freezes. Even after the DVD is loaded and recognized successfully, there are still errors. Most commonly, the DVD ripping hangs and freezes in the middle, FPS drop down and DVD ripper quits with an error report popping up, DVD ripping completed with only a few seconds, etc. All those errors are mainly caused by the incapability to handle encryptions.

Jumpy files/missing frames/artifacts. Though the DVD ripping is finished smoothly, the output video files are less than satisfactory. Some users report that the video and audio are out of sync, parts of the movie are missing, jumpy video playback with missed frames and the like. When a DVD decrypter fails to detect the correct title, a bad/corrupted title will lead to such errors.

Incomplete DVD rips. It seems that your DVD is successfully ripped by the DVD decrypter you used. When you playback the ripped files on desktop, you will find it produces an ISO image of 4MB or only one part of only 6 seconds.
The troubleshooting of the above DVD ripping issues is a time-consuming and exhausting process. Even if you find a solution to the error, the fix won't be a guarantee for the next error. Things don't need to be that complicated because MacX DVD Ripper Pro will bring you a happy decrypting experience with 100% success rate. Decrypt DVD with zero issue (MacX):
The unique DVD analysis kernel and title check mechanism are the core technologies used by MacX DVD Ripper Pro to remove DVD protections. It allows MacX DVD Ripper Pro to decrypt multiple-title movies, TV series, workout discs, Japanese DVDs and has unlimited access to most currently known encryptions like 99 titles, CSS, APS, UOPs, Region Codes, Sony ARccOS, Disney-X Project, etc.

Monthly upgrade to the decryption core to support the newest DVD protection scheme. The program has recently upgraded to enhance the support for damaged & unplayable DVD, offering full fixes to any unplayable/unreadable discs. It always keeps up with the latest disc with No.1 full support for DVD encryptions, while 95% programs fail to catch up. (e.g., Handbrake can decrypt CSS only with libdvdcss installed)

Safe Mode will help you steer around most DVD decrypting errors with other tools. It's a unique feature built in the Mac decrypter to offer a trouble-free process with tough discs. It has helped millions of users fix their most obstinate DVDs.
3. Rip DVD in a fast way, rip with MacX DVD Ripper Pro
The strong DVD decrypting is one of the 3 No.1 abilities of MacX DVD Ripper Pro. As an extra benefit, MacX will bring you the widest support for DVD encryptions, world's fastest decrypting speed, and the highest output quality. No more words on its DVD decrypting capability on Mac, let's have a look at its decrypting speed & output quality.

No.1 FAST speed: The industry-leading Level 3 Hardware Acceleration tech, multi-core CPU, and Hyper-thread boost the decrypting speed to a new level. Specifically, it can decrypt and rip a full DVD movie within 10 minutes. While other incapable macOS decrypters are freezing or hanging in the middle, MacX DVD Ripper Pro is able to finish the decryption by 5x faster.

No.1 High quality: The output quality is another top concern. With DVD auto copy, high quality engine, deinterlacing, and an advanced compression engine, it ensures 98%-100% output quality with different ripping modes.