You think you can insert the DVD into Mac's hard drive and start to enjoy the movie? I'm afraid "DVD won't play" is more often the case. Encryptions on DVDs will disable many DVD players. You may see "The DVD-video disc region does not match the driver region code", DVD not reading on Apple Super Drive, DVD player won't open, etc.
The DVD decrypting tools are designed to decrypt and remove DVD restrictions, such as Analog Protection System (APS) scrambling, Content Scramble System (CSS) encryption, DVD Disc Corruption (ARccOS, Disney X, etc.), Multiple titles, etc. If you don't know which DVD decypter for Mac is the best or how to decypt a DVD on Mac, just keep reading.
Free Download the Strongest DVD Decrypter for Mac
Decrypt any encrypted DVDs freely on macOS and Windows - MacX DVD Ripper Pro (No libdvdcss required!)
Decrypt DVDs protected with encryptions like Region Codes, 99 titles, CSS, APS, UOPs, Sony ARccOS, Disney-X Project, etc. The latest DVDs, multi-title DVDs, other damaged & unplayable DVD are all supported.
Support DVDs which other DVD decrypters fail to rip with its Safe Mode. It has helped millions of users fix their most obstinate DVDs.
Decrypt and rip a protected DVD to MP4, H.264, HEVC, MOV, MPEG4, AVI, FLV, MP3, iPhone, iPad, Android, 420+ presets, as well as 1:1 clone DVDs in ISO image, DVD folder, MPG, and MKV files.
5X faster speed. With the unique level-3 hardware acceleration tech, the whole DVD decrypting process can be accelerated to a new level, taking merely 5 minutes to copy a 2-hour DVD movie on a MacBook Pro.
OS: macOS 13 Ventura & earlier / Windows 11 & earlier
Note: This guide is to help owners who can't play their purchased DVD successfully. You're not allowed to decrypt any disc for illegal use. Please consult the law in your area before you try any DVD decrypter.
[Tutorial] How to Decrypt any DVDs on Mac with 100% Success Rate
The DVD decrypter for Mac can decrypt the protection without the help from any third-party helper like libdvdcss. You simply need to download the decrypter and throw the DVD into it. The DVD decrypting process is smooth and fast. Via 3 simple steps, you a high-quality non-encrypted video file.

Free download DVD decrypter on Mac (Ventura)


Free download DVD decrypter on Windows (11/10)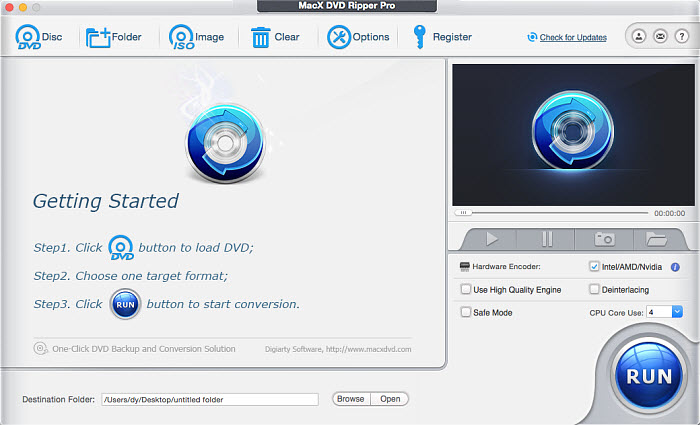 Step 1. Launch DVD Decrypter and Load the Encrypted DVD.
Run the DVD decrypter for Mac and insert your DVD to the Mac's DVD drive/external drive. Then click "DVD Disc" icon to load the DVD files. You don't need to bother with the disc types or copy protections. It will automatically decrypt the DVD encryptions applied and find the correct DVD title.
Step 2: Select the Output Format.
Once the DVD is decrypted and loaded, a window will pop up to let you select the output format. The DVD decrypter for Mac lets users rip DVD to MP4, MOV, HEVC, H.264, MPEG, MKV, HEVC, MP3, iTunes, iMovie, iDevices, etc.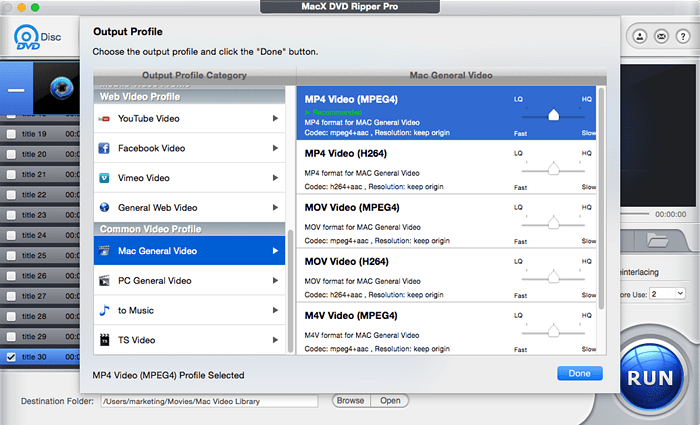 Step 3: Start to Decrypt DVDs Now.
Under the Destination Folder, click Browse and set an output folder for the non-encrypted video. Then hit the "RUN" button and to start decrypting DVD on Mac.
Note: To rip the newly-released DVD movie that free DVD decrypters for Mac cannot deal with, check the Safe Mode box on the right lower part of the interface. It will avoid most ripping errors and ensure a successful DVD ripping and decryption.
OS: macOS 10.13 and later
Handbrake is a free and open-source video transcoder. Out of the box, Handbrake can rip any DVDs without encryptions. But with a free DVD playback library called libdvdcss, Handbrake is able to decrypt copy protected DVDs into MP4, MKV, and WebM formats on Mac, Windows, and Linux.
But using Handbrake as a free DVD decrypter for Mac is not very user-friendly. For example, when you download Handbrake, you need to figure out if your computer is 32- or 64-bit. That's easy. But it becomes harder with the libdvdcss download and installation. To decrypt protected DVDs on Mac, you need to download Handbrake 32/64 bit - download & install libdvdcss with Homebrew - adjust the settings - start to rip - and be prepared to fix DVD decrypting errors.
Pros
Free and open-source.
GPU acceleration supported for fast DVD decrypting.
A wide range of settings to customize the decrypted video.
Cons
Unfriendly interface and complicated process to install libdvdcss via Homebrew (check how to install libdvdcss for Handbrake).
libdvdcss is capable to handle CSS scheme, which means the free Mac DVD decrypter can't rip DVDs with other protections.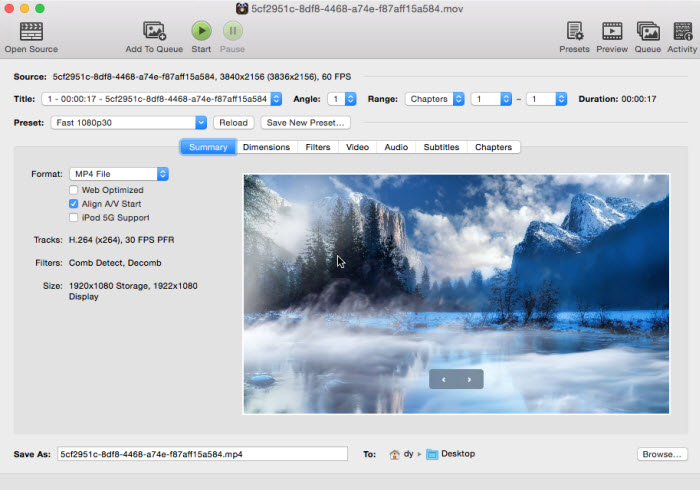 OS: Mac OS X 10.7 or later
MakeMKV is one of the best free DVD decrypters for Mac, Windows, and Linux. It's able to rip both protected or home-made DVDs to MKV videos. The great thing about MakeMKV is that it's extremely simple to use. There's nothing much to think about in DVD decrypting on Mac. Simply fire up the program, analze the disc, choose which track to rip, set the output directory to save the output MKV files, and hit the MakeMKV button. There is no complex configuration at all.
You cannot play the MKV file on Apple devices like Apple TV, or iOS devices, or synce to iTunes. But you can use additional software like HandBrake to convert the MKV into Mac/Apple's format.
Pros
It's free, simple, and straightforward to use.
MakeMKV does not require additional software or codecs to decrypt a DVD.
Ability to decrypt both encrypted DVD and Blu-ray discs.
Cons
MakeMKV can only rip DVDs and Blu-ray discs to MKV format, which is very large in size.
MakeMKV does not provide users the possibility of configuring audio and video parameters.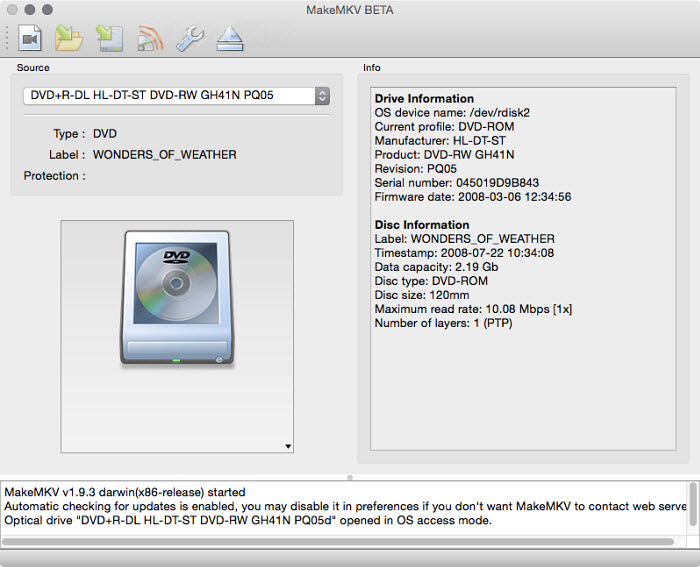 OS: V2.6.6 for Mac OS X 10.6 and earlier, V3/4 for OS X 10.7 and later
MacTheRipper is one of the oldest DVD backup app for Mac. It's able to free decrypt DVDs with Content Scramble System, DVD region code or the UOP protections. It's the best if you want to decrypt and copy a DVD to Mac without quality loss. It can extract the data from an encrypted DVD in the ISO image, Rip&Rebuild (RnR) for VTS-level editing, Main Feature, and the specialized Batch Title Extraction. Currently, there main verions available now include MacTheRipper 5.3.0, 4.1, 3.0, and 2.6.6. Only the Version 2.6.6 is free. Check Handbrake vs MacTheRipper for more info.
Pros
MacTheRipper has a responsive support with very clear manual and an intuitive interface.
MacTheRipper can save a topnotch-quality DVD copy on Mac with the full menus, and extra features.
Cons
MacTheRipper can decrypt DVDs to Video_TS folder only, which requires at least 15GB to store.
MacTheRipper 2.6.6 works on Mac OS X 10.6 and earlier. It may have compatibility problems with newer systems.
Getting MacTheRipper versions other than V2.6.6 is complicated by sending gift.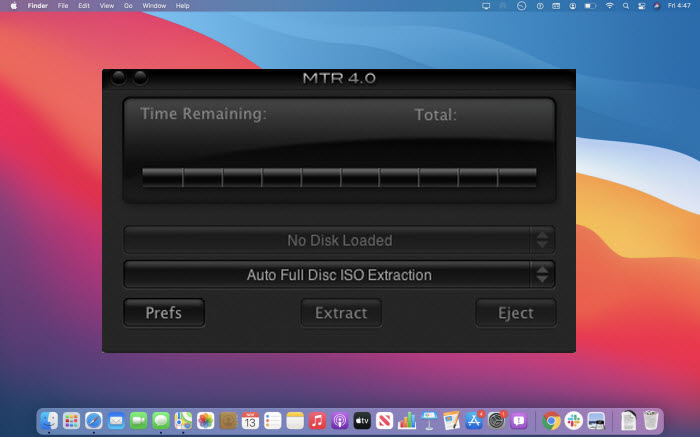 OS: Mac OS X 10.7.5 or later
The free media player VLC also helps you decrypt a protected DVD on Mac. VLC itself doesn't support DVDs with encryptions. But with libdvdcss, it's able to decrypt some DVDs with region code and CSS encryptions. The libdvdcss library is already included in VLC. To decrypt DVDs on Mac using VLC is easy: From the Media menu, click Convert/Save > select your DVD > set the output settings and start to convert your disc (here is how to rip a DVD with VLC full guide). VLC lets you convert a protected DVD to MP4, MPEG-4, WMV, VP8, etc.
Pros
VLC is easy to get and you can do quick rips with it.
VLC can help find the correct DVD title for other DVD decrypters on Mac.
Cons
VLC can't decrypt advanced and complicated DVD encryptions.
VLC is not a professional DVD ripper. The ripping speed and quality is not as good as other decrypters.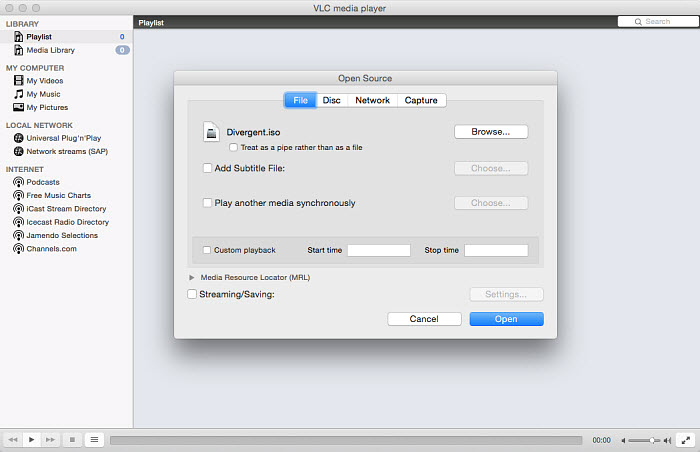 OS: Mac OS X 10.6 or later
RipIt is a free, powerful, and discontinued DVD decrypter for Mac. If you have many old movie DVDs to decrypt onto your Mac hard drive for easier playback, RipIt is a good option. It hasn't been updated for years but you can still download it from Softonic and similar sites. According to various tests & user feedbacks online, RipIt can rip many protected DVDs (including many new DVDs) which Handbrake and MacTheRipper fail to handle. It's extremely easy to use: simply insert your DVD and select Rip or Compress.
Pros
It's simply and easy to use.
The DVD decrypting speed is fast on Mac. It takes 15-45 minutes to rip a full DVD movie.
Cons
It takes a lot of CPU resource to decrypt a DVD on Mac.
It hasn't been updated for a long time and there may be compatibility issues with the latest macOS Ventura.
It may fail to decrypt DVDs with the latest and advanced protection schemes.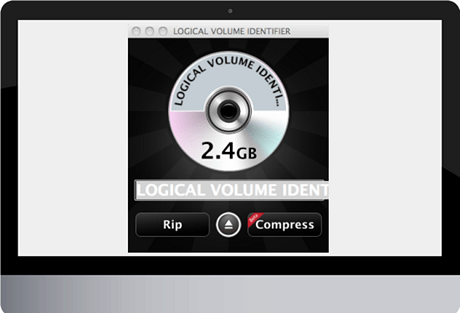 Common DVD Decrypting Errors on Mac and Windows
Ripping protected DVD is very challenging. As DVD protections are getting stronger, many DVD decrypters fail to catch up. With an improper "DVD decrypter" for Mac, you will go through a painful process and waste a lot of effort and time to troubleshoot different DVD decrypting failures.

Various Errors Occurred. When ripping a DVD using DVDFab, DVD Decrypter or AnyDVD, a wide types of errors pop up, including unknown error (no error code), I/O error, EAccessViolation error, CRC error, out of memory error, CellWalk algorithm failed, Scsi error, etc.. This happens most often to new DVDs and TV series discs. The decryption server will go down with some tough DVD restrictions.

DVD reading errors. Myriad DVD reading problems come up with protected DVDs. For example, the infamous anydvd file IO3 error, AnyDVD not recognizing region code, getting a read error at 50%, Handbrake can't find the right title, DVD player won't open up the disk, DVD shows as empty, DVD not appearing/not responding...

DVD decrypting hangs/freezes. Even if the DVD is loaded and recognized successfully, there are still errors. Most commonly, the DVD ripping hangs and freezes in the middle, FPS drop down and DVD ripper quits with an error report popping up, DVD ripping completed with only a few seconds, etc. All those errors are mainly caused by failures to handle encryptions.

Jumpy files/missing frames/artifacts. The output video files are less than satisfactory. Some users report that the video and audio are out of sync, parts of the movie are missing, jumpy video playback with missed frames and the like. When a DVD decrypter fails to detect the correct title, a bad/corrupted title will lead to such errors.

Incomplete DVD rips. It seems that your DVD is successfully ripped by the DVD decrypter you used. When you playback the ripped files on desktop, you will find it produces an ISO image of 4MB or only one part of only 6 seconds.
The troubleshooting of the above DVD decrypting issues is time-consuming and exhausting. Things don't need to be that complicated if you have a strong DVD decrypting app. Rip Protected DVDs with the Best DVD Decrypter - 100% Success Rate
Get the strongest DVD decrypting ability on Mac with MacX DVD Ripper Pro. It has the support for the widest range of DVD encryptions, avoid any ripping errors you may meet with Handbrake, MakeMKV like the disc won't read, 75GB oversized output file, bad sector error, distorted image, incomplete DVD rips, etc.
FAQ
1. Is it legal to decrypt a DVD?
The legality of ripping protected DVD depends on where you are. In the US, it is illegal to break the encryption or any other type of Digital Rights Management (DRM) on a CD or DVD. You also have a fair use right under copyright law to make a backup copy of a CD or DVD for personal use. Which means you can make a backup copy of a DVD you own for personal use.
2. Does DVD Decrypter work on Mac?
No. DVD decrypter is a free program on Windows which is able to remove Macrovision content protection, CSS, region codes, and user operation prohibition and create a disk image backup of a DVD. However, it works on Windows only and it was discontinued years ago.
3. Can VLC rip encrypted DVDs?
VLC is a free and open-source media player which is able to rip DVDs to video files to your hard drive. But you can't use VLC to rip a protected DVD. Instead, you need a dedicated ripper for that.