Now people would like to rip DVD movies on Mac computers instead of taking DVDs in and out of DVD players repeatedly. This can protect DVDs against wear and tear and enjoy movies freely on iPhone, iPad, Apple TV, etc. If you need to rip a DVD, the free media player VLC can help. In this post, we will show you how to rip DVDs with VLC on Mac and handle protected DVDs with a professional yet 100% free DVD ripper for Mac.
VLC Rips DVD Using 96% CPU? VLC Fails to Rip DVD? Try This
VLC can't rip protected DVDs. When VLC doesn't rip the entire DVD, the output has no audio, or other technical issues, it means the DVD is copy-protected. In this case, simply try:
MacX DVD Ripper Free [FREE & safe] - the free VLC alternative to rip DVDs protected by CSS, region code, UOP, RCE, Sony ARccOS, etc. Easily copy DVDs on Mac to ISO image, MKV, MPG with 100% original quality, rip a DVD to MP4, MOV, H264, HEVC, etc. The hyper-threading tech & multi-core CPU utility help rip a full DVD within 10 minutes. There is no CPU high usage/overheating, "rip DVD only one title/first chapter", or no video/audio errors.
Part 1: How to Use Videolan VLC to Rip DVD Movie on macOS
Although VLC is more famous for playing DVDs and videos, but the version after 0.9.6 can rip movie from DVD on Mac and PC as well. Here we take converting DVD to MP4 on Mac with VLC as an example.
Before we start:
Go to VLC official site and free download VLC for Mac latest version. The latest version of VLC media player requires Mac OS X 10.7.5 or later. It runs on any Mac with a 64-bit Intel processor or M1 Macs with an Apple Silicon chip. 
Make sure your computer has a disc drive. If your Mac doesn't contain a built-in disc drive, get an external DVD drive before we start.
Step 1: Insert the DVD you want to rip onto your Mac and launch VLC media player. Then click on "File" at the top left corner of the main window, then choose "Open Disc..." button. Choose the DVD you'd like to rip with VLC and load it.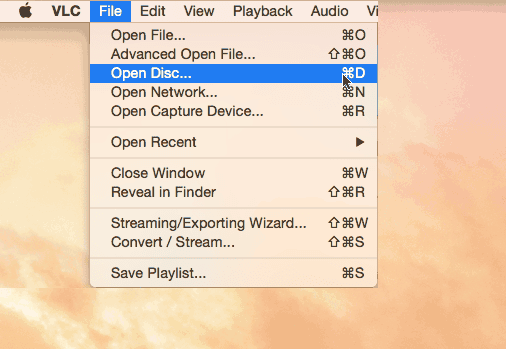 Step 2: Click Disable DVD menus. This button is located on the upper right-hand of the window. For Windows, it's called "No disc menus". Why tap Disable DVD menus? VLC would occasionally crap out when it tries to convert a looping menu. So clicking this option will avoid such issues.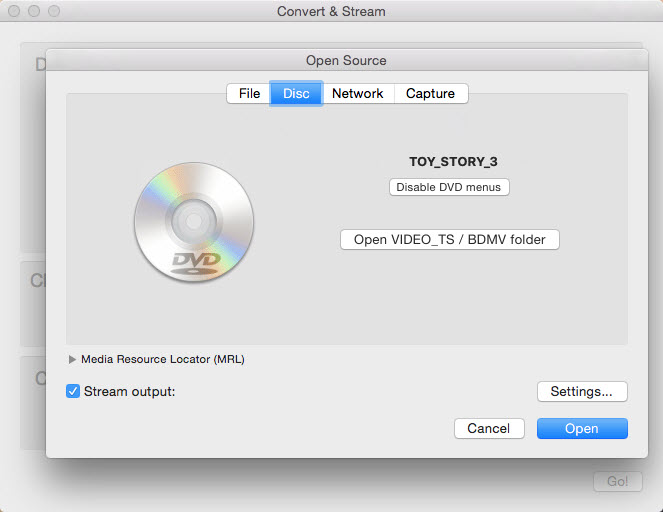 Optional: VLC has libdvdcss to decode DVDs protected by DRM during the playback. But it can't read the correct title when you use VLC to rip a protected DVD. Here is a workaround: play the DVD in VLC on Mac, write down the correct DVD title, and click Enable DVD menus to manually select the title and chapters. If this doesn't work, see how to rip protected DVDs here. You can rip a DVD into individual episodes and save them as single files by means of these two options.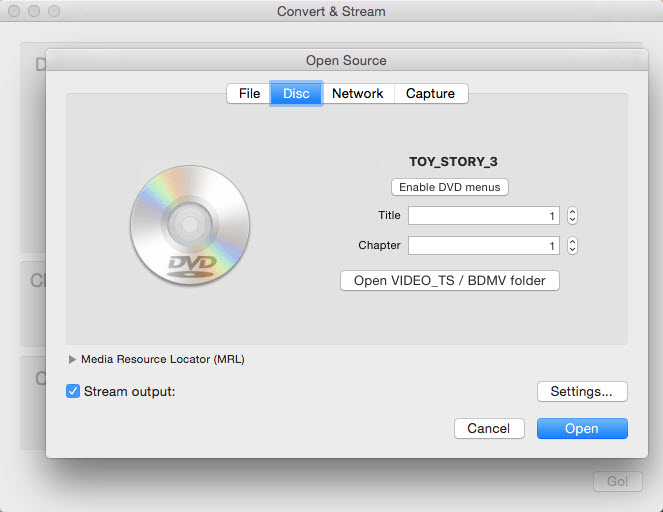 Step 3: Open the DVD ripping options window. In the lower-left corner, check the Stream output box. Next, click the Setting button to open the ripping setting window.
Step 4: Set an output folder. Click Browse…. on the upper-right side of the window. Then you can choose where you would like to save the ripped output video on Mac and give it a name. Then click Save.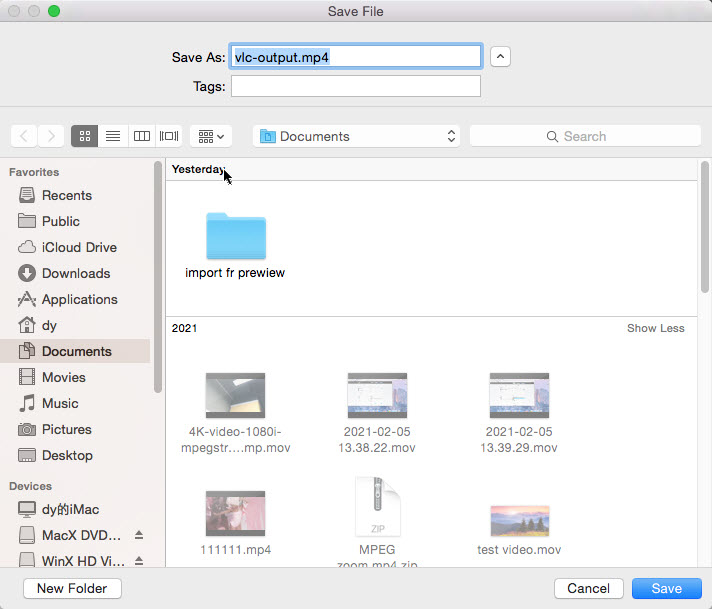 Step 5: Select an output format. VLC can rip DVDs on Mac into MP4, AVI, MPEG, OGG, Quicktime, and several more. Open the dropdown menu of the Encapsulation Method to select the output format you want.
Normally, MP4 is the best choice for its wider compatibility. AVI delivers high quality and supports multiple subtitles/audio tracks. OGG has high compression efficiency. MPEG1 overshadows others for its remarkably high quality. Hence, to keep as high quality as possible, consider AVI and MPEG1. In case output video uploading is the target, OGG sounds great.
You can further adjust the video/audio codecs, bit rate, etc. in the transcoding options.
Best VLC DVD ripping settings:
Video: H264 is at the top of your priority list. The supported video codec list is not ended here. AVI, MPEG-4, MPEG-1, MPEG-TS, OGG, and QuickTime are also included.
Bit rate: it enables you to choose a bit rate from 16kbps to 3072kbps. You can freely adjust it at your disposal.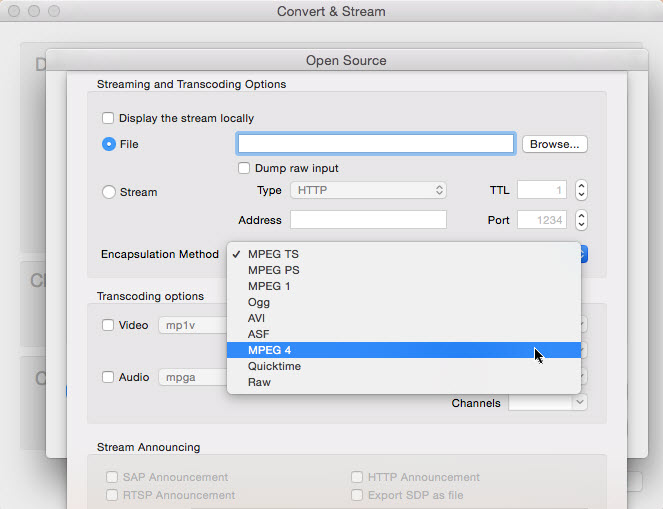 Step 6: Finally, click Open to start ripping DVD with Mac VLC player. After a few minutes, you can get the converted file and play it on your mobile devices.
See also: How to rip DVD with Handbrake
For Advanced Settings:
There are more settings to adjust the DVD ripping with VLC on Mac. For example, VLC does possess some sophisticated settings for you to customize your DVD conversion quality, speed, size, etc. Go ahead if needed.
1. Video Deinterlace
the default setting of "Video Deinterlace" is off. If you want the output DVD file with progressive scanning, tap "Preference" > access to "Video" > manually change Deinterlace into "On". Plus, it also offers you a deinterlace mode e.g., Discard, Blend, Mean, Linear, Film NTSC(IVTC), etc.
2. Hardware Acceleration
VLC supports hardware decoding with "Video Decode Acceleration Framework (VDA)". However, its default setting is "Automatic", which actually doesn't go into action in real DVD ripping. Though the positive influence of hardware decoding is quite limited, it still helps to quicken the DVD conversion speed. Hence, you're suggested to set up HW Accel. to VDA.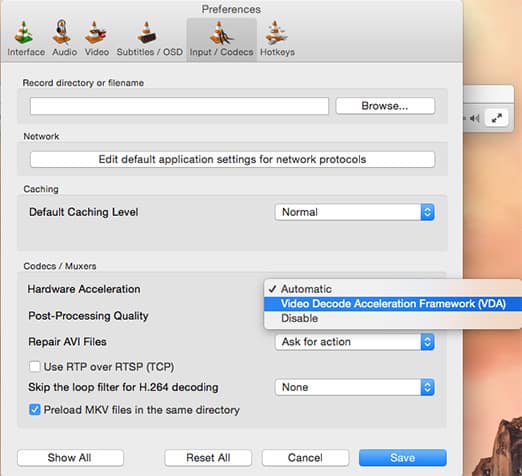 Part 2: How to Fix VLC DVD Ripping Errors on Mac?
VLC is not a professional DVD ripper. As a result, errors occur frequently when using VLC to rip a DVD on a Mac.Some of the most frequently reported errors with VLC DVD ripping on Mac are listed below.
1. VLC is unable to open the MRL xxx
VLC pops up an error message saying "Your input can't be opened" and it's unable to open the MRL 'dvdnav:xx'. Why does this error happen? When VLC won't open the DVD on Mac with this error, it often indicates that there is an overprotective firewall or the input DVD (DVD folder) is damaged. You will need to uninstall your antivirus on your Mac or PC or reinstalll the VLC Media Player.
2. VLC crashes or stops working when ripping DVDs on Mac or PC.
Sometimes VLC crashes immediately when ripping a DVD, and restarting it gives the "VLC Crash Reporting" popup. In fact, this error happens for different reasons. It can be a wrong preset, unsupported copy protection, DVD menus, etc. To let VLC rip DVDs on Mac/PC properly, you can try to use the MPEG-2 preset, disable the DVD menus, try another VLC version, disable hardware-accelerated decoding, and update the video card or driver.
3. VLC rips DVD video but not sound.
After VLC rips the DVD on Mac, you find that there is no audio in the converted DVD video. This is often caused by incorrect frame rate settings or audio codecs. For example, MP4 doesn't support PCM audio. You can try to set the sample rate to 48000 and choose audio AAC codec. You can also try a different audio track.
4. VLC eats up your CPU usage up to 96% or even higher.
The CPU on your Mac/PC may jump to 90%~100% and the DVD ripping speed also lags. That's not the end. It would also ruin your CPU processor since the temperature has been driven to 75 °C or even higher. VLC doesn't support GPU encoding. So it relies on the CPU for DVD ripping, which is quite a burden for the Mac. You should know that VLC is actually streaming the video from the DVD in the rip. That means it will take as long as the movie length to finish the rip.
Part 2: How to Rip any DVD to MP4 with VLC Alternative | ZERO Issue
While it's free and easy to rip DVD with VLC on macOS, VLC still fails to automatically determine which file on the DVD contains the actual movie - the right title. As a result, you have to take some time to load and preview each file in turn manually to get things started. Worse still, VLC seemingly takes forever to rip a DVD on macOS, eating up to 96% CPU usage and causing CPU overheating problems.
In consideration of settling these issues, VLC alternative MacX DVD Ripper Free is highly recommended here, owning to powerful DVD decryption ability, cover-all output format supported and advanced hyper-threading tech & multiple-CPU core (up to 8) utility. Thus, it can rip any DVD (homemade or DRM-protected DVD) to MP4, H264, MOV, iTunes, etc. with only 50% CPU usage, no incomplete DVD rip issues. Below is the detailed guide on how to rip DVD on Mac with VLC alternative freely.
Step 1: Load DVD Movie or DVD Folder.
Free download DVD ripper for Mac, click "DVD Disc" to import the DVD movie you want to rip.
Step 2: Choose Output Video Format.
Select the output format as you desire from the pop-down box. Compared with VLC, the DVD ripper for Mac provides you with direct output formats. You can choose to convert DVDs to MP4, MOV, iTunes, etc.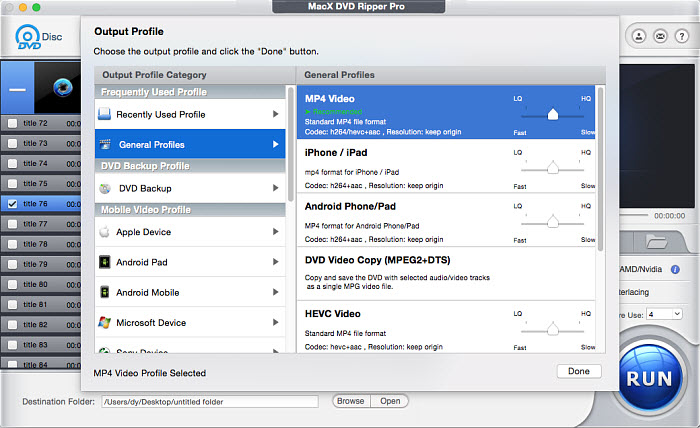 Note: to relieve CPU burden from compute-intensive tasks, hyper-threading tech and multi-core CPU utility can render help, which are located at the lower right corner of the interface and auto ticked at most based on your CPU processor configuration.
Step 3: Press the "RUN" Button.
Click "RUN" to start ripping DVD on your Mac computer.
Tips: If you need to rip all copy-protected DVDs from Disney, Sony, or other publishers and even deal with some knotty discs, MacX DVD Ripper Pro is an excellent DVD decrypter, which is able to decrypt and copy DVDs without manually choosing the full content of DVD movie. It easily strips CSS, Disney copy protection, Sony ARccOS protection, etc. off DVDs and rips movies from copy protected DVDs, including new movies on DVD with 99 titles on Mac, damaged DVDs, workout DVDs, Japanese DVDs easily.
Notice: We only advocate copying and ripping DVDs under the concept of Fair Use and don't encourage any illegal reproduction or distribution of copyrighted content. Please abide by the local DVD copyright law before doing it.
FAQ about VLC DVD Ripping on Mac
1. Can VLC rip protected DVDs on Mac?
No. VLC can't rip any DVD that is protected. However, VLC is packed with the libdvdcss library to help it require the raw access to the DVD drive to crack the encryption key and decode encrypted DVDs. The workaround to rip a protected is using VLC and Handbrake: play the protected DVD with VLC and note down the correct DVD title, then tell Handbrake which title to rip.
2. How long does it take to rip a DVD with VLC?
It depends. Generally, VLC can rip a DVD faster on a computer with higher configurations. As VLC is not a DVD ripper, it doesn't include any feature that can accelerate the DVD ripping. For example, Handbrake supports Intel, AMD, and Nvidia hardware encoders, and MacX DVD Ripper Free packs multi-core CPU support, super encode engine and hyper-threading technology. They will run much faster than VLC when ripping DVDs on the same Mac.
3. Can VLC rip DVD to MP4?
Yes. VLC can rip a DVD to MP4 encoded in H.264. Besides, you can also use VLC to convert DVDs to AVI, WebM, OGG, TS, ASF, and several other formats as long as the DVD doesn't contain any protections.