Solve All DVD Rip Issues with Best DVD Ripper for Mac (incl. Catalina)
Backup and Digitize DVDs to MP4 in 5 Mins without Errors
Before we dig deeper into the free DVD ripping software for macOS review. Here are some facts and problems in connection with DVDs.
It's reported the U.S. consumers have collected 87 DVD titles on average over the past decades. However, the advent of Netflix, Hulu, Amazon and HBO Go changes the way of home entertainment from physical disc to digital video. That's why many DVD owners jump onto the bandwagon to digitize their DVD library. But what will you benefit from ripping DVD to computer hard drive?
* Free up some room in your house because your DVD collection is cumbersome.
* Copy DVD to hard drive or NAS so that you can organize & achieve your movie library by genre, year without going to the shelf yourself.
* Back up DVDs to computer to avoid any scratch, fingerprint or damage.
* Free DVDs from region code restrictions, since you're unwilling to end up watching Hollywood summer films on Xmas Day in your country.
* Convert disc to digital format to extend your viewing options to your Macbook, iMac, iPhone, iPad, Apple TV, Plus, or other media server anywhere, without even dropping a disc in the drive, downloading a MPEG2 decoder, taking along the whole discs, or repurchasing the movie contents from iTunes Store.
To follow the trend and live without a disc drive in your Mac computer, smartphone or tablet, no need to make any compromise when these ideas conflict with the facts. The advent of Mac DVD ripping tools will get it all solved.
Part 1: How to Judge the Best Mac DVD Ripper 2019
There are plenty of free DVD copying and ripping software for Mac, which claims to rip any DVDs to any formats, say DVD to MP4, MOV, FLV, MPEG, H.264, etc. But most often, you endure a whole day long sitting aside your Macbook, trying to get the contents off DVDs yet find it crashes constanly, makes scratching high frequency sounds, gets choppy video on output, or keeps giving messages like no valid source found, etc. Therefore, you shall take "something" into consideration prior to download a free Mac DVD ripping software. Here are the four decisive elements that make up the best one.
Ripping Ability: A good ripper will access all commercial DVDs, no matter they are encoded with CSS, region code or other schemes, and has all discs digitized to MP4, or whatever other formats. Preset profiles for mobiles, TVs, webs, gaming systems, computers, and more are preferred. You have to bear in mind the latest macOS Catalina weeds out 32-bit apps, so make sure you download the 64-bit DVD ripper with good compatibility with macOS 10.15.
High Quality: DVD transcoding involves in codec compression that leads to quality degradation inevitably. Good rippers manage to create high-quality movie file with almost imperceptible loss of quality (preferably the bitrate is around 1500kbps), by virtue of advanced video transcoding kernel.
Fast Speed: DVD converters used to rely on CPU to improve ripping efficiency while some accelerate the speed twice or more with GPU that's good at concurrent computing. If you have hundreds of DVDs to be digitized, why not choose the one with GPU acceleration enabled.
Ease to Use: Great tools will feature intuitive interface under the hood, where its features are clearly marked and locally placed, leaving little room for guesswork. Preferably, Mac users can get the hang of DVD to digital process with no more than 3 clicks, regardless of the computer skills.
To prevent any illegal redistribution of commercial discs, DVD studios adopts copy protection schemes to set up roadblock on DVD software, among which CSS is the most well known one. With facing with these mechanisms, many DVD rippers or DVD decrypters, especially the free ones, no longer stand the gaff and end up with various errors in the whole process, categorized by disc analyzing before ripping, DVD transcoding and the final rips after the conversion.
1. Errors during DVD Analyzing

2. Errors during DVD Ripping

3. Errors after DVD Transcoding

• No disc found or won't detect DVD
• Cannot open DVD source/stuck on open DVD
• No title found or no valid source found
• Won't find main title/Can't rip 99-title DVDs
• Error reading DVD
• Cannot scan dvd or scan never completes
• Not showing all titles
• Playlist obfuscation
• Cannot open IFO or not recognizing IFO files
• Analyzing stops at 47%

• Won't rip whole movie
• DVD with bad sector
• Poor CPU utilization
• Software stuck/crashes
• Movie size is 40 GB+
• I/O error
• CRC error
• Out of memory error
• Cannot rip all episodes
• Mismatched region code error

• Audio out of sync
• Scrambled/pixilated rips
• Incomplete rips
• Ripped DVD shows black bars
• No sound or mixed up
• Jagged edges on final rip
• Ripped movie repeats on certain parts
• Subtitles do not appear after ripping
• Movies stops playing at the same place
• Output file is just several kb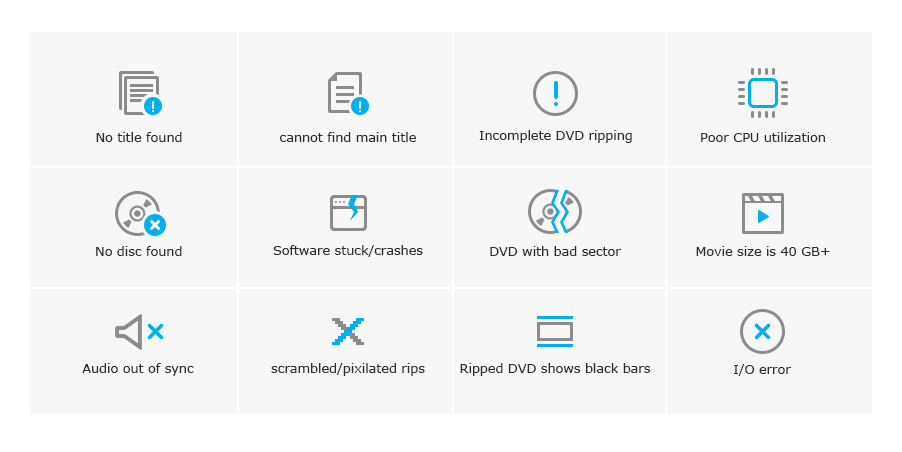 Except the above mentioned issues, ordinary DVD converters will go wrong with the recent movies, behaving with errors like dirty title, subtitle track issue, repeated ripping, halfway encoding, unwatchable rips, and more. It will be even trickier when you want to backup DVDs with particular non-UDF and ISO9600 formats such as workout disc beachbody. They are deliberately placed with bad information and the true titles are hidden. As a result, almost 99% of DVD rippers for Mac and Windows in the market will fail to load DVD, encounter a large number of tracks, show impossibly 40gb or more of data but output just several KB. So the capability of defeating encryption codes and recognizing the tricky DVD formats is one success factor for the ripping software.
Part 2: Top 3 Free DVD Rippers for Mac in 2020 [Review & Guide]
With these 5 elements taken into consideration, we've sought out 3 from an overwhelming number of Mac DVD ripping software. They are MacX DVD Ripper, HandBrake and MakeMKV, respectively. Handbrake is an open source DVD and video transcoding program, and MakeMKV is a widely used free DVD and blu ray ripper, both of which work well on macOS. What about MacX DVD Ripper? Scroll down.
MacX DVD Ripper is a professional DVD copier and converter designed for Mac (incl. macOS Catalina) and Windows (7/8/10). With unique DVD analysis kernel, the program deals with most commercial titles with encryption schemes that deliberately hamper the ripping, incl. CSS, Region Code, RCE, ARccOS, Disney X-Project DRM, etc. Besides, all DVD formats are supported, including UDF, intractable non-UDF, and ISO9600, so whether it is a new movie title, workout disc, or the DVD unplayable or damaged, MacXDVD will cope with it calmly.
Engineered for Apple ecosystem, it can freely convert DVDs to Mac-specific formats like MOV, M4V, H.264 that are compatible with QuickTime, iPhone, iPad, iTunes, Apple TV, and digitize DVD to MP4 format your SSD, NAS or USB accepts for a better DVD storage. You can also transcode DVD to other mainstream formats like HEVC, MKV, AVI, ISO, or convert a movie to format playable on your iPhone, iPad, Huawei, Samsung, TV, PS4, and more. Besides, a full range of basic editing features like cut, crop, merge, subtitle, etc are offered to cater to your DVD movie customization needs.
MacXDVD supports unique level-3 hardware acceleration, hyper-threading and multi-core CPU techs. When it starts transcoding DVDs, computer hardware, together multiple cores, is fully utilized to execute DVD decoding, processing and encoding task simultaneously and multiple threads are enabled to run on each core. This dramatically shortens the DVD ripping process, while unburdening CPU greatly. High-quality engine and De-interlacing engine are available for you to check, purpose built to produce remarkably high quality.
[Tutorial] How to Use MacX DVD Ripper
Step 1: Insert DVD
Click "Add DVD" button to load the disc. MacX will easily find the accurate main title. In our test, we successfully open the titles like Inside Out, Frozen from Disney. For TV shows with several episodes, select the item and MacX will decode it in sequence.

Free download the DVD ripper on Mac >>


Free download the DVD ripper on Windows >>
Step 2: Choose the output format
Preferrably, you can rip DVD to MP4 H.264 for better compatibility, quality and smaller file size. With no further tweaking, it achieves an H.264 file with crisp picture. The Mac specific library also offers options to backup DVD, convert DVD to Apple, Android, Microsoft, Sony, Web and more.
Step 3: Start protected DVD converting
For DVDs with tough protections, MacXDVD's unique title check mechanism and DVD analysis algorithm automatically scan the title, crack severely protected DVDs and smooth the ripping process. It also cuts the commercials and merge the useful parts via its editing features.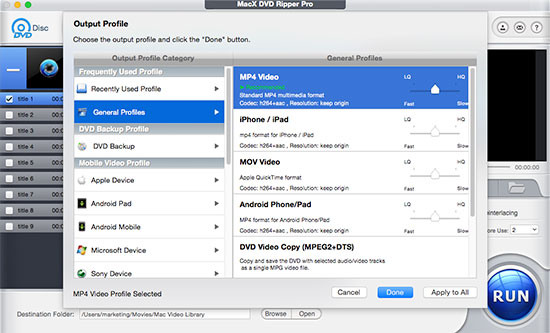 No.2 - HandBrake
Handbrake is an open-source DVD ripper for Mac, Windows and Linux, which can freely convert DVD to MP4 and MKV, with support for iPhone, iPods, PSPs, Apple TVs, PS3s. Handbrake rips DVD that is homemade/unprotected only. It cannot rip commercial DVDs unless you rely on third party tool like VLC or DVD decrypter, not to mention the Disney newer protections. MacX would be the HandBrake alternative to solve this problem.
The version Handbrake V1.0.7 adds support for HEVC encoding. This means that you can re-encode DVD into HEVC to store more movies on Mac's hard drive and newer iPhones or iPads. You shall understand the DVD to HEVC converting process takes a longer time as HEVC entails high computational demands. The good news is Handbrake still performs ultrafast DVD conversion speed if your Macbook or iMac is equipped with a video card like Intel's Kaby Lake processor series. Now in the latest version 1.2.0, Handbrake adds support for AMD and NVidia GPU acceleration for H.264/HEVC encoding like what MacX DVD Ripper Pro does.
[Tutorial] How to Use HandBrake
Handbrake works with Mac OS X 10.7 to 10.14. Make sure your Mac has enough space to store the program (around 12.41MB). You can go to its official site to download and install the freeware.
Step 1: Insert DVD disc into Mac's DVD drive and run Handbrake. Click the Source button to load the DVD. It takes a few seconds to scan the disc. To rip protected DVD on Mac, libdvdcss is required to remove the CSS.
Step 2: Click "Browse" to set where you want to save the output files.
Step 3: Click "Presets" and select an output format. Here are MP4 (M4V) or MKV, and mobiles like iPhone, iPod, Apple TV, Android, Windows Phone.
Step 4: Now click "RUN" to rip DVD for free on Mac now.
Having problems with Handbrake, check the full solutions to Handbrake DVD ripping errors on macOS:
* Handbrake cannot rip DVD with 99 titles? Fix it here
* Handbrake libdvdcss error on macOS Sierra? Check the solution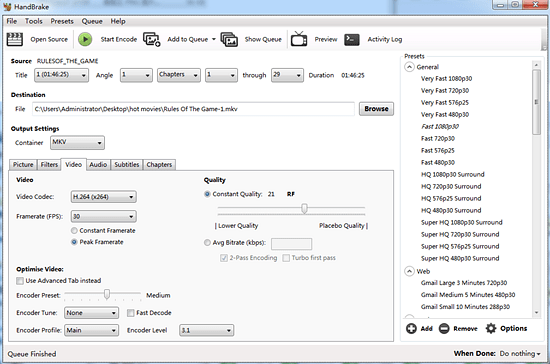 No.3 - MakeMKV
If you're seeking for a tool that rips protected DVDs & Blu rays and preserves all video/audio tracks and subtitles with meta-information, there is no better tools than MakeMKV, an easy free DVD/Blu ray ripper for Mac. As its name suggests, this program aids Mac users to free rip DVD to MKV format only. Since MakeMKV works rather a format converter than a transcoder, it remuxes the movie content from one format MPEG2 to MKV without affecting too much quality, so the whole DVD to MKV converting process is pretty fast with excellent quality. In this regard, MakeMKV is your premium choice if you just want to backup and store your movie contents on your hard drive, NAS or USB.
Since there is little compression in the DVD to MKV ripping process, the output file size is tremendous, almost the same as the original DVD disc. This is not good especially when you want to import the DVD movie into your iPhone or iPad - Just 3 full-length movies will eat up your 16GB iDevice space. So you'd better compress the movie into a size-friendly file with a video transcoder. MakeMKV is available as a free DVD ripping tool. For free Blu-ray disc digitization, you can try its beta version that stops functioning after 60 days.
[Tutorial] How to Use MakeMKV
Free download MakeMKV on Mac. The tool is completely free to rip a DVD disc to Mac during the beta-testing phase, and after that, if you want to decrypt Blu-Ray disc, you will need to pay $50.
Step 1: Open the software and insert the disk. It accepts both DVD and Blu-Ray discs. Then click "Open Disc" to load in the information.
Step 2: MakeMKV will scan and identify the titles correctly and pop up a list of disk chapters. Choose the chapter, normally the longest and biggest title.
Step 3: Select a folder on Mac to save the output MKV files and click "Make MKV". It shows a fast DVD to digital processing speed on Mac, with an average of 30 minutes to rip Blu-ray disc. The output MKV keeps high video and audio quality, but MKV file is enormous (6.73GB MKV file for the 7.84GB DVD in our test).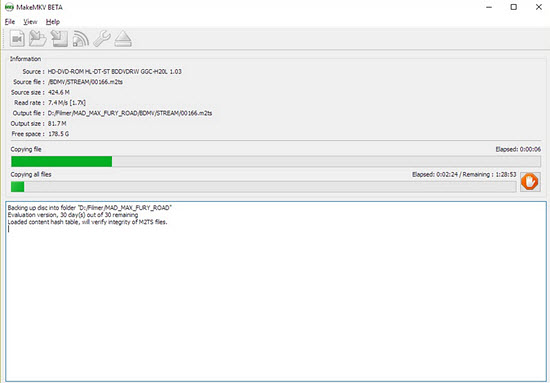 Part 3: Performance Comparison among the 3 Free Rippers
To better understand the performance of the top 3 Mac DVD ripper freeware, below is a table and detailed comparison in ripping speed, output quality and supported encryptions.
Tools

Movie

Performance

Errors during the ripping

MacX DVD Ripper

Transformer (7.84GB)

1. Loading: immediately | ripping time: 12min | Avg. FPS: 216-262fps
2. Output file: 720x404p (16:9, 1500kbps), 1.61GB, AAC Audio (128kbps)

1. Its unique title check mechanism will automatically crack tough protections.

HandBrake

Transformer (7.84GB)

1. Loading time: 1min | ripping time: 37min | Avg. FPS: 97.13-149fps
2. Output file: 718x360p (2.35:1, 1495kbps), 1.87GB, AAC audio (164kbps)

1. Can't identify the right title
2. No response when clicking Start
3. Scrambled screen after slight tweaking
4. The ripped movie with aspect ratio of 2.35:1 is not perfect for YouTube or mobile playback.

MakeMKV

Transformer (7.84GB)

1. Loading: 1min | ripping time: 4min | Avg. FPS: NA
2. Output file: 720x480p (16:9, 5533kbps), 6.73GB, AC-3 (448kbps)

1. Requires manaually selecting title
2. No parameter setting or editing option
3. Big output file size
Note: This test is based on our hands-on test on 27" iMac (incl. Catalina) with 3.2 GHz Intel Core i5, 8GB 1867 MHzDDR3 and AMD Radeon R9 M380 2048MB. You shall also have to note that the DVD encoding speed is greatly dependant on your computer configuration. Higher config will lead to great performance. And make sure to spare some space to save the final rip. The DVD used here is a 7.84Gb movie named Transformers 2, distributed by DreamWorks Pictures, one of the studios that use intractable protection scheme on discs.
1. Comparison on DVD Ripping Speed
According to the company, it applies level-3 hardward acceleration tech, which intelligently offloads the DVD decoding, processing and encoding to GPU, in cooperation with the hyper-threading technology. That is, GPU is fully utilized to rip DVD with full speed, and CPU is spared for multi tasks without affecting the ripping.
The DVD ripping is impressive on a iMac 5K (3.2 GHz Intel Core i5, AMD Radeon R9 M380, 2048MB, on Mojave). MacX's DVD conversion frequency reached averagely 240 fps, twice as high as that of Handbrake. It took 12 minutes to convert the full-length Transformers 2 DVD to MP4, while we could still view web pages or do other tasks since the CPU usage remains as low as 131-134%.
Handbrake auto enables Intel QSV HW acceleration for DVD and video processing tasks and switches to pass 2 for better encoding. But the time it took to make a digital MP4 copy of DVD is less than satisfactory, generally 25 min lagging behind MacX. The CPU usage went up to 397%. We are happy to find MakeMKV converted DVD to MKV on Mac pretty fast, completing within 4 minutes only, with read rate reaching up to 45.7 M/s.
2. Quality and File Size of the Output Rip, Who Wins?
MakeMKV works as a format converter that just repackages the movie content from DVD MPEG2 to MKV. The output quality isn't affected at all. Higher saturation of color can be noticed on the rips, with dark darker and white whiter. But the file size is tremendously large - 6.73Gb that is almost the same as the original. You can also resort to MacX DVD Ripper's backup feature to clone DVD to ISO/MKV/MPEG2 with no loss of quality.
Both MacX and Handbrake involved in DVD video compression, which cut file size down but inevitably led to quality loss. What matters most is whether they manage to maintain a good balance between the size and quality. MacX created an .mp4 file with 720x480 (16:9) in 1.61GB from the 7.84GB DVD and Handbrake outputted the MP4 content in 1.87GB in fast 1080p30 encoding. There is no noticeable change between the the source and ripped file. Quality is slightly inferior to MakeMKV. So if you care about quality, MakeMKV is your ultimate choice. But if you emphasis on both sides, choose MacX and Handbrake, which run neck and neck.
3. Which Ripper Supports the Widest Encryptions?
From the developer, MacX supports wide range of DVD protections, from CSS, region code, UOPs, APS to Sony ARccOS, Disney Fake. If this is true, it will sideline Handbrake that requires third-party tool to bypass certain restrictions, or MakeMKV that supports AACS and BD+ only, and other DVD ripper Mac freeware.
In the test, Handbrake popped up "No Valid Source Found" error and quitted unexpectedly when scanning the new titles like Divergent and MakeMKV produced many problematic rips. MacX chose the right title. Its unique title check mechanism is proven to be very useful with these intractable DVDs. The movies tested include Toy Story (Disney), Wall-E (Pixar), Star Trek (Paramount), Life of Brian (Sony), and newer releases (Venom, Incredibles 2, Avengers: Infinity War). We do not encourage you to decrypt commercial DVDs on Mac or PC for any illegal use and it's not allowed to legally copy commercial DVDs or Blu-ray discs in some countries.
Specs Comparison Among the Top Three Free DVD Rippers for Mac
Main Features

MacX DVD Ripper

HandBrake

MakeMKV

Supported Input Formats
(DVD disc, ISO image and DVD folder)

Y

Y

DVD and ISO

Rip Proteced DVD
(Compatible with copy protections including CSS, region code, UOP, Disney Fake, and more)

Y

N (libdvdcss is a must)

N (AACS and BD+ only)

Copy Feature
(Backup main title DVD, copy full title DVD, clone DVD to ISO image, backup DVD to MKV)

Y

N

N (to MKV)

Supported Output Formats
(Rip DVD to digital MP4, MOV, MKV, AVI, HEVC, H.264, etc)

Y

MP4, MKV

MKV

Supported Devices
(Encode DVD movie to iPhone, iPad, Android, etc)

Y

iPod, iPhone, iPad, Apple TV, Android, Windows Phone

N

Support the Latest Mac OS X
(macOS Catalina and Mojave supported)

Y

Y

Y

Edit Function
(Trim, crop, merge titles, rotate, add external subtitle, batch rip, etc)

Y

Y

N

Setting Adjustment
(Adjust resolutions, frame rate, aspect ratio, bit rate, codec etc)

Y

Y

N
The 3 Mac DVD rippers are equally matched. What matter most is whether the program fits your bill. For a quality-loss DVD ripping, MakeMKV is second to none. But if you have hundreds of discs and want to have your entire DVD library backed up onto hard drive at fast speed without exhausting your storage space, MacX DVD ripper and Handbrake are your good options. While if the last thing you want is to end up with errors just because the new title comes with tricky protection scheme or the DVD is formatted unnaturally, the ultimate choice is to download MacX DVD Ripper, which not only features great DVD decryption ability, but also comes with unique level-3 hardware acceleration tech that can speed up the whole process and maintain good balance between quality and size.
To backup and digitize DVD for safekeeping or on-the-go watching - Try MacX DVD Ripper [Fast & High Quality]!