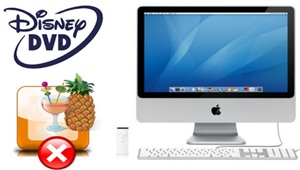 We've got Handbrake copy protection related answers here for users who are encountering problems like below, Handbrake won't rip protected DVD, Handbrake copy protection removal failed or such likes.
"Handbrake and copy protection - Hi everyone, Handbrake can't unlock copy protections. Could someone suggest a Handbrake copy protection plugin/add on that enables me to copy protected discs to MP4 digital video format?"
"El Capitan Apparently broke Handbrake 1.0.0 ripping copy protected DVDs. Any clue what to do? This is annoying, I finally got around to starting this now that I have a computer that can do it without feeling concerned that it will catch fire." -- from reddit
1. Most-used Handbrake DVD Copy Protection Removal Method
Handbrake, as an open-source program, can only copy unprotected homemade DVDs without third party help. When we copy protected DVD with Handbrake 1.0.0, for example, copy DVD Captain America, The Hunger Games, or any other encrypted DVD from Disney, Marvel, Handbrake chokes on - it gives read errors, or stops at 0.01% , or goes for the copy but with outputs video audio messed up, or other Handbrake errors. Oops, Handbrake can't copy protected DVD. How to break Handbrake copy protection limits and let Handbrake decrypt DVDs to MP4?
One of the most popular ways to make Handbrake rip DVD adopting encryption tech is using Handbrake copy protection plugin, Libdvdcss (also libdvdcss2). Libdvdcss is also free open source software library developed to decoding DVDs with CSS (Content Scramble System). It is commonly used for Handbrake copy protection removal and VLC or other DVD players. Learn how to make Handbrake decrypt DVD below.
[Tutorial]How to Copy Protected DVDs with Handbrake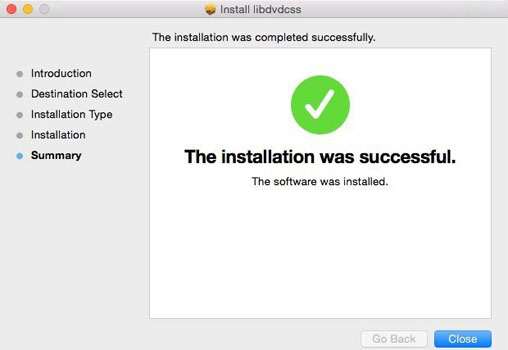 1. Download Handbrake Libdvdcss Mac for Handbrake copy protection Mac, or download for Windows (Win 10 incl.) You can head to Libdvdcss index to download or top software sites like softpedia. Install the Handbrake copy protection add-on.
Tips: you'd better download both the latest version of Handbrake (1.0.0) and Libdvdcss. To fix Handbrake copy protection removal failed on Mac Big Sur, you can either leave SIP that removes Libdvdcss disabled and reinstall Libdvdcss or move the downloaded Libdvdcss to /usr/local/lib. Here's another useful guide on Handbrake Libdvdcss errors fix if you still have problems.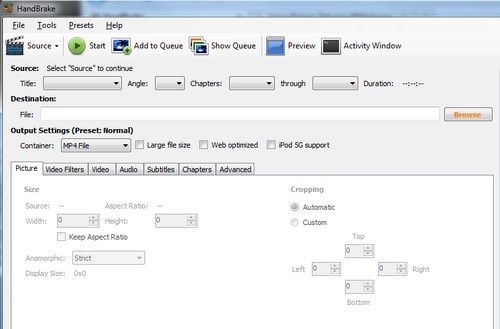 2. Now, start to let Handbrake rip DVD. Insert DVD, click "Source", and select a specific DVD title to copy.
3. Continue to click on "Browse", choose a destination folder for the output copy protected DVD file storage.
4. Next, under the Output Settings option, choose a format from the Container drop-up menu. You can convert DVD to MKV VP9 with Handbrake, or to MP4 (H264) etc. Now, the issue of Handbrake can't copy protected DVD is solved though not perfectly as Handbrake swings chaotically between good quality and poor quality.
If this Handbrake copy protection removal solution is a bit complicated and time consuming or you still can't copy protected DVD with Handbrake. Scroll down for a much simpler and direct Handbrake copy protection killer.
2. Most Reliable Solution to Handbrake Won't Work with Copy Protection
Here's a much better way than Handbrake copy protection plugin Libdvdcss - MacX DVD Ripper Pro, top-listed Handbrake alternative. It can bypass Handbrake DVD copy protection restrictions and lets you free to copy Disney Marvel Warner Bros etc. DVDs encrypted with any protection tech, CSS, Region Code (1-6), Disney DRM, Sony ArccOS, UOPs, etc. Original output quality, up to 36x real time faster speed can be always guaranteed, and no more Handbrake copy protection removal hassle, needless plugin used by Handbrake 1.0.0 to copy protected DVD.
How to Remove Handbrake Copy Protection Limits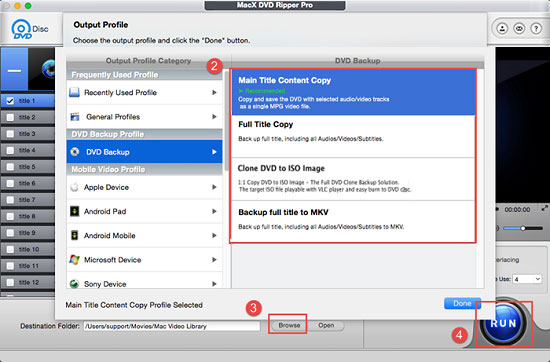 Step 1: Download Handbrake copy protection removal software for Mac, or for Window. Install and run it. Insert DVD, click "DVD" icon to load DVD disc. The DVD will be loaded quickly.
Step 2: Select output format from the popping up Output Profile window. You can convert DVD to MP4, MKV, AVI, WMV etc. from General Profiles, or copy DVD to Android, Apple iPhone iPad, Apple TV, Sony Devices, etc.
The Handbrake alternative can pick out the right movie title from the copy protected DVD and let you avoid Handbrake rip 99 title DVD error caused by Handbrake copy protection restriction.
Step 3: Click "Browse" to select a destination folder to save DVD movies.
Step 4: Click "RUN" to start solve Handbrake can't copy protected DVD.

Author: Bella Brown | Updated on Dec. 10, 2018