"Handbrake and copy protection - Hi everyone, Handbrake can't unlock copy protections. Could someone suggest a Handbrake copy protection plugin/add-on that enables me to copy-protected discs to MP4 digital video format?"
When I tried to rip protected DVDs using Handbrake, it gave me an error message. I have not upgraded my OS, Handbrake, or the libdvdcss library. Any ideas? I finished the job using MakeMkv and then Handbrake but it's nice when I can just use the Handbrake.
Handbrake out of the box can only copy unprotected homemade DVDs. When we rip DVDs with copy protections using Handbrake, like DVDs from Disney, Marvel, Paramount, etc., Handbrake chokes on. It gives read errors, or stops at 0.01%, or goes for the copy but with outputs video audio messed up, or other Handbrake errors. Oops, Handbrake can't copy protected DVD. How to bypass copy protection with Handbrake and rip copy-protected DVDs?
Copy Any Encrypted DVDs without Handbrake Copy Protection Limits
Handbrake only rips CSS or Region Code protected DVDs with Libdvdcss and ripping errors still occur often. 
MacX DVD Ripper Pro can remove Handbrake libdvdcss copy protection limits on Mac (macOS Monterey)/Windows (11/10). Copy homemade/protected DVD, including DVDs encrypted with Region Code (1-6), or Disney DRM, CSS, or Sony ArccOS etc. easily and smoothly with 5x faster speed and original quality!.
How to Rip Copy-Protected DVDs with Handbrake
To let Handbrake remove the copy protections on DVD, it requires the Handbrake copy protection plugin - Libdvdcss (also libdvdcss2). Libdvdcss is also free open source software library developed to decoding DVDs with CSS (Content Scramble System). It is commonly used for Handbrake to copy DVDs protected by CSS. Let's learn how to make Handbrake decrypt DVD below.
First, install and download libdvdcss to copy protected DVDs with Handbrake
Download Handbrake Libdvdcss Mac for Handbrake copy protection Mac or download for Windows (Win 11/10 incl.). You can head to Libdvdcss index to download or top software sites like Softpedia. To manually download libdvdcss on Mac, you need to place the library in placing the folder /usr/local/lib instead of /usr/lib. Handbrake can then detect it and use it to rip copy-protected DVDs.
Just  open a Terminal and run the following commands:
cd /usr/local/lib
sudo curl -O https://download.videolan.org/libdvdcss/1.2.11/macosx/libdvdcss.2.dylib
Tips: If that won't work, run the command sudo mkdir -p /usr/local/lib to install the libdvdcss. You'd better download both the latest version of Handbrake (1.4.2) and Libdvdcss. To fix Handbrake copy protection removal failed on Mac Monterey, you can either leave SIP that removes Libdvdcss disabled and reinstall Libdvdcss or move the downloaded Libdvdcss to /usr/local/lib. Here's another useful guide on Handbrake Libdvdcss errors fix if you still have problems. Step 1. Load the copy-protected DVD to Handbrake
With libdvdcss installed on your Mac (or Windows), you can use Handbrake to rip DVDs with copy protections. Insert DVD, click "Open Source" to load the DVD. Handbrake can now identify the correect title of an encrypted DVD.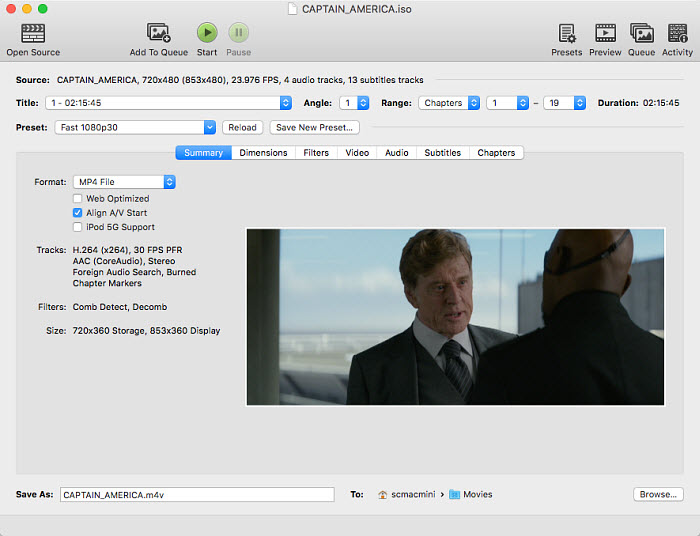 Step 2. Select the quality preset
Next, you need to specify the quality of the ripped DVD. Open the dropdown menu of Preset, Handbrake offers presets for General, Web, Devies, Makoska, and Production. Generally, when you try to rip a DVD, you'd better choose the 480p preset for the best result.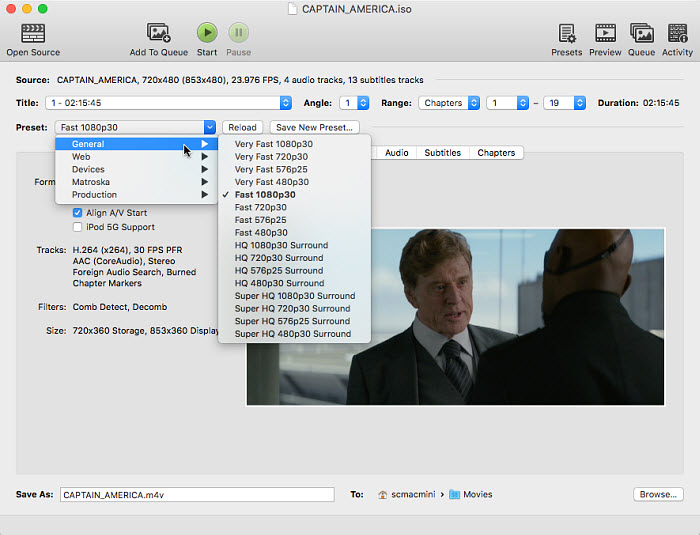 Step 3. Set the output video
Now, under the Video option, choose a format from the Video Encoder dropdown menu. Handbrake can convert the protected DVD to H.264, H.265, MPEG-4, etc. There are also options to set the ripping quality, adjust the resolutions, deinterlace, crop, change the bitrate, etc.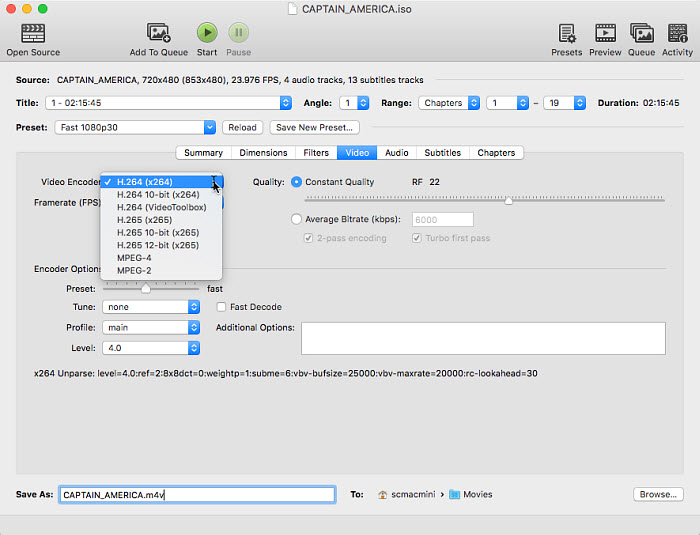 Step 4. Start to rip protected DVD with Handbrake
Continue to click on "Browse", choose a destination folder for the output copy protected DVD file storage. Once everything is ready, click the Start button on the top menu bar to let Handbrake copy protected DVDs. You can see the progress bar at the button of the interface. You can stop or pause anytime you need.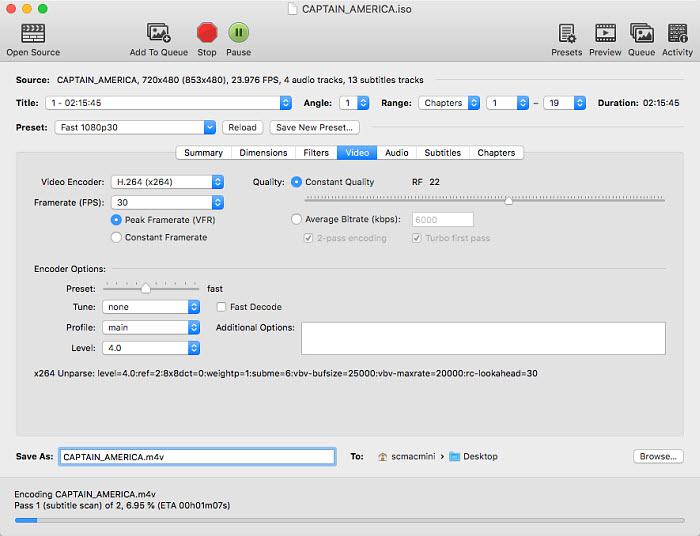 Most Reliable Solution to Handbrake Won't Work with Copy Protection

Even with libdvdcss downloaded and installed, you may still meet errors when ripping DVDs with copy protections using Handbrake. That is because the libdvdcss was designed to access DVDs encrypted with the Content Scramble System (CSS). For other DVD copy protections, Handbrake may produce errors like:
* Handbrake can't find the correct title saying no valid source found;
* The conversion is incomplete as Handbrake rips only part of the DVDs;
* The output MP4 video is blocky, pixellated, and otherwise distorted;
* Handbrake freezes, stutters, or crashes when ripping the DVD;
* The ripped subtitles appear faint and barely readable;
...
If libdvdcss and Handbrake can't remove copy protection, try the alternative MacX DVD Ripper Pro. Unlike Handbrake, it can bypass DVD copy protection restrictions like CSS, Region Code (1-6), Disney DRM, Sony ArccOS, UOPs, etc. You can rip copy-protected DVDs without Handbrake libdvdcss to MP4, HEVC, MPEG4, MOV, M4V, WMV, AVI, iPhone, iPad, Apple TV, webs, and more. There are unique features to copy protected DVDs to ISO image, MKV, MPG with original output quality. No more Handbrake copy protection removal hassle and no extra plugin required to copy protected DVD.
How to Remove Handbrake Copy Protection Limits
Step 1: Download Handbrake copy protection removal alternative software Mac version, or Window version. Install and run it. Insert DVD, click "DVD" icon to load DVD disc. It will automatically remove any protections on the DVD and find the correct title.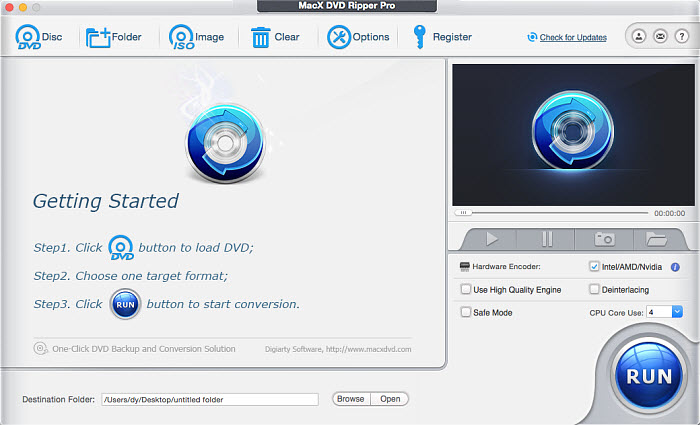 The Handbrake alternative can pick out the right movie title from the copy protected DVD and let you avoid Handbrake rip 99 title DVD error caused by Handbrake copy protection restriction.
Step 2: Once the DVD is loaded, select output format from the popping up Output Profile window. You can convert DVD to MP4, MKV, AVI, WMV, etc. from General Profiles, or copy DVD to Android, Apple iPhone iPad, Apple TV, Sony Devices, etc.
Step 3: Back to the interface, click the Edit button next to the selected profile to further edit the ripped video.
Step 4: Click "Browse" to select a destination folder to save DVD movies. Then click "RUN" to rip the protected DVDs. You won't experience the errors like Handbrake can't copy protected DVD.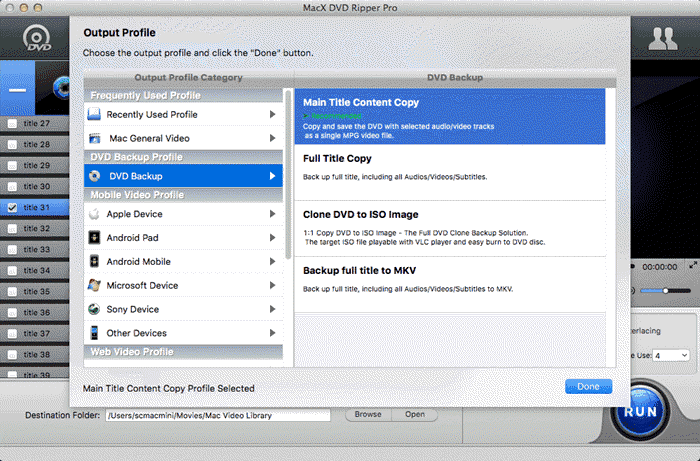 Notice: We only advocate copying and ripping DVDs under the concept of Fair Use and don't encourage any illegal reproduction or distribution of copyrighted content. Please abide by the local DVD copyright law before doing it.