iMovie is next the best software for Mac users to edit and customize videos with scads of features offered. That being said, when it comes to iMovie problems especially the most common "iMovie won't respond" issue, can you still admire it like usual?
If you are running out of tricks, then here is the right place you ought to stay. In this article, I will tell you why iMovie not working would happen and how to get iMovie unresponsive error fixed case by case.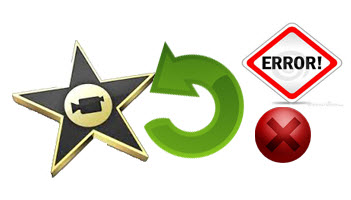 Reasons and Solutions of iMovie Not Responding Problem
Reason No.1-Input File Format
In case you put your video files to iMovie for video editing or something, and unfortunately iMovie is unresponsive from time to time, then you should first have a check on your imported file format. Make sure if the file format is compatible with iMovie since the iMovie supported video audio formats are limited within MP4, MOV, MPEG-2, AVCHD, DV&HDV. Therefore, when your iMovie doesn't respond the command you give, the culprit may go to your unfriendly file formats.
Solution to Fix iMovie Not Working Issue
In such a scenario, what you need to do is to convert your incompatible file formats to iMovie readable formats so that iMovie not responding issue will be well handled. Thus the trustworthy video converter for iMovie is of essence. Here highly recommends you with the top notch iMovie converter software-MacX Video Converter Pro, which specializes in converting any SD or HD video to iMovie acceptable file formats with 83X faster speed so as to allow you to import and edit any homemade or downloaded video in iMovie with nary a hitch.
Reason and Solution No.2 - iMovie Version & Mac OS
When iMovie is not responding, we should also take iMovie and operating system compatibility into account. As is known to all, each version of iMovie has its own range of application. The previous iMovie versions can only function on Mac OS X 10.3-10.5. And currently the most widely used iMovie 11 works fine on Mac OS X 10.6-10.9. And if your operating system is updated to the latest Mac OS X 10.10, all you require to make efforts is to update your iMovie 11 to the upgraded iMovie 10.0 or 10.0.6. >>>iMovie VS Final Pro Cut, Which One is Better?
Reason and Solution No.3 - Running Tasks
Chances are also that the internal parts of your computer precisely CPU accumulate s dirt and that can cause slowness. Besides, when you are launching iMovie for working, make certain if you are running other tasks online or via other software since this might lead to sluggishness to your iMovie, as well. Confronted with such condition, you are required to clean your computer regularly and shut down the unnecessary tasks lest it contributes a lot to not responding from iMovie problem.
Reason and Solution No.4 - Overwork and Garbage
How long will you use your iMovie to edit videos for once? If you spend several hours on iMovie for video editing unceasingly, then you might shift you focus on the garbage brought by iMovie overwork. You see, the history of your iMovie usage remains intact with preference files being formed which will lead to the system becoming slow. Why would you consider having hundreds of useless files remain in your iMovie? There will be no reason for that only that you act in total ignorance. So it's advisable for you to clear such baggage after every task has been accomplished which also ensures the iMovie memory remains high.
You may also interest in: Import AVI to iMovie tutorial; add MKV to iMovie for editting
Reason and Solution No.5 - Improper Operation and Virus
Ever considered the reason of iMovie unresponsive goes to the improper conduct of iMovie and the potential virus? It's highly possible. Assuming there were some mistakes committed in the process, iMovie would fall into the no responding quagmire or iMovie keeps crashing sometimes. Also the unknown virus esp. the worm virus is the major contributor to iMovie won't respond problem. In such case, my humble advice is to conduct a thorough scan of the system to get rid of any bugs and virus and install some powerful antivirus programs if necessary.
One more option: After having a shot on the above solutions, if your iMovie is still not working, then it's worth installing the program afresh. Go to a reputable site online and download the suitable iMovie program and install into your computer. And later re-launch your computer and iMovie to check if it's back to normal. (Still have problem, seek the assistance from a manufacturer who understands it well than you do.)
Even though the above mentioned options might not be the ultimate yet permanent solutions to the "iMovie not responding" problem, they provide the direction you may neglect and give you a suitable way for dealing with the iMovie problem in an easy-to-go yet advanced manner.
Tutorial for iMovie: Need to Convert Video to iMovie Best Supported Video Formats? Here We Go!
Step 1: Add SD or HD video files

After free downloading and launching the ultimate video converter for iMovie, add the video file you need to convert to iMovie supported file formats.
Step 2: Select "to iMovie Video" as output format
On the main interface, go to menu bar "Apple Device"- then click "to iMovie video" as output. This all-in-one video converter also supports you to download and convert any YouTube videos to iMovie readable formats (YouTube 4K UHD to iMovie included).
Step 3: Specify output folder where the converted iMovie video located
Click Browse button to specify a location to store the converted iMovie file.
Step 4: Start video to iMovie conversion
Press "RUN" button, it will start converting video to iMovie supported video.