"I've got a lot of MKV files which won't play on my Windows Media Player. Is there a codec that will allow the playing of MKV in Windows 10 Movies and TV?"
MKV is a container format that can contain various audio tracks, titles, chapters, subtitles, menus, etc. which need different MKV codecs to decode. MKV codec is basically designed to offer users compatibility with Matroska files so as to play MKV videos on Mac, Windows, or other platforms without issues. So, in this article, we will tell you how to download an MKV codec for your media player to play movies, TV shows, videos, etc. in MKV format.
MacX Video Converter Pro – Transcode MKV with MKV Codec
MacX Video Converter Pro lets you transcode MKV files with MKV codecs or convert MKV to MP4, MOV, AVI, H.264, etc. for playback on Windows 10, Mac, iPhone, TV, and so on. No more worries about CPU consumption, and crapware or malware bundled in a heavyweight MKV codec pack.
Part 1. 5 Best MKV Codec Pack Download and Install
You can search MKV codec on Google or software download sites to have a direct Matroska codec download link. But the long-winded results can be confusing. To make things easier, here we list 5 reliable codec packs for MKV files for you to choose from for MKV playback on Windows 11, 10, 8.1, 8, or 7.
MKV codec types: No detailed specs
Supported OS: Windows XP, Windows Vista
This is a lightweight MKV codec pack that requires little memory. It allows users to choose components accordingly. However, this software has been known to cause alterations in the computer. Also, it has been formatted to only work with Windows XP and Vista.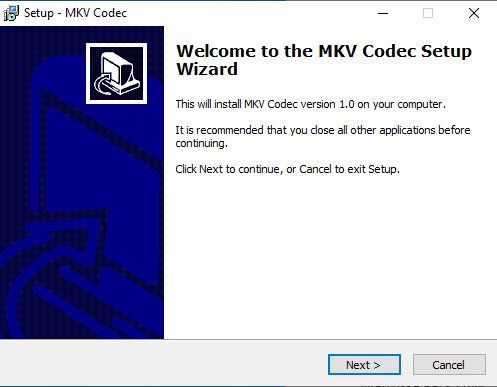 MKV codec types: H.262/MPEG-2 Part 2, Generic MPEG-4 ASP (3ivx, lavc, etc.), DivX, XviD, H.264/MPEG-4 AVC, WMV9, FLV1, and Theora
Supported OS: Windows XP/Vista/7/8/10
CCCP is another great MKV codec pack we highly recommend if you want clean installs. It is a popular set of codecs that cover a large number of file formats, including MKV file format but free of any bundled nonsense. CCCP is especially good for anime MKV playback if you use a DirectShow player, like Windows Media Player and Media Player Classic. However, you have to pay attention to this codec pack if you install all the included codecs/decoders as it may cause problem with other video software on your computer.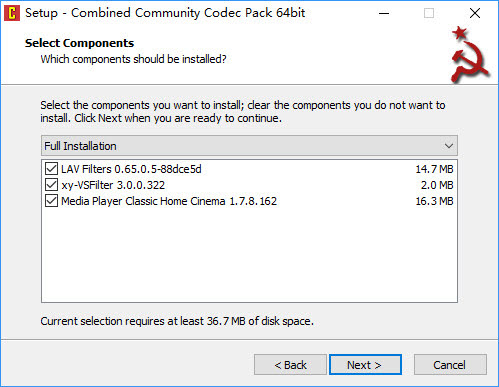 MKV codec types: H.264, MPEG-4, MPEG-2, H.263, VP3, VP6, Theora, MJPEG, SVQ3, MP3, AC3, DTS, E-AC3, AAC, and Vorbis.
Supported OS: Windows XP SP2, Vista, 7, 8, 8.1, or newer
ffdshow is a lightweight DirectShow decoder and VFW codec for playing most video formats including MKV. It is small in size, making it an ideal choice for seekers to download on Windows platforms. It offers a 32-bit version and a 64-bit version for you. The 64-bit version requires a 64-bit-capable media player. BTW, you should be noted that there is no update of this MKV codec pack since 2014.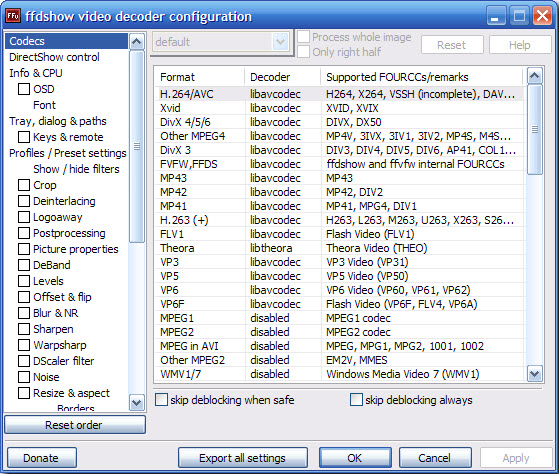 MKV codec types: No detailed specs
Supported OS: Windows 10/8/7/Vista/XP
If the MKV file is not playing on Windows Media Player, this MKV codec pack is a good option to beef up your Windows Media Player. It is a famous full pack not only for playing Matroska media files but also for most modern video formats. This pack contains Haali Media Splitter, MatroskaMuxer, Matroska Shell Extension, VSFilter, TTA, CoreWavpack, CoreFLAC, ffdshow, RealMediaSplitter, MPEG2 Decoder, and MatroskaDiag. You can select an option based on your needs.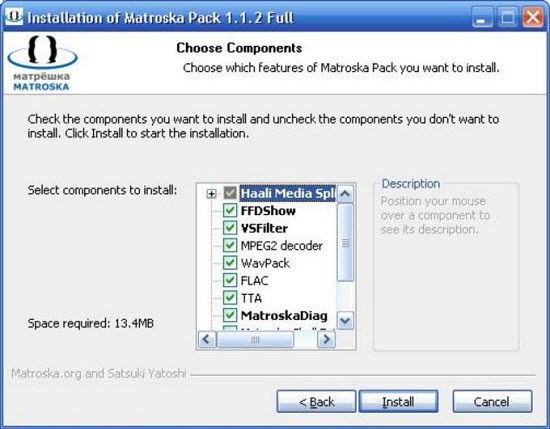 MKV codec types: H.265, H.264, H.263, MPEG-4, MPEG-2, VP8, VP9, DivX, XviD
Supported OS: Windows 11/10/8/ 8.1/7/Vista/XP (64-bit and 32-bit)
It combines DirectShow filters, VFW/ACM codecs, and tools, needed for encoding and decoding audio and video formats, such as MP4, MKV, AVI, etc. on Windows 10/8/7/XP. You can deal with the MKV video playback error after downloading and installing the MKV codec pack. The latest version 13.6.0 also supports decoding and encoding HEVC.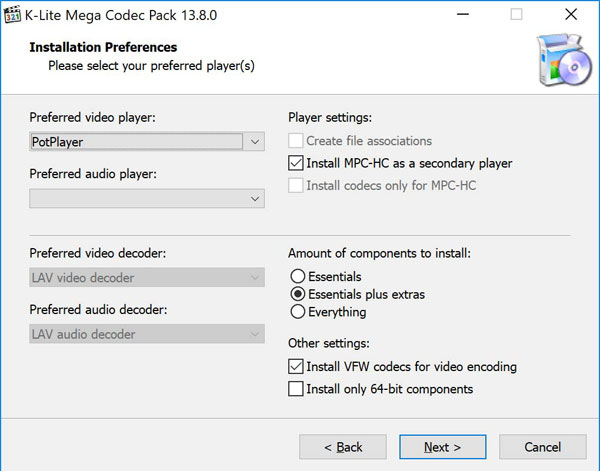 MKV codec types: HEVC/H.265, H.264/AVC, MPEG-4, MPEG-2, AVCHD, DivX, XviD
Supported OS: Windows 11/10/8.1/8.0/7, XP, Server (2022, 2019, and 2016)
Media Player Codec Pack is a simple installer that combines all major codecs, filters, and plug-ins for use in all major media players. This codec pack offers three editions: Standard Edition, Plus Edition, and Lite Edition for different users with different demands.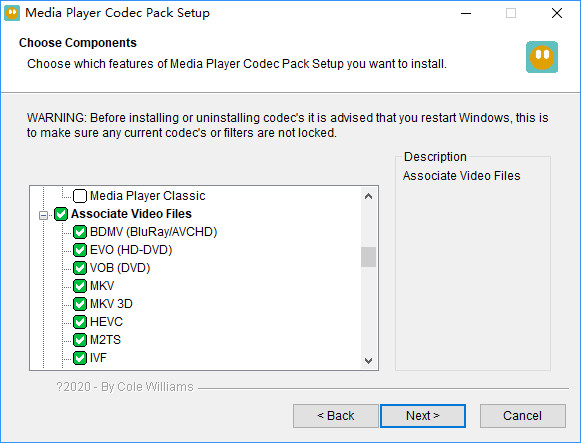 MKV codec types: MPEG-2, MPEG-4, H.264, Theora
Supported OS: Windows 11/10/8/7/XP/Vista (64-bit and 32-bit)
Haali Media Splitter supports for almost all Matroska elements including multiple MKV video/audio/subtitle tracks and multiple segments linked and/or concatenated MKV container files. It also supports other formats such as MP4 and MPEG TS.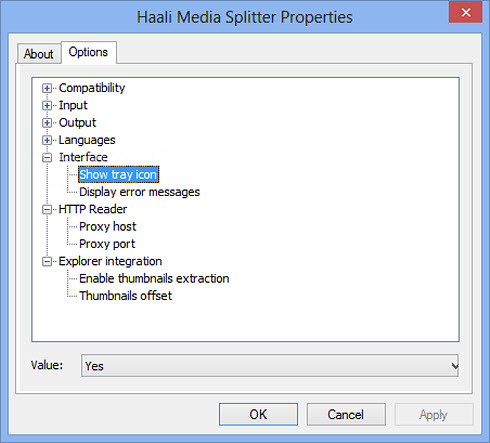 MKV codec types: Major modern MKV codecs
Supported OS: Windows 10 version 17134.0 or higher
MKV Video Extension is a brand-new component to give your Media Player or Movies & TV app on Windows 11 or 10 an ability to play back files in MKV format. However, it seems it is not a perfect codec as some users has reported on Windows 10 64bit the codec pack didn't work for neither Media Player nor Movies & TV app.

Part 2. The Shortcomings of the MKV Codec Pack
MKV codec pack is convenient and functional to enable a media player to play MKV files especially on Windows computer. However, the shortcomings of MKV codecs are also obvious.
The MKV codec pack may not be compatible with your operating system. Then, you can't install it and empower your media player to play MKV files.
The MKV codec pack from unauthorized sites may contain malware, adware or virus that will do harm to your computer.
The MKV codecs downloaded from online may conflict with the existed codecs on your computer, and then crash your computer.
Most of the MKV codec packs has stopped updates even though they are still working. The outdated codec packs are probably not compatible with your computer, your media player, and your MKV files.
The MKV codec packs we see in daily life are often for PC. However, at present, the mobile devices can't play MKV files and the MKV codecs can't handle this problem.
These are notorious disadvantages of any codec pack. If you want to avoid these drawbacks, you can try some other ways that we will explain in the following words.
Part 3. How to Play MKV Files without Installing MKV Codec?
To play MKV files without the need to download MKV codecs, you can try an MKV video player or MKV video converter. The professional MKV player often has a bunch of built-in MKV codecs to enable direct playback, and the MKV video converter can convert MKV video to a more compatible format for any media player.
Method 1. Directly Play MKV Files with an MKV Player
VLC is suggested as it is the most popular free multimedia player to play almost any file formats without the need of installing extra codec packs. It is available both for Windows and Mac platforms, where you can open MKV files without any error.
Of course, there are other options like 5KPlayer and DivX Plus Player you can choose to help play MKV video files.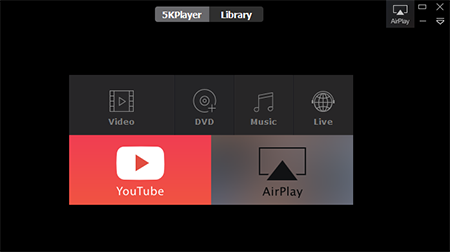 Method 2. Convert MKV to MP4 More Compatible with All Players
For those who don't want to download an MKV codec pack and MKV player, you can try to convert MKV to MP4 which is a widely-supported format for media players, devices, platforms, etc. MacX Video Converter Pro is an MKV video converter you can trust to change between formats. It can convert MKV to MP4, MOV, AVI, H.264, H.265, etc., and vice versa, thanks to the built-in 370+ audio/video codecs, so you will be free to play MKV on Mac, Windows, TV, iPhone, iPad, or Android.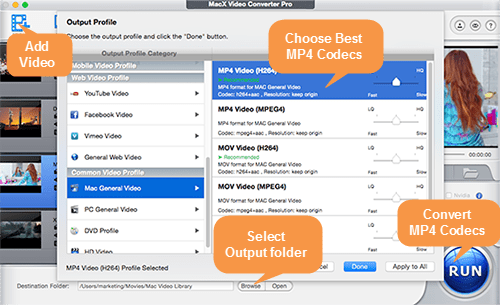 Step 1. Free download MacX Video Converter Pro, install and launch it.
Step 2. Click on the "+Video" button to add your MKV file.
Step 3. Once the "Output Profile" window pops up, choose an output format like MP4.
Step 4. Click on "Browse" button to select a destination folder to save the converted file.
Step 5. Hit "RUN" button to start converting your MKV file.
Part 4. Frequently Asked Questions
1. How do I get an MKV codec?
You can go to a MKV codec pack site to download and install an MKV codec. Also, you can transcode your MKV video with MKV codecs with a MKV video converter.
2. What codec does MKV use?
The biggest feature of Matroska .mkv video is it can contain any types of video, audio, and subtitles. So, the MKV codec can be HEVC/H.265, H.264/AVC, MPEG-4, MPEG-2, AVCHD, DivX, XviD, etc.
3. How to install MKV codec on Windows 10?
Simply choose an MKV codec pack to download from online websites, double click the .exe setup file and follow the instructions to install. Then, you should be able to open and play MKV videos in Windows Media Player smoothly.
4. What will play MKV files?
There are many media players can play MKV files, including VLC, 5KPlayer, PotPlayer, KMPlayer, etc. If you have downloaded and installed MKV codec on Windows PC, you can play MKV files with Windows Media Player.