Facebook allows users to share videos with friends. However, some users report that they can't upload video to Facebook. Here are some examples.
How to post a video on Facebook successfully? I've tried several times, but I can't share clips to Facebook. It goes through the whole process, and when it's done "uploading" it comes back with an Error Message - Unknown Error. Any help about this?
I'm struggling with Facebook video publishment, where the time limit per video is 20 minutes. The video I'm trying to share is only 11 minutes long, but the site reports that the video failed to process, because its too long...any idea? Thanks in advance for any help.-MacRumors
Trying to post video to Facebook account, but with no success. Any ideas on how to troubleshoot this problem?-Facebook help center
If you have trouble uploading video to Facebook from phone or computer, this post is for you. This article will explain why your video won't upload to Facebook and how to fix this issue.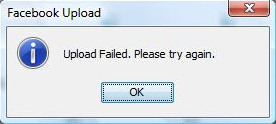 Why Won't Video Upload to Facebook
There are many reasons responsible for Facebook video upload failure, including:
There are problems at Facebook server.
You are using a slow internet connection.
Your video doesn't meet Facebook video upload requirements.
Your video is damaged.
Your browser is outdated.
And more...
Based on these possible reasons, we have compiled xxx fixes for video not uploading to Facebook error.
How to Fix Facebook Not Uploading Video Issue
Now, let's try each resolution in order until we fix it.
Fix 1. Check Facebook status
You can go to Downdetector or another similar website to see if there are Facebook outages reported. If there are, it means that Facebook video not uploading issue is possibly a problem with Facebook server. In this case, you need to wait for Facebook to be restored and try uploading video on Facebook again.
Fix 2. Check Your Video Specs
In most cases, video won't be posted to Facebook because of incompatibility issue. To be specific, Facebook has strict requirements on the file format, file size, and length of the video you are trying to upload. So, to post a video on Facebook successfully and smoothly, you have to first of all make sure that the video you are trying to post meets Facebook's requirements. The Facebook accepted standards are below. Check if your video is qualified or not.
Accepted Video Formats
MPEG-4 (.mp4, .m4v. mpeg4), MPEG (.mpe, .mpg, .mpeg, .dat), FLV (.flv, .f4v), AVI (.avi), WMV (.wmv), 3GP (.3gp, .3g2, .3gpp), MKV (.mkv), AVCHD (.m2ts/.mts), MOD (.mod), QuickTime video (.mov), DVD video (.vob), TOD (.tod), DIVX (.divx), DV video, OGG (.ogm, .ogv), MPEG Transport Stream (.ts), Nullsoft Video (nsv)
Best video format for Facebook: MP4 (codec: H.264), for MP4 keeps a good balance between video quality and file size, suitable for FaceBook HD video footages publishing with a little bit longer video. To convert your video to MP4 file format, please resort to a solid MP4 video converter.
Video Size Requirement for Facebook Sharinging
The maximum size of all the videos posted to Facebook shall be no greater than 1.75GB. No minimum video size is applied. And if your video file is seemingly larger than what you want, you can apply a reliable video compression software to compress and shrink video file size without lossing any video quality.
Video Length
The common standard video longer than 20 minutes in length will get the FB upload error message. As for 360 4K VR video upload to Facebook, your video length should be maintained 6 mins or shorter.
Aspect Ratio
Aspect ratio, also called dimension, refers to the width and height of the video screen. The dimensions of the Facebook video shall be between 9×16 and 16×9.
If your video does not come up to the required standard, it will not be uploaded to Facebook successfully. Luckily, you can easily fix your video with MacX Video Converter Pro. This tool can do the following things.
Convert any video to Facebook compatible video format like MP4, MOV, AVI, FLV, MKV, AVCHD, etc.
Compress and reduce video file size to Facebook accepted file size via video transcoding or video editing (trim, crop, parameter adjustment) features. The built-in High Quality Engine will try to give you the highest possible quality.
Shorten video length to make it less than 20 minutes - Facebook maximum video duration.
Free download video from Facebook and other video-hosting sites, 1000+ sites supported in total.
Support any format/resolution as source, 420+ output profiles, GPU hardware acceleration to boost video processing speed.
How to Convert/Compress Video to Facebook Co mpatible Video File (No More Facebook Video Upload Error)
Step 1: Free download this top cover-all Facebook video converter, load the video you'd like to upload to Facebook by hitting "+ Video " button.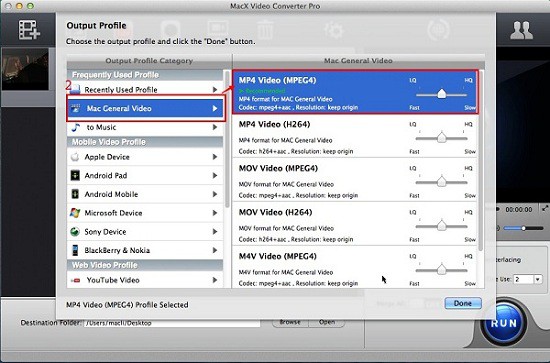 Step 2: Select a video format for Facebook as the output format such as MP4, MPEG, FLV, AVI, WMV, 3GP, MKV etc. Or you can choose "Facebook Video" directly. 
To cut off the unwanted parts of video to shorten video length for uploading to Facebook and crop the black bars of video, you should click the Edit button to access video editing panel.
To tweak the video/audio parameters like resolutions (such as compress 4K to 1080p), size, aspect ratio etc to qualify your videos, you should click the setting button.
Step 3: Click "Browse" button to choose the path where you want to save the output files in.
Step 4: Click the "RUN" button to start converting video to Facebook on Mac. Once done, upload the new video to Facebook and see if error disappears or not.
Fix 3. Check internet connection
When it takes long time to upload video to Facebook or encounters error, you should also check your internet connection. Specifically, you need to take the following actions.
Check if the status lights of your modem and the router are lit.
For wired connection, check if there is any physical damages to the Ethernet cable that connects your modem, router, and the computer.
Visit Fast.com to run a simple speed test and see if your network's upload and download speed is slow. If it is indeed slow, restarting your router might work. If it doesn't work, you can contact your ISP.
Switch to another network connection. For example, if you use 4G, try uploading video again with Wi-Fi network. If your Wi-Fi still doesn't work, try another Wi-Fi.
Turn Wi-Fi off and after a minute or so turn it back on. Then, try uploading again.
Reset network settings. When you can't upload video to Facebook from phone due to weak Wi-Fi connection, you can reset network settings on your Android or iPhone.
If you have VPN, make sure to turn it off when you post video to Facebook. VPN can cause instability with your network and affect the connection with Facebook cerver.
Fix 4. Re-login Facebook account
When you fail to put video on Facebook, you can log out, log back in, and try again. This might fix the issue because doing this will allow your device to refresh the connection with Facebook's servers and reload your account data.
Fix 5. Clear browsing data
Although caches and cookies can improve your browser's overall performance, they are easy to corrupt causing browser to function improperly. If you can't upload a video to Facebook via a web browser, check if clearing cache and cookies can work.
Fix 6. Turn off browser add-ons
Browser extensions might interfere with Facebook. So disable your browser extensions if there are.
Fix 6. Use a diffferent browser
If video won't upload to Facebook via Chrome, there are many other browsers to try, such as Firefox, Safari, and Opera.
Fix 7. Update or reinstall Facebook app
If you can't upload video to Facebook app on your phone, check if you are using an outdated Facebook app. The issues happening in outdated versions might be fixed with a new release. So, see if there is an upgrade.
If there is no new version to download, you can also uninstall and reinstall your Facebook app to try solving Facebook video upload errors.
Fix 8. Check your video
When you upload a corrupted video to Facebook, its server may run checks to ensure the video is playable after being uploaded. So, play your video and see if it is damaged. If it is, find a repair tool to fix it.
Fix 9. Check privacy settings
If you don't allow Facebook to access photos and videos, you will be unable to upload video to Facebook. So, go to Settings on your phone, select Privacy, tap Photos, and slide the Facebook icon to On.
Fix 10. Upload to third-party site and share to Facebook
If you have tried all fixes but still can't upload video to Facebook, you can upload it to YouTube and then share the YouTube URL to Facebook.
How to Upload Video on Facebook
How to upload a clip to Facebook? Just follow the simple steps below to upload video to Facebook without getting any Facebook video upload error:
Step 1 - First of all, a Facebook account is essential. Sign in the Facebook home page if you have an account or create one and sign in.
Step 2 - Click "Profile" to get inside your personal page and click "Video".
Step 3 -Click "Upload" button. Then click the "Choose" button and find the video you just converted to Facebook format and click it. The mobile device uploading process is similar, you can just follow the direction to finish the job.