YouTube continues to be unstoppable, and we are glad to see that more and more programs are available for fans to extract video MP3 music from YouTube. To help you with your decision, we look at the best tools for Mac and Windows (Win 10 included). Check out our full list of top YouTube extractors and learn to rip music from YouTube with original quality remained.
Best YouTube Audio Extractor to Rip MP3 from YouTube (1K Sites)
Hunt for a high quality YouTube video to audio converter? MacX Video Converter Pro cuts the mustard. The YouTube audio grabber is able to rip MP3 from YouTube video 720p, 1080p, 4K in whatever video format, MP4, MKV, MOV, WebM, 3GP, FLV, etc. at one stroke with high audio quality 128kbps, 256kbps, 320kbps thanks to High Quality Engine. Plus, it also supports you to free download online videos, music from ytb, Facebook, TikTok, Instagram, Metacafe, Vimeo, etc. 1K sites.
Part 1. How to Rip MP3 Audio from YouTube with Professional Programs
Previously, we've already talked about MacX Video Converter Pro major features and big draws. There is needless to repeat here again. Instead, we directly guide you with the user tutorial to show you how to directly download YouTube MP3 music or convert YouTube to MP3 audio, AAC, FLAC, AC3, iPhone ringtone, etc. audio format with 128kbps to 320kbps high audio quality.
1. MacX Video Converter Pro
How to Use Best YouTube Music Extractor to Download YouTube Videos
Step 1. Free download top free YouTube music extractor and run it. Hit "YouTube" icon, copy and paste video URL to the box frame, and hit "analyze" button to load the video info.
Step 2. Select YouTube video formats, resolution, file size and codecs.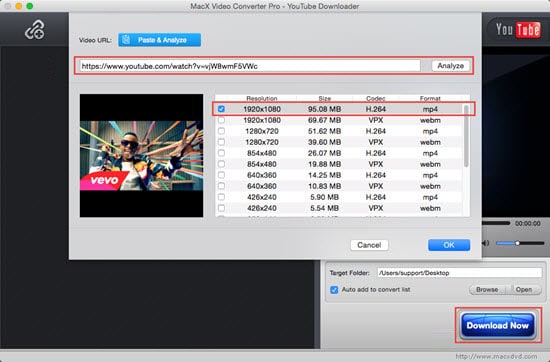 Step 3. Click "Browse" button to choose a destination folder to save the output video music movie file.
Step 4. Click "Download Now" button to start downloading videos from YouTube.
How to Extract MP3 Audio Sound from YouTube Video
Step 1. Run the tool, click "Add File" button to load video files saved on your computer. You can skip this step if you've selected "Auto add to convert list" when converting YouTube videos.
Step 2. Select output format. To get music audio from video, head to "to Music". There are plenty of choices, you are allowed to rip MP3 audio from video, or rip AAC, AC3, M4A, OGG audio etc. iPhone Ringtone format from YTB video.
The YouTube MP3 extractor offers ways to adjust audio quality and extract audio in 320kbps, 256kbps, 128kpbs with high quality.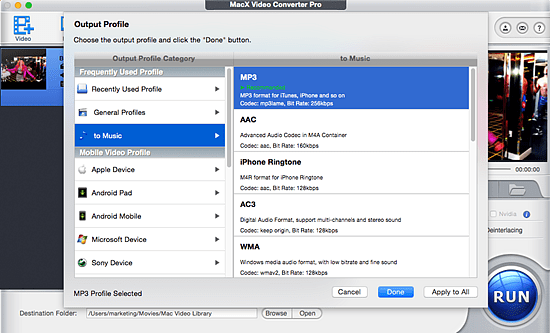 Step 3. Click "Browse" button to choose a folder to save extracted YouTube MP3 AAC audio music file.
Step 4. Click "RUN" button to start converting YouTube to MP3 audio at GPU accelerated speed.
Notice: MacXDVD Software doesn't advocate any reproduce, distribute, transmit, broadcast or sell any content for any other purposes without prior written permission of YouTube or the respective licensors of the content. Please refer to YouTube terms of service before doing so.
2. iTubeGo
Go to itubego.com and find iTubeGo YouTube Downloader under Products category at the top menu. Then you're able to free download and install this free YouTube audio extractor on your Windows PC, MacBook or Android.
Let me elaborate this free YouTube music extractor if you don't make head or tail of it before. This free YouTube MP3 converter enables you to firstly free download YouTube playlists, YouTube channels, audiobooks, and play YouTube audio, video internally. If you've already downloaded YouTube videos, you can still use it to extract MP3 from YouTube with highest possible quality reserved.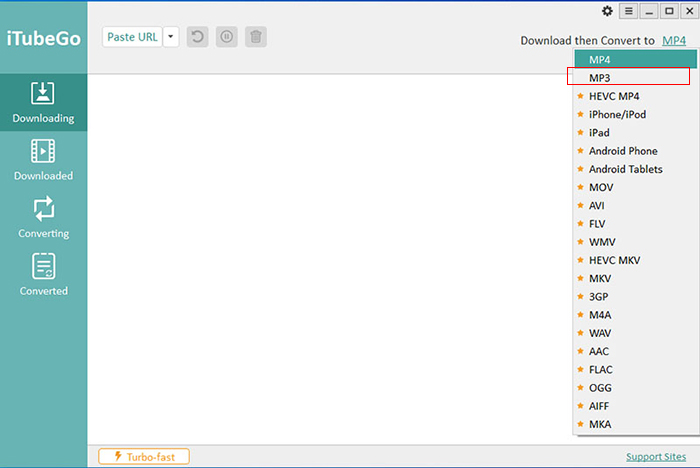 Download and convert YouTube to MP3 simple yet fast. Just select MP3 audio as output format, paste the link into the application and then it will download and convert YouTube to MP3 music format. That's it! And that's why here we didn't show you the detailed steps. Not necessary indeed.
It wins a wide popularity, up to 83% users rewarding it a 5-star score on the famous review site trustpilot. And most users say this free MP3 YouTube audio extractor gets constantly updated and new features added all the time. Most importantly, they listen to their customers and are a pleasure to deal with!
3. MediaHuman's YouTube to MP3 Converter
As its name implies, it focuses on ripping MP3 audio from YouTube video at highest quality up to 320kbps. Though major duty on converting, its feature set is completed by the advanced options, including YouTube URL to MP3 converting, bulk downloads, numerous sites supports (vimeo, mixcloud, soundcloud), adjust network bandwidth, speed up mode - Turbo Boost mode, audio settings adjustment, etc.
How to use this free YouTube audio extractor?
Step 1. Copy and paste or drag and drop the YouTube URL into the program and then click the Start Download button.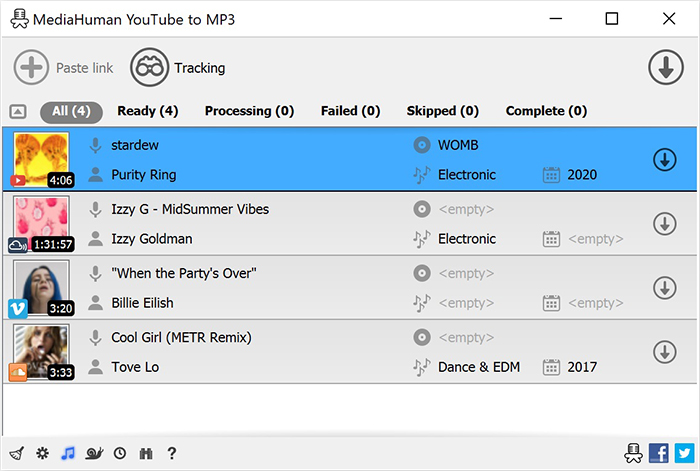 Step 2. After the YouTube video file is added to your computer, right-click on it in the YouTube music ripper program and select Locate Saved File. File Explorer or Finder appears with the audio ready for you to play.
4. By Click Downloader
I would name this YouTube audio extractor software a 1-click browser extension, as well. Unlike the above-mentioned YouTube to MP3 rippers, this one comes loaded with "Auto Detect" feature, helping you easily choose final YouTube format as MP3 within your browser. That means you don't have to launch this YouTube to MP3 extractor indeed.
Another big draw is that this YouTube music extractor also enables you to free download MP3 music from tiktok, Vimeo, Dailymotion, facebook, etc. other 40+ websites in high definition (1080p, 4K) and high audio quality (192kbps, 320kbps).
How to use this free YouTube MP3 audio extractor?
Step 1. Enable "Auto Detect" feature on this youtube to mp3 downloader program. And run it in background.
Step 2. Go to YouTube.com and find your desired youtube video. And a small message will appear on the bottom right-hand side of your screen. You can select MP3 as resulting format. One click and the download begins!

Note: it supports Chrome, Firefox, IE and Edge browser. Currently, it works on Windows PC only, no mac version.
For those who gravitate towards online YouTube audio extractor services without installing, you're suggested to read the 2nd part, with top free online YouTube MP3 extractors presented in detail.
Part 2. How to Online Free Convert YouTube Videos to MP3 Music
Online free music downloader gives a very convenient solution to save sound from video. The whole task can be finished online without installing any software. But you should keep your eyes peeled as online programs comes with ads, plugins, malware and the likes. Every click may lead you to install any extra files programs to your desktop on sites.
1. Clip Converter
Clip Converter is a free online program, enabling you to save MP3 audio in a simple way. It supports downloading YouTube video in 720p, 480p, 360p or lower and convert it to MP3, M4A, AAC audio format and MP4, 3GP, AVI, MOV video format. It doesn't give many choices in audio video formats, but performs comparatively better than other free online apps.
How to Free Rip MP3 Audio from YouTube Videos Online
Step 1. Copy and paste YouTube video URL to the box frame and click >Continue> button.
Step 2. Select YouTube video resolution. Video with higher resolution is of larger file size.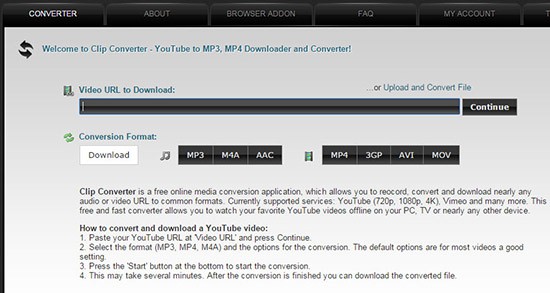 Step 3. Select "MP3" below the Conversion Format category.
Step 4. Click >Start> button to start to extract MP3 audio from MP4 YouTube video. It may take several minutes to finish a music video to MP3 conversion process.
Note: make sure that the file name extension is correct to avoid downloading any extra unwanted malware.
2. tuberipper.com
tuberipper is one online YouTube audio extractor that would make you go gaga over it when it comes to easy and fast MP3 ripping online. Grounded on my personal test, it enables you to easily extract MP3 music from YouTube without annoying re-directs (other online services usually do), maddening ads or bundle software installation, etc. It's really user friendly and simple to use. Check its user guide:
Step 1. Access to its website: https://tuberipper.com/295/save/mp3; go to YouTube, find your desired YouTube video and paste its URL to the analysis bar.

Step 2. Instantly, it will analyze your YouTube video info and display the options: extract audio, extract video or extract muted video. On top of extracting MP3 from YouTube, it lets you free extract M4A, FLAC, OGG, WAV, etc. audio from YouTube videos. Meanwhile, it supports downloading YouTube videos in MP4, 3GP, WebM, etc. video format.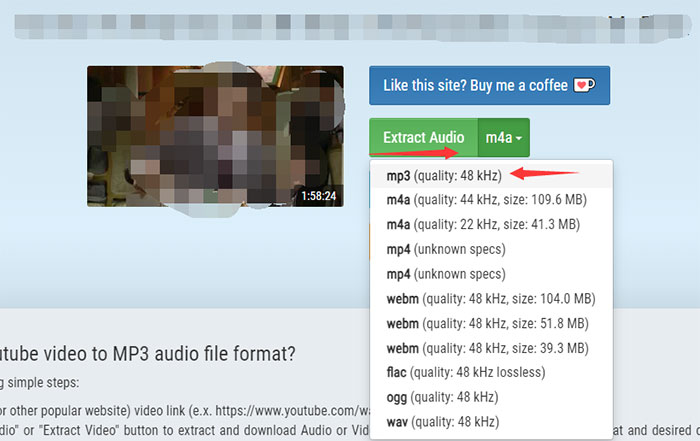 Note: the pre-condition is that you have the rights or permissions of the YouTube video file.
Step 3. Choose MP3 under "Extract Audio" option. Then this YouTube MP3 ripper will begin ripping MP3 audio from YouTube.

Note: sometimes, it goes kaput and reports an error. That might be relevant to your video source. Try again or change another YouTube video for ripping MP3 again.

3. flixier.com
No account required, this online free YouTube music extractor service is exceptional at helping you ripping MP3 from YouTube online with best user experience. Certainly, have to admit that this YouTube audio extractor is more suitable for those who have basic video converting yet editing skills. Cuz when you really access to its interface, it presents you with an all-round yet slightly complex operation interface. Beyond the editing features for video, special effects for audio are also available, including electric guitar, guitar space, guitar pitch pipe, distortion guitar power, etc. if you wanna polish your MP3 audio track.
Step 1. Head to its home page: https://flixier.com/tools/audio-extractor/extract-audio-from-youtube; click the blue button "Choose Video" to access to its real YouTube to MP3 ripping interface.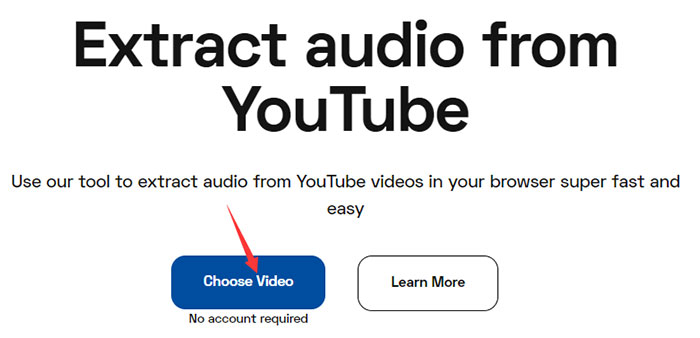 Step 2. Hit Import to load your downloaded YouTube video from local drive, google drive, Google Photos, dropbox, etc cloud storage services. Or directly tap Link to insert your YouTube video link if it didn't get downloaded yet.

Patiently wait for the video uploading. The uploading speed on the online service is jointly decided by your network bandwidth, your running programs on laptop/devices, video duration and resolution and the YouTube audio ripper server ability.

Step 3. Drag and drop your youtube video clip to the below editing timeline zone, where you can see the video and audio track seperated after you click "Detach audio" option. Delete the video track and just keep the audio track. Meanwhile, you can also utilize its Cut feature to shorten your audio track length if needed.
Step 4. When everything is ready, tap the Export button at the upper right corner of the main screen to rip MP3 from YouTube and save the output MP3 audio file to your computer or iPhone iPad Android, etc. mobile devices.

Generally speaking, this free youtube music ripper service is awesome, especially when you need audio cutting, audio effects, adjusting audio volume, audio speed, etc. features. Yet, the downside is that it reacts really slow sometimes even though you close and exit other programs in the background. If the speed is a bugbear for you, you can upgrade to its premium service to enjoy speed boost and more advanced features.
4. acethinker.com
This free YouTube audio extractor is an online tool, no requires on installing anything, nor any registration or payment. Thus, it ensuers you get the best privacy and safety while using this free YouTube MP3 ripper to extract MP3 from YouTube video.
Similar to other online YouTube music extractor services, this one also excels in ripping MP3 music from YouTube online with utmost ease, only 3 simple clicks needed. Meanwhile, this YouTube audio downloader brings up to 5 times faster downloading speeds, letting you download MP3 from YouTube on your offline storage within a few seconds by courtesy of its constantly optimized servers. You can use it to online extract audio from YouTube, as well as Vimeo, Vevo, TikTok, etc. other sites.
How to use acethinker to online extract MP3 audio from YouTube?
Step 1. Copy YouTube video URL. Play the YouTube video and copy its URL from the URL box.
Step 2. Paste the URL to the analysis box. Now go to this youtube audio extractor website and paste the youtube URL. After pasting the URL, you need to click the download button next to it.

Note: please don't tap the red "Free Download" button just under the analysis box, cuz it seems like a sponsored desktop downloader software exe file, not the one you need.
Step 3. Tap Download. After the youtube video info shows up, click the blue download button next to the info. Then, the download options are displayed. For online service, both video and audio downloads are limited in quality, up to 480p for video and 128kbps for audio. Tap the Download button if you're okay with these quality options. Or download and install its desktop YouTube music extractor software to rip YouTube video to MP3 audio in 192kbps or 320kbps high audio quality.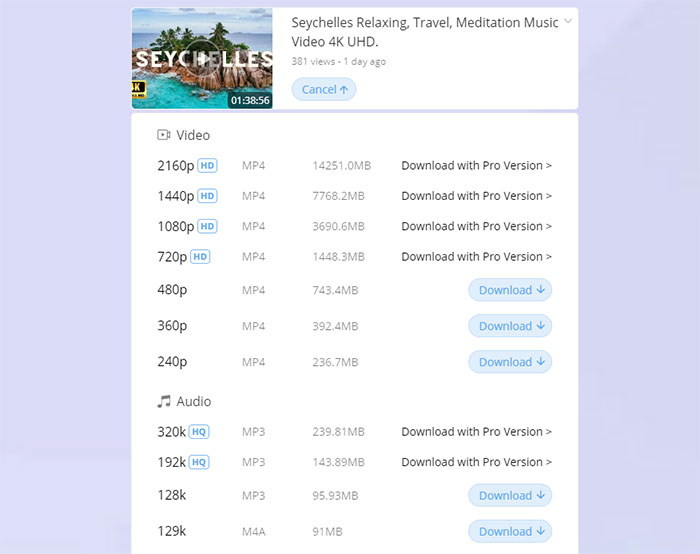 Note: if your youtube video is over 15 minutes in duration, you're unable to online download and rip MP3 from YouTube. Instead, you will be noted with the following pop-up and asked to download its desktop program.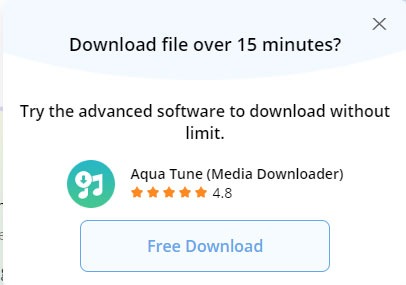 Only when your youtube audio file meets all its requirements can you eventually download YouTube MP3 auido or M4A audio online from acethinker.com. Don't be off-putting. Most online YouTube audio extractors have the same trick. After all, they need making profits, as well.
5. dirpy.com
Actually, the majority of online YouTube MP3 music extractors are much of muchness. You can even imagine their main features without reading the text. That's true. Probably the major difference lies in the actual downloading and extracting procedure. Most of them would not point out the limits on its webpage, but you can find during procedure. So, let's directly jump to its YouTube to MP3 ripping procedure to make head or tail of it:
Step 1. Copy YouTube video URL. Find your desired youtube video and copy its URL to dirpy. Tap the dirpy button.

Step 2. Choose audio settings. Your youtube video info will be instantly analyzed and then show up on a new webpage where you can choose start time and end time, edit title, file name, as well as choose audio quality (highest 320kbps), audio format (MP3, AAC, M4A, FLAC, etc.) for Premium Download only.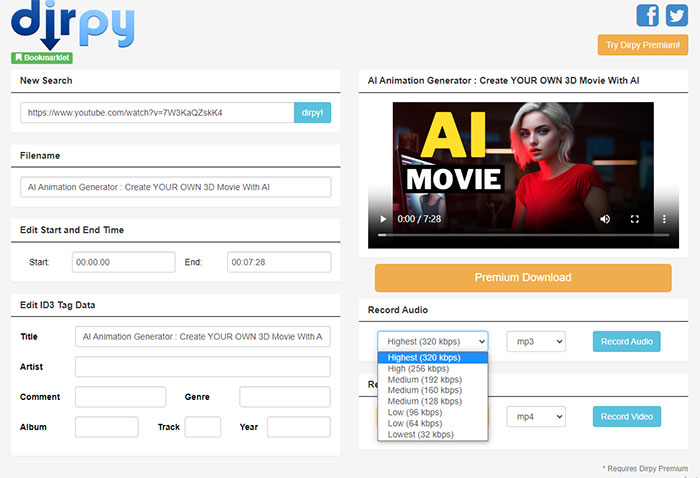 Step 3. Tap Record Audio. Hit the Record Audio button and it begins extracting MP3 audio from YouTube online free.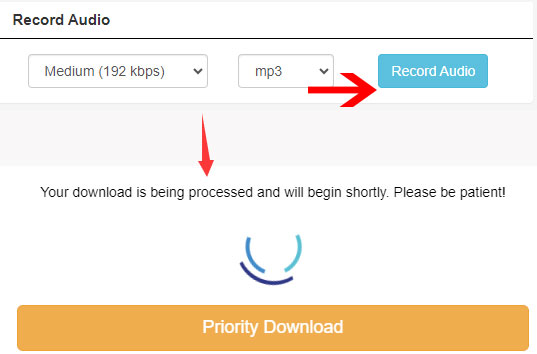 Step 4. Play ripped MP3 file. Just a few seconds later, your MP3 audio file will be successfully ripped from YouTube video and you'll find on your local download folder. Then you can open and play the ripped MP3 file to check its audio quality or import the MP3 file to editing application for background music creating or music editing.

Part 3. How to Free Rip Audio from YouTube using Chrome Extension
Beyond the YouTube music extractor programs and online YouTube audio extractor websites, Chrome extensions are also go-to tools. How could you guys refuse these so adorable free chrome extensions to easily rip MP3 from YouTube without any installation, webpage opening or account login? Anyway, you have to try these (no regrets).
1. YouTube mp3
In fact, some YouTube MP3 extractor extensions for Firefox Chrome also works great. YouTube mp3 is the one. The addon helps download MP3 audio from YouTube video by adding a button to the site. Users can click on the download button to download video in MP3 audio. It won't open a new page for the video to audio conversion. But the maximum video length is 20 minutes, which means theit doesn't work on videos longer than 20 mins. The best audio quality it provides is 128 kbps, which is quite poor for those who have higher demand on music audio quality. And some users complains that there's no button, mp3 not working sometimes.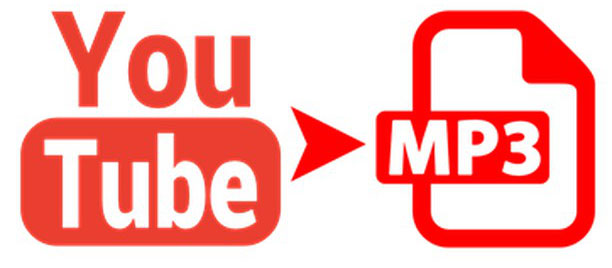 2. YouTube to MP3 Free Converter
Another YouTube high quality audio grabber extension for web browser is YouTube to MP3 Free Converter. It is stable, simple to use and fast. The YouTube extractor offers no quality choice. If you want to get YouTube MP3 audio music in higher than 128kpbs, the tool will disappoint you. There is a redirection to spam site, be careful. It usually works fine, only sometimes, you'll get message like >whoops, something happened>, it may cause Firefox Chrome crash.
3. Video2MP3
This user-friendly Chrome extension enables the conversion of YouTube videos to the mp3 format effortlessly. It is compatible with a wide range of web browsers, not limited to Chrome, but also Safari, and Firefox, facilitating a seamless conversion process. Downloading videos as audio files has never been easier thanks to this exceptionally simple-to-use extension.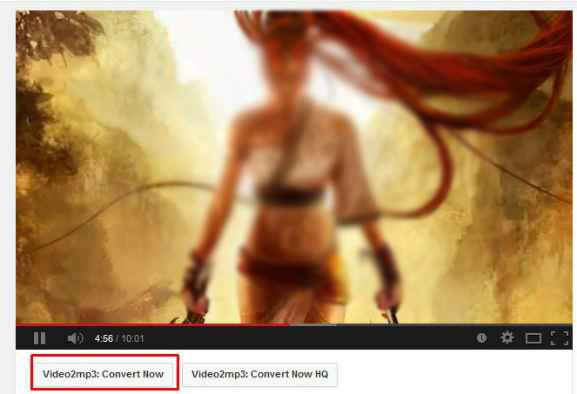 Within this YouTube to MP3 extractor extension, you have access to two distinct download options: "Convert Now" and "Convert Now HQ." Obviously, it mainly differs in quality and also the converting speed. Afterwards, find the download button, which is conveniently located below the video preview within the YouTube interface. Its YouTube to MP3 ripping engine will go into action after a single click on this button. Generally, it takes no more than a minute to complete the entire download and conversion process, contingent on your internet speed. No further ado, you just quietly wait for your ripped MP3 audio file.
Part 4. How to Free Extract MP3 Audio from YouTube using Video Players
There are some programs not mainly designed for extracting MP3 AAC M4A audio from YouTube, but capable of handling the task, they are media players. Some programs can convert downloaded YouTube videos, some have the ability to directly download and convert YouTube to MP3 audio. Let's cut to the chase, the program introduced here are VLC and 5KPlayer.
1. VLC
It is a good idea to use VLC as a YouTube music ripper only when you have the media player installed on your computer and your YouTube video is downloaded. After all, VLC is not a professional YouTube sound extractor. If you want to convert YouTube to MP3 with more advanced settings, feel free to switch away.
How to Rip MP3 Audio from YouTube via VLC
Step 1. Open VLC media player, head to Media > Convert/ Save
Step 2. Click "Add" to select and load the downloaded video, click Convert/Save.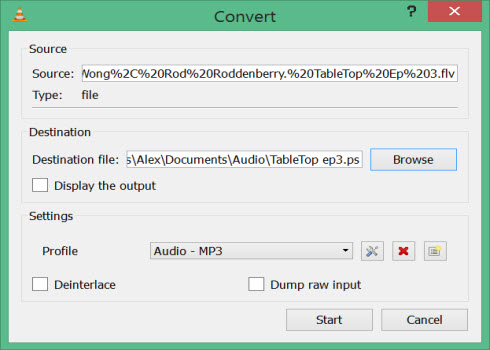 Step 3. In the Profile category, select "Audio-mp3" as output format, and click "Browse" button to save the output MP3 audio file.
Step 4. Click "Start" button to start extracting sound from video.
5KPlayer has clear significant advantages over VLC in ripping MP3 from YouTube. As a smashing program for HD 4K UHD video music audio playback, 5KPlayer also works a treat as a YouTube converter. It downloads, converts YouTube videos and play extracted YouTube audio in MP3, AAC, AC3 etc. at a blow without stuttering. Note that the player only download YTB video to MP3 AAC audio and can not convert downloaded YouTube videos.
How to Rip MP3 Audio from YouTube via 5KPlayer
Step 1. Click "YouTube" icon on the main window, copy past YouTube video URL (8k supported).
Step 2. Click "Download" button to download the video first.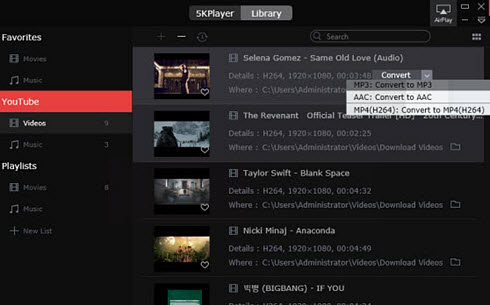 Step 3. Click "Convert to MP3" or "Convert to M3A", the YouTube audio grabber will get the job done speedily.
Hope the YouTube music extractors mentioned above are helpful for you and can provide you with a pleasant journey in ripping MP3 from YouTube video. If you have other great YouTube audio extractors, you're welcomed to share with us via leaving message on our official Facebook/twitter account or Email us.