I got some blu ray rip videos in mkv format. some are sizes about 8GB to 10 GB, some are 1.5 to 2.5 GB. in fact video and audio clarity of all videos are same. is there any way to reduce the file size so that i can save my disk space without losing clarity. - VideoHelp Forum
Yes, MKV is recommended a the best video format for Blu-ray and DVD movie backup. A majority of users choose to save their BD or DVD to MKV files since you can put a complete movie to a single file, and retain lossless video and audio quality. But the achille's heel for MKV is that it's larger in file size especially for high-definition sources like 1080p and the arising 4K UHD MKV videos. For example, I've downloaded a 4K UHD video in MKV version which is 2.0GB, which at the same time, the mp4 version of the very same video, which also has a resolution of 3840 x 2160, but it has a file size of 846MB, or even smaller. Moreover, due to the MKV compatibility issue, MKV files cannot be opened on modern devices and media players; you're unable to upload MKV to the web; and even sometimes you cannot import your MKV files to video editing software as well. But if you've compressed MKV files, none of these problems exist.
Reasonable Ways to Reduce MKV to Smaller Size
Then the issue comes that how to compress a MKV file on Mac and Windows? You know, there are many factors affecting MKV file size, such as the codec, frame rate, bit rate, resolution etc. In other words, you can process and adjust parameters like codec, bitrate, frame rate, resolution etc. to make MKV file size reduction.
Of course, you can also shrink MKV files by changing video format. With the same video quality and H.264 codec, MKV file size is much larger than MP4 container, so you can convert MKV to MP4 to shrink MKV without losing quality.
Cutting down the MKV video length could be the most direct and effective way to compress MKV video. This is more available to trim out the head and end of a movie, or split a video into pieces.
Get A MKV Compressor to Shrink MKV without Quality Loss
No matter which way you choose, a stylish and intuitive MKV video compressor is needed. A goodly number of people compress MKV using Handbrake, but usually get troubled with the slow speed, overheated desktop, high CPU usage etc. Yet, such troublesome faded away if you adopt the No.1 fastest MacX Video Converter Pro, which achieves the highest quality at the smallest file size, reducing MKV file size by up to 90% and even more. And this program offers several options to shrink MKV, namely converting MKV to smaller-sized container, adjusting parameters like codecs, bit rate, frame rates etc., and cropping or trimming the length of MKV video.
How to Reduce MKV Files Size with High Quality at Fastest Speed
Step 1: Load MKV source video.
Prior to everything, you need free download the MKV compressor (or Windows version for PCs) first. Then launch the program and click on + Video to load your MKV videos. By the way, MacX supports batch compression, you can load a couple of MKV files to ease compression and save time. Assume to shrink a 3840 × 2160 pixels 4K H.264 codec MKV video.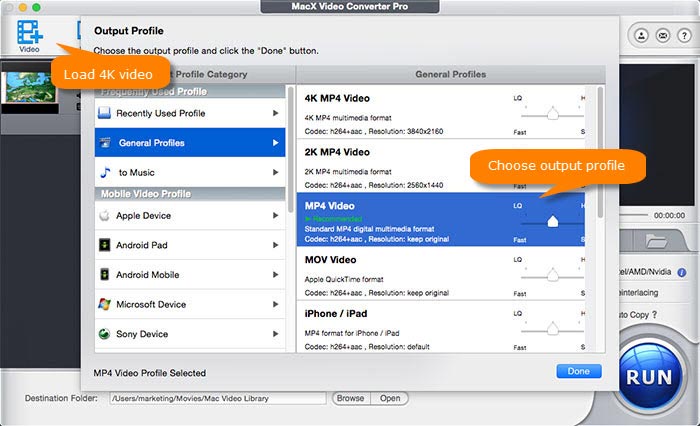 Step 2: Determine MKV compression settings
MKV compression settings can be various due to the different purposes. For instance, if you'd like to watch MKV files on your tablets or desktop without hassle, you can zip MKV files by converting to MP4 H.264. To upload MKV videos to YouTube or the like, you should shrink MKV to MP4, adjust the parameters to the upload requirements and trim the video length if needed. While if you'd like to make MKV reduction to the hilt for storage, you'd better transcode MKV to HEVC, and lower the bit rate and frame rate. Besides, downscaling the video resolution is suitable for smaller resolution displays, such as watching 4K video to portable gadgets. Here are the detailed MKV file size reduction settings.
1. Convert MKV to smaller-sized container. After video loaded, there pops up a window for video codec and format. Go General Profiles, choose MP4 Video (H.264) and tap Done. You will get a times reduced video with the same quality.
2. Change MKV original codec. At the same window, scroll down to Mac General Video > MP4 Video (HEVC) > Done. You'll compress MKV by 50% since HEVC improves half coding efficiency compared to H.264. Actually there are a great number of lossless codecs for video compression which get video in higher quality but lower bit rates and smaller file size.
3. Adjust parameters like bit rate, frame rate, resolution etc. Click on the gear-shaped

icon after you've selected output codec and format. Here you entered a window to adjust parameters like resolution, bit rate, frame rate, aspect ratio etc. Here are some suggestions:
Resolution: Downscale MKV resolution at one or two notches, that is to say downscaling 4K MKV to 1080p, or 720p to get visually lossless quality.
Bit rate: Keep 2-5Mbps for SD, 5-10Mbps for 720p, 10-20Mbps for 1080p, 30-60Mbps for 4K. If the bit rate option is in CBR, the program will adjust bit rate automatically to best fit the video complexity.
Frame rate: You'd better keep the original frame rate to ensure the video fluency. But 23.98fps, 24fps, 29.97fps, 30fps, 60fps are commonly used. The higher the frame rate is, the bigger you file size will be.
Aspect ratio: According to your display ratio, choose 4:3 or 16:9 as your aspect ratio.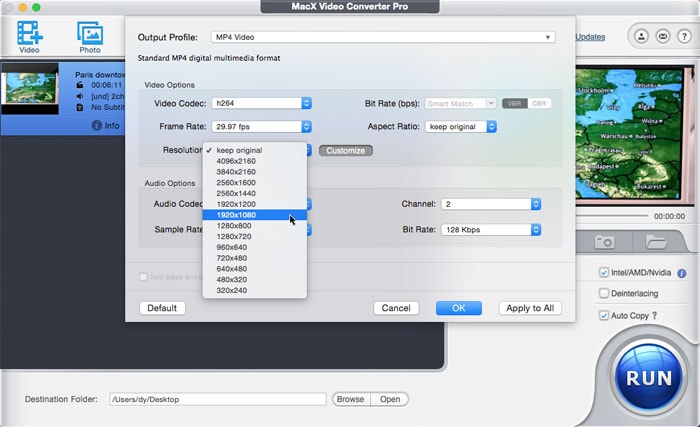 4. Trim MKV video length. Now click on the

button, and choose Trim from the center bar, then tick on the box of Enable Trimming. Here you can slide the start and end modules or type in the specific start and end time to trim the length of MKV file. By the way, this method will never loss video quality.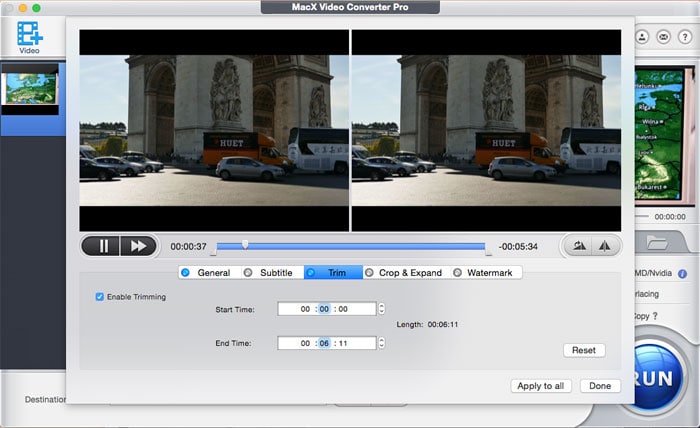 Note: Depending on your purpose and the various compression ratio demands, you can adopt one or several settings and even all to compress MKV files.
Step 3: Start shrinking MKV now!
After all settings done, click on RUN button at the lower right corner. The MKV video size reduction process will be accomplished in a few minutes. But it matters a lot on the video length, video settings and computer configuration as well.