I got some blu ray rip videos in mkv format. some are sizes about 8GB to 10 GB, some are 1.5 to 2.5 GB. in fact video and audio clarity of all videos are same. is there any way to reduce the file size so that i can save my disk space without losing clarity. - VideoHelp Forum
Reasonable Ways to Reduce MKV to Smaller Size
How to compress a MKV file over 1GB? There are many factors affecting MKV size, such as codec, frame rate, bit rate, resolution etc. In other words, you can adjust parameters like codec, bitrate, frame rate, resolution etc. to make MKV size reduction. Beyond that, changing video format is another way to shrink MKV. With the same video quality and H.264 codec, MKV file size is much larger than MP4 container, so you can convert MKV to MP4 to shrink MKV without losing quality.
Cutting down the MKV video length could be the most direct and effective way to compress MKV video. This is more available to trim out the head and end of a movie, or split a video into pieces.
Best MKV Compressor to Shrink MKV over 1GB without Quality Loss
No matter which way you choose, a stylish and intuitive MKV video compressor is needed. A goodly number of people compress MKV using Handbrake, but usually get troubled with the slow speed, overheated desktop, high CPU usage etc. Yet, such troublesome faded away if you adopt the No.1 fast MacX Video Converter Pro (NO input size limit).
It achieves the highest quality at the smallest file size, reducing MKV size by up to 90% and even more. And it can compress MKV over 1GB/10GB via several options, namely convert MKV to smaller-sized HEVC container, adjust parameters (resolution, bit rate, frame rates), convert MKV format to MP4/WMV/3GP, trim MKV video length and crop MKV image border.
How to Reduce MKV Files Size with High Quality at Fastest Speed
Step 1: Load MKV source video.
Prior to everything, free download the MKV compressor (or Windows version for PC) first. Then launch the program and click on + Video to load your MKV videos. By the way, MacX supports batch compression, you can load a couple of MKV files to ease compression and save time. Assume to shrink a 3840 × 2160 pixels 4K H.264 codec MKV video.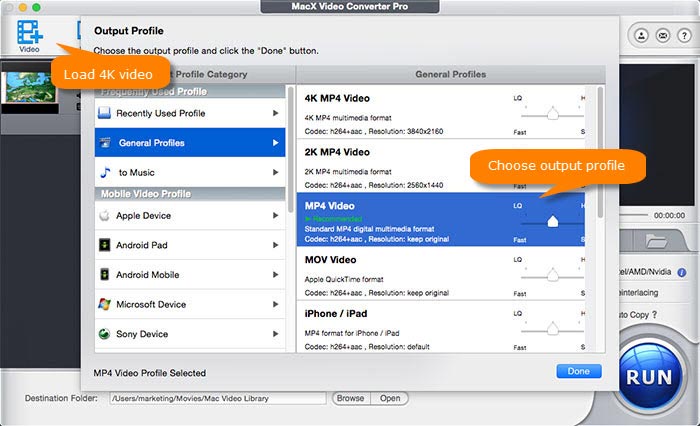 Step 2: Determine MKV compression settings
MKV compression settings can be various due to the different purposes. For instance:
Zip MKV files by converting to MP4 H.264 if you'd like to watch MKV files on your tablets or desktop without hassle.
To upload MKV videos to YouTube or the like, shrink MKV to MP4, adjust the parameters to the upload requirements and trim the video length if needed.
Providing you'd like to make MKV reduction to the hilt for storage, transcode MKV to HEVC, and lower the bit rate and frame rate. Besides, downscaling the video resolution is suitable for smaller resolution displays, such as watching 4K video to portable gadgets.
Here are the detailed MKV file size reduction settings.
1. Convert MKV to smaller-sized container.
After video loaded, there pops up a window for video codec and format. Go General Profiles, choose MP4 Video (H.264) and tap Done. You will get a times reduced video with the same quality.
2. Change MKV original codec.
At the same window, scroll down to Mac General Video > MP4 Video (HEVC) > Done. You'll compress MKV at least 50% size off since HEVC improves video coding efficiency compared to H.264, roughly 52% bit rate reduction in 480p, 56% off in 720p, 64% off in 1080p and 64% off in 4K 2160p. Actually there are a great number of lossless codecs for video compression which get video in higher quality but lower bit rates and smaller file size. 3. Adjust parameters like bit rate, frame rate, resolution etc.
Click on the gear-shaped

icon after you've selected output codec and format. Here you entered a window to adjust parameters like resolution, bit rate, frame rate, aspect ratio etc. Here are some suggestions:
Resolution: Downscale MKV resolution at one or two notches, that is to say downscaling 4K MKV to 1080p, or 720p to get visually lossless quality.
Bit rate: Keep 2-5Mbps for SD, 5-10Mbps for 720p, 10-20Mbps for 1080p, 30-60Mbps for 4K. If the bit rate option is in CBR, the program will adjust bit rate automatically to best fit the video complexity.
Frame rate: You'd better keep the original frame rate to ensure the video fluency. But 23.98fps, 24fps, 29.97fps, 30fps, 60fps are commonly used. The higher the frame rate is, the bigger you file size will be.
Aspect ratio: According to your display ratio, choose 4:3 or 16:9 as your aspect ratio.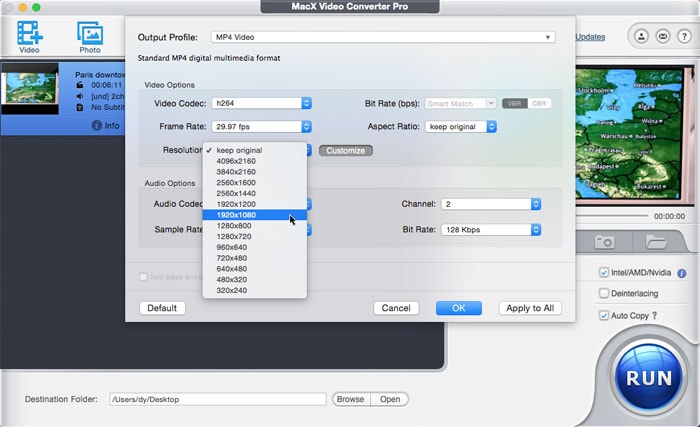 4. Trim MKV video length. Now click on the

button, and choose Trim from the center bar, then tick on the box of Enable Trimming. Here you can slide the start and end modules or type in the specific start and end time to trim the length of MKV file. By the way, this method will never loss video quality.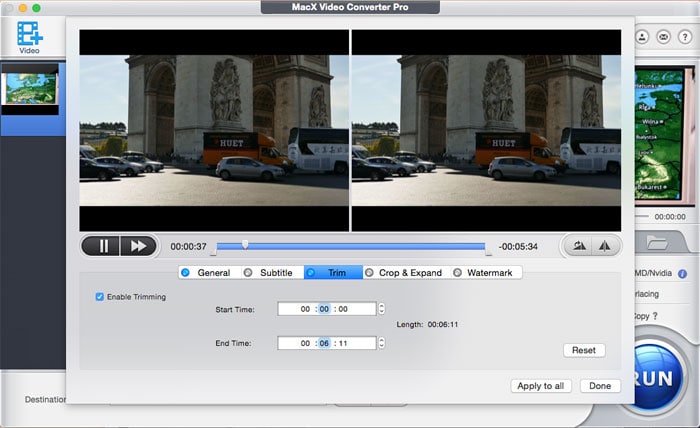 Note: Depending on your purpose and the various compression ratio demands, you can adopt one or several settings and even all to compress MKV files.
Step 3: Start shrinking MKV now!
After all settings done, click on RUN button at the lower right corner. The MKV video size reduction process will be accomplished in a few minutes. But it matters a lot on the video length, video settings and computer configuration as well.
How to Free Onlin Compress MKV Video (Max 1GB)
If your MKV footage is within 1GB in size and you can resort to online video compressor - freeconvert.com. Major highlights of this service that helps it edge out its peers:
Support input MKV video size up to 1GB.
Compress MKV to H264 or HEVC with 2 codecs.
Adjustable settings for you to select compression method, quality and speed.
Access to its official website if your MKV video clip size is not over 1GB. And the operating process is friendly to newbies:
Step 1: Add MKV File
Open freeconvert.com and tap Choose Files button to load your source MKV file from the device, Dropbox, or Google Drive.
Step 2: Adjust MKV Settings before Compression
Tap the gear-shaped icon next to the Output MP4 profile and then the setting adjustment window will pop up, where you can choose compression method, quality and speed at your willing.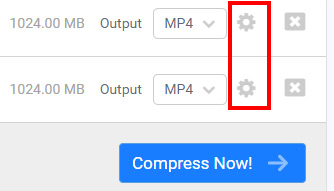 As you can see, the default settings are below: Video Codec - H264; compression method - target a file size (percentage). You're able to freely move the slide bar to decide your output file size, eg, 25% means 25MB resulting file if input size is 100MB. Suggesting you don't want this default setting of compression method, tap the downward arrow to activate the hidden options: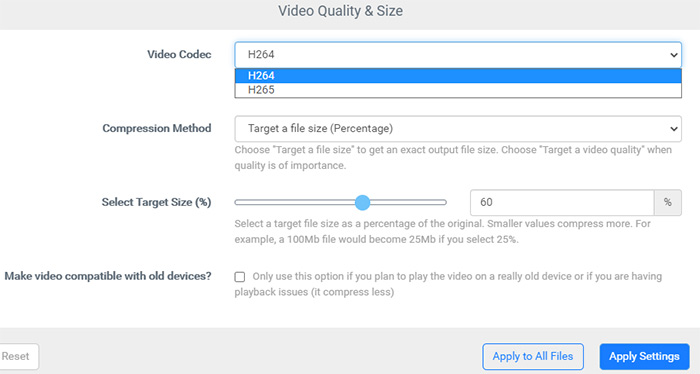 1. Target a video quality There are 5 compression methods for you in total. On top of the default "Target a file size (Percentage)", other commonly used options are "Target a file size (MB)" and "Target a video quality". And here we mainly show you these two in details (limited time, unable to show all options). Well, when video quality option is selected, Select Quality (CRF) and Compression Speed columns show up, as well. And you're required to make more decisions from those options provided.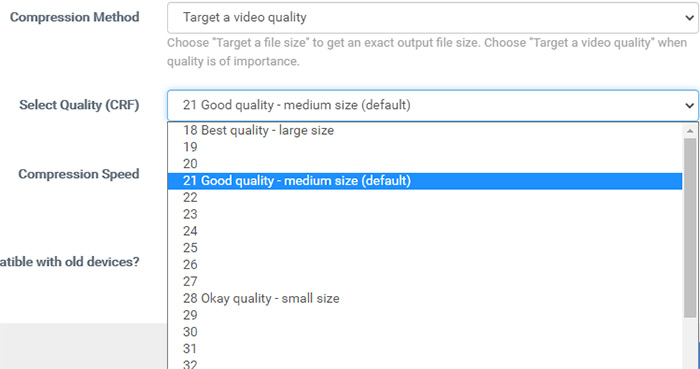 Quality and speed are in a negative correlation. Higher quality (larger in size) would come at the price of slower speed, esp. for online MKV conversion badly dependant on network speed. Thus, deliver a delicate balance between quality and speed. 2. Target a file size (MB)
This one is much more simple than quality. You just need to insert your desired output file size. That's it! It works perfect for you to compress MKV video for uploading to Instagram, twitter, snapchat or for Emailing. You can actively control your resulting MKV file size. Please note that the smaller file size would sacrifice your output quality as trade-off. So don't excessively downsize MKV footage. Step 3: Compress Now
Hit Compress Now button to upload your input MKV video after the parameter settings are well tweaked. Bulk compression is available, but the speed would be affected negatively. Click the Compress More Videos to upload more MKV inputs.
Step 4: Download the Compressed MKV File
Click the Compress Now button to upload the source file. You can add more than one MP4 video at a time. Click the Compress More Videos to upload more video files.
This free MKV online compression site is great all-in-all, with up to 1GB input file supported. Certainly, the pre-condition is that you don't mind its demerits, including ads everywhere on the webpage, uploading speed is slow, floating donation notice, stuck at uploading 7% after tapping compress button, etc.
Still have any problem on how to reduce MKV size without losing quality, just
email us >>