AVCHD, jointly developed by Sony and Panasonic, is primarily used for high definition consumer camcorder (from wiki). Generally, AVCHD video is encoded by H264 or MPEG-4 codecs, with the result that the file size of AVCHD is larger than the file encoded by HEVC/H265. Of course, AVCHD larger file size is one side that you wanna convert to HEVC. On the other hand, AVCHD compatibility is the final trigger for your abandon of AVCHD format.
Case 1: you go to the warm Phuket to spend the cold winter. The clear blue sky, bright sunshine, wide sandy beaches, limestone caves, distinctive rock formations and the passionate local residents all leave a distinctive impression on you. You use your newly-bought HD camcorder to record these great sceneries and lovely faces as a life sweet memories. You return your city after the tour is over and plan to transfer the recorded 4K AVCHD videos from internal SD card to your iPad Pro, yet your iPad supported video formats list doesn't include .avchd.
Case 2: you make a special trip to Oklahoma City to watch the passionate NBA match game between Thunder and Golden State Warriors and use your Sony camcorder to capture amazing highlights of your favorite NBA player (Westbrook, Curry or Paul George). When you come back home, you wanna transfer these Sony 4K AVCHD video clips to your Samsung TV via USB for a reveiw with your kids, but Samsung TV doesn't recognize AVCHD videos.
Above all, the best solution is to convert AVCHD to HEVC MP4 from H264 or MPEG-4 codec. Thus, you can not only solve the AVCHD file large size issue, but also easily tackle AVCHD video not playing on iPad iPhone HDTV problems.
Pros and Cons of this HEVC Video Converter
Pros:
No.1 fast speed to convert AVCHD to HEVC/H265 with 98% quality reserved (High Quality Engine), formatted in MP4 or MKV container formats.
Transcode AVHCD to HEVC x265 from 720p HD to 1080p, 1080p to 4K, or 4K to 4K 2160p (free to adjust resolution, frame rate, bit rate, etc.).
320+ video and 50+ audio codecs supported to transcode ANY video to 4K MP4, 2K, H265, H264, MOV, AVI, MKV, etc. 180+ video & 14+ audio formats.
350+ mobile profiles to decode/encode AVCHD to iPhone X/8 Plus/8/7/6s/6/Plus, iPads, Android (Samsung, Sony, Huawei), Microsoft, PS4, Xbox One.
Cons:
The built-in Auto Copy mode is currently available for only H264 video copy without decoding/encoding. Still need time to support HEVC codec copy.
HEVC video editing features need to improve, currently only trim, crop, add subtitles, rotate, merge, adjust audio volume, etc. basic features.
How to Transcode AVCHD to HEVC with Best Quality
Prior to decoding video from AVCHD x264 to x265, you'd better have a check on your destination device to see if it supports AVCHD or HEVC. If it's compatible with AVCHD, you don't have to convert AVCHD/MP4 to HEVC/H.265 (file size is suitable to you). If your device doesn't support HEVC H265 codec currently, what you have done is in vain. If you're not sure, please have a check on this device supported formats list before you begin the MP4 to HEVC conversion.
Step 1: Launch this HEVC Video Converter
Run this H265 transcoder on your Mac or PC after you free download MacX Video Converter Pro on Mac or Windows.
Step 2: Load AVCHD Video
Click "Videos" to import your camcorder recorded AVCHD 1080p or 4K Ultra HD video files. Or just drag and drop AVCHD files into this H265 video converter.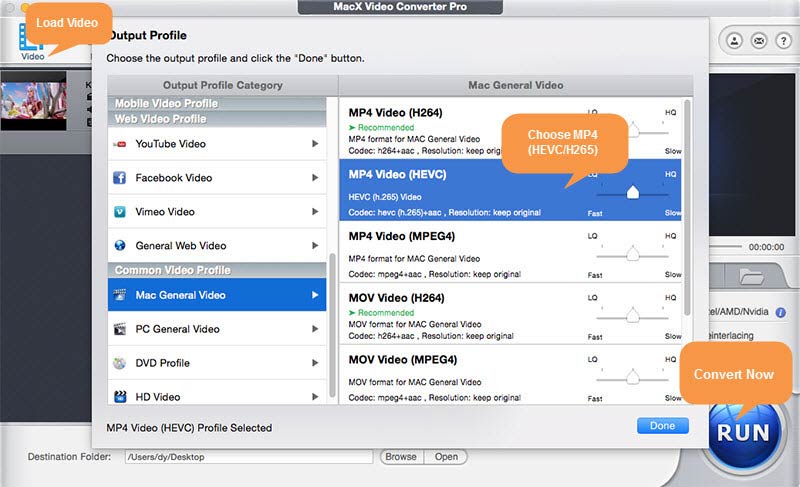 Step 3: Choose HEVC MP4 or HEVC MKV Format
Select the output video format on the pop-up window. You can choose MP4 video (HEVC) from "Mac General Video" profile or MKV video (HEVC) from "PC General Video" category. You're suggested to choose "MP4 HEVC" as output format, since MP4 container format has an edge over MKV on both video compatibility and ability to balance file size and video quality.
On the main interface, there is a settings icon

, where you can customize your output H265 resolution, frame rate, bit rate, audio codec, audio channel, etc. to satisfy your specific needs on output HEVC file. You don't need to do anything if you're a newbie and not familiar with video parameter settings.

Tips to improve output H265 quality:
1. On the output profile window, you can move the LQ-HQ slidebar to improve output video quality.
2. Mannually tick "Use High Quality Engine" and "Deinterlacing" to improve output H265 video quality. Of course, this is at the cost of slowdown your conversion speed, to some degree. After all, quality and speed are negatively related.
Providing video conversion speed also matters a lot to you, there is good news to tell you that anything you can think of to quicken conversion speed is applied to use in this mighty H265 video converter, no matter Multi-core CPU (under "Options"), hyper-threading tech, Intel Quick Sync Video hardware acceleration tech or Auto Copy mode. As long as your computer hardware configuration supports them, they can be automatically selected and used to accelerate your video conversion speed, up to 10X faster than the tool without these technologies.
Step 4: Convert AVCHD to HEVC Now
Hit "RUN" button and it will begin to decode AVCHD and encode video to HEVC (H265) at Intel QSV hardware accelerated speed, along with mutli-core CPU (up to 8) and hyper-threading tech. The output HEVC video will automatically open after the conversion is over. Afterwards, you can eventually transfer the output HEVC video to your iPhone X, iPhone 8/7, iPad, Android, Windows 10, macOS High Sierra or smart 4K UHD TV for smooth playback. Know more detailed process or more features about this HEVC x265 video converter, please watch the below YouTube video.
Is Your Mobile Device Compatible with AVCHD or HEVC?
No doubt, all the Apple devices like iPhone iPad iPod are incompatible with AVCHD. Yet, not all the iDevices are compatible with HEVC, either. Similarly, most Android devices natively exclude AVCHD video format. But not all the Android devices catch up with the current HEVC trend to support 4K HEVC or 1080p H265 video playback or recording. So check the below tables to see which handheld devices don't support AVCHD but HEVC if you're not sure.
iOS Devices
iPhone: iPhone X, iPhone 8/8 Plus, iPhone 7/Plus, iPhone 6s/Plus, iPhone 6/Plus, iPhone SE, iPhone 5s.
iPad: all iPad Pro models, iPad (2017 model), iPad Air 2, iPad Air, iPad Mini 4, iPad Mini 3, iPad Mini 2.
iPod: iPod touch (6th generation)
Resolution and Frame Rate Limits
HEVC video playback up to 4K 2160p: iPhone X, iPhone 8/Plus, iPhone 7/6s/Plus, all iPad Pros, iPad (2017 model) with Apple's A9 chip or newer and 2017 Macs.
HEVC video playback up to 1080p at 240 fps: iPhone 6, iPhone 6 Plus, iPad Air and Mac models from mid 2015 or earlier.
HEVC video playback up to 1080p at 60 fps or 720p at 240 fps: iPhone 5s, iPad Air and Retina iPad mini models.
Android Devices

Is Your Smart UHDTV Compatible with HEVC?
As mentioned at the very begining, the majority of smart 4K Ultra HDTVs don't accept AVCHD video as input file, either. But most of the latest smart 4K TVs play HEVC videos well thereon. Which are they? Now here gathers the most popular TV brands for your reference.

Note: if you wanna play AVCHD video on Windows PC or MacBook/iMac, you're suggested to download VLC or 5KPlayer to play AVCHD on macOS or Windows. Please don't rush to convert AVCHD to HEVC/H265, because not all the Windows computer, iMac or MacBook Pro/Air has the powerful hardware acceleration to enable HEVC playback. If you're not sure whether your computer supports HEVC playback or not, watch the below list of HEVC supported computers.
Computers with HEVC Playback Supported
Windows: HEVC video playback is supported on Windows 10 computers using the Intel Kaby Lake (or equivalent) processor and newer.
macOS: macOS High Sierra, along with A10 processor and newer
1. Macbook® – 2016 or newer
2. Macbook Pro – 2016 or newer
3. iMac – 2017 and newer
4. iMac Pro – 2017 or newer
5. 27-inch 5K iMac (2015-2017)
For more detailed information about HEVC playback or recording limitations, please check HEVC explaination from GoPro.