"I've tried to go in my app store so see my updates, but it won't allow me to connect I've restarted my phone network, my actual network, I've logged in and out of my app store but nothing seems to work and I don't know what to do! " - Apple Discussion
It can be really annoying that the App Store is out of reach when you're trying to download or update an app on iPhone. But sadly, "Cannot Connect to App Store" is a quite common problem. How can you fix it? There are some simple solutions you can try to resolve iPhone won't connect to App Store issue.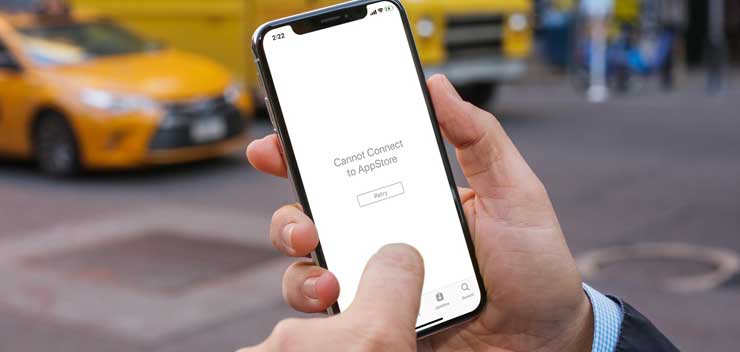 There are various reasons causing App Store not working on iPhone. But in most cases, Your iPhone says "Cannot to Connect to App Store" because it's not connected to a good Wi-Fi or cellular data network, the App Store servers are down, or a software problem is preventing the App Store from loading. If you have encountered such an iPhone won't connect to App Store error, you can diagnose the real reason and fix it with the following tips.
How to Resolve "Cannot Connect to App Store" Issue on iPhone
1. Check If App Store Is Down
Firstly, you need to check whether the App Store is down when iPhone won't update apps or download apps. If the App Store is down, you absolutely cannot access its service platform. You can go to Apple System Status page to check if the App Store is operating normally. But there may be a delay on reporting. So you can also go to Twitter, Facebook, or forum to get some real-time feedback from iPhone users. If it's the case, you don't need do anything, just wait it being fixed by Apple.
2. Check the Network Connection
You see, only when the network well connected, you're able to access the App Store. If you find your iPhone won't connect to App Store, you'd better check the if you get no network to connect or if there is a problem of iPhone Wi-Fi not connecting or dropping. You can search something using the browser to check if the network goes well or not. If the page loads, your network connection is fine. Whereas if it doesn't, you can to restart your Wi-Fi router and reset it, or try another Wi-Fi connection.
3. Switch Your Mobile Data Connection Settings
Most iPhone users would like to set their iPhone to download, update, or use the App Store in Wi-Fi only for less usage of cellular data. In such case, you cannot go through the App with 3G or 4G connection. If you insist on downloading or updating apps in 3G/4G, you can change the setting and allow to use with the mobile data collection.
Go to Settings > Mobile Data, and you can see all your apps on your device under the USE MOBILE DATA FOR menu. Enable the App Store option by switching the slider to green status. By the way, if your iPhone still won't connect to App Store, it might be a matter that your cellular data not working since you've used up the Mobile Data.
4. Sign Out from iTunes and Sign In Again
You can also try some simple reset, such as signing out iTunes and signing in again when the App Store failed to load. You can go Settings > iTunes & App Store, then tap on your Apple ID and sign out from your account. Sign in again using your Apple ID and password to see if this jogs the App Store into working.
5. Force-refresh the App Store
One of my favorite tricks to try when my iPhone fails to connect to App Store is to force-refresh the App Store. It will clear the cache, and give your App Store a chance to start over with fresh code. Besides, it will save some time to respond. You can open up the App Store - it's okay if "Cannot Connect to App Store" is noticed, next tap on the App Store navigation bar (the one at the bottom of the screen that is populated with Featured, Categories, Top Charts, Search and Updates.) for 10 times in quick succession. After you've done, you'll see the app flicker, or go blank and display a "loading" notification.
6. Check Data & Time Settings
Surprisingly, your Data & Time setting are related to iPhone won't connect to App Store issue. As far as I know, it may be because the App Store uses Data & Time to check on your location. Anyhow, you can try to go to Settings > General > Date & Time and choose Set Automatically option to fix the issue.
7. Update Your Software
Cannot Connect to App Store is an known iOS 16 problem when the software was firstly released. Fortunately, Apple has addressed this issue in the later coming iOS versions. Thus if you cannot connect your App Store on iPhone, it's worth checking you're on the latest iOS version.
Just go Setting > General > Software Update and see if there are any available updates. If so, just free download and install iOS on your iPhone.  
8. Contact Apple
If you still failed to connect to App Store on iPhone after trying these tips, contacting Apple Support could be the last resort.
Hope it would be helpful to fix iPhone cannot connect to App Store issue. If you have any problem or more solutions to troubleshoot Cannot Connect to App Store problem, please email us >>
Backup iPhone to Mac before Updating to New iOS
One-click to Backup iPhone Data, Covering Photos, Music, Videos, iTunes Purchases, Ringtones, etc. to Prevent from Any Data Loss.
ABOUT THE AUTHOR