Which is the best downloader to free grab 4K UHD videos from YouTube, or other video sharing sites? Here are some criteria to judge a 4K UHD video saver for Mac. First, it should be able to download 2160p UHD videos (whether or not support various 4K video sites). The best downloader should save 4K UHD video on Mac with original output quality. Stability also counts a lot. Additional features like converting/editing/compressing 4K UHD videos are pluses.
Based on those criteria, below we select 2022 best 4K UHD video downloaders for Mac (Big Sur supported).
Top 1 - MacX Video Converter Pro
MacX Video Converter Pro can free download 4K Ultra HD video from YouTube, Vimeo, Vevo, Dailymotion, 1000+ sites in whatever format (MP4, AVI, MKV, FLV, etc.). It's 5X faster than other competitors with the advanced Intel QSV/Nvidia/AMD GPU hardware acceleration tech. All the 4K videos will be downloaded to your Mac with original quality.
Edit, Resize and Convert - If the downloaded 4K Ultra HD video is too big for your destination device, this Mac 4K video downloader can help compress 4K video to 1080p/720p, transcode 4K video to HEVC with 50% - 90% size off. The built-in video editing feature helps you cut, crop, merge, rotate, split YouTube 4K videos.
Stability/Ease of Use - With Intel/Nvidia/AMD GPU HW acceleration and hyper-threading, the whole UHD video download won't stutter a bit on Mac. Its clean interface allows even novice users to start 4K UHD video download on Mac quickly.
Other Features - You can convert the downloaded 4K UHD video to MP4, AVI, MOV, WMV, MP3, 3GP, over 420 video audio formats on macOS. Just 3 clicks to convert 4K videos to iPhone, iPad, Android, game consoles, UHD TVs, etc.
Summary: 9.6/10 - This 2021 best 4K video downloader for Mac has almost everything you need, e.g., download, convert, resize, edit. The 4K video download speed is also faster than other tools.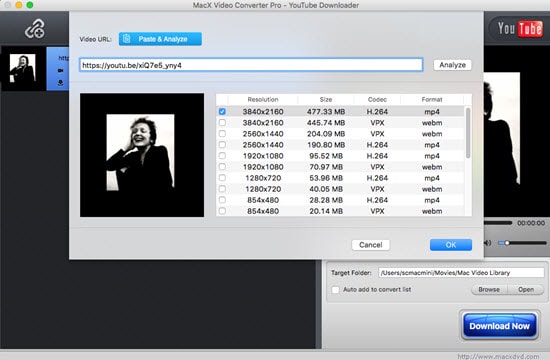 Top 2 - MacX YouTube Downloader
MacX YouTube Downloader is a 100% free 4K video downloader for Mac. It supports downloading videos in 4K, 8K, HD 720P, 1080P, 3D videos, and others. You can use it to download videos, music, playlists, channels, etc. from YouTube, Break, Flickr, Facebook, Metacafe, Veoh, and 1000+ sites.
Download Speed - This free UHD video downloader for macOS took less than 30 seconds to save a 3-minute music video in 3840 X 2160 from YouTube, Vevo, Vimeo, Dailymotion, and other sites.
Download Quality - This 2160p video downloader for Mac 2021 is able to download 4K videos movies on Mac with zero quality loss. The downloaded 4K samples were the same as the original in quality. We didn't see any quality degradation.
Stability/Ease of Use - The free 4K HD video downloader for macOS is fast in responding and downloading. Though it's totally free, there are no errors like crashes or stutters when downloading large 4K UHD videos. It's simple to use. Just copy paste video URL, and click "Download Now" button.
Summary: 9/10 - This free 4K ultra HD video downloader for Mac comes with frequent update, technical support. It is really lucky to own such an ads-free and virus-free 4K video downloader without spending a penny.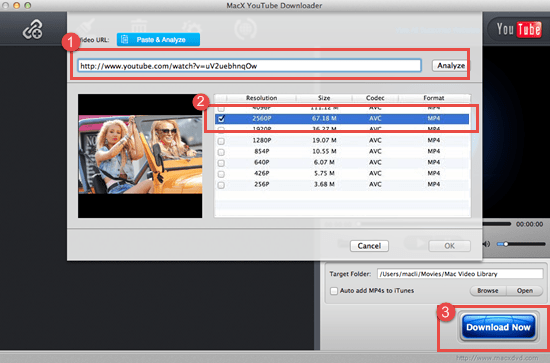 Top 3 - 4K Video Downloader for Mac
4K Video Downloader for Mac, as its name suggests, is able to free download videos in HD 1080p, HD 720p, 4K, and 8K resolution. It supports various sites including YouTube, Vimeo, TikTok, SoundCloud, Flickr, Facebook, Instagram, DailyMotion, Likee and Tumblr.
Download Speed - We've tested the software to save 4K content from YouTube on Mac, the speed is satisfying. Actually, , it's the computer and internet connection that decided how long it took to download 4K ultra HD videos on Mac.
Download Quality- We haven't noticed that this utility messed up the quality. And we found that users can extract audio with 80% - 90% quality reserved.
Stability/Ease of Use - The 4K Video Downloader for Mac free version comes with limits like number of videos you can download a day. There are also 4K Video Downloader error occurs, like error: can't parse the video link/can't download video, etc. It is simple to use for inexperienced users.
Summary: 8/10 - 4K Video Downloader for Mac is free and clean. But only a few formats are supported, MP4, MKV, FLV. The biggest problem is, it works on macOS 10.13 and earlier, not compatible with latest macOS Big Sur.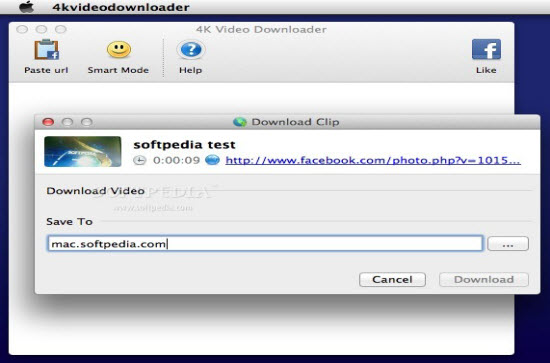 Top 4 - Video DownloadHelper
Video DownloadHelper is an extension for Firefox that is free to extract videos and image files from websites to Mac hard drive. It supports 4K video download free from YouTube, DailyMotion, Facebook, Periscope, Vimeo, Twitch, Liveleak, Vine, UStream, Fox, Bloomberg, RAI, France 2-3, Break, and many more.
Download Speed - We had to wait until the 4K movie trailer/sample/footage was fully loaded and buffered. The download speed could be horrible when the connect was bad. We lost our patience sometime, but the 4K video capture software for Mac saves everything.
Download Quality- Some of the output audio was screw up but not terrible.
Stability/Ease of Use - Some Firefox updates may make it stop working. It is not easy to understand how to use at the beginning. People who are not technical minded may give up this software.
Summary: 7.8/10 - The free 4K UHD video downloader for Mac only works on Firefox, not Chrome or Safari. Overall, the plugin for 4K Ultra HD 1080p video download on Mac can be better.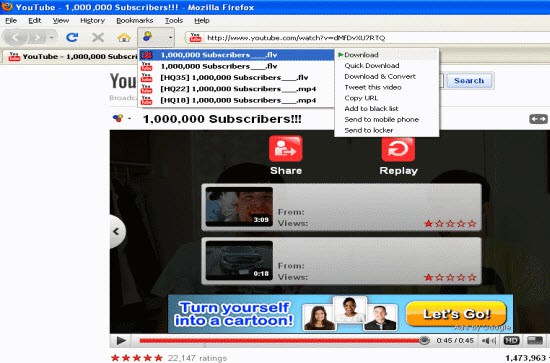 Top 5 - ClipConverter
ClipConverter is a free YouTube to MP4 & MP3 converter website. It supports HD, 720p, 1080p, 4K video download to Mac. As an online converter, it will also free download and convert the videos from YouTube, Vimeo, Facebook, and various others into MP4, MP3, AVI, MOV, MKV, MP3, and some more.
Download Speed - Overall, the 4K video download speed is quit fast on Mac. Once you paste the URL and select download, it will start to grab the video immediately.
Download Quality- The downloaded video is in good quality and no perceptible quality loss can be noticed
Stability/Ease of Use - With this site, you don't need to download or install another app. Simply open the site, copy and paste the URL of the video, then you can start the download process.
Summary: 7.8/10 - The free 4K UHD video downloader for Mac worth a shot for its easiness and fast speed. One thing to note is that the site doesn't support downloading any 4K videos to Mac that contain music.