If you only have 10 DVD discs, OK, it's fine to put them anywhere. But if you have 1000 or more DVDs, it's not that easy to have the whole collections organized or get well-protected. Here we guide you to make a bee line to organize your ever-expanding DVD Discs by using DVD organizer. With DVD movie catalogue software offering much easier and professional way for large disc collections management, physical DVD storage boxes has faded into sunset. So we mainly focus on DVD organization programs, here're top 6 best DVD organizers to manage, catalog and keep track of DVD discs efficiently.
1. MacX DVD Ripper Pro
MacX DVD Ripper Pro is a DVD ripper program that helps backup and bring order to your DVD collections by copying them to hard drive, USB, iPhone, iPad, HDD etc. With the DVD organizer & copy tool, you keep the complete DVD collections at fingertips. It can handle both homemade DVDs and encrypted DVDs, and rip DVD to MP4, AVI, MOV, WMV HD MKV MTS digital video formats, ISO image, video TS folders etc. with original video, audio, subtitles etc. so that you can organize loads of DVD movies in a much convenient way.
How to Organize DVD Movies on Mac/PC
The DVD organizer tool can be downloaded for Mac (macOS Big Sur also supported) and for Windows (Win 10 incl.). With well-designed UI, it's quite simple to get hang of it. All the disc organization and copy process requires no computer skills.
Step 1: Run the DVD ripping software, insert your DVD to disc drive, click "DVD Disc" icon on the top left-hand corner of the main interface, and the DVD disc will be loaded quickly.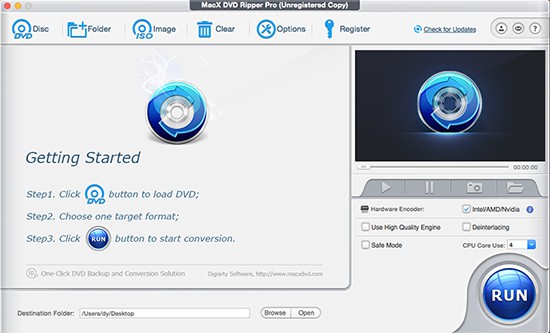 Step 2: Choose an output format from the Output Profile Window. You can backup DVD on hard drive, USB etc. with MP4 format that balances file size and quality.
Step 3: Click "RUN" to start to digitalize DVD collections.
In addition, the DVD organizer software offers various options to customize DVDs, for example, add subtitles, trim, crop and expand movies, adjust video codec, frame rate, bit rate, aspect ratio, resolution, compress videos to let you organize DVD disc movies in a much smaller file size, and many more.
Notice: Before you start to rip and organize DVDs with the DVD ripper progames, you should know that the legality of DVD ripping will vary based on your country of residence. We only advocates using those best Mac DVD rippers to copy and rip DVDs under the concept of Fair Use and do not encourage any illegal reproduction or distribution of copyrighted content. Please abide by the local DVD copyright law before doing it.
2. DVD Profiler
DVD Profile is professional DVD organizer tool that can be downloaded for Windows, Mac and iOS iPhone iPad. To manage DVDs, users can put the DVD directly into disc drive, and disc organizer will recognize it automatically or just enter DVD UPC.
It gives good DVD storage ideas, for example, the tool lets users do a quick search of the DVD collections by Genres, Year, Rating, Country etc. organize and review DVD movies, customize DVD movies searches, get disc detailed info, and more. The DVD collector doesn't support Unicode, which means it can't organize DVD movies in Asian. Some users dislike the feature that the DVD movie catalogue software asks to review each movie. Missing for free registered users are most features after collections are over 50 discs.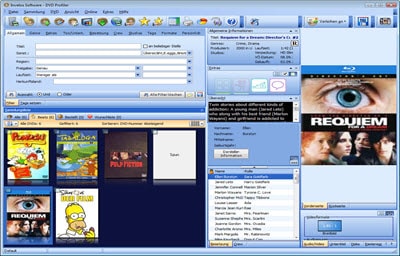 3. Coollector Movie Database
This DVD organizer can easily organize DVD movies with fast DVD loading speed. Users can rate movies, customize layout, skin of the DVD collector program, do a rapid search of huge collections by actor, movie title etc. and play the right DVD movies on DVD player without wasting much time on digging out the movie. Every time users open the tool, they are asked to update it.
Fixed: DVD Won't Play on Mac/TV >>
Note that some reported movie titles loss when doing movies backup to hard drive due to the crash of the drive. The DVD disc organizer helps backup movies on their server, which requires registration on the DVD organizer support forum.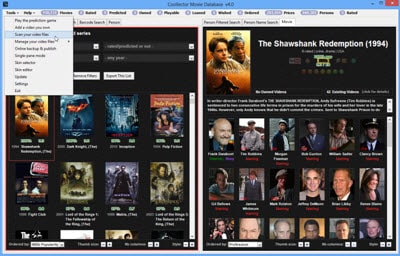 4. eXtreme Movie Manager
eXtreme Movie Manager can import original DVDs, including movie codec, subtitles, languages etc. Extra info about DVDs is gathered as well, like movie plot, actors. The DVD collector can download more detailed movie info from Amazon, IMDB, DVD Empire etc. It can organize DVD movies automatically and export DVD duplication into Android, iPhone iPad, Mac/Windows. Users are given access to create their own movie collection in a click at the same time.
The DVD disc organizer is complained that it has too many intro screens and is a little buggy before update. When cataloging DVD movies, it will shut down occasionally. But overall, it's a nice DVD organization program.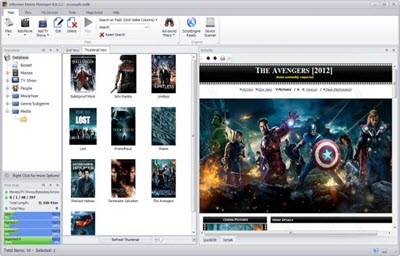 5. My Movies
The free DVD organizer is available for Windows, Mac OS X, Android and iOS iPhone iPad. Simple-to-use quick filter and DVD sorting are its basic function. It does what DVD organization software does, like rating movies, price, tags, to name a few. DVD backup can be achieved by the disc organizer in a click if you don't want to bother yourself to copy DVD to computer with the aid of a DVD ripper for Mac or Windows.
However, the free version is limited to 50 titles, for unlimited DVD management, customers have to upgrade to the paid pro version to. The DVD collector is under continuous update to fix bugs and users will be asked to upgrade when new version is out.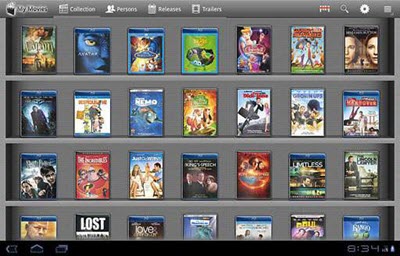 6. DVD Corral
DVD corral is an online DVD movie collector sites for DVD organization, collection and management. It has clean interface and easy entry. You can rate movies, organize your DVDs collections within the free DVD organizer site, export and backup DVD movies to SV or XML, share DVD collections with friends and buy or rent digital movies instead of DVDs from Amazon.
To use the online DVD movie catalogue software for free, you should sign up for a free account to track all your movie collections. It lacks statistical view of DVD collections like other professional DVD organizer software gives. ABOUT THE AUTHOR