85% Users Common Choice for 8K Video Downloading:
MacX Video Converter Pro, a solid 8K video downloader, is regarded as the best all-in-one solution to download 8K (HEVC H.265) video sample, video and movies free from FaceBook, Dailymotion, etc. 1000+ video sharing sites in 7680 X 4320 resolution with whatever video format. And the 8K sample video downloading speed is also up to the mark. Its multi-core CPU up to 8 cores give you an 800% faster speed than single core CPU 8K downloader. What's better, the advanced Intel QSV tech allows UHD video capturing software to work with your computer hardware acceleration to further boost Intel CPU speed, leaving you more space to surf the Internet or play Ultra-HD videos, etc.
How to Download 8K Video Sample Online in Original Quality
Step 1: Free download the 8K video downloader (Windows version) and launch it. Click "YouTube" icon, following "Add Link" button. Copy the 8K video resolution URL for example, and hit "paste & analyze" to load the video details automatically.
Step 2: Choose the output format, resolution (7680×4320) and file size for the target 8K UHD video demo.
Step 3: Select output folder. Specify the output folder path by clicking "Browse" button to save the downloaded 8K video sample.
Step 4: Start 8K HEVC sample footage download. Hit "Download Now" to start to download 8K 4320P video.
8K UHD Sample Videos for Free Download
Currently, the UHD 4320P sample videos are limited in number. Surely, more 8K contents are coming in near future, but now, maybe you have no idea on where to download 8K HEVC sample videos to experience the next-gen standard. Though there is not many full-length 8K movies for download, YouTube has offered some 8K UHD footages.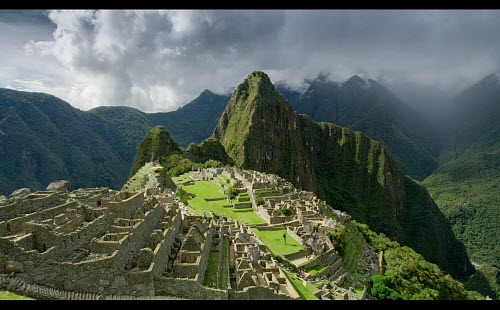 1. Ghost Towns. The first 8K sample video available arrived on YouTube. As its name suggests, the video shows an abandoned town where no people live any more.This 8K demo video is shot by Neumann Films with the RED Epic Dragon 6K camera. Everything looks extremely realistic. However, while most users are curious about 8K standard, they find the FUHD+ 60fps really lags. And you need to get the 8K sample video download to get off stutters.


If you are interested, freely save 4320P 8K demo film offline fast & HQ in 2 steps:
>>> Get the 8K sample video downlaoder- 100% clean & safe
>>>Throw the URL: https://www.youtube.com/watch?v=sLprVF6d7Ug to it.
2. Patagonia. The shot film explores the rough landscapes of southern Chile and Argentina. The video is shot by Martin with a super-high-resolution cameras. The video is made up by roughly 100,000 frames in 8K resolution, vividly unveiling the real beauty of the nature. Astonishing! If you have a big and high-resolution display, you're strongly suggested to get this 8K Ultra HD sample video download.
3. Peru 8K HDR 60FPS (FUHD). The latest 8K HEVC sample for free download on YouTube. Similar to Patagonia, this FUHD demo is about the people and landscapes of Peru. The video is shot in 8K UHD (4320p) and 60fps resolution with the brand new Red Helium 8K Super35mm sensor. It's so beautiful. If your bandwidth is not good enough, don't forget to capture the 8K resolution sample video. You will want to go to Peru after watching the video.
How 8K Is Being Used Now
Users are in a position to watch 4320P video on YouTube, as well as other 8K video players such as 5KPlayer in theory. But in view of the configuration of PC is not high enough to support the playing, users can hardly watch with perfect visual effect after 8K video sample download. By the way, MacX Video Converter Pro can also be treated as a 8K video compressor to compress 8K content video to 4K, 1080P, etc. resolution that your Mac or mobile devices are available to. Although 8K has a ways to go before becoming mainstream, where it is seeing use now on an increasing basis is in film restoration and mastering, where some movie studios, are taking select classic films and preserving them as 8K resolution digital files to be used in Blu-ray disc. Furthermore, UHD cameras and TVs/monitors gradually emerge as the development of the technology.
The Existing 8K Cameras And TVS/Monitors at Present
Cameras

TVs/Monitors

AH-4800, a camera capable of recording in 8k resolution. Unveiled by Astro Design on April 6, 2013.
RED 8K Weapon Vista Vision arrives at the end of 2015, sporting an 8192×4320 that shoots 8K at 60 fps in full-sensor mode, or at up to 75 fps in a scope (2.40:1) frame format. NAB 2015
Ikegami SHK-810 8K UHDTV camera. NAB 2015
Hitachi SK-UHD8060. NAB 2015

Sharp's 85" 8K LCD TV, 7680×4320 resolution—International Consumer Electronics Show (CES) 2012
Panasonic's 145" 8K Plasma Display, 7680×4320 resolution—Internationale Funkausstellung Berlin (IFA) 2012
LG's 98" 8K LCD TV, 7680×4320 resolution—Internationale Funkausstellung Berlin (IFA) 2014
Samsung's 110" 8K 3D LCD TV, 7680×4320 resolution—International Consumer Electronics Show (CES) 2015
Notice: MacXDVD Software doesn't advocate any reproduce, distribute, transmit, broadcast or sell any content for any other purposes without prior written permission of YouTube or the respective licensors of the content. Please refer to YouTube terms of service before doing so.